My sister-in-law, singer/songwriter Lori Lieberman, has learned a lesson or two about timing, creating the exquisite moment, and getting credit where credit is due.
After all, back in the '70s, after hearing Don McLean (of "American Pie" fame) perform at The Troubadour in L.A., Lori was so blown away by his less-well-known song "Empty Chairs" that she went home and wrote a poem about the experience that she shared with her producers, who then expanded it into a song called "Killing Me Softly," the chart-topper recorded by Roberta Flack (and so many others, Lori included).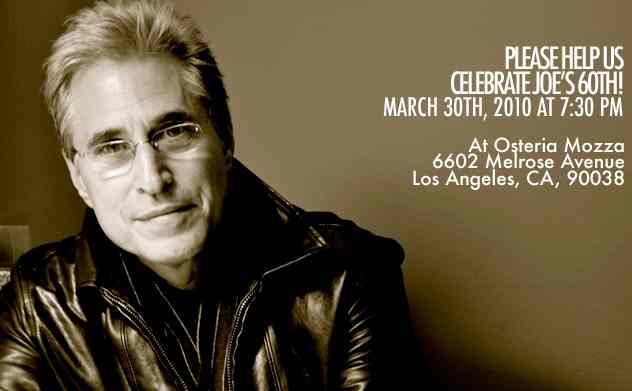 So, Lori calls Kim and me back in early March and says, "Are you going to be in L.A. on the 30th? It's my husband Joe's 60th birthday, and I'm throwing a dinner."
My brother-in-law, Joe Cali, is a great guy. He played John Travolta's best friend, Joey, in "Saturday Night Fever," and now he's a super-successful home theater dude, with his company, Joe Cali Systems Design, installing setups for the likes of Denzel Washington, Matt Damon, Ben Affleck and entertainment power brokers including Larry Gordon, Irving Azoff, and Brian Grazer. You get the drift.
Lori says she's booked a private dining room at Mozza, the super-hot restaurant owned by former Michael's Santa Monica pastry chef (and La Brea Bakery founder) Nancy Silverton, Mario Batali, and Joe Bastianich. Another Michael's alum, former general manager David Rosoff, runs the joint for them.
So, what do Kim and I say to such an irresistible invite?
"Aaarrrggghhh! We leave for New York the day before! We won't be able to come!"
Lori responds with a long pause at the other end of the line. Like I said, she's a singer/songwriter, and she knows that the rests can be as important as the notes.
Finally, we can't take her silence anymore. "OK, we get it. We'll change our flights."
We're glad we did.
The private dining room looks gorgeous, tucked between Pizzeria Mozza, home to what many people justly think makes the best pizza in Los Angeles right now, worth standing in line outside to wait for a table; and Osteria Mozza, a more upscale but still casual restaurant that feels like a popular old spot in some northern Italian town. It's a great setting for a gathering of family and friends.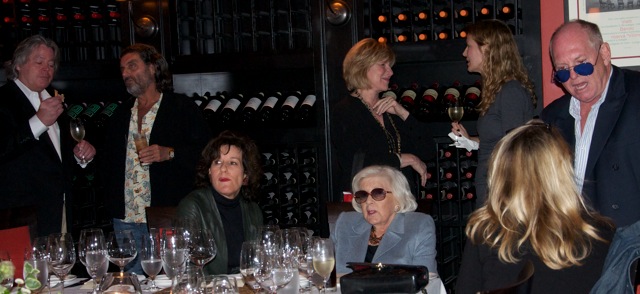 And what a gathering it is. Family from both sides: Joe's four daughters, Emma, Katharine, Claire, and Eden; Joe Sr., Joe's 85-year-old pop; Joe's sister Karen, who flew in from Florida with her music dude, English singer-songwriter Robbie Patton, who opened for Fleetwood Mac back in the day and wrote their hit "Hold Me"; Kim's and Lori's sister, Sue, who runs the antique lace store Paris 1900 near my old friend Wolfgang Puck's Chinois on Main in Venice and who's in the process of closing up the amazing Jadis, which the L.A. Times recently called a "prop house and curiosity shop," which she opened in 1979 with her partner Parke Meek (they met while working for Ray and Charles Eames), who passed away in January; and the sisters' mom Irene, who'd just had us all over for Passover and her 84th birthday the night before.
Phew!
And don't forget the other showbiz folk in attendance beside Lori (who's just released her lucky 13th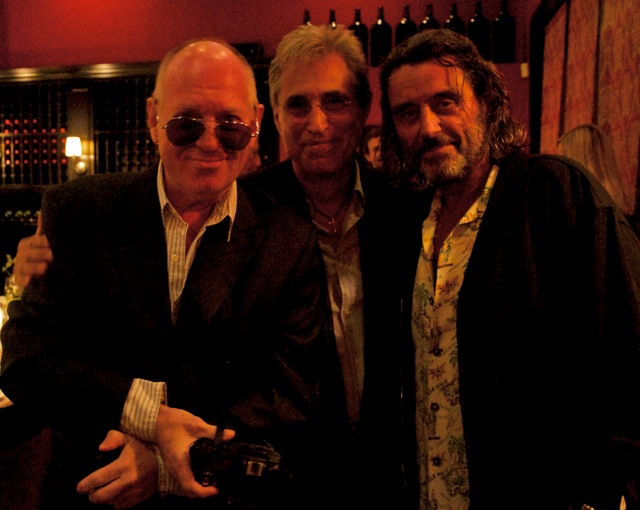 album, "Gun Metal Sky," from Drive On Records). We've got Paul Pape, who played Double J beside Joe and Travolta in Saturday Night Fever, and his wife, Emmy-winning soiund editor Suzanne Angel-Pape. Big-time movie producer (and a legendary big eater at Michael's Santa Monica) Larry Gordon, whose almost 60 flicks include such iconic greats as The Warriors, 48 Hrs., Die Hard (both 1 and 2), Field of Dreams, Boogie Nights, Lara Croft: Tomb Raider, Hellboy, and Watchmen. (We talk about what a pain it is to make movies today.) Between bites of lardo, I chat with actor Ian McShane (seen in the pic here with Joe, center, and Robbie Patton on the left) and his wife of 31 years, Gwen Humble. Ian's playing Blackbeard in Pirates of the Caribbean 4, out next year, and I tell him what a bummer it was that Deadwood got canceled -- he was da man, he was the show!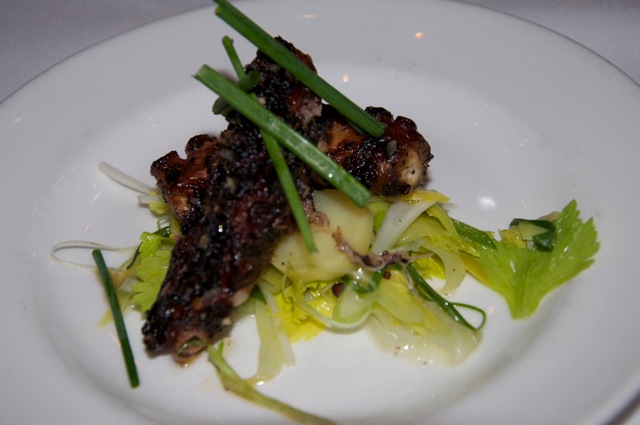 Okay, besides that lardo I couldn't stop eating (talk about "chewing the fat"!), there was so much other great food. Antipasti also included stracciatella and grilled octopus (shown here). The primi choices were goat cheese ravioli with "five lilies" (meaning different members of the onion family). Secondi were grilled quail wrapped in pancetta with sage and honey; grilled leg of lamb with a salad of fregola sarda (a Sardinian toasted pasta resembling large couscous), mint, and yogurt; and grilled whole orata (sea bream to you non-Italians) wrapped in radicchio with olio nuovo (freshly pressed extra-virgin olive oil).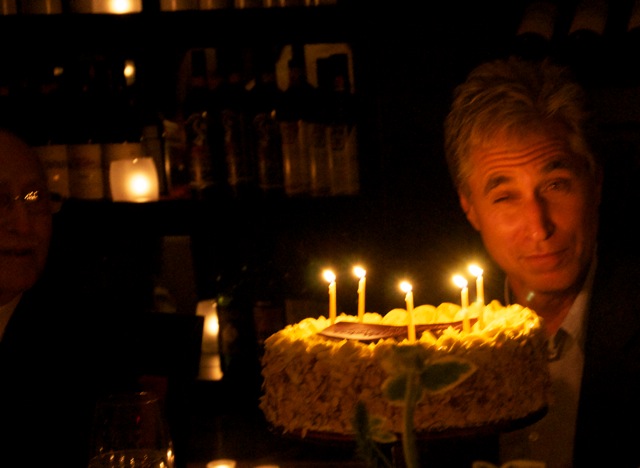 And the dolci? How 'bout some rosemary olive oil cakes with olive oil gelato and rosemary brittle; little warm chocolate cakes; or the "Mozza Birthday Cake" (seen here as Joe gets ready to blow out the candles), an almond cake with sweet mascarpone cream, orange filling, and toasted almonds.
Oh boy!
And how 'bout them wines? The menu featured Batali's and Bastianich's very own: a non-vintage Prosecco, a 2007 Friulano, Bastianich Colli Orientali (a superb Italian example of Sauvignon Blanc from Fruili), and a 2007 Morellino dei Scansano "I Perazzi," Las Mozzo (an awesome red Sangiovese from Tuscany).
What a meal! And what a lesson: Never pass up a chance for a memorable dinner with family and friends just because you've made a plane reservation. The same flight can get you there the next day; but the combination of great people, great food, and great drink is unique and can never be recaptured.
Grappa, anyone? (Or how 'bout a cranberry-and-soda?)
Chow,
Michael