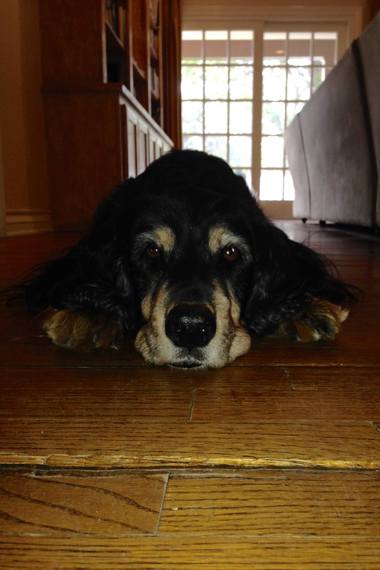 We said goodbye to our dog Mishka this week, after 15 years as a part of our family. She was everything a family dog should be -- confidante to my son Oliver throughout his childhood and adolescence; fashion model for my daughters; companion for my wife when I was away and therapy dog for my clients when I was at home. She had an insatiable capacity for chasing after pretty much anything and playing with pretty much everyone. Her party trick, perfected at the local park, was to grab the longest stick she could find and entice the nearest dog to join her in a tug of war, taking up the jobs, as my son recently pointed out, of "branch manager" and "assistant branch manager."
Her favorite night of the week was Wednesday, as she led the way on our weekly midnight hike, first alone and then with her half-sister Abby and their friends Buster and Boomer. In fact, the first sign of her aging was on a moonless Wednesday night hike a couple of years back when she disappeared without a trace in the Santa Monica mountains. After two hours of searching for miles in every direction, we gave up and went back to the car, determined to return to the trail at first light -- and there was Mishka, sound asleep by the left front tire of my car, happily wagging her stump of a tail at our return. It had been too much for her, so she went back for a rest.
Over the past few months her need for rest had increased dramatically, and when she began shaking uncontrollably one evening we took her to the vet to discover that as well as a partially fused spine, her kidneys were failing and it was only a matter of time until the end. Over the past week, she would barely eat, and in the past two days the shakes were now accompanied by a pained sort of whine, and we knew it was time.
In a kind twist of fate, Oliver, now 20, is back in town for spring break and the whole family was able to plan a final day to remember. We bought her treats (bizarrely, my wife and son both picked out the exact same frosting covered bone cookie at the local pet shop about an hour apart from one another) and took her back to her beloved park for a final constitutional. She writhed in ecstasy on the ground, barked at a few dogs, danced in the community water bowls, and then settled down for her cookie and some belly rubs. After an impromptu photo session, we went to the vet, who laid a blanket on the ground, gave her a small brownie treat, and gently put her to rest.
While we waited for the medicine to take effect, we held her paws and stroked her head and speculated on what Mishka's heaven would look like -- a beautiful park with her old friend Abby waiting for her, unlimited belly rubs, and Christmas trees with untended boxes of candy and defrosting steaks just waiting for her to steal. We also thought it was how we would like to spend our last day on earth -- walking in the park, a delicious chocolate brownie, and then drifting off to sleep surrounded by loving friends and family.
With all my love,