Lower-Priced Versions Sold Better than in Previous Quarters
Last week, Consumer Intelligence Research Partners released analysis of iPads that customers bought in the calendar quarter that ended September 30, 2013. Based on that analysis, iPad with Retina sales increased at the expense of iPad 2 sales.
CIRP analyzed survey data in which US iPad buyers reported the model that they bought in the preceding three months. On that basis, iPad with Retina accounted for 46% of sales in the quarter, up from 32% in the previous quarter.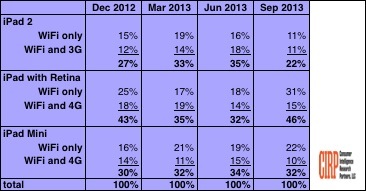 iPad 2 sales decreased by approximately the same magnitude, from 35% to 22%. iPad Mini sales held steady at about one-third of total sales.
Despite this quarter including back-to-school sales, the iPad 2, which accounted for a third of sales for the prior six months, seems to have started to show some age, after several strong quarters. Yet, the iPad Mini continued its relative share in the past few quarters, as customers seem to continue to like it as a low-price tablet alternative.
Lower-priced versions of each model sold better, as well. WiFi-only versions of all three models accounted for 64% of total sales, an increase from 53% in the previous quarter.
In addition, models with lower storage capacities also sold somewhat better. For the iPad with Retina, the 128GB and 64GB versions accounted for 13% of sales, down from 30% the previous quarter. For the iPad mini, the 16GB version accounted for 73% of sales, up from 50% the previous quarter.

The share of the lower-priced WiFi-only model is the highest in the past year. This could reflect the growing access to WiFi networks. But, along with the shift to lower-storage models, it shows that customers have started to gravitate to lower-priced tablets as models mature.
CIRP bases its findings on its survey of 500 phone buyers customers that purchased an iPad in the US in June-September 2013.
For further information, contact CIRP.