Consumer Intelligence Research Partners released results of its research on the market for used mobile phones. CIRP bases its findings on its survey of 1,000 US subjects that activated a new or used mobile phone in July-December 2013.
CIRP finds that fewer than 20% of new phone buyers sell or trade-in their old phone. When they do, mobile carrier trade-in programs dominate the market.
Disposition of Previous Phone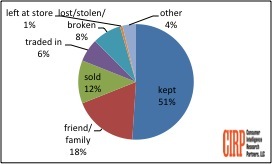 Almost one-third of Apple iPhones get sold or traded-in. In contrast, fewer than 20% of Samsung phones are sent to the used phone market. New phone buyers resell other brands even less, generally with 10% or fewer of other brands sold or traded-in.
Mobile phone carriers dominate the market for buying used phones. Among new phone buyers, 39% report selling or trading-in their old phone at their current mobile carrier. No other outlet accounted for more than 10% of the phone repurchases.
Mobile carriers clearly have an edge in buying used phones, in part because they account for more new phone sales. Including sales to friends with Craigslist and eBay, do-it-yourself deals account for almost a quarter of used phone sales.
For additional information, please contact CIRP.