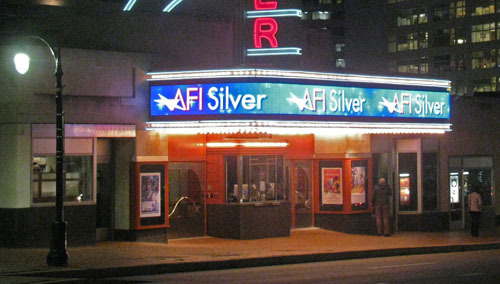 AFI Docs Silver Theater, courtesy AFI Docs
There are thousands of film festivals in the world. A festival for every flavor of filmmaking from features, shorts, animation, horror, women, wildlife, documentaries and even for films featuring moustaches. Each one's vying for eyeballs. There are just a handful of fests that are considered important.
The top tier fests, Venice, Cannes, Toronto, Sundance and Berlin attract audiences, media and distributors who come mainly for the narrative fiction films and celebrities. The increasing importance of documentaries has given rise to a selection of fests focused specifically on non-fiction films. One of the best, AFI Docs, put on annually by the American Film Institute in and around Washington, D.C., opens next week, June 17 and runs through the 21st.
I spoke with the festival's new director, Michael Lumpkin about what sets AFI Docs apart and why people should go to festivals when they can sit home and watch TV. Here's an edited portion of our conversation.
Q: Why a festival in Washington, D.C.?
Lumpkin: It's about great documentary filmmakers and about geography. This region has the most highly educated population in the country and they have a keen interest in film. That's a documentary audience.
Q: What else about D.C.? Does being in the Nation's capitol influence the film selection?
Lumpkin: We purposely connect issues and politics that are going on in legislation and policy. We connect films and filmmakers to people who are working on these issues. We have really informed conversations after the screenings at the festival.
Q. How do you do you connect filmmakers to this ecosystem?
Lumpkin: This year we have an experiment, an impact lab, where we'll plug films and filmmakers into conversations with policymakers to talk about how to make sure their films have impact. Two days before the festival they'll meet legislators, strategists and others and discuss how to create awareness around important issues. They'll also meet with donors and talk about funding strategies.
Q. I noticed a lot of the documentaries are produced, directed, edited or scored by women. More than we'll find in the narrative fiction world. Almost 50% of the films shown at the recent Sheffield Documentary Festival were by women? Are women more represented in documentaries than in fiction?
Lumpkin: The data support that. A much higher percentage of women work in documentaries. This year over 40% (48%) of the films we're screening are by women. There's still a lot of work to be done. There's still a glass ceiling.
Q. What can we expect to see this year?
Lumpkin: In the films you'll meet extraordinary people. Great biographies. Some famous like Steve Jobs, LA Food critic Jonathan Gold, singers Nina Simone and Mavis Staples. And others like those who live in a Syrian refugee camp in Jordan.
Q. What connects these films? Do they all open a window on a seldom seen world?
Lumpkin: You hear about the refugee problem in the media but you get to learn things in a long form documentary you can't in a 30-second news story. You connect with people in a situation and understand it in ways you wouldn't otherwise.
Q. What convinced you to take this job?
Lumpkin: What drew me was the potential of the festival, what can happen when we bring people together to experience documentaries in a unique way.
It's that hot and muggy time of the year in D.C. but the venues are all air-conditioned. So do yourself a favor and take in some of these exceptional films.
These are my recommendations and a link to order tickets. Most films screen more than one time and at different venues. Many screen in the evening so you can actually do your time in the cubicle during the day. In addition to these, try and make the time to see some of the shorts and some of the other films. Many of these you won't see on PBS, HBO or Netflix. This is your chance. If necessary, call in sick and go. You'll be glad you did.
Wednesday June 17
Opening night gala; Magnolia Pictures' BEST OF ENEMIES, from director Robert Gordon and Academy Award®-winning director Morgan Neville (20 FEET FROM STARDOM), as the Opening Night film at AFI DOCS. Screening at the Newseum, followed by a discussion and Q&A with filmmakers Gordon and Neville. BEST OF ENEMIES features William F. Buckley, Jr. and Gore Vidal's explosive debates during the 1968 Democratic and Republican National Conventions, aired live on ABC News. The documentary masterfully captures the dawn of pundit television as it is known today.
Thursday June 18
Hot Type: 150 Years of The Nation
Two-time Oscar® winner Barbara Kopple (Harlan County, USA) focuses on the esteemed weekly The Nation. Founded in 1865 by abolitionist Republicans, the iconic progressive publication accepts no revenue from advertisers, enabling its ahead-of-the-pack critiques of the tobacco and automobile industries. Kopple follows the editorial production process, with insights from veteran editor Katrina vanden Heuvel. Facing industry challenges from all sides, this "lefty North Star" proves that print media have never mattered more.
Dir. Barbara Kopple; 2015; 93 min
• Thu, Jun 18 / 6:00PM / SILVER 1
• Fri, Jun 19 / 9:00PM / NAVAL HERITAGE CENTER
DRUNK STONED BRILLIANT DEAD: THE STORY OF THE NATIONAL LAMPOON
In 1969, three newly minted alumni of Harvard University hatched the idea to launch a humor magazine spun off from the Harvard Lampoon. Little did they realize that their creation would become ground zero for modern comedy as we know it today. DRUNK STONED BRILLIANT DEAD is a hilariously profane and illuminating trip into the past that dares to reveal the unhinged story behind one of the most influential magazines of our time.
Dir. Douglas Tirola; 2015; 94 min
• Thu, Jun 18 / 8:30PM / SILVER 1
• Sun, Jun 21 / 7:30PM / NAVAL HERITAGE CENTER
Friday June 19
The Diplomat
Richard Holbrooke was a crucial diplomatic negotiator for two Democratic presidents, but his charisma and his talent for foreign policy also came with a brashness that earned him nicknames such as "The Bulldozer." Through the eyes of Holbrooke's filmmaker son David Holbrooke, THE DIPLOMAT examines a career with global reach and unquestioned historical impact. Holbrooke's unflinching view of his father adds emotional resonance to a biography of one of the most influential public servants of the last five decades.
Dir. David Holbrooke; 2015; 103 min
• Fri, Jun 19 / 8:30PM / PORTRAIT GALLERY
• Sat, Jun 20 / 1:45PM / SILVER 1
Saturday June 20
STEVE JOBS: THE MAN IN THE MACHINE
To many, Steve Jobs was the genius visionary behind the meteoric rise of Apple Inc., which has dominated the tech industry since its inception in the late 1970s. To others, however, Jobs was a controversial figure who was as vilified as he was deified. Academy Award®-winning filmmaker Alex Gibney (TAXI TO THE DARK SIDE) takes a candid look at the iconic figure whose impact helped define the Silicon Valley tech culture before his untimely death in 2011.
Dir. Alex Gibney; 2015; 128 min
• Sat, Jun 20 / 6:30PM / SILVER 1
• Sun, Jun 21 / 2:15PM / NAVAL HERITAGE CENTER
Sunday June 21
MAVIS!
AFI DOCS CLOSING NIGHT
Mavis Staples, the legendary gospel and R&B singer, has been making music for more than 60 years. From her roots in Chicago with the family group The Staple Singers, led by her father, Roebuck "Pops" Staples, to her award-winning work as a solo artist, MAVIS! traces the life and career of this remarkable woman with the unstoppable voice. Filmmaker Jessica Edwards, whose short films SELTZER WORKS and TUGS screened at AFI DOCS in previous years, returns with her feature debut. The film includes contemporary interviews with Staples herself, Bob Dylan, Jeff Tweedy and Levon Helm, along with plenty of unforgettable,
soul-stirring music.
Dir. Jessica Edwards; 2015; 81 min
• Sun, Jun 21 / 7:00PM / PORTRAIT GALLERY
Also interested in seeing:
Thursday, June 18
THE BLACK PANTHERS: VANGUARD OF THE REVOLUTION
The Black Panthers occupy legendary space in our 1960s pop culture narrative, but who were the people behind the legend? Director Stanley Nelson offers a film that is sure to become an essential history of the Black Panther Party for Self-Defense. Using archival images and intimate interviews, Nelson introduces the Party leaders, the informants, the supporters and their ultimate undoing.
Dir. Stanley Nelson; 2015; 116 min
• Thu, Jun 18 / 4:00PM / SILVER 2
• Sat, Jun 20 / 6:00PM / LANDMARK 7
REQUIEM FOR THE AMERICAN DREAM
Our country was built on the idea of the American Dream, but is that dream dead? One of the most distinguished contemporary intellectuals, Noam Chomsky, offers a persuasive and riveting discourse on income inequality and its devastating effects, which threaten to erode democracy itself. With smart, fresh insight that opens the doors to a broader discussion, Chomsky's potent message could not be more timely.
Dir. Peter Hutchison, Kelly Nyks, Jared P. Scott; 2015; 75 min
• Thu, Jun 18 / 6:00PM / NAVAL HERITAGE CENTER
• Fri, Jun 19 / 6:45PM / SILVER 3
•
CARTEL LAND
Filmmaker Matthew Heineman (ESCAPE FIRE: THE FIGHT TO RESCUE AMERICAN HEALTHCARE) returns to AFI DOCS with a probing look inside the Wild West atmosphere of the drug war in Mexico. With astounding ground-level access, Heineman immerses himself in danger to follow a citizen uprising against the encroaching drug cartels. When government, police and sometimes even neighbors can't be trusted, for some the only answer is to fight fire with fire.
Dir. Matthew Heineman; 2015; 98 min
• Thu, Jun 18 / 3:15PM / SILVER 1
• Fri, Jun 19 / 8:30PM / LANDMARK 7
PROPHET'S PREY
Filmmaker Amy Berg (DELIVER US FROM EVIL) examines the controversies surrounding the rogue polygamist religious sect known as the Fundamentalist Church of Jesus Christ of Latter-Day Saints (FLDS) and its currently incarcerated leader, Warren Jeffs. Featuring riveting interviews with some who escaped as well as descendants of church leaders, PROPHET'S PREY sheds light on the allegations within the isolated group, including sexual abuse and underage marriages, that led to Jeffs' arrest, whose influence is still wielded from behind bars.
Dir. Amy Berg; 2015; 93 min
• Thu, Jun 18 / 7:00PM / SILVER 2
• Fri, Jun 19 / 2:30PM / LANDMARK 7
WHAT HAPPENED, MISS SIMONE?
Nina Simone earned her moniker as the "High Priestess of Soul." Trained as a classical pianist in North Carolina when racism was open and rampant, Simone drew upon her struggles as she became one of jazz music's most beloved and complex figures. Director Liz Garbus (THE FARM: ANGOLA, USA) offers access into Simone's most intimate thoughts through her own words as the influential chanteuse became a leading voice for the civil rights movement of the late 1960s. Despite her enormous talent, however, Simone battled worsening demons that ultimately drove her into a life of seclusion in Liberia and France.
Dir. Liz Garbus; 2015; 102 min
• Fri, Jun 19 / 8:30PM / SILVER 1
• Sat, Jun 20 / 6:45PM / LANDMARK 6