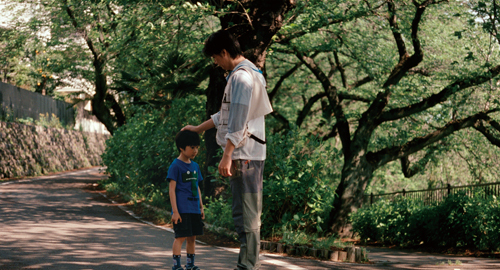 Masaharu Fukuyama as Ryota Nonomiya (Father) and Keita Nonomiya as Keita Ninomiya (Son), Courtesy Fuji Television
In most hands, a switched at birth story would be a pretty shopworn literary device. Mark Twain set a high standard with the Prince and the Pauper and now it's become an item very few pay attention to even though it happens to thousands of babies every year in the United States. We tend to think of this as a normal childhood illusion.
Many children imagine they were actually born to wealthy families and that the family they're stuck with, one that can't afford all the nifty new toys they want clearly can't be theirs. But when it does happen it can be devastating. A new film by Japanese director Kore-Eda Hirokazu turns this into a thought provoking and moving exploration of what it means to be a family in his new film Like Father, Like Son.
He deftly takes us inside the turmoil that roils the emotional waters as we see the impact the discovery of an actual birth switch can have on two families and what it means to be a family. After six years of raising Keita, a young boy, the father, Ryota receives a call he wasn't expecting. The hospital tells him they sent he and his wife, Midori, home with the wrong baby.
This news throws this very upwardly mobile family into a tailspin as they try and navigate the rocky shoals of whether to make a child swap with the other family. This other family is an exact opposite of the one forcefully structured around the driven, careerist, corporate ladder climbing father. The head of the family where Keita's landed is content with living a rather carefree existence supported by the meager income his small appliance repair shop offers.
What this slow paced exercise in commerce lacks in financial security the wayward soul makes up for by providing a fun and nourishing life complete with ample time for kite flying and communal baths. The contrast to joyless, rigid music lessons and hours of homework couldn't be any clearer.
In the end, the questions of whether nature, nurture, DNA or time should win out will provoke some discussion but no one will disagree that this film creates an emotional connection you won't forget.
Like Father, Like Son
A film by Kore-Eda Hirokazu
With Fukuyama Masaharu, Ono Machinko, Maki Yoko and Lily Franky
Is now playing in Southern California:
1/24 - Los Angeles, CA - Laemmle's Royal
1/24 - Pasadena, CA - Laemmle's Playhouse 7
1/24 - Laguna Niguel, CA - Rancho Niguel Theater
120 Min / Japan / Color / 2012 / Japanese language with English Subtitles / Not Rated
For more information: www.ifccenter.com/films/like-father-like-son/