Mike Sanson is the chief editor of Restaurant Hospitality magazine, a national trade pub that covers the full-service restaurant industry. In every issue he tweaks his readers into passionate responses, often by retelling his own dining experiences. The issues he confronts them with are of vital interest to restaurant owners, but they are also the kind of topics that will raise the hackles of folks who dine out often. In addition to showcasing his columns from the magazine, we're also sharing some of the responses he got from readers of RH. Many of these responses shine a light on what goes on behind the kitchen doors. So, as a customer of these restaurants Sanson writes about, what are your thoughts? What really bugs you when you eat out?
Dealing With Second-String Players
A friend of mine recently returned from a Sunday restaurant dinner and asked me if most restaurants use their second-string employees on this slower night of the week. He went on to explain several missteps that took place on the night in question. First, he called the restaurant to explain that he had a flat tire and was running late on his reservation. But when someone on the other end of the phone simply answered, "Hello," he thought he had misdialed. "Is this so and so restaurant?" my friend asked. "Yes," was the reply from the person answering the phone. "I thought you were a friend of the restaurant," was his explanation for the poor phone manners. Huh? When my friend and his wife were seated, a server approached a couple at a nearby two-top and one of them said, "We're looking at the two chocolate desserts on the menu and were wondering which one is the best?" The server replied, "I'm not a dessert guy, so you're on your own." What?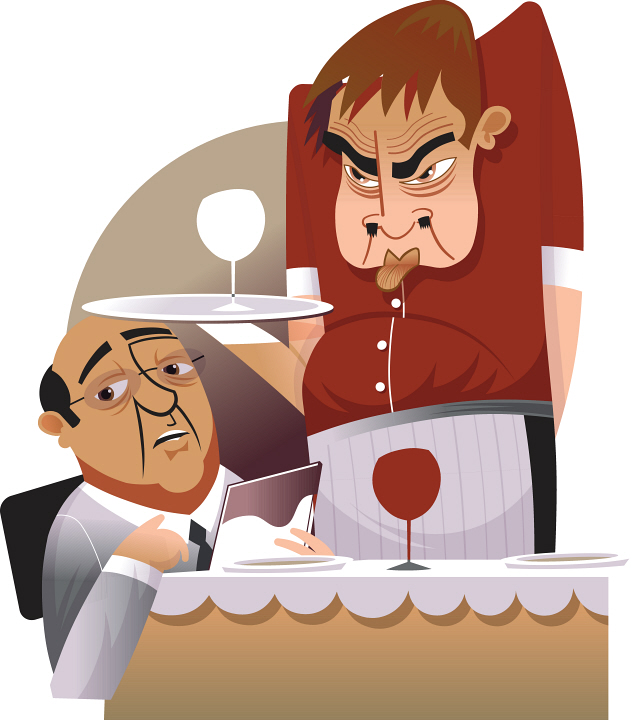 Unfortunately for my friend, that careless server would also be waiting on him. As he was ordering, his wife had a question about the caramelized Brussels sprouts on the menu. She is a vegetarian and wanted to make sure that bacon fat was not used to caramelize the sprouts. But before she could explain her concerns, the server flippantly said, "Caramelization means the Brussels sprouts are sautéed." Really?
The server, who thought he was in the presence of rubes, then tried to take their full order, from appetizers to desserts. Because the restaurant was not busy and my friend was in no hurry, he explained that he would prefer to order as he goes through each step of the meal. The annoyed server then said, "You can tell me everything you want now and you don't have to worry that everything will come out all at once." My friend and his wife then felt pressured to place their entire order, despite having only focused on the appetizer portion of the menu. They resisted, however, and told the server only their appetizer order. He walked away miffed.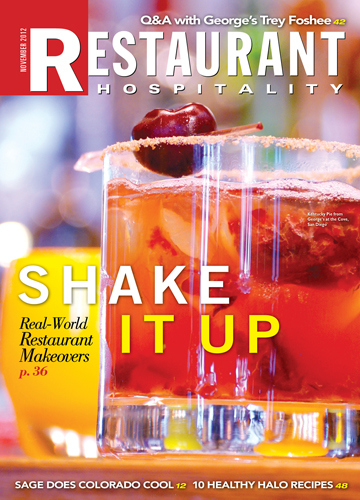 "After this experience," my friend explained to me, "I have no desire to return to this restaurant." The restaurant in question, by the way, is one of the top-rated places in town. Hence my friend's question: Do many restaurants use their weakest players on slower nights?
Upon reflection, this poor performance in this restaurant primarily rests on a server who was having a bad night or should be doing something else for a living. My friend, by the way, was in that restaurant as a reviewer for the local newspaper. He's an incredibly fair restaurant reviewer and he'll go back for at least one more visit. As a reviewer, he's obligated to revisit the restaurant. But a mistreated customer is under no such obligation.

So, I ask you, restaurant operators, do you use second- or third-string players on slow nights, hoping they won't mess up too much? If so, how do you avoid major missteps? And for you, Huffington Post readers, do you sense you're dealing with second stringers on slow nights? Email me with your thoughts.
Restaurateurs Reply
I was horrified to read about the service your friend received. I've worked at a few different restaurant concepts over the last 25 years, and I've never heard of such a thing. That being said, when thinking back on my own dining experiences, it does seem that I never get the same level of service on a slower night.
At my own restaurant, we really try to have a mix of long-term and newer employees. After being open at this location for 16 years, we have a pretty good idea of what business is going to be like every day of the year, depending on weather, school being out, etc. On slower nights, we run fewer staff, and it seems like they make about the same amount of money no matter the day of the week. We have a simple formula for scheduling during the busiest hour that we expect that night. Divide the sales for the busiest hour expected by $200, and that's how many servers we need. (An expected $2,000 hour would net 10 servers scheduled).
There's so much turnover in this business that you do have some second-string players working almost every shift. It is, however, the manager's responsibility to make sure that doesn't hurt the flow of business. Our newer servers tend to get sections surrounded by our veterans, and usually are in a station closer to the service window and computers, so we can keep an eye on them. I do disagree with your point that the poor performance of the server rests on him. It's unacceptable behavior for anyone in this industry. We might run restaurants, but our business is customer service.
Jason Ockerman
Managing Partner
Champions | Willies Restaurants
Houston
One of our managers ran across your editorial and was using it as a training tool to emphasize the constant need for high-level service in our restaurant. Specific to your question, our goal is to use no second string players. We have a good training program for all positions, we have managers who care, and as the owner of this restaurant, I definitely care about every aspect of our facility. However, as you know employees are not always on top of their game. If we find we have a consistent second-string player, we try to fix it, but as you said, if we cannot quickly fix it, we move the person out so that they might do something else for a living.
Michael Rothberg
Owner
Wild Eggs
Denver
As a former server and front of the house manager, having second stringers run slow nights is a recipe for disaster. I would even be willing to bet that the server in question in the article probably wasn't a second string guy. He was just running the rough edge of burnout city.
Restaurants routinely give the worst service on the slowest nights because there is no sense of urgency amongst the staff. It's slow, they'll get to them after a smoke break. This, to my way of thinking, is a top-down issue. Management isn't setting the right expectations or holding the front of the house accountable for those expectations.
When I managed restaurants back in my day, the practice was that we would always do well on busy days because they were busy. We were tuned in and sharp to keep up with the flow. But slow days were the days to impress the guest with service above and beyond. Management can keep the staff on their toes with more floor time and more table touches.
Rob Barron
Operations manager
Becpos
Arvada, CO
I don't know if I would call it second stringers or not, but where I work it's more of an availability issue. I do the schedules for the front of the house staff and I can tell you, we as a management team look at everyone as a representative of our business. So to have second or third stringers is not much of an option. The poor attitudes you wrote about are completely unacceptable. None of my staff members would be so rude. If they were, they would not be working for us anymore.
Do they make mistakes? Absolutely, they all do, but it's our job as a management staff to make it right with the guest and our staff members.
My A players tend to want to work slower nights because they can work the guest and the floor better as well as to make raving fans of the people who come in that evening.
Joe Agraviador
Operations Manager
RGHI
Indianapolis

First: If you operate a first-class restaurant, there should be no second-string employees. All employees should be well-trained and tested before becoming part of the staff.
Second: Often gratuities are better on the slower nights because diners have the opportunity to enjoy a meal without being rushed. When I was a server I found it more lucrative to work midweek. It also allows you to create a relationship with customers.
Third: If a server or any employee finds himself or herself in a situation where they don't have an appropriate response for a customer (in whatever capacity), honesty is always the best policy. Make sure, however, you make it right: "I'm sorry, I can't recall if the Brussels sprouts are sauteed with bacon fat, but I will find out right away."
Michael Duke
Owner
Andrew's Gourmet
Darien, CT
First, I believe you play your best players on your busiest shifts. Not as you suggest, use second stringers on your slowest shifts, because any shift can become busy on any given day.
My experience has taught me that on anticipated slower shifts you need 25 percent A players, 25 percent B players and then you can use/cultivate the other 50 percent of the staff that you are trying to develop into B and A players. On those shifts it is essential that managers are most active to insure positive guest experience.
I believe that one should constantly be bringing new staff into an organization in an effort to raise the level of performance of the entire organization. It is a cruel reality that you must be seeking to replace your weakest performers, after investing a realistic amount of training and development resources, if you expect to grow and enjoy profitability.
Bill "Freddy" Friedrichs
Co-Owner
Twin Oak
St. Louis
Sundays have always been the hardest shift to fill. Most professional servers feel they have already paid their dues and want to spend time with their families or friends. Also check averages are down on Sundays due to the smaller percentage of alcohol sales and larger percentage of children dining.
Our solution was to make sure one of the owners was on duty with a top manager. We also tried to find servers who worked full time elsewhere and were looking for one extra shift. We had one server who just wanted Sundays and she worked every week for four years, running the shift with two younger servers and a busperson.

Unfortunately your friend is correct, most restaurants have weaker staffing on Sundays.
Bob Myers
President/Executive Chef
Oscars' Food Co.
West Warwick, RI