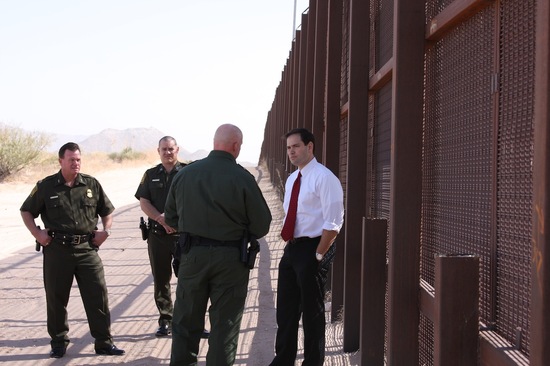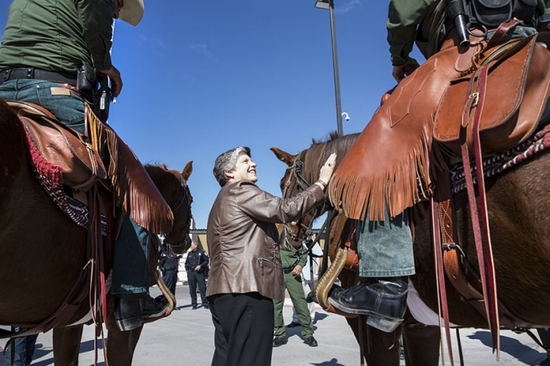 Mr. Flake and Mr. McCain ... say they simply bowed to the facts on the ground: their constituents would never accept a full-scale immigration bill until they first believed the border was secure. Now, they explain, not only is the border safer, but any plan they endorse will have border security "triggers" that must be met before any pathway to citizenship -- a key component for most Democrats -- could begin.

"I said we've got to secure the border and I'm saying that now," Mr. McCain said. "I think border security has improved considerably, and I think that's caused a change in attitude."

-- from Arizona Senators, After Detour, Renew Immigration Push (NYT)
Plain and simple, scenes of the border, the fencing of the border and the securing of the border remain the dog whistle of the immigration debate. It's only because McCain has already gone to that well so visibly in the past that he can simply now fend off white hysteria by reference to a banana. Other politicians are not so bulletproof. The wall, in words and images, remains a backstop with conservatives leaning to the middle (read: pandering to the brown vote while pandering to the anti-immigration vote). And the same goes for the President who still paints it large both ways.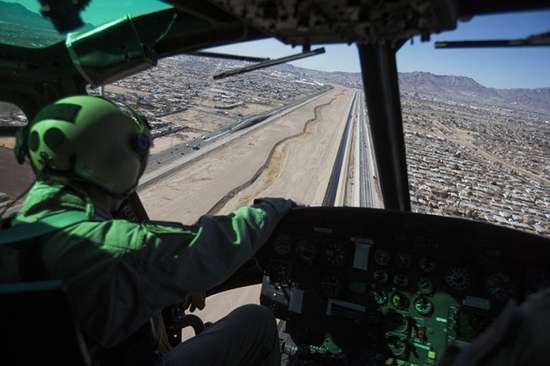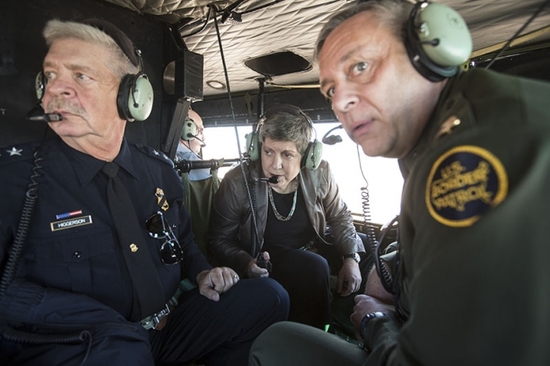 As such, expect more photos of politicians clinging to that border like their very own security blanket ... and the militarized zone that McCain insists it isn't. That includes Rubio, whose own skin color and last name seems to require the auspicious scene on his website for balance. And that includes, also, the White House and its online publishing juggernaut offering up a whole photo gallery two weeks ago of Janet Napolitano cover her homeland security bases from land, sea and air.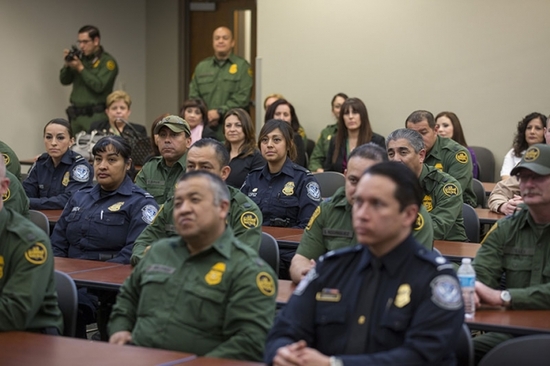 That's not to say the White House isn't quite adept at working the issue from "both sides at once." I have no idea how demographically representative this portrait is of "our boots on the ground" and the ethnic mix of our border guards.  Either way, you've got to appreciate the complexity -- the photo representing both prevention and the goal
Ultimately though, the horseback shot is most brilliant whistle-wise, recalling the old West spirit as we continue to repel the banditos.
----------
BagNewsNotes: Today's media images analyzed. Topping LIFE.com's 2011 Best Photo Blogs, follow us at BAG Twitter and BAG Facebook.
(photo 1: rubio.senate.gov/. photos 2 - 5: Lawrence Jackson/White House  caption 1: Homeland Security Secretary Janet Napolitano chats with mounted Border Patrol agents at the Clint Border Patrol Station in Clint, Texas, Feb. 5, 2013. Using the latest in technological innovations in surveillance, the border patrol still use bicycles, all terrain vehicles and horses to patrol the border.. caption 2: Flying on the U.S. side of the U.S.-Mexico border and overlooking the Rio Grande River, Homeland Security Secretary Janet Napolitano tours the border in a U.S. Customs and Border Protection Office of Air and Marine helicopter over Clint, Texas, Feb. 5, 2013. caption 3: Homeland Security Secretary Janet Napolitano flies over the U.S.-Mexico border by helicopter with David P. Higgerson, U.S. Customs and Border Protection Dir. of Field Operations in El Paso, Texas, left, and Michael Pryzbyl, U.S. Border Patrol acting Deputy Chief Patrol Agent for the El Paso Sector, Feb. 5, 2013, in Clint, Texas, Feb. 5, 2013.  caption 4: Homeland Security Secretary Janet Napolitano addresses the CBP agents and officers at the Clint Border Patrol Station in Clint, Texas, Feb. 5, 2013. Since 2004, the number of "boots on the ground" along the Southwest border has increased by 94% to nearly 18,500 Border Patrol Agents today.)