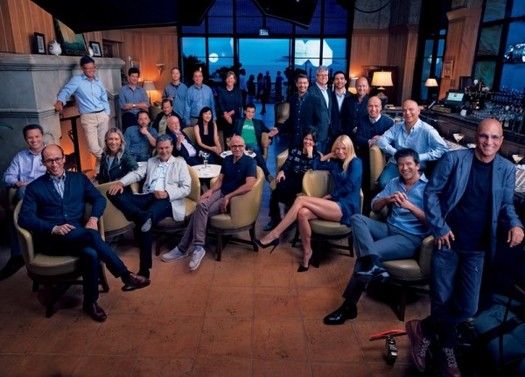 Presenting "leading lights from the worlds of technology, business, media, and entertainment," Vanity Fair's business feature served up this group portrait from the "Code Conference," hosted by tech journalists Kara Swisher and Walt Mossberg in Palos Verdes. Though the guest list (below or on the original page) nominally represents a cross-section of fields, the players, along with the branding, skew digital so it also has a Silicon Valley vibe.
Maybe someone can figure out why the assemblage of "Code Breakers," as they're called, are mostly wearing blue? Otherwise, I'm wondering about all the beaming when it comes to the demographics, and the uniformity. Of the 25 people named in the photo -- including Jerry Yang of Yahoo, Reed Hastings of Netflix and Dick Costolo of Twitter -- only five are women. And of the five -- one being the journalist, Swisher, and two venture capitalists from Kleiner Perkins -- only one is a prime mover in an industrial company: CEO Jess Lee of Polyvore, the fashion/design social commerce site. Of course, that number jumps to two if you include Paltrow and her debt-laden shopping/lifestyle website, Goop. But then, how 'bout those legs?
... But if cars are more your thing: With the Cuba Breakthrough, the One Thing You'll Be Seeing Plenty of
----------
BagNewsNotes: Today's media images analyzed. Topping LIFE.com's Best Photo Blogs, follow us at BAG Twitter, BAG Facebook and BAG by email.
(photo: Jonas Fredwall Karlsson. caption: clockwise from top left: Jerry Yang Yahoo co-founder, Jim Breyer Breyer Capital, Marc Benioff Salesforce.com, Tony Hsieh Zappos, Walt Mossberg Re/code, Brian Krzanich Intel, Mary Meeker Kleiner Perkins, Caufield & Byers, Max Levchin PayPal, Ryan Seacrest Fox's American Idol, Steve Mollenkopf Qualcomm, Jeff Weiner Linkedln, Mike Judge HBO's Silicon Valley, Yuri Milner DST Global, Tony Fadell Nest, Jimmy Iovine Beats Travis Kalanick Uber, Gwyneth Paltrow Goop, Kara Swisher Re/code, Satya Nadella Microsoft, Jess Lee Polyvore, Reed Hastings Netflix, Drew Houston Dropbox, Juliet de Baubigny Kleiner Perkins, Caufield & Byers, Dick Costolo Twitter, Doug McMillon Walmart)