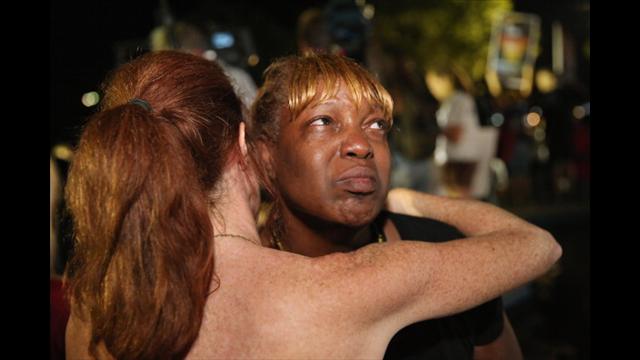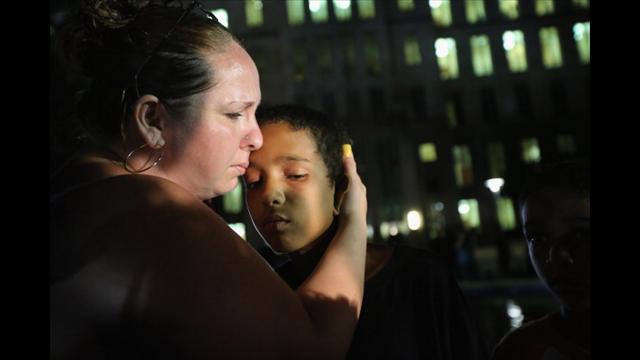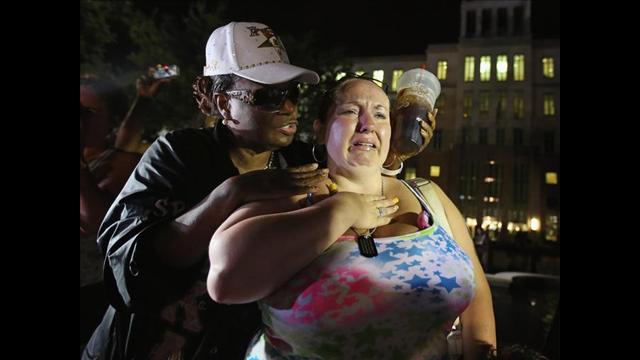 One thing that struck me immediately about the photo coverage of the response to the Zimmerman verdict, distinct from at least recent civil rights protest imagery, is the number of widely-published newswire images highlighting a multi-racial response. (There is a wider selection over at BagNews.)
What I can't tell is if this these images are reflective of an instinct to come together and its actuality, or the photos are more cherry picked and wishful. The images above by Getty's Scott Olson outside the Seminole County Criminal Justice Center certainly deliver a powerful solidarity statement, particularly the white woman reaching out to embrace the black child.
To the central question though, and perhaps an ironic one with the recent passing of Rodney King: can we say that the reaction to Zimmerman and the Florida "stand your ground" law is reflecting progress --across the broad middle, at least -- in getting along?
----------
BagNewsNotes: Today's media images analyzed. Topping LIFE.com's Best Photo Blogs, follow us at BAG Twitter and BAG Facebook.
(photo 1 -3: Scott Olson/Getty Images caption 1: Tanetta Foster is comforted by Erika Rodgers (L) after she breaks into tears in front of the Seminole County Criminal Justice Center after learning George Zimmerman had been found not guilty in the Murder of Trayvon Martin on July 13, 2013 in Sanford, Florida. caption 2: Melinda O'Neal (L) breaks into tears and hugs Shedrick Burfect in front of the Seminole County Criminal Justice Center after learning George Zimmerman had been found not guilty in the Murder of Trayvon Martin on July 13, 2013 in Sanford, Florida. Zimmerman, a neighborhood watch volunteer, shot and killed 17-year-old Martin after an altercation in February 2012. caption 3: Kat Crowe, left, and Melinda O'Neal comfort each other in front of the Seminole County courthouse after learning George Zimmerman had been found not guilty late July 13 in the Murder of Trayvon Martin.)