The 30th anniversary of performance artist Andy Kaufman's premature death has inspired moving reminiscences from friends and admirers. I didn't know Andy well, but his voice changed my life before his voice changed.

Andy and I were born in the same year (1949) and grew up in the same town (Great Neck, LI). We were distantly related via Andy's mother, Janice. During the 1940s, my dad, Carl Sigman, was counselor to Andy's dad (Stanley "Speedy" Kaufman) at Camp Lenox, a sleep-away Shangri La located "High on a stately mountain top/Deep in the Heart of the Berkshires." At least that's the way my dad, who wrote the song that has remained Lenox's Alma Mater for the past 70-plus years, described it.
When Andy and I were 10 or 11, we, along with his kid brother Mike (a star softball pitcher) and my younger brothers Jeff and Randy, arrived at Lenox for the summer.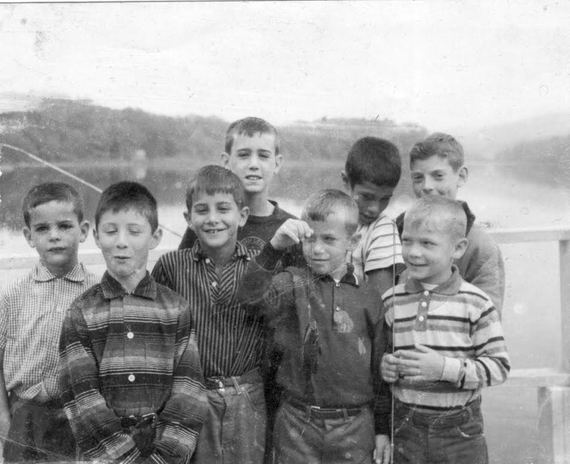 Shaw Lake, Camp Lenox circa 1959. Andy (back, center) his brother Mike (left), Jeff Sigman (with fish) and Randy Sigman (right) et al
Andy's time at Lenox didn't last long. I woke up one morning well before summer's end to find that he was gone. His parents had apparently fetched him and taken him home. Our counselor, who was weird, told us it was because Andy was weird, which scared me because I thought I was pretty weird too and didn't want my parents whisking me away in the dead of night.

Though his time at Lenox was limited, Andy provided by far the most memorable moments of that summer. For an all-camp talent show at "The Lodge," Andy, in full Elvis regalia, sneered, sang and hip-swiveled through an uncanny rendition of one of The King's greatest hits -- "Hound Dog," I think, but I can't swear to that. I can swear that the performance was thrilling and shocking and riotous and rollicking. And yes, weird. Deeply weird. Rock & roll weird.
The moment Andy took the stage, a huge smile appeared on my face, a smile that would return when I got to see Elvis perform years later. A smile I'm smiling now.
------------------------
I never found out why Andy left camp early that summer or how he felt about his pre-teen channeling of Elvis. On a lark, I emailed Rich Moss, who runs Camp Lenox (his family has owned the camp for more than a half century), to see if he'd ever heard anything. Rich wrote back that Andy visited camp once and told him, "I got my start in show business in this lodge impersonating Elvis Presley."