During the 1970s, when I toiled for the weekly music trade magazine Record World, there existed something called the "record industry." Scores of entities known as "record labels" signed "recording artists" to long-term "development deals" where "marketing campaigns" and "tour support" helped build loyal audiences that could sustain "recording careers."
Exposure in "the trades" -- Record World, Billboard and Cashbox -- was often the first step in "breaking" an artist because it gave labels a leg up with "radio stations" and "record stores," which played and sold actual "vinyl" "singles" and "long-playing" or "LP" "records." And nothing guaranteed ink like a visit to our offices for a chat/photo op.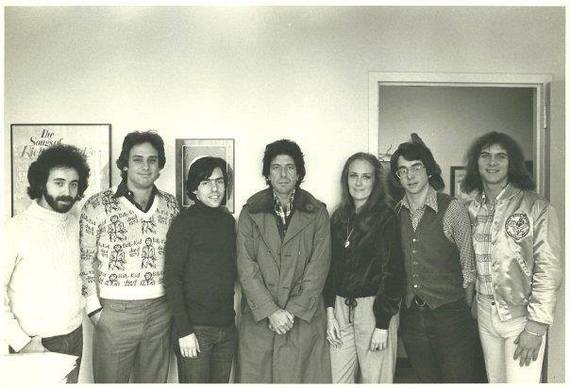 Leonard Cohen with assorted RW staffers and Warner Bros. execs Stu Cohen and Kenny Puvogel
My first two interviewees as a cub reporter were Jethro Tull frontman Ian Anderson, a 24 year-old rock star, and 52 year-old bluesmaster Chester Burnett (Howlin' Wolf). Anderson was pissed off for no apparent reason and mostly glared, while Mr. Wolf, whose titanic struggles gave him every reason to be pissed off, was nothing but kind. The angriest visitor ever was probably an impossibly young Elvis Costello circa 1976; but that was okay because his enthusiasm for biting the hand that fed was the point.
A deft one-liner could make a visit especially memorable. Art director David Skinner recalls that as the staff gathered round Rodney Dangerfield, who'd come by to plug a comedy record, a female editor, dressed cute with knee socks, gushed, 'We just love you, Rodney!' "He looked at her," says Skinner, "then turned to us and said, 'What? You got Girl Scouts working for you, now?'" Another time, assistant editor Ira Mayer walked into the men's room, only to find Taj Majal, a wonder of the musical world, smoking a joint. Taj looked at Ira, grinned, and deadpanned, "Smokin' in the boys room."
Sometimes actions spoke louder than words. We learned why Arthur Brown's act was billed "The Crazy World of Arthur Brown" when the "Fire" man beelined to the roof of our 42-story building, literally "toking up." Brown stepped onto the ledge, arms spread like he was about to fall -- which he might have, were it not for the quick reflexes and strong arms of associate editor Howard Levitt.
Many of these meet-and-greets were spontaneous and perfunctory -- the pic was the thing. When I asked RW editor-in-chief Sid Parnes for some tips on how to conduct an interview, he offered only this: "You don't have to know anything about the artists. Just ask one question -- 'What's happening?' -- and their egos will take it from there."
Once in a while, though, we broke some news.
Perhaps our most amazing scoop came from the great Rick Nelson, a fine singer-songwriter and erstwhile teen idol thanks to his role in the '50s-'60s family sitcom, The Adventures of Ozzie and Harriet. Intrepid reporter David McGee somehow persuaded Rick to come clean about a mystery that's vexed millions of boomers for over 50 years: What did his dad Ozzie do to support his family on Ozzie and Harriet? Rick's answer: "Nothing. He didn't have a job on the show. He was just there."
Most of our visitors were human. But assistant editor Bob Nash recalls a transcendent experience with a piece of blue fur with a black space for a mouth and ping-pong ball black-spotted cross-eyes.
We're talking, of course, about Cookie Monster, who showed up one day with sidekick Jim Henson in tow. "Every time I tried to ask Henson a question," Nash says, "Cookie made faces at me. When Henson answered, Cookie gave him silent looks of profound interest, or disbelief or astonishment.

"Cookie Monster was not a sophisticated puppet. So how he was able to communicate the range of reactions and emotions he seemed to produce, I have never been able to figure out. My office-mate (assistant editor) Fred Goodman and I simply could not stop laughing. Hard as we tried to connect with Henson, we could not take our eyes off of Cookie, so powerful was the sense that Henson and Cookie were wholly distinct beings."
Fred Goodman remembers the time a short, disheveled, bearded man wandered into our lobby and asked the receptionist for a copy of the latest issue. He said his name was George, and he'd heard that we'd written about him. That man was George Carlin.
A few years later, by which time Carlin had become a comedy superstar, he dashed into art director Mitch Kanner's office, closed the door and said, "You look like a guy that would have some cocaine." Kanner is mum on exactly what went down behind closed doors, but when Carlin emerged, Kanner says, "He bounded around the place like a meshugenah."
While Carlin was sublimely ridiculous, actress Julie Christie was ridiculously sublime. She came by to see writer/editor Sam Graham about a record she was interested in and was introduced to John Mankiewicz, an assistant editor whose unusual childhood (he was raised by wolves) prepared him for a stellar career as a film and TV writer/producer. Mank says, "She asked me if her stockings -- the old-fashioned kind, with a seam running down the back of the leg, clearly attached to a garter belt -- were straight. The most beautiful face in the world, turning around, to show me the best legs in the world, asking for my opinion. Yeah. They were straight. I think I managed the word 'Yes.'"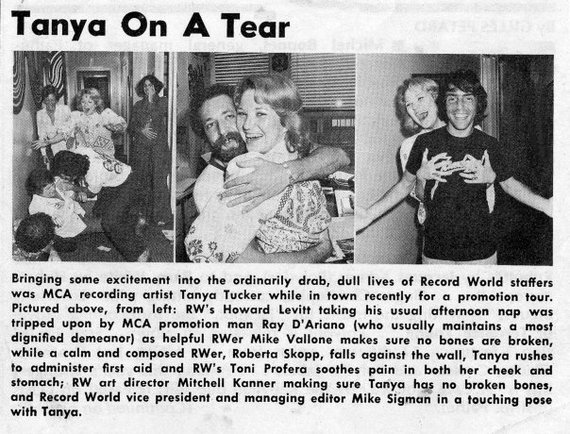 Stay tuned to this blog for more memories -- some thrilling and a few not so thrilling -- with John Lennon, Stevie Nicks, Tanya Tucker, Elton John, Bruce Springsteen, Stevie Wonder, Captain Beefheart Earl "The Pearl" Monroe et al.