With the cocktail craze of recent years largely passing France by, the city of Lyon, home to the rustic bouchon, was an especially unlikely place for a resurgence. Yet, here you will find the ironically named Soda Bar nightly serving up dozens of perhaps modern cocktail culture's most unlikely ambassador, the Zombie, among other libations.
My wife and I often search out cocktail bars when we travel. Cities like New York, New Orleans, Chicago and San Francisco have helped resurrect America's pre-prohibition cocktail culture, yet it was London where the current cocktail revolution started. Back in the Nineties, while New York was stuck in Cosmo hell, no trip to London was complete without trying the delicious creations at Atlantic Bar & Grill or Townhouse. Then, suddenly, speakeasies and cocktail dens sprouted here -- New York alone had Milk & Honey, Pegu Club, PDT, Death & Co. and many more. Europe, however, sadly remained mostly devoted to the mixed drink -- think Jack and Coke, Red Bull and vodka or the occasional mojito and margarita.
One night prior to our France trip, we were talking with Nicolas, a bartender at Brooklyn's Dram, about our plans. A Frenchman himself, Nicolas told about us about his friend's place, Soda Bar in Lyon, which we had missed in our research. It sounded intriguing and when we arrived at the end of the August doldrums, with half the city closed, we prayed Soda Bar would be an exception.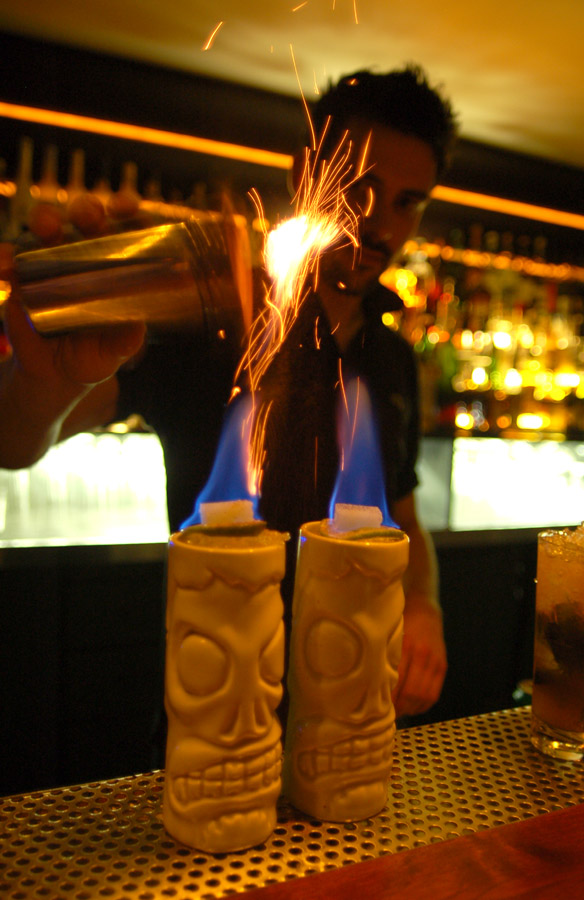 Thankfully, we weren't disappointed. After a long dinner nearby at Chez Paul, we stumbled into Soda Bar for a nightcap. Immediately we were taken with the modern space, a long bar with seating areas on both sides and a striking pair of architectural designs on the wall reflecting a utopian future city, kind of Paris meets New York meets Shanghai. The bartender, Arnaud Grosset, handed us a small booklet titled "Drink Prescriptions." Inside was a note entitled "A Brief History of the Cocktail" followed by pages of drinks, both classic and modern.
With France's drinking culture so devoted to wine, we were impressed to find such an ambitious list at Soda Bar. For the first round, we ordered a CBS, which was calvados and Benedictine with orange, sugar and bitters, and an Aviation, made with the lesser known American gin Bluecoat. Both drinks were terrific, with the CBS reminding us of a Manhattan but with a nice smoky quality, and the Aviation perfectly balanced. Our next round included the excellent New Orleans classic, the Vieux Carre, a mix of bourbon, cognac and sweet vermouth just as good as the one we had at the Carousel Bar at the Hotel Monteleone, even if the original is made with rye instead of bourbon.
We got to talking about drinks with Arnaud, who was quite chatty and excited to know we were from New York. He turned out to be a student of cocktail history and had fashioned himself a sort of drinks envoy to his countrymen. We asked how the locals were taking to cocktails and he said it was a slow process, that for them the Cosmo was a dry drink. However, it was clear from our vantage point that they certainly favored the Zombie, which even in Lyon came in a skull glass set aflame. For the two hours we spent there, we watched as he gamely prepared one flaming Zombie after another. Arnaud reasoned that once his countrymen got used to drinks like the Zombie, they'd become more adventurous and we couldn't fault the logic. After all, modern cocktail drinkers in America aren't so far removed from the Cosmo or Appletini.
Our notes kind of peter out after that. The last drink Arnaud set before us was a nice combination of chartreuse, cognac and something else. I can't tell you what it was called but we certainly liked it and the walk back to the hotel was quite pleasant as a result. Ironically enough, I've never had a Zombie. I'll have to rectify that the next time I'm in Lyon.