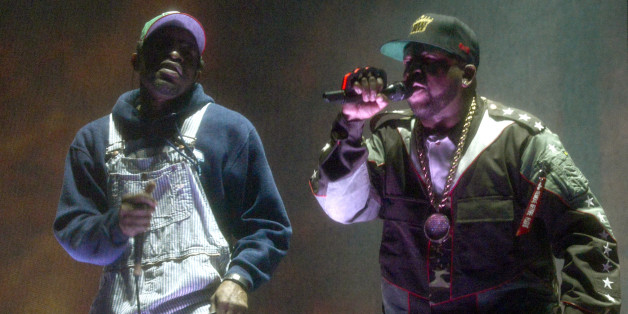 Near the commencement of Outkast's hour-and-a-half long performance at the Coachella Valley Music and Arts Festival this past weekend, their first performance together as a group in a decade, a lone table occupied center stage. The lauded duo reciprocally encircled the table while simultaneously reciting their seminal lyrics. The table later vanished from the stage, yet the duo continued to recite their rhymes while walking a circular path reminiscent of spiritual pilgrims walking a labyrinth.
During their performance of "Aquemini," Big Boi provided insight as to the meaning of the table and their circular performance. He stated, "Ya'll probably wondering, like, 'What they doing walking around in circles?' Right? So, when we first started out we used to write our raps. Then, in my Auntie's kitchen, we used to walk around the table and recite our raps, so we could get sharp with it. Ya dig me? Can you feel that?"
Two millennia ago, and half the expanse across the globe from Outkast's epistemological hallowed ground of East Point, Georgia, Christ called his disciples to partake in a final meal together with him in Jerusalem. While seated around a table, likely reclining on their sides in a circular fashion, as was the custom of their day, Christ broke bread and poured wine as symbols of his then forthcoming Passion, thus transforming the mundane to the supernatural and extraordinary!
Christ's table is a place of deep calling, a gathering of creative community with the Divine, a call to creative Cyphers in order to manifest hope in our world. As creative Cypher -- the Eucharist, Holy Communion, the LORD's Table -- offers transformational experiences with the Divine and with each other.
I came of age in Houston, Texas during the formation of Houston's unique sound and still notable contributions to hip hop's canon. Oft times, gatherings with classmates would become exercises in creative community as we formed cyphers to showcase our extemporaneous lyrical prowess. Far from being the best freestyle artist in our group, my primary contribution to the cypher was that of beat maker, whether beat-boxing or keeping the beat with balled fists and knuckles knocking upon the table.
In my book, Freestyle: Reflections on Faith, Family, Justice, and Pop Culture, which has as its primary theme God's call for all humankind to manifest hope in our world by working together towards the coming of a newer and brighter day for all people, each chapter is concluded with a Cypher. Whereas, in hip hop, a cypher is a gathering of freestylers whose voices flow and who listen to the flow from others, in Freestyle, Cypher is defined as a call to prayer, God's creative force empowering us to manifest hope in our world.
]The Cypher is indeed a place of hope. Yet, this hope is not dismissive of the presence of evil or human suffering. Both are fully acknowledged. However, this hope envisions the promises of God for a newer and brighter day despite all forces that seek to work in opposition to that reality. It is a hope that boldly looks across the table and tells Judas to do his bidding, for in the end, there is nothing that Judas can do to thwart the hope-filled future that God has already ordained.
Dr. Martin Luther King, Jr. knew this hope well, a hope fortified within him late one January in 1956. Bombarded for weeks by threatening calls, this night, King was deeply troubled by a caller who proclaimed, "Listen nigger, we've taken all we want from you; before next week you'll be sorry you ever came to Montgomery." King heated a cup of coffee, but unable to drink it, sat alone at his kitchen table to devise an exit strategy from the Movement.
However, King was not alone. He had unknowingly entered a Cypher with the Divine. Suddenly, his table became the holy ground of creative Cypher with God. Of this encounter, King stated, "It seemed as though I could hear the quiet assurance of an inner voice saying: 'Stand up for righteousness, stand up for truth; and God will be at your side forever." That very moment, King's fears retreated from him.
King would later state that "Human salvation lies at the hands of the creatively maladjusted." In the presence of many troubling brutalities, could it be that the hope our world longs for will only be found as we accept Christ's call to creative Cyphers? And could it be that we are missing opportunities to meet in creative Cyphers by too narrowly defining where these creative Cyphers might appear?
In his second verse on "Aquemini", Big Boi offers an important commentary. He flows, "We missed a lot of church so the music is our confessional," a lyric representative of almost two generations that have come of age largely outside of the catechisms of the church, and whose views of God have been largely shaped by culture, and not religious institutions. It is vitally important for the church to enlarge its vision of where God is calling together creative communities towards hope-filled encounters with the Divine. As such, the LORD's table need not be so narrowly conceived as those tables that rest near the altar of our great cathedrals upon which these words are inscribed: "In remembrance of me."
Since the Divine knows neither temporal or spacial restriction, as spiritual pilgrims this Holy Week journeying towards the cross, let us meet and form "new tables" towards creative Cyphers that reach our world with the hope-filled message of Christ, a hope manifested, not just in word, but in action. As Outkast invited their congregants to gather tableside as they recited their hymns at Coachella, let us meet together with Christ in communities of creative Cypher, be it "tables" formed in our homes, at Starbucks, or street corners.
And let us be transformed by the Incarnate One.
Ya dig?