At 11:30 a.m. on January 16, 2014, I stepped into classroom 02 of the Weatherhead School of Management at Case Western Reserve University to teach my entrepreneurial finance course. Several MBA students were already gathered there, and I greeted each with a handshake. It was my fifth year teaching at Case Western Reserve; I relish the intimate atmosphere of my classes, getting to know each of my students by name and developing many lasting relationships. I have one rule: no electronic devices allowed. I am a firm believer that computers and phones have their place, but that place is not in my classroom.
At 7:00 p.m. on April 28, 2014, I was forced to make an exception to my no electronics rule for a special new class that I was teaching. I sat at my computer and anxiously clicked a "Go Live" button with my mouse. In that moment, I became the third Case Western Reserve professor to teach a Massive Open Online Course (also known as a MOOC). Since their start three years ago, MOOCs --videotaped and internet-streamed courses -- have begun to fill a pent up demand for quality education, mostly in places where it was previously unavailable.
As is typical of these completely free courses, astounding numbers of students registered for my MOOC, "Beyond Silicon Valley: Growing Entrepreneurship in Transitioning Economies." With more than 23,000 students registered (85 percent of which were from outside the U.S.) and all of the assignments either graded automatically or peer-assessed, I wondered how or even if I would be able to create any meaningful relationships.
Before the first video went live, hundreds of students had begun to introduce themselves on the discussion boards. My staff and I spent countless hours over the next six weeks maintaining a fascinating dialogue (through the boards and in live online discussions), learning about the unique challenges of supporting entrepreneurship in students' communities, places as varied as Sierra Leone, Myanmar and Yemen. I quickly became acquainted with many of my active students.
My involvement with some students grew beyond the course. I met several in person this summer in Greece, Macedonia, Czech Republic and Spain at seminars organized by the US Department of State.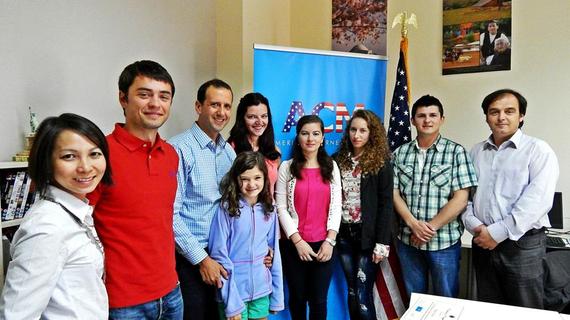 Michael Goldberg with "Beyond Silicon Valley" MOOC students (and his daughter Anna) at the American Corner, Struga, Macedonia, June 19, 2014
A few students asked me to speak directly with their community leaders who are involved in fostering the growth of start-up companies. I did this several times, most recently last week. One student from Iran, Mehdi Sadeghpour, invited me to present via Skype to an institute based at the Sharif University of Technology in Tehran that studies entrepreneurial ecosystems in emerging economies.
Mehdi, a 26 year old entrepreneur with a degree in mechanical engineering, has plans to launch his first start-up later this year in the tourism sector. I asked him to reflect on how his participation in my MOOC has made an impact:
Today, you can hardly find a country which is not concerned with growth of entrepreneurship.

Governments need to create jobs and improve their economic growth and gain taxes, and people want jobs, a prosperous society and amenities. So everybody these days is in love with this magical French word, "entrepreneurship."

While some governments are leading the way and paving the path for entrepreneurship to grow, in others, private sector and individuals are trying to do so.

Here in Iran, our government has been trying to improve the entrepreneurial ecosystem for a while now, but unfortunately its efforts haven't led to a tangible result yet.

So, we are witnessing private sector and individuals trying to change the situation. For example, we've seen events like Start-Up weekend and TEDx, alongside a few accelerators and venture capital funds, which have been founded in recent years.

As a concerned member of our entrepreneurial community, I've been studying successful entrepreneurial ecosystems from around the world and searching for solutions that may be useful here in Iran.

So, one day in April, I was surfing Coursera, which is one of my most favorite websites ever, and, suddenly, a brilliant title caught my eye: "Beyond Silicon Valley: Growing Entrepreneurship in Transitioning Economies."

The title seemed like a miraculous answer to my question! The first thing that fascinated me was that this course was coming from an American university and not from a university from a developing country. I said to myself: "Do they have these concerns too?"

I eagerly decided to enroll in the MOOC. It was about Cleveland's programs and its movement and changing entrepreneurial scene. I thought I could learn a lot and maybe, someday, I can transfer what I learned to people in charge.

It was an amazing six week course -- each week focusing on one aspect of an entrepreneurial ecosystem: "Role of Government," "Intermediary Organizations," and "Seed Accelerators," to name a few -- and you could find about the problems, programs and initiatives in Cleveland in detail. The course was like an in-depth case study that provided first-hand data.

Also, it was kind of a relief to see that, whether you are in Tehran or Cleveland, there are some common problems, such as how you are going to persuade donors to support the entrepreneurial community, or how to have the support of government.

A few weeks later, I happened to be project manager of a research institute focused on fostering entrepreneurial ecosystem in Iran. We had great researchers and talent there, but they were not familiar with the field of research, so the first thing I did was recommend that they watch the MOOC videos, which they did and found useful, too.

It fascinates me how an online course, initiated by people from a distant part of the world, leads to awareness here.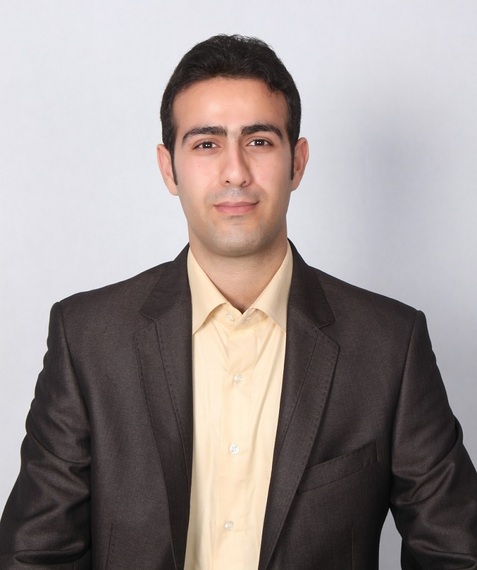 Mehdi Sadeghpour, "Beyond Silicon Valley" MOOC Student, Tehran, Iran.
Our virtual meeting last week included about 15 people. The small size allowed for a meaningful exchange of ideas, and we found that places such as Tehran and Cleveland have common challenges. Mehdi is helping organize meet-ups in Iran during the next session of the MOOC which will help involve more stakeholders in the discussion around supporting entrepreneurship there.
In spite of my doubts, it turned out that I could connect with my students in a fruitful way, even though there were tens of thousands. Making this happen takes effort, and a great deal of it must be student-initiated. In a MOOC, it's a challenge to call on individual students to encourage participation. The students must call on me. So far, it's been great. I'm ready to hit the 'Go Live" button again in October.
Note: Thanks to Mehdi and his colleagues at the Sharif University of Technology who translated the subtitles for my MOOC into Persian, which will make the course accessible to more students. ("Beyond Silicon Valley" is the first offering on the Coursera platform with Persian subtitles.) The course's subtitles also have been translated into Greek and Spanish. The next session of "Beyond Silicon Valley" starts on October 3, 2014 and registration is now open here.