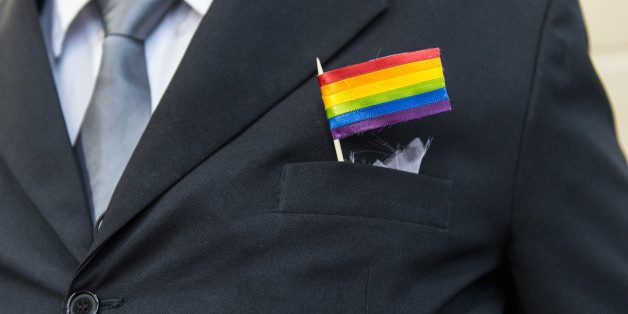 Mormons in Utah, who comprise nearly two-thirds of the state, spent an estimated $30 million trying to get Prop 8 passed in California in 2008, as leaders of the Church of Jesus Christ of Latter Day Saints (LDS) assailed same-sex marriage as a dangerous assault on the traditional family. Urged by the church, Mormons traveled to California, going door to door campaigning for Prop 8, making up 80 to 90 percent of the early volunteers.
Meanwhile, in Oklahoma, heart of the Bible Belt, Oklahoma City state legislator Sally Kern became infamous nationally for speaking out of in favor of Prop 8 and against same-sex marriage, railing in March of 2008 that "the homosexual agenda is just destroying this nation" and that "homosexuality poses a bigger threat to the United States than terrorism." In an interview with me at the 2008 Republican National Convention in St. Paul, Kern repeated a line she'd said before, that "we're becoming so open-minded that our brains are falling out."
Well, Kern's brain must be toppling all over the sidewalk today, after a federal judge in Oklahoma ruled yesterday that the state's ban on gay marriage is unconstitutional. His ruling follows by several weeks a federal judge in Utah striking down the law banning gay marriage in that state.
Record numbers of gay and lesbian couples were married in Utah over a several-week period (more than 1,000 couples), until the Supreme Court stayed the decision, pending appeal. (In Oklahoma, the judge stayed his own decision immediately, expecting an appeal.) And while Utah's governor says the state won't recognize those marriages pending the appeal to the 10th Circuit, the Obama administration announced the federal government will fully recognize those marriages.
On Christmas Eve, Dana Douglas of Los Angeles tweeted what was certainly the best tweet of my week:
Dear Utah: Karma's a bitch. Merry Christmas. Love, California. #utahmarriage #utah #equality

— dana douglas (@danaruns) December 25, 2013
That note couldn't be better put and, actually, it should be sent to Oklahoma in addition to Utah. The LDS church in Utah didn't just urge its members to fund a campaign and volunteer their time to take away Californians' rights; it was found guilty on numerous counts and fined for violating California election law, having not reported the church's own spending on the campaign, including busing volunteers to California, making slick TV commercials and running phone banks.
Sally Kern, meanwhile, led a movement of hate in Oklahoma and across this nation against LGBT people, receiving a standing ovation from fellow GOP legislators in her state after calling gays a dangerous threat, and becoming a national superstar among the anti-LGBT leaders on the evangelical right who propped her up in the battle to get Prop 8 passed and the battles against LGBT rights that followed. Kern went on to lump gay marriage with "child abuse ... sex trafficking and many other forms of debauchery." On the 10th anniversary of the September 11th attacks, she belligerently repeated her outrageous claim that homosexuality is more harmful than terrorism: "It's more dangerous, and yes, I think that it's also more dangerous because it will tear down the moral fiber of this nation."
But here we are. Prop 8 is gone. Hundreds of gay marriages have actually occurred in Utah. And Oklahoma's ban on marriage equality is in peril.
And those bringing justice to Utah and Oklahoma are not East Coast or West Coast liberals forcing an ideology. The federal judge who struck down Oklahoma's ban is a lifelong Oklahoman, born and bred there, educated at Oklahoma State, a former Army reservist who easily won Senate approval when nominated by President Clinton in 1994. In a further bit of poetic justice for Sally Kern, he even happens to share her name: Judge Terence Kern.
The federal judge who made gay marriage happen in Utah, Robert Shelby, is a registered Republican and a former Persian Gulf War engineer whom Utah Sen. Orrin Hatch, during Senate confirmation hearings, had called a "lawyer with an unwavering commitment to the law." Tea Party Republican Utah Sen. Mike Lee, who only weeks ago introduced yet another federal bill aimed at undermining gay marriage, had called Shelby, nominated by President Obama in 2011, a "pre-eminently qualified" nominee who would be an "outstanding judge."
To boot, Mitt Romney, the Mormon presidential candidate who backed banning gay marriage in the U.S. Constitution, whom Utahans (and Oklahomans) supported overwhelmingly with money and votes, lost the election in 2012. Marie Osmond, Mormon Utah's pride and joy, a woman from an entertainment family that is Utah royalty in addition to being among America's sweethearts, sent a jolt when she announced last April that she has a lesbian daughter whom she loves and supports and whom she'd like to see happily married to another woman.
And in Oklahoma, a legal gay marriage actually occurred last November under Native American law, when a gay couple obtained a license through the Cheyenne Arapaho Tribes, a sovereign nation in Oklahoma that doesn't ban gay marriage, despite outrage from Sally Kern. Like many of those in Utah who arrogantly worked to strip away the rights of people in another state, perhaps Kern is realizing today that every action has an equal and opposite reaction. (Since Kern doesn't believe in evolution, however, it might be a stretch to think she believes in Newton's laws).
As Dana from California tweeted, karma's a bitch.