Maybe it was the jet lag and sleep deprivation.
Or maybe it was the carbohydrate high from the croissants.
Or maybe it was the flattering lighting.
Whatever the reason, Paris is a city that inspires style. It's got nothing to do with buying pricey, designer clothing, shoes, or chandeliers. It's about incorporating your own spin on whatever catches your eye. Oh, sure, the French love fancy brands, too. But they don't rely on such fancy statements for style.
And after a quick jaunt to Paris with a buyer, designer, and personal shopper, I realized there's plenty of ways to rock those cool everyday looks without having to deal with maddening exchange rates. Here's our picks.
***
Wool Knit Loose Berets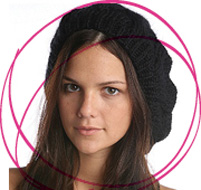 No time to brush your hair? Rainy day? Hate your outfit? Don't underestimate the value of a good hat. Wear it with your hair tucked in, leaving a few bangs to fall outside of it. Urban Outfitters makes a great one--although finding it isn't that easy. Other great options are Stewart + Brown's Cashmere Peasant Caps and Mulberry's alpaca blend chunky rib beret.
Available at Urbanoutfitters.com,Net-a-porter.com, and Thisisauto.com.

Uniqlo Jeans and Cords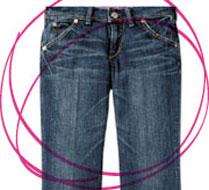 The Japanese emporium might be known for their cheap(er) wool and cashmere blends, but their jeans are causing a stir amongst the fashion crowd. With style arbitrators proclaiming both skinny and wide leg cuts okay, why limit yourself to one pricey pair?
Available at Uniqlo, 546 Broadway, near Prince Street (917-237-8800). To see styles, go to Uniqlo.com. To order, call 1-877-4UNIQLO.

Remy Hall Military Coat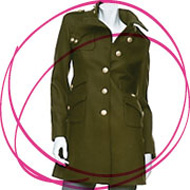 Who needs to pay the big bucks for Luella and Balenciaga? This topper is just as cool.
Available at Intermixonline.com.
J. Crew Men's Millbrook Suede Driving Mocs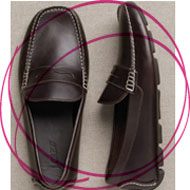 Tods? Prada? Nope.
Available at Jcrew.com.

Bless White Magic Wallet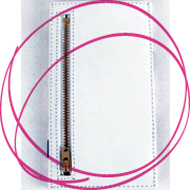 This design collective proves true to its hipper-than-most reputation with this remake of wallets used by French waiters and waitresses. With straps and a zipper, they're great for travel.
Available at Oaknyc.com.
Pentel Sign Pens and Start Here Notebooks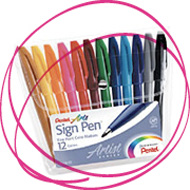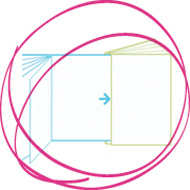 Don't ask. If you are an office supply freak, Pentel Sign Pens make writing fun. (Label whores rejoice: these are the writing instruments of choice by fashion editors.) As for notebooks, lose the Moleskin. The latest? Start Here, a line of linkable notebooks. If not for the practicality of the design, then as a nod to marketing 101.
Available online at Pentelstore.com and Starthereny.com.

Kate Moss for TopShop Asymmetric Leather Jacket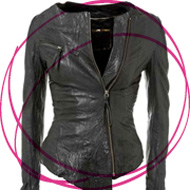 Buttery soft leather, cool zipper, snug fit, long sleeves, and no collar make this almost as good as a Rick Owens's one. Wear it over a dress or jeans...or however you chose.
Available at Barneyscoop.com
Converse High Tops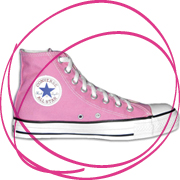 Regardless of how played out this look might be, Parisian style hounds were wearing this with skinny jeans.
Available at Classicsportshoes.com.

The Waist-Cinching Belt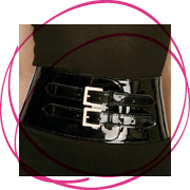 Update a boring dress, peacoat, cardigan, or even tuck in a super long scarf. Worth investing in a good one--it'll suck in your tummy and improve your posture.
For the real thing, splurge on Kiki De Montparnasse. Other options: 3.1 Phillip Lim, La Garconne, and Eugenia Kim Elastic Vanessa Belts.
Available at Kikidm.com, Lagarconne.com, and Shopbop.com.
Rosa Maria Rings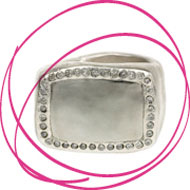 Beautiful, cutting edge, and modern--these are a girl's best friend.
Available at Twistonline.com.
Bop Basics Short Sleeve Burnout Crew Tees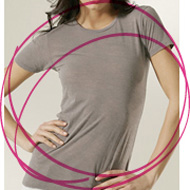 The simplicity and flattering fit works the whole vintage mixed with designer look.
Available at Shopbop.com.

Gap European Collection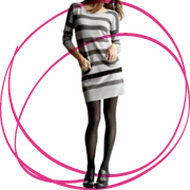 Those purveyors of the utilitarian chic look know how to utilize ecommerce. Their trick? Offer their European collections via their website. Across the pond, we couldn't get enough of their selection. And now you can too. Stock is limited--shocking.
Available online at Gap.com.
Givenchy Nightingale Bag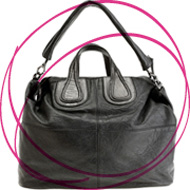 The ladies with style were all over this. Added bragging rights if you can snag a purple colored one.
Available at Barneys. For boutiques nearest you, go to Givenchy.com.
Jeffery Campbell Studded Platforms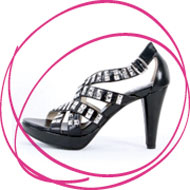 Forget Burberry. I'm going to take my own advice and put the money to a better use. These are just as cool and perfect for adding that extra touch to opaque stockings and skinny jeans.
Available at Oaknyc.com.