Co-authored by Michelle Brané, Director, and Emily Butera, Senior Program Officer, Migrant Rights and Justice

Yesterday, hundreds of women from across the country came together in Washington, D.C., to call on Congress to pass immigration reform that treats women and families fairly. These women are tired of waiting for Congress to address the need for common sense reform that honors the contributions of immigrant women, offers them a lawful and safe way to reunite with their families and enables them to build a better future for their children. Following a press conference in which women and children shared their stories of lives torn apart by our broken immigration system, 105 women -- including 25 undocumented women -- linked arms, sat down in an intersection in the shadow of the Capitol Dome, and refused to move until they were arrested by U.S. Capitol Police.
At the Women's Refugee Commission, we know that the face of immigration in the United States is overwhelmingly that of women and children. It was a joy and an honor to witness that face come out of the shadows in such a powerful, moving and courageous way.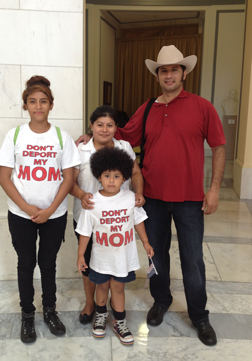 Oscar and his family participated in visits to House offices, sharing their personal experience in the immigration system, and asking Members to support fair immigration reform for families.
Following the arrests, WRC Migrant Rights and Justice staff led delegations of children into the House of Representatives to ask Members to act now on comprehensive reform. The children reminded Members that every day they delay work on immigration reform is another day children live in fear of being permanently separated from their parents. Their message was clear - immigrant women and their allies just showed great courage in getting arrested to demonstrate the need for fair immigration reform. Will you have the courage to stand with them on this issue?
Yesterday, the immigrant women's rights movement took a big step forward. The gathering was one of the largest all-women acts of civil disobedience in recent history, and the largest act of civil disobedience by undocumented women ever. Their voices were heard in the halls of Congress and around the country. The Women's Refugee Commission is proud to have laid the foundation for this growing immigrant women's rights movement through our more than 15 years of research and advocacy to bring the voices of immigrant women, children and families to the attention of policymakers and partners. We are honored to stand in solidarity with our partners at We Belong Together, the courageous women and children who came together yesterday and immigrant women and families across the country in calling for fair immigration reform now.
You, too, can take action now. Click here to send a letter to your Representative and ask him/her to support comprehensive immigration reform.