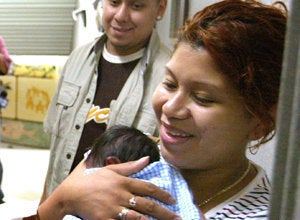 I'm not a reality TV star, but I'm a mom. I spit in a cup so that I could help other mothers and help my family.
The more we know about our family history, the more we know about ourselves. I spat and became a founding member of the 23andMe Pregnancy community because I want to know more about my ancestors, and because I want to help other moms.
23andMe is a company co-founded and co-managed by Anne Wojcicki and Linda Avery. The company offers a personal genomics service, in which it scans the DNA submitted by its customers and provides information on their health risks, ancestry and other traits.
My parents are dead. By being a part of the 23andMe community, I can pass along details of our family to my children.
Our family history is full of explorers, pioneers and warriors. Grandmother's people were bodyguards to the King of Scotland. Our family was one of just twenty-three families to go west through the Cumberland Gap with Daniel Boone. My grandmother raised three children during the Great Depression as a widow.
I know my family history but my family health history is a mystery. I can't ask my mom if she had problems in her forties with ovarian cysts because she's passed. In the health and medical world, the knowledge base has grown so much since my parents died. My dad has been gone since 1992 and my mom died in 2000. My siblings and I don't have our parents, so being able to spit into a cup and find some of the answers to our family health history is a blessing and a tremendous opportunity.
I want my children and their children to know that we have strong ancestors of great character. However, more importantly, I want my kids to know there are high blood pressure and breast cancer genes in our family.
Some people prefer to live without the information 23andMe can provide. I believe knowledge is power and can help my family prevent some diseases that took our ancestors too soon.
What do you think? Is the information provided by genetic testing too much information? Do you think it's helpful?