We first started to notice this last winter - a few brave ladies tucking their jeans into not UGGs, not sleek Tory Burches, but Timberlands. Bona fide steel-toe work boots, like Wolverine would wear.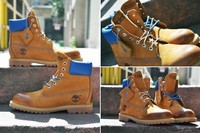 I wish I'd said something earlier. It seems that now super-chic, cutting edge Parisian boutique Colette has teamed up with Timberland to make a line of boots that retain all the utilitarian details, with a bright blue ankle pad as an added touch. There's currently no release date, and whenever they do come out we're sure they'll be harder to get than a unicorn's horn.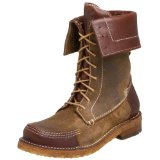 In the meantime, we recommend a less chunky lace-up boot from Frye ($300) for fall, no designer collaboration needed. They're tough, they last forever, and apparently, they're on the cusp of a big fashion moment
Or, since it's still summer, you could just sport a boot-reminiscent sandal.
Find lots of other styles for fall in our Best Boots Guide.