I never understood the girls who brought seven different bathing suits for a week-long vacation. Seven tan lines never sounded appealing, nor did trying to find seven flattering suits.

Ever since the days of floaties, I've been a one bathing suit kind of girl. When I was eight it was a navy blue Nike full piece; in those days my priorities were handstands and swim races, and whether or not I could move in that suit. When I turned 12 it was a lime green Hawaiian print Roxy tankini. I ordered it from across the country -- even as a pre-teen I knew what worked for me. These days, my go-to suit is an Aqua Di Lara black monokini.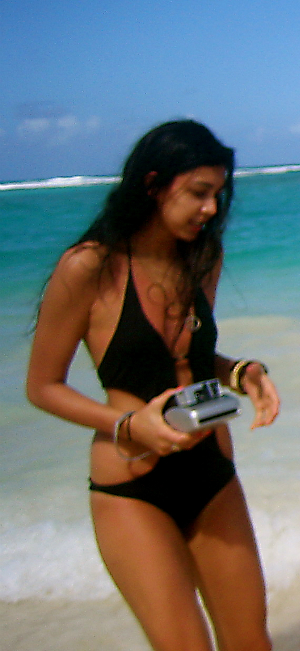 It took nine stores, three months and over fifty bathing suits to find the perfect one. I knew instantly when I tried it on, I didn't even have to look in the mirror, but I guess you start to figure out what works when you've devoted hours of your life to finding one garment. My tall frame and small cup size make finding a bathing suit (a full piece no less) next-to-impossible. And finding one that not only fits but also looks good is Mission: Impossible.
But I managed to do it. My bathing suit was more than perfect: It fit like a glove, was tight enough not to gape, but loose enough not to pinch. It was accented by cut outs in all the right places, highlighting my favorite areas and hiding my not-so-favorite parts. The one detail -- a silver clasp at the bust -- was not too flashy, but definitely subtly sexy. It looks great paired with shorts on the beach, or layered under a crocheted top. Best of all, it is my favorite color: black. It was as if the designer had taken my measurements and proportions and crafted the most ideal kind of bathing suit for me. I call it the "No Juice Fast Required" suit, because it does all the work, so I can just sit back and enjoy the sun.
It has been five years since I bought it, and I have worn it in every pool, ocean, lake and Jacuzzi I've been in. I had no hesitations about putting it on when it was still a little damp, just so I could wear it consecutive days. During the winter, I would put it on every so often just because it made me feel good, and before I knew it, it turned into an all-season item. I started wearing it out at night under cardigans and sheer dresses, and even to class so you could see the straps poking out from under an off-the shoulder sweater -- somehow, living in New York City, my bathing suit became my most worn item of clothing.

But the inevitable is finally here: The day I've been dreading since I swiped my card at the register has arrived. I knew that one day it would have to be replaced, and in anticipation, I never stopped trying on other options. Whenever I saw something I liked, or a cut I thought might work, I would try it on -- but it never came close. Now I've waited too long and my perfect suit is worn-through, faded and stretched out. The "One Bathing Suit Girl" is now "The No Bathing Suit Girl."

As the weather gets warmer and I receive more invitations to go to the beach, my anxiety builds and my hope dwindles. Maybe my eBay and Google Alerts (set to "Aqua Di Lara Black Monokini") will prove fruitful, but until then, you can find me on dry land.
PHOTO GALLERY
Celebrity Bathing Suit Bods