Looking for some Tax Day relief? Who isn't? In recent years many restaurants, bars, and even hotels have lessened the stress by offering special perks. Enjoy a cocktail or two, a sweet treat, or even some sushi at locations across the country this April 15. Where will you be on Tax Day?
Ra Sushi
All RA Sushi locations will be extending their happy hours from 3 p.m. until close on Monday, April 15. Choose from classic sushi concoctions like the Viva Las Vegas roll and specialty cocktails like the Blushing Geisha. Sushi, appetizer and tapas plates will range from $2.25-$7.25 and a variety of beer, wine, sake and signature cocktails will range from $3-$7.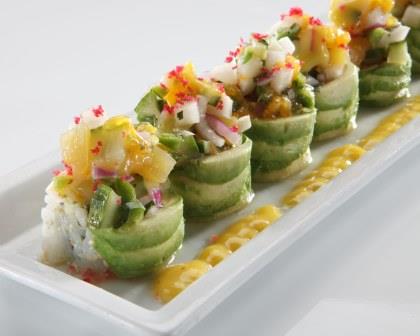 Pacific Roll at Ra Sushi
Credit: Ra Sushi
Grant Grill
Located inside the historic hotel, The US Grant in San Diego, the Grant Grill will debut their new Raw Cocktail menu on Tax Day at $4.15 each (normally $12). Choose from fruity delights like The New Apple Martini or The Melon Ball, each made with freshly pressed fruit juices.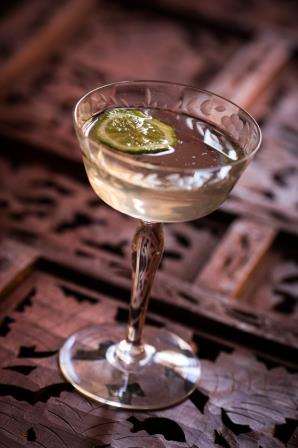 Cocktail at Grant Grill
Credit: Tim King
Pescatore
Situated in Midtown Manhattan, Pescatore offers a variety of Italian and seafood fare. This Tax Day, Pescatore will give their patrons some relief by paying the tax of their bill from noon-5pm for lunch and from 5pm-11:30 p.m. for dinner.
Cinnabon
Treat yourself to something truly sweet by visiting any Cinnabon location this Tax Day. Enjoy two free Cinnabon bites from 6-8 p.m. as part of Cinnabon's annual Tax Day Bites promotion.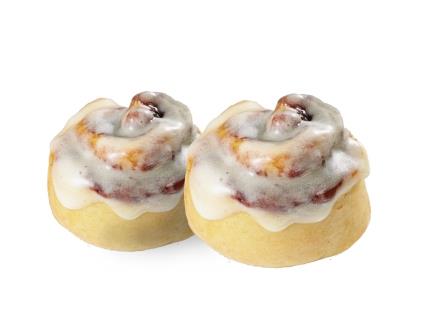 Two Bites at Cinnabon
Credit: Cinnabon
Arby's
Visit any Arby's location on April 15 for free curly fries or potato cakes with coupon. They'll also be giving 10 lucky guests $500 in 'tax relief payouts' that day via their Facebook page. To download the coupon or to enter the contest, visit: www.arbys.com/taxdaygiveaway
JW Marriot Chicago
The Boston Tea Party was the inspiration for the Tax Day food and beverage items at the JW Marriott Chicago. Inventive cocktails like the Tax Collector features chai tea with Makers Mark, Canton Ginger Liqueur, orange juice and lemon juice for $10.20. Boston Harbor-inspired dishes like the shrimp and scallops will be offered at $10.40.
Plan Check
Located in Los Angeles, Plan Check Kitchen + Bar will offer a place to celebrate your return with $8 cocktails on Tax Day. Enjoy specialties like the Gamma Ray made with Pisco Porton, Midori, Orgeat, lemon and lime, and their Strawberry Tequila Daisy with 100 percent Blanco Agave, fresh lime and muddled strawberries.
Westin Diplomat Resort and Spa
Guests visiting the Westin Diplomat Resort & Spa in Hollywood, Florida on April 15 can enjoy a sweet treat at the grab-n-go style restaurant called; Ingredients: Some Assembly Required. These money-inspired desserts will be decorated with designs like edible dollar bills (yup, you can eat your money!) for just $4.15.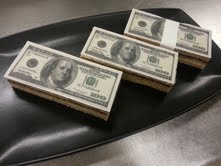 Money Desserts at The Westin Diplomat Resort and Spa
Credit: The Westin Diplomat Resort and Spa
Dominick's
This legendary Italian-American restaurant located in West Hollywood, recently debuted The Little Menu, which features very wallet-friendly Hollywood-inspired cocktails. If consists of 3 oz. cocktails at $4 each and features classics like the Gin Martini, the Manhattan, and the Tequila Daisy. These specialty drinks are offered not only on Tax Day, but Monday-Friday from 5 p.m. - 7 p.m.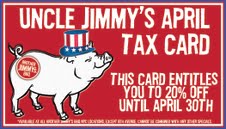 Tax Card at Brother Jimmy's BBQ
Credit: Brother Jimmy's BBQ
Brother Jimmy's BBQ
In New York City, all of the Brother Jimmy's BBQ locations (except for the 8th Ave. local) will be offering 50 percent off of everything all day on Tax Day. That means ½ off ribs, ½ off hush puppies, and ½ off drinks (excluding premium liquors and discounted items). In addition to this sweet deal, Jimmy's will be giving away an Uncle Jimmy's April Tax Card which entitles customers to 20% off their entire bill for the rest of April!