Remember that meat in a can, Spam? Pop it out, slap it on the grill, and wham! You've got your un-nutritional meal. Well this nostalgic meat has been transformed on menus across the country. From fancy Spam crisps to fatty Spam sandwiches, the creativity seems unending. Here's just a few dishes that can be found out there. Do you know of any others?
Credit: Hormel Foods

Bali Hai - San Diego
Since 1954, the Bali Hai has been known for its lovely waterfront views and its delectably fresh seafood dishes. One of the newest items you'll find are the seared diver scallops with crisp Spam chips (a flavorful, crunchy compliment) pineapple chutney and a mojito puree.

Brunch Box - Portland
The Hawaiian breakfast sandwich at the Brunch Box, a spot filled with over-the-top sandwiches and burgers, includes Spam, grilled pineapple, Swiss cheese, an egg and teriyaki sauce with your choice of toasted bread.
Quinton's Bar and Deli - Columbus, Missouri
Spam-wich. A sandwich consisting of sliced Spam, melted Velveeta cheese and mayo is served up at this lively neighborhood bar and deli. For $4.99, sounds like an affordable heart clog!
My Favorite Café - San Francisco
This lil' nook is said to serve up a Spam and egg sandwich and to add to the creativity, Spam macaroni. Sounds fatty, but could it be a stellar hangover-cure?

Dangi - Manhattan
This modern Korean eatery located in the infamous Hell's Kitchen neighborhood of New York City, has a diverse menu, including the kimichi soup which, if asked for, can include the iconic meat.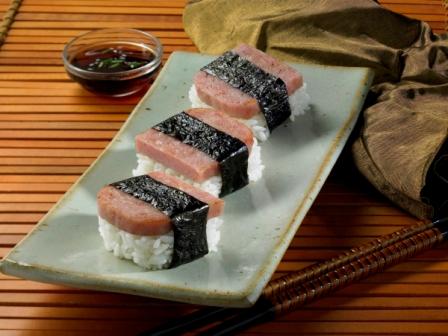 Spam Musubi
Credit: Hormel Foods
Chamorro Grill - San Diego
At this Hawaiian-inspired grill, patrons can order two red rice Spam musubi for just $3.50. Musubi is a classic (and often thought of as a comfort-food) Hawaiian treat made with rice, fried Spam, and wrapped together in dried seaweed.

Avocado Inc. - Texas
With ten locations throughout Texas, Avocado Inc. offers Spam sushi rolls, which is basically the traditional musubi, made with white rice, spam and dried seaweed.

Chego - Los Angeles
Chef Roy Choi's Asian-fusion eatery, Chego, serves up a Kimichi Spam Bowl featuring Spam fried rice, scrambled eggs and baby bok choy with a touch of butter and toasted sesame. This hefty bowl of grub is available for a mere $8.