One of our favorite warm weather activities is kicking back with a platter of oysters and some cold beers or a bottle of rosé, a pastime that's been popular for many years, in many places. Restaurants that offer live seafood, or a service known as a raw bar, began cropping up in Europe in the mid-1700s before landing in the United States in the early 1800s. Though the trend originally began with just oysters -- the oldest oyster bar in the United States opened in 1826 in Boston -- it wasn't long before the craze expanded to include a variety of shellfish.
Today, our affection for bivalves is still going strong, with more $1 oyster happy hours and giant seafood towers surfacing at restaurants than ever before. And what's not to like? Though they typically feature mostly uncooked items like oysters, clams, scallops and mussels, many "raw" bars also offer steamed shellfish such as lobster, crab legs and shrimp cocktail, all served cold. Cooked or not, the fresh catch is often accompanied by cocktail sauce, lemon, mignonette sauce or other condiments (plus an awesome drink list). Here are some of the best places to slurp oysters and other raw bar specialties:
1. LUPULO (New York)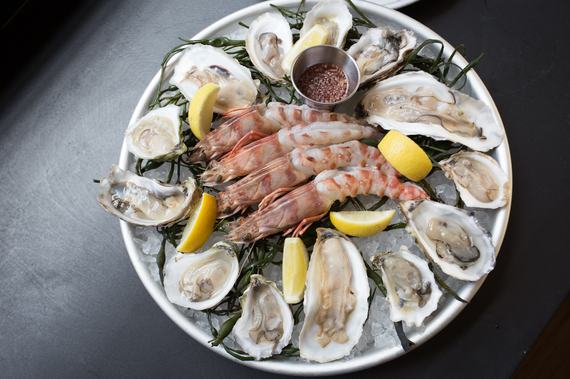 Photo provided by Lupulo. Photo by Anna Webber.
With a raw bar located at the restaurant's central, wrap-around dining bar, Lupulo in New York offers oysters, shrimp and other fresh seafood, as well as delicious Portuguese tapas to pair with its 16 craft beers on draft.
2. ISLAND CREEK OYSTER BAR (Boston)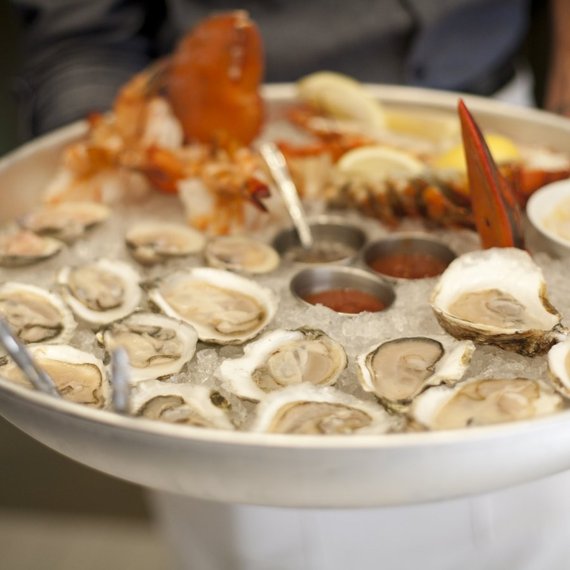 Photo provided by Island Creek Oyster Bar.
As its namesake suggests, Island Creek Oyster Bar in Boston offers an extensive list of oysters from both the East and West Coasts, plus littleneck clams, jumbo shrimp cocktail, crab claws and lobster.
3. STRIP HOUSE MIDTOWN (New York)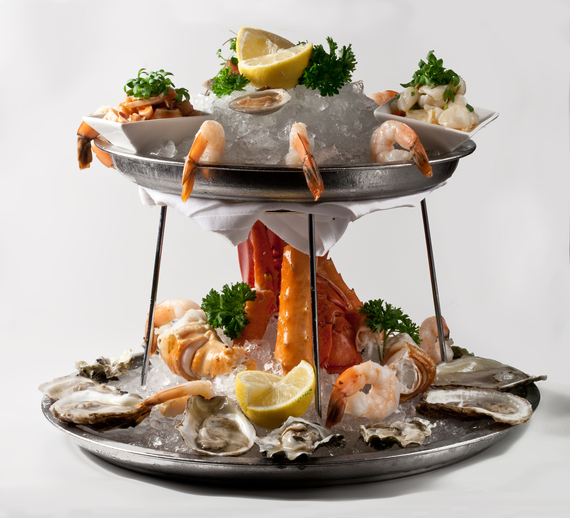 Photo provided by Strip House Midtown.
While perusing the incredible meat selection at Strip House Midtown, a great New York steakhouse, don't forget to nosh on the seafood platter featuring buttery oysters from both coasts, lobster and shrimp cocktails, littleneck clams and lump crab.
4. THE HUNGRY CAT (Los Angeles)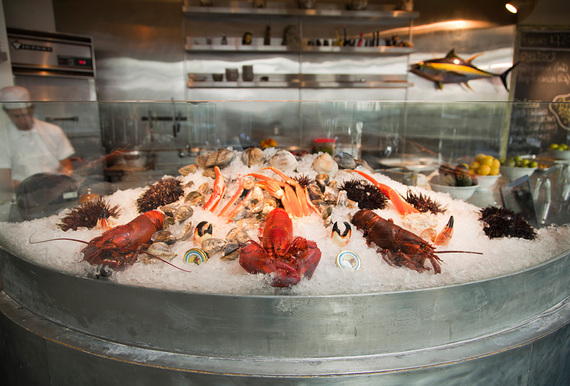 Photo provided by The Hungry Cat.
The Hungry Cat in Los Angeles certainly does seafood right, stacking its platters high with oysters, clams, marinated mussels, green-lipped mussels (a mussel native to New Zealand), shrimp, snow crab, lobster and trout roe.
5. LURE FISHBAR (New York)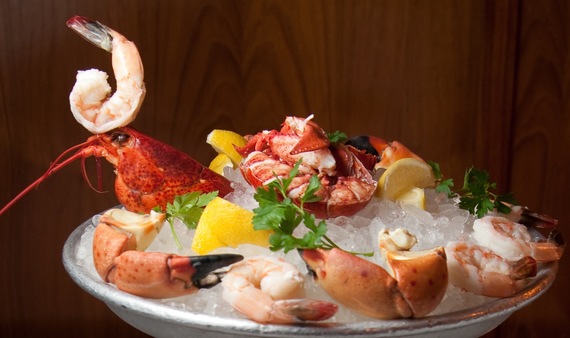 Photo provided by Lure Fishbar.
Lure Fishbar in New York draws the hungry crowds with varieties of fresh oysters, clams, crab claws and chilled lobster, offered individually or as a shellfish platter that's great for sharing.
6. THE OLDE BAR (Philadelphia)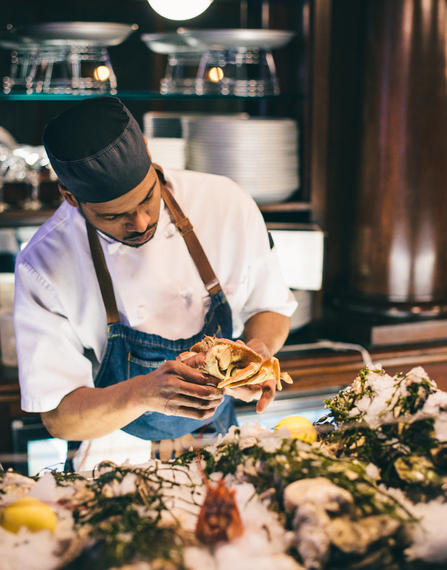 Photo provided by The Olde Bar.
A contemporary oyster bar and cocktail lounge, The Olde Bar in Philadelphia features extensive raw bar offerings like a Raw Bar Tower that includes a chef's selection of fresh shellfish and seafood -- think East Coast oysters, middleneck clams, lump crab cocktail and Maine lobster -- to pair with its notable spirits program.
7. MUSSEL BAR & GRILLE ARLINGTON (Arlington, VA)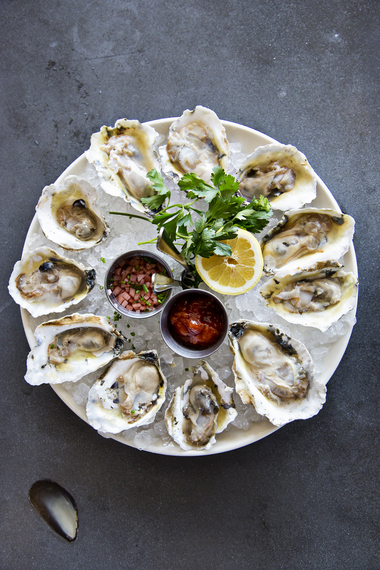 Photo provided by Mussel Bar & Grille Arlington.
Aside from fabulous mussels, Mussel Bar & Grille Arlington also offers fresh clams, oysters, shrimp and lobster with a choice of sauces including apple-mignonette, cocktail sauce, Marie Rose (a blend of tomatoes, mayonnaise, Worcestershire sauce, lemon juice and pepper), Old Bay aioli, remoulade (a French condiment similar to tartar sauce that's aioli- or mayonnaise-based) and salsa verde.
8. BAR CRUDO (San Francisco)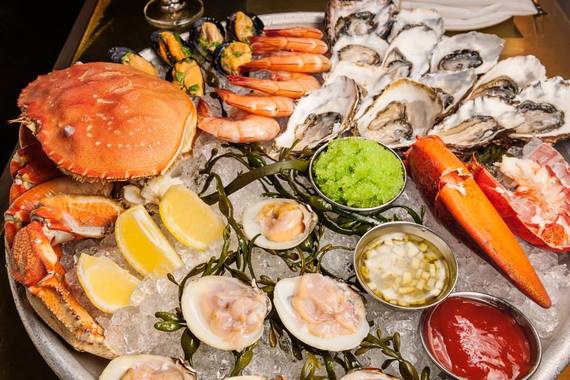 Photo provided by Bar Crudo.
Fresh seafood is the name of the game at Bar Crudo in San Francisco, which dishes out platters of bi-coastal oysters, prawns, crab, lobster and mussels, as well as crudo samplers featuring arctic char, scallop, tombo tuna and butterfish.
9. TOWNSMAN (Boston)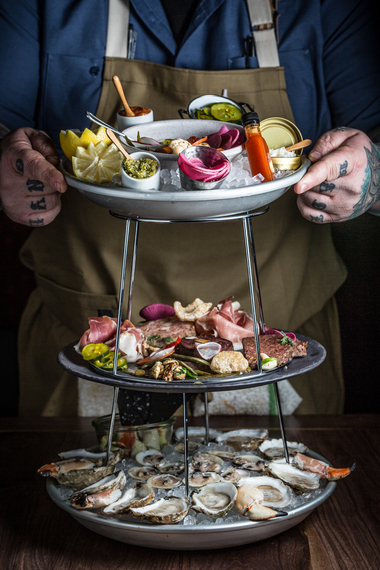 Photo provided by Townsman.
Depending on your party size, Townsman offers petite and grande shellfish plateaux (French for "trays") stacked with shellfish from local waters, complemented by a selection of cured meats, terrines (a mixture of ground, lean meat mixed with fat like a pâté) and seasonal pickles.
10. DUSEK'S BOARD & BEER (Chicago)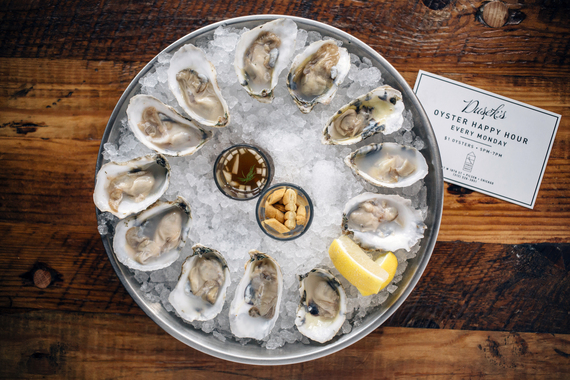 Photo provided by Dusek's Board & Beer. Photo by Clayton Hauck.
The oyster selection at Dusek's Board & Beer in Chicago showcases the differences between bivalves from the East Coast (New Brunswick, Maine and New York) which are generally saltier, and those from the West Coast (Washington and British Colombia) which are typically sweeter.
11. L&W Oyster Co. (New York)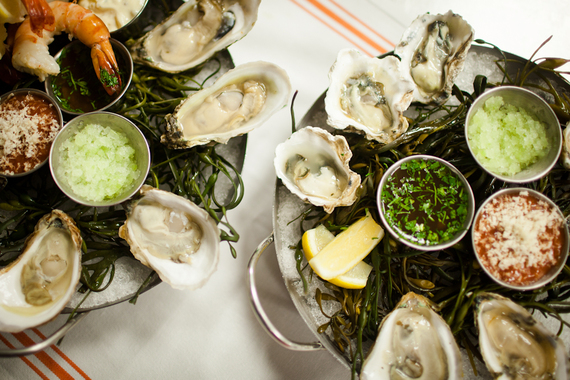 Photo provided by L&W Oyster Co.
L&W Oyster Co. delivers a fantastic selection of raw and chilled seafood, including bi-coastal oysters, littleneck clams and shrimp cocktail. A variety of crudos, ceviches and tartares can be ordered a la carte for date night or as big platters for groups to share.
12. SPRING (Los Angeles)
A refreshing starter, the half dozen oysters from Spring in Los Angeles are served simply -- with bright lemon wedges and tangy mignonette sauce.
13. HERITAGE (Philadelphia)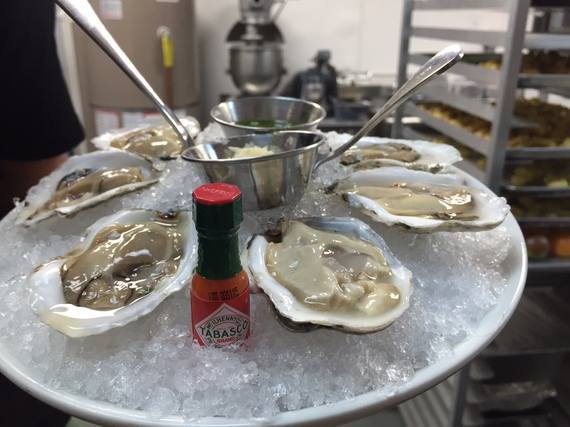 Photo provided by Heritage.
Heritage in Philadelphia offers three different sauces for your East Coast Oysters -- mignonette as the piquant French accoutrement, horseradish if you're looking for a kick and lemon as a fresh, crisp drizzle.
14. ROW 34 (Boston)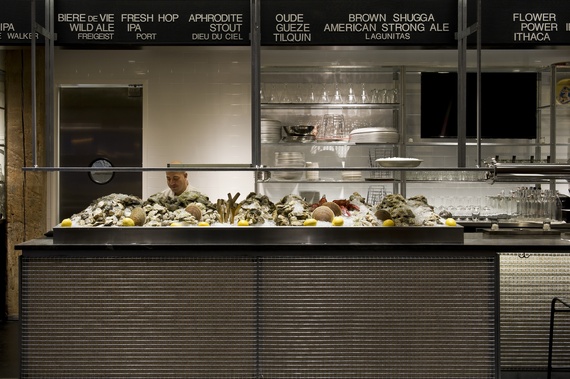 Photo provided by Row 34.
Row 34 in Boston commands respect with its first-class seafood selection, including a robust list of the day's freshest oysters, shrimp, clams and lobster, plus a variety of smoked and cured seafood, crudo and ceviche.
15. QUALITY MEATS (New York)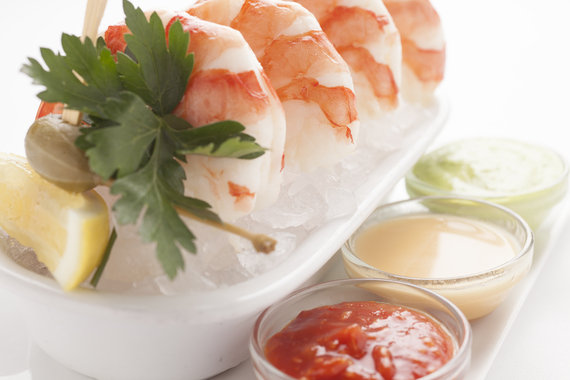 Photo provided by Quality Meats.
Don't be deceived by the name -- Quality Meats in New York offers more than just juicy cuts of meat. Shellfish bouquets made of oysters, lobster cocktail, shrimp and crabmeat are an integral part of its steakhouse-driven menu.
16. MARVIN (Los Angeles)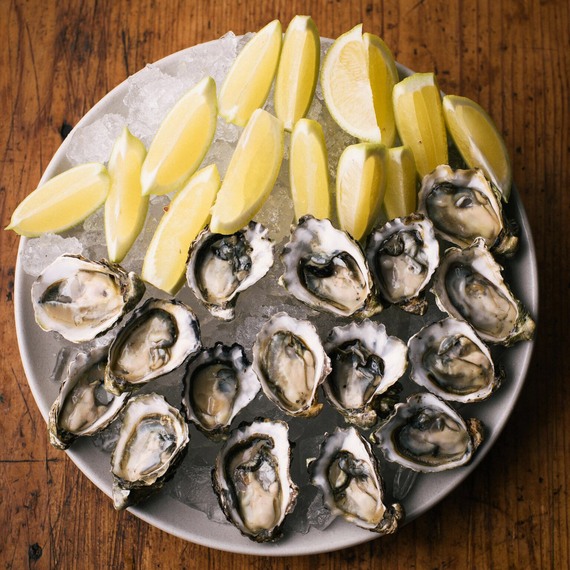 Photo provided by Marvin.
A French bistro, Marvin in Los Angeles shucks a market selection of oysters that pair perfectly with its killer bubbly, white wine and beer selection.
17. THE DAWSON (Chicago)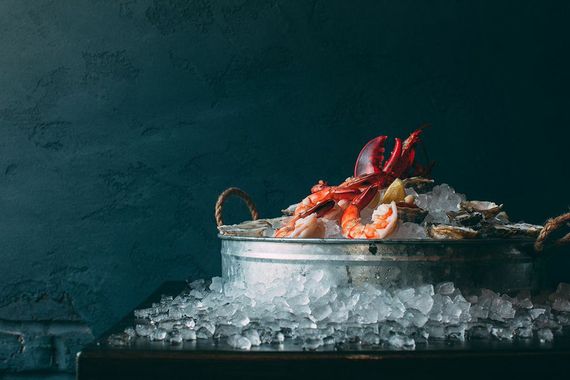 Photo provided by The Dawson.
The Dawson in Chicago offers an amazing assortment of seafood, including oysters with a mignonette and an albacore tuna ceviche with fresno chile and sunchoke (a type of artichoke).
18. THE MERCHANT (Boston)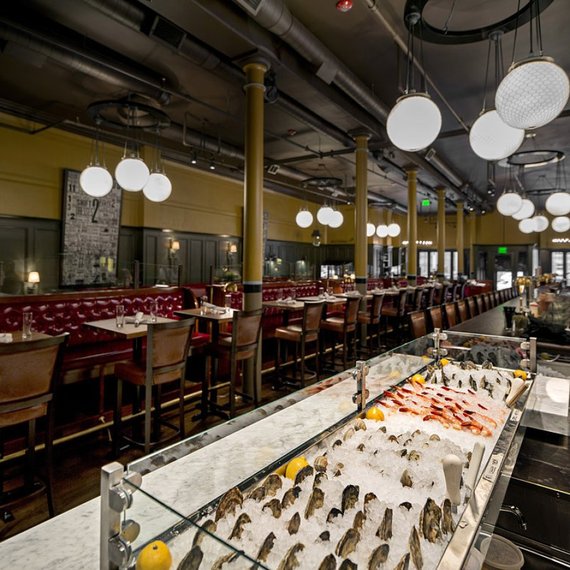 Photo provided by The Merchant.
No meal at The Merchant in Boston is complete without diving into its raw bar, which includes some of the freshest oysters on offer, Pat Woodbury littleneck clams and chilled jumbo shrimp.
19. THE DUTCH (New York)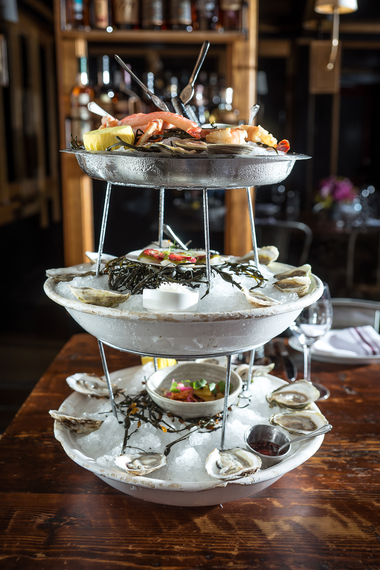 Photo provided by The Dutch.
Slurp down oysters at The Dutch in New York, which serves up a Prince Platter of oysters, littleneck, razor clams, lobster, jumbo shrimp and snow crab legs.
20. A.BAR (Philadelphia)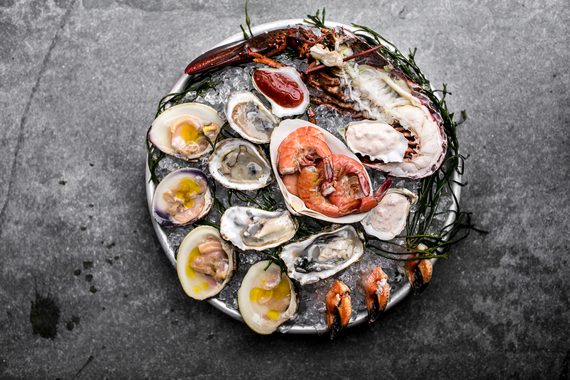 Photo provided by a.bar.
A.bar in Philadelphia celebrates bivalves daily, offering an oyster happy hour six days a week, plus shrimp cocktail, hamachi tartare and clams as popular snacks on its menu.
21. LA BRASA (Boston)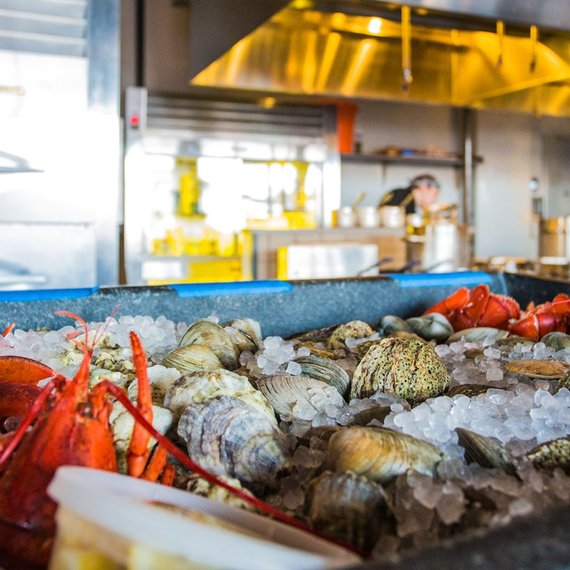 Photo provided by La Brasa.
La Brasa in Boston gives its oysters a kick by serving them with a refreshing beet mignonette and house-made horseradish.
22. STK MIDTOWN (New York)
Photo provided by STK Midtown.
Order a dozen of the house oysters on the half shell or a chilled Maine lobster from the raw bar to start your meal at STK Midtown in New York, or bring a smile to the whole table with a shellfish platter that includes oysters, king crab, shrimp and ceviche.
23. FLORES + SONS (Los Angeles)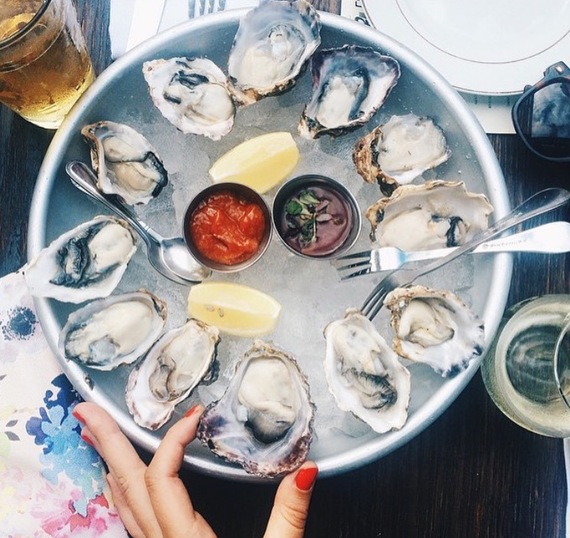 Photo provided by Flores + Sons.
Want to have the best day ever? Sip on a California wine or draft beer, sit on the rustic patio at Flores + Sons in Los Angeles, and order a dozen Pacific oysters or a few prepared Rockefeller-style (topped with various ingredients like herbs and breadcrumbs, then baked or broiled).
24. THE MAIDEN (Boston)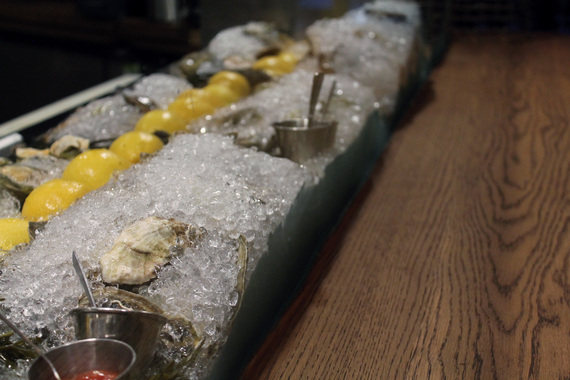 Photo provided by The Maiden.
Oysters taste different depending on the temperature of the water they're harvested in. Experience the difference for yourself at The Maiden in Boston, which offers earthy, rich Blue Point oysters from New York, delicate sweet Chelsea Gems from Washington and clean, salty bivalves from Massachusetts.
25. KING BEE (New York)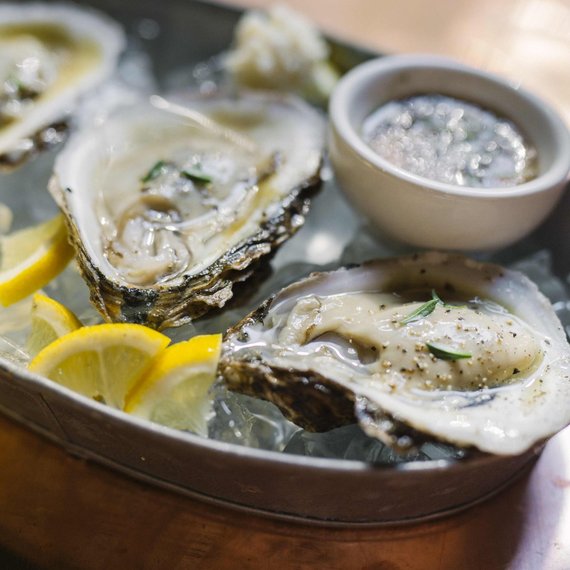 Photo provided by King Bee.
Though the menu at King Bee in New York pays homage to Louisiana country cooking with creative Acadian -- or Canadian-Cajun -- fare, the restaurant rides the locally sourced train with its East Coast oyster selection.
26. RM CHAMPAGNE (Chicago)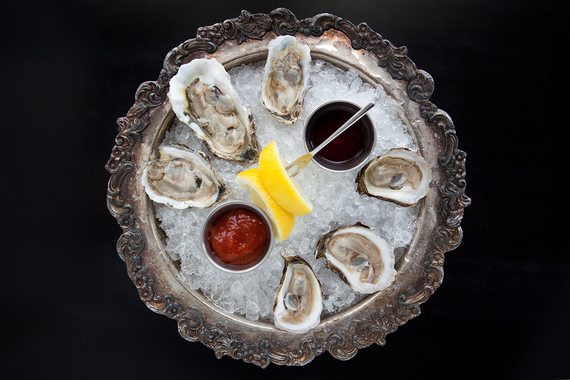 Photo provided by RM Champagne.
A classic food and wine tradition is oysters and champagne -- the high acidity in champagne balances the saltiness of the shellfish -- and nobody showcases this better than RM Champagne in Chicago. A daily selection of East and West Coast oysters, plus hamachi crudo, salmon tartare, shrimp cocktail, crab claws and Maine lobster, complement its curated bubbly portfolio.
27. SELECT OYSTER BAR (Boston)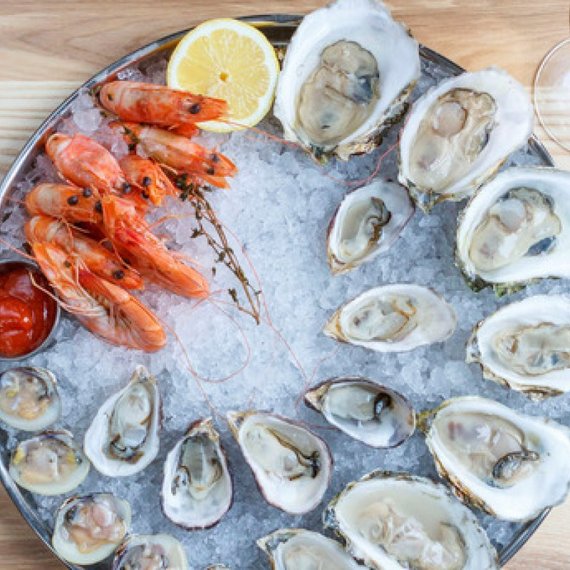 Photo provided by Select Oyster Bar.
Select Oyster Bar in Boston lives up to its reputation as a great coastal seafood eatery, dishing out plateaus of raw and cooked shellfish like oysters, clams, shrimp cocktail, crab salad, Maine lobster, scallop ceviche, tuna tartare and crudo.
28. DITCH PLAINS (New York)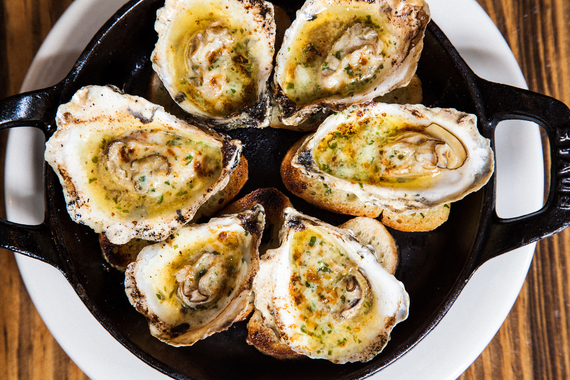 Photo provided by Ditch Plains. Photo by Cedric Angeles.
At Ditch Plains, a New York restaurant with a fish-shack vibe, oysters with garlic butter are shucked, broiled and delivered by the half dozen.
For all the latest on food, drinks and restaurants, visit the Reserve blog and follow us on Twitter, Facebook and Instagram.