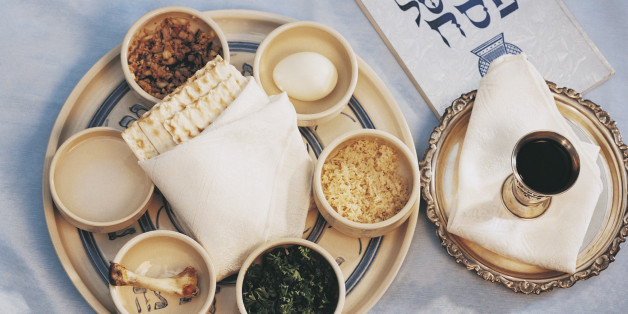 Passover has arrived, and so have all the foods that come with it! The annual holiday, which commemorates the liberation of the Jews from slavery, begins this year on April 22nd and lasts through the 30th. During this time, there are a lot of traditional dishes that people enjoy and a few that people avoid. Read on for all the food ins and outs you should know.
1. Skip the lamb.
In the story of Exodus, God inflicted 10 plagues upon the ancient Egyptians. To spare the Jews from the final plague (the death of the Egyptian first-born), they were instructed to mark their doors with the blood of a spring lamb so God would know to pass over the first-born in these homes.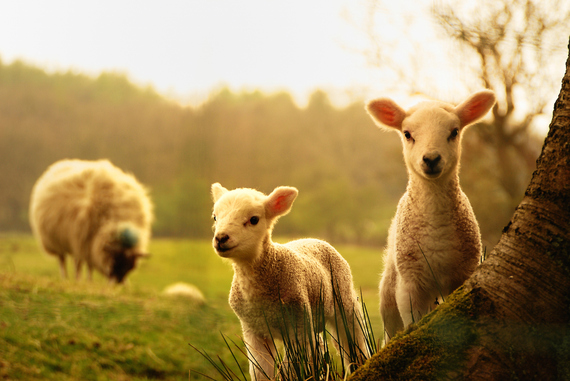 Lambs.
As a mark of respect for the memory of the sacrificial lamb, the eating of whole roasted lamb during Passover is forbidden by Jewish law. So skip the lamb (but pass the beef, chicken or turkey)!
2. The "Seder" is a ceremonial meal that includes a bunch of symbolic foods.
Jewish people celebrate Passover with the Seder, a feast that marks the beginning of the multi-day festival. It's the most commonly celebrated of Jewish rituals and often involves the community or multiple generations of a family. A traditional Seder would include discussing the biblical story, drinking four cups of wine, partaking of symbolic foods placed on the Passover Seder Plate and reclining in celebration of freedom.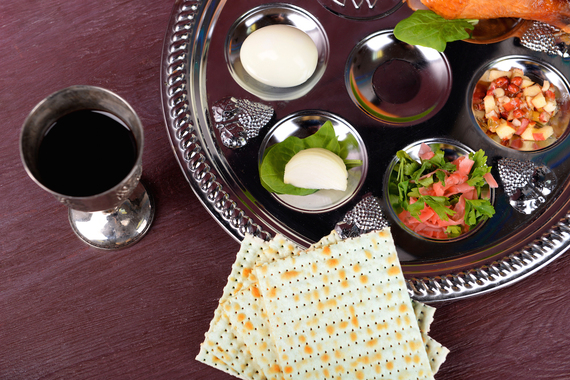 Seder plate.
A typical Passover Seder plate includes six foods: Karpas (a green vegetable like parsley), which symbolizes the initial flourishing of the Israelites in Egypt and the new spring, Charoset (a sweet fruit mixture made with wine, honey or nuts) to represent the mortar that the Israelite slaves used to construct buildings for the Pharaoh, Maror (a bitter herb, often horseradish) to represent the bitterness of slavery, Chazeret (a second bitter herb, often romaine), Z'roa (roasted lamb shank bone) to symbolize the lamb that the Jews sacrificed in the Temple of Jerusalem, and Beitzah (a roasted or hard-boiled egg) to symbolize the sacrifice (called "hagigah") that would be offered every holiday, and whose roundness represents the cycle of life. Three pieces of matzah and a container of salt water or vinegar would also be on any Seder table.
3. Eating chametz is forbidden, so matzah is the go-to starch.
Chametz, any food product made from wheat, barley, rye, oats or spelt that has come into contact with water and been allowed to ferment and rise, is not to be consumed during Passover. Instead, matzah, an unleavened flatbread made of flour and water, is eaten.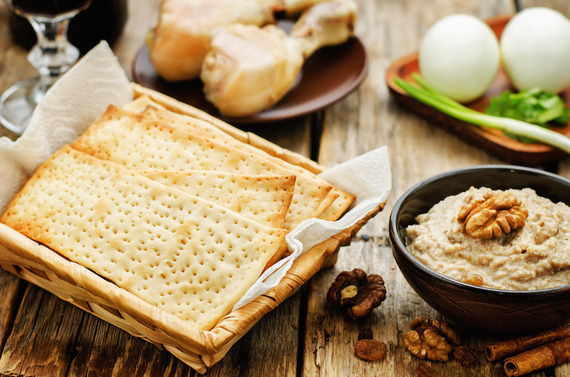 Matzah.
Passover matzah, eaten in order to remind people of how quickly their ancestors fled Egypt (which happened in such a flurry that there was no time to let bread rise), must be made from one of the five grains specified above. Additionally, matzah is meant to symbolize the "poor man's bread," a reminder to be humble and not to forget what life was like for those enslaved.
Matzah ball soup is a staple Passover dish, made with dumplings comprised of matzah meal, eggs, water and fat (typically oil, margarine or chicken fat) that are served in chicken broth.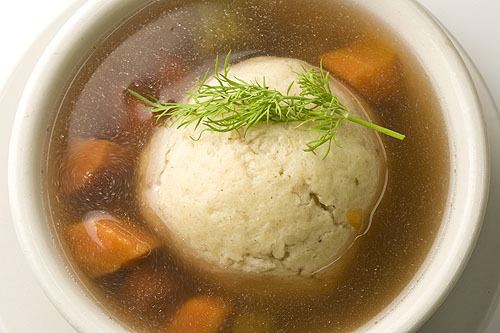 Matzoh ball soup. Photo provided by Katz's Delicatessen.
Katz's Delicatessen, a beloved NYC dining destination, dishes out world-famous Matzoh Ball Soup -- one of the most sought-after bowls in the city -- with a deeply savory broth and light-as-air matzah.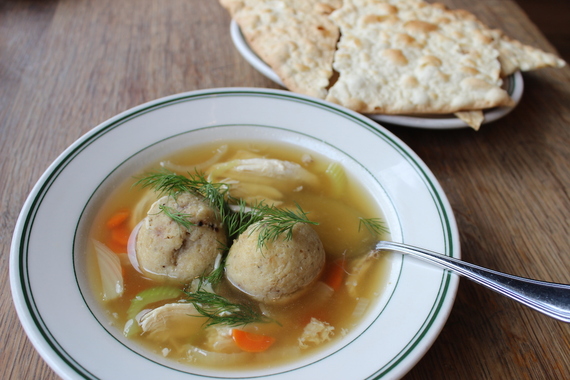 Matzoh ball soup. Photo provided by Delfina.
As part of its special Passover offerings, Delfina in San Francisco is serving Stoll Family Matzoh Ball Soup, as well as several other dishes perfect for celebrating the holiday.
4. Smoked fish is another Passover staple.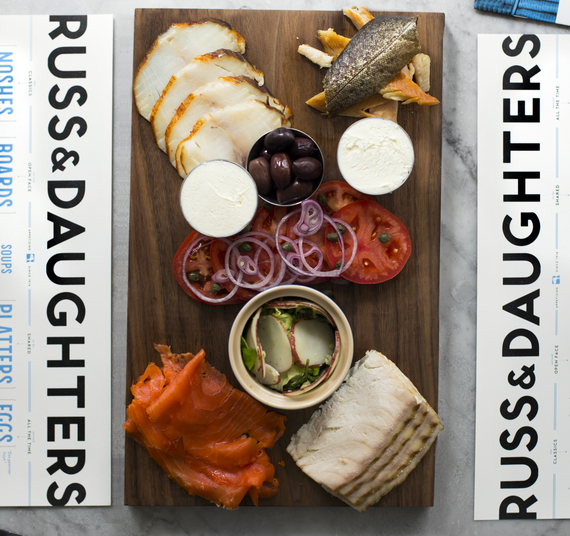 The Classic Board. Photo provided by Russ & Daughters Cafe.
The Classic Board at Russ & Daughters Cafe in New York is a stunning display of Gaspe Nova Smoked Salmon, cream cheese, tomato, onion and capers. (Hold the bagels, bialys, rye and pumpernickel bread for Passover, of course.)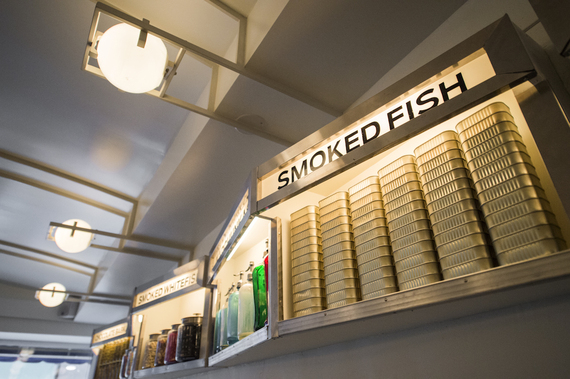 Tins of smoked fish. Photo provided by Russ & Daughters Cafe.
Russ & Daughters Cafe also features a variety of smoked fish -- whitefish, salmon and herring are mainstays -- to enjoy alongside delicious caviars and egg dishes for Passover.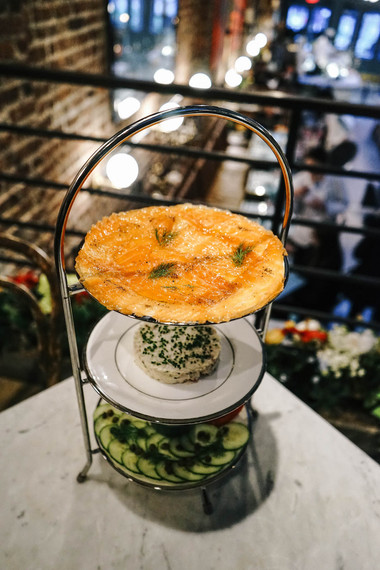 Sadelle's Tower. Photo provided by Major Food Group.
Though you'll need to skip the bagels to stay kosher (within the rules of Jewish law) during Passover, the towers at Sadelle's in NYC overflow with luscious smoked salmon, tuna or egg salad, cucumbers, tomatoes, onions and capers that are sure to satisfy any breakfast- or lunch-goer.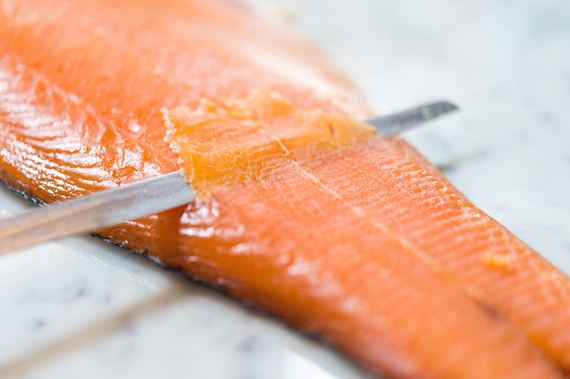 Smoked salmon. Photo provided by Major Food Group.
5. There are plenty of other great dishes to enjoy.
Because it's a time that draws lots of people together, many great Jewish foods are prepared and served throughout Passover.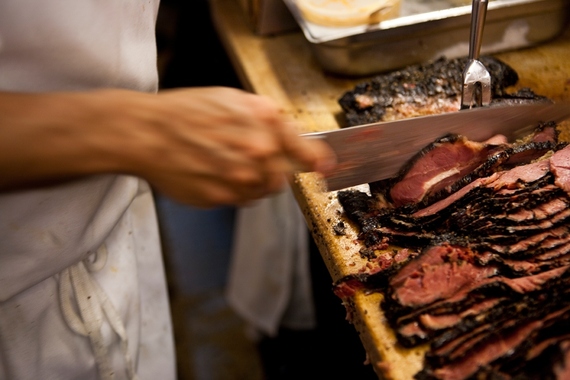 Pastrami. Photo provided by Katz's Delicatessen.
On their special Passover menu, Katz's Delicatessen offers favorites like pastrami, brisket and corned beef, as well as chopped liver and gefilte fish (poached and deboned ground fish patties).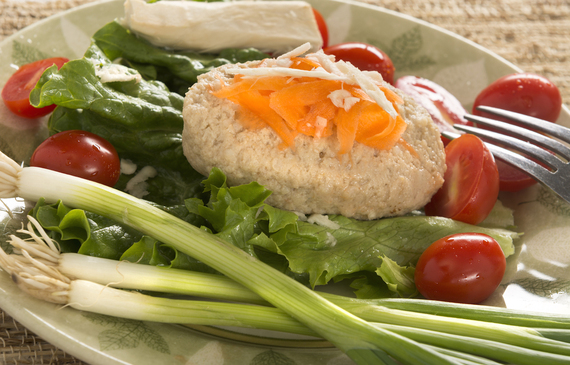 Gefilte fish.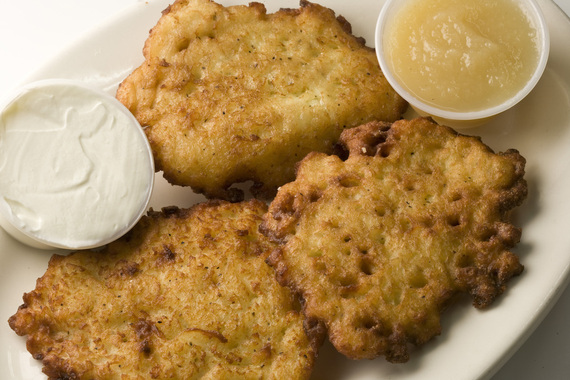 Potato pancakes. Photo provided by Katz's Delicatessen.
The famed deli also serves up other Jewish classics, including latkes (fried potato pancakes), alongside the traditional tangy and sweet accompaniments, sour cream and applesauce.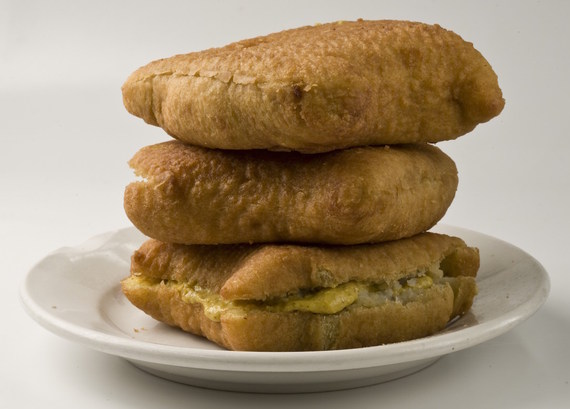 Knishes. Photo provided by Katz's Delicatessen.
Knishes, another Jewish culinary tradition, are baked or fried pockets filled with meats or vegetables. Katz's Delicatessen makes some of the best in town.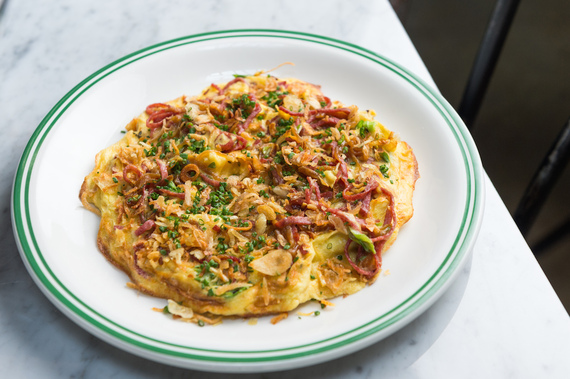 Omelette at Sadelle's. Photo provided by Major Food Group.
Omelettes and egg dishes are also fair game, provided they're kept kosher, and Sadelle's in NYC has some great options for the holiday. Customize yours with some of the following for a Passover-friendly brunch dish: mushrooms, peppers, onions, tomato, chives or herbs.
For all the latest on food, drinks and restaurants, visit the Reserve blog and follow us on Twitter, Facebook and Instagram.