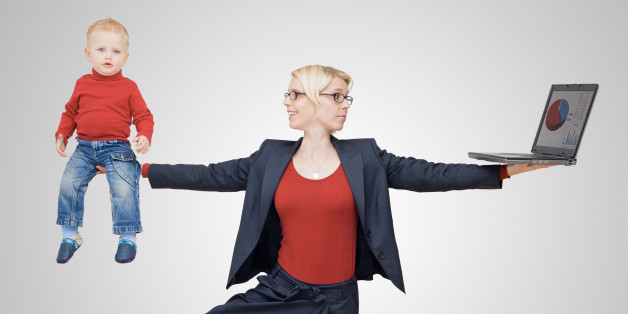 As the creative director of a fashion company, living and working in New York City with 2 kids and a husband, my hours are long and I am always firing on all cylinders.
My days and nights are filled with textiles, travel hockey, collaborations, creating healthy meals and putting voluntary time forward, for the business initiative I co-founded three years ago, Make it in Manhattan and the USA.
The initiative, consisting of blog, documentary and networking events, sometimes takes me over the edge, but it is something I am wildly passionate about and it encompasses my life 360 degrees.
I believe in locally made. I am proud to have one of the few fashion lines, still produced, in New York's famed Garment Center. By doing this, I am not only helping to support our domestic economy, I am consciously helping to greatly reduce our carbon footprint as a business. This idea extends into my personal life too. I shop organic and local as often as I can, I always opt to walk if possible, I reuse and recycle and quality time is spent in the richest way possible, with my family... just being present.
When life's extreme imbalance, works me into overload, I realize it's time to take a break from it, something we all need to do.
And when I plan this, I try to be mindful of choosing a place to go off to, that adheres to my ideology of life.
This past winter, mother nature served up some serious weather. I longed for sun and downtime with my family.
Our criteria... warm weather, beach, child friendly, ecological, somewhere domestic to support the idea of American made, and a place that would embrace our mentality of homegrown... a tall order.
Hours were spent researching. And then... we found our perfect place... Kiawah Island.
There was no need to plan much, as the place we sought out had everything we desired.
Kiawah is an island off one of my favorite cities in the world, Charleston, South Carolina. In the Lowcountry, life slows down. Food is local and artisans are appreciated.
This philosophy extends further on the island where there is only one proper resort, The Kiawah Island Golf Resort. The resort is vast and hosts a variety of accommodations at varying price levels.
Upon arrival, our first night was booked in a villa. This being our first Easter away, we wanted the convenience of still being able to carry along with our annual holiday festivities.
We didn't know exactly what to expect, as most often with a villa or house rental, one needs to purchase everything from salt to dish soap.
This was for certain the exception, as all the essentials were covered in trail size offerings, helping to make our Easter egg dying tradition, seamless.
In addition, the kids were excited to have their own room for once. This allowed them some privacy and a little tv time too.
While the kids relaxed, my husband and I opened a bottle of vino, headed onto the deck, and took in the flora and fauna of the landscape.
Moss covered trees, aside palms, created a unique and picturesque back drop. Our heart rates began to slow and we both relished in the serenity of this new found place.
That evening we were booked to have dinner at the Sanctuary Hotel. On our walk over, we noticed warnings of alligator crossings! Ecological... check!
We dined on locally caught sushi at the Ocean Room. Sustainable... check, check!
The hotel was extremely inviting and the nature of the native people, delightful. True southern charm!
On Easter morning, we awoke and the kids had fun hunting the eggs we had decorated. The resort had prepared a folder stuffed with information on the resort and an itinerary of events for the week ahead.
The sun peeked out for all of ten minutes and my children delighted in seeing their mom, for the first time ever, jumping on the bed! As the sun retreated, I kept my spirits up and headed to the spa.
My mood was elevated as I entered the zen like space and perused the organic product offering, keeping in line with my lifestyle choices.
Early in the afternoon, the kids joined other guests for the hotel's annual Easter Egg Hunt. It was quite a scene and at the end, the kids were able to hold and pet baby chicks that were brought in for the occasion.
After lunch by the pool, we checked into the Sanctuary Hotel, which currently hold a Forbes Five Star Award. This definitely being their luxury level of accommodations, was indeed one of the nicest places I have ever encountered. The room was spacious and the interior details precisely executed. The bathroom was like something out of Casablanca, with the oversized tub beside shutters, offering a peek to the outside world. Our balcony provided a sweeping ocean view. Standing there, breathing in the salt infused air, it was at this moment that I truly felt at ease.
The only thing missing was the sun, which popped out for exactly 45 minutes. At this time, guests raced to be poolside, desperate for some well needed vitamin D. For Easter dinner, my family and I enjoyed a delightful meal at The Jasmine Porch, located within the hotel. They had prepared a special holiday menu, including an array of local and organic options. Live music was playing and the atmosphere was certainly jovial! After dinner the kids joined in on a pick up soccer game that had evolved on the great lawn, positioned oceanside. New friends were made instantly for both the kids and adults alike.
And then the sun came out! Monday morning the curtains were drawn to a bright blue, beautiful sky. It was time for some outdoor fun.
We spent the morning lazing around at one of the resorts many pools, this one created just for the little ones with slides and sprinklers galore.
The kids were in heaven! As we soaked in the rays, my husband and I read up on all the resort had to offer. Everything from kayaking on the Kiawah River to tennis, golf, basketball and a very well executed camp program.
Each day and night offered a variety of events and activities catered towards children, teens, and adults alike. Suitable for every personality type.
My husband and I needed a little time for ourselves so we opted to put our kids into the afternoon camp program. As we lounged with cocktail in hand, we could see our children, in the distance and when we met up with them a few hours later, they excitedly exclaimed, "Can we go back to camp tomorrow?." Tomorrow, being our last day, did not allow for another camp filled experience, so we made sure to choose something kid friendly for our last evening on the island.
We selected the Mingo Point Oyster BBQ, which was held 10 minutes away, set on the Kiawah River. We were shuttled offsite and arrived to a lovely setting complete with live Blue Grass Music and a bonfire, encircled with rocking chairs, provided for post dinner relaxation. A vast array of Lowcountry cuisine was strewn about, including a number of shucking stations piled high with roasted oysters waiting to be schucked. This was an experience like no other. As I grabbed an oyster, I quickly learned how to maneuver the shell open, as I took in my first ever bite of this melt in your mouth prize. Yes, this was messy work, but well worth it. I am always fond of new experiences, especially when encompassed by food.
With very little room left for one bite more, I managed to find the individual pecan pie confections. I could not resist and was overjoyed I had not, as I have never, ever, had a pecan pie of this hierarchy.
We met up with our new friends, who had decided on Mingo Point as well and we all chatted about how awesome the night turned out to be. Fun, tranquil, and mildly adventurous.
Upon our return to the resort, we once again situated ourselves, with drinks in hand, at the great lawn. The kids frolicked about as we relaxed and enjoyed adult conversation.
Our last morning we spent playing some world class tennis. Our kids took a private lesson, while my husband and I played a leisurely game on the immaculate clay courts. We filled the early hours of our afternoon in the water, conversing about our next trip back. There was so much more to discover, that we did not have time to explore. We came here expecting it to be a long weekend getaway type of place.
To the contrary, we found we could spend weeks on Kiawah Island, with not a dull moment to spare. And with Charleston within 30 minutes away, it is a beach lover's, sport enthusiast's, nature seeking, foodie's paradise.
We are already planning our next trip back.
My tan is fading as I sit here typing, while listening to the rain fall. It is April 30th and there is still a chill in the air, here in New York. However, I am grateful for my life, for my new friends, and the fond memories that were created just a few days ago during our trip to Kiawah. I am recharged... and confident that the sun will soon shine again!
In the meantime its back to the grind.