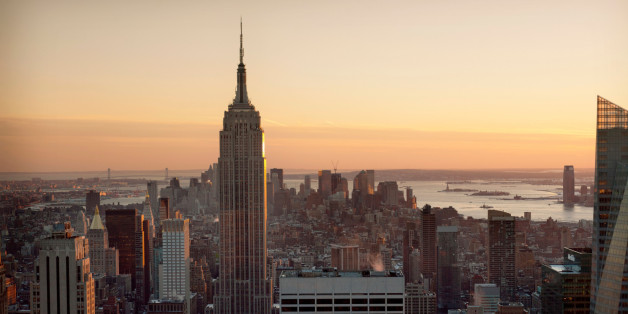 Being the owner of a fashion company, producer of a documentary, mom of two and a wife, is no small feat. The most simple accomplishments, like having a five-minute conversation with your spouse, happen nearly never.
With all this being said, it must happen, but time is precious and the thought of arduous travel and work deadlines, paired with the thought of being away from my little ones for more than two days, creates an undesirable scenario in my mind.
So my husband and I recently started to implement... the staycation. This mini getaway solves the problem of all the above. A taxi ride away, perhaps even a walk depending on what area of the city we decide upon, creates a vacation like no other -- stress free check-in and a chance to reconnect, converse, laugh and relax, without the worry of "What if a child is in need or a work issue arises that is time critical."
Last week we decided it was time. There were pending discussions, weeks on the back burner... camp, summer vacation, work travel, etc. We wanted sun, water and cocktails and a chance to speak without interpretation!

We kissed the kids goodbye and strolled out the door at about 11 am.
We headed to one of our favorite New York breakfast spots, Sarabeth's, and enjoyed a breakfast without sticky fingers and OJ spills... all sans interruption.
We relished in the moment. Ahh... to finish a full sentence... priceless!
We paid the bill, popped into a cab and ten minutes later, we were checked in at the Gansevoort Park Avenue hotel in Gramercy NoMad. We were greeted and told they were already working on an early check in for us. The front desk assistant handed us four complimentary drink cards and invited us to stow away our overnight bag and head up to their rooftop for cocktails.
Unlike their meat-packing location, this one was less crowded, offering a more relaxed vibe.
It was sunny and warm and we basked in the serenity of the sunshine.
And within an hour, our room was ready. Upon entering our room, to our pleasant surprise, the hotel had greeted us with monogrammed pillow cases to take back as a memento.
As a small business owner of a luxury brand, these special touches really stand out to me. I was simply smitten.

The rest of the day was spent poolside. The clock had stopped. There was nothing to rush off to.
It was just me and my husband, reminiscing about the days when the simple luxury of doing nothing, happened more often than not. We casually eased into the evening with a late dinner, followed by an impromptu decision to check out local comedy club, The Stand.
We had heard of surprise pop in visits of some of today's comic greats. We were hoping for an impromptu performance by Louie CK, but no such luck! However, we had some great laughs and really took notice of how just being in a different neighborhood, in the very same city, felt completely unique. We were on vacation and this was the perfect way to accommodate our need for some quality time alone and be close enough to address anything urgent that could possibly arise.

Ironically, at 7am the next morning, as I opened my eyes to what I thought would be another sun-soaked afternoon lazing around, my cell phone rang. My little guy had a fever. I felt relieved to be so close by. It would be absolutely lovely to be in Turks and Caicos, far, far away from the stress of everyday life for a week or so, but this proved... the staycation is the more ideal choice for me. Thankfully, my husband agrees. And although we were disappointed to end the trip sooner than expected, we knew we would be back.

P.s. A little insider tip to share... if an overnight is not in your near future and you are desperate for a day in the sun, perhaps consider playing hooky!
The Gansevoort Park Avenue offers a pampering day pass mid-week, where you can experience a taste of all they have to offer including fitness, spa and sunning.
If you decide to plan a day... go incognito! You never know who will be sitting next to you, doing exactly the same thing!