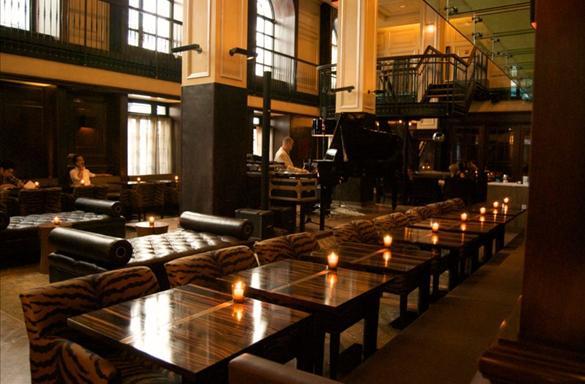 (Photos from www.millesimerestaurant.com)
I watched Billy Elliot on Broadway this weekend. More like, I gawked as this awesome 12-year-old showed me he would school me in a dance-off. (I guess the lawnmower can only take you so far.)
Following the show, I was itching for somewhere to go that was laid back but still classy; I mean come on, we had just been to the theatre (said British-ly).
My co-theater-goer and I came upon the recently-opened Millesime in the Carlton Hotel. The entrance on the corner is a set of mysteriously cool-looking stairs that go underground. We walked in to the sound of live jazz music, in a cavernous space of dark wood and leather. I literally felt transported to a different era. I felt like I was in a 1920s bar/club. The waitresses are in short, red satin dresses, fishnet stockings and heels. We decided to sit by the bar to grab a drink and a small nibble.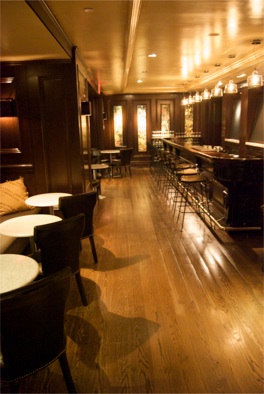 We were enthusiastically greeted by the bar manager, John Fitzgerald Kennedy. I'm not joking, that is really his name. He has two brothers named Bobby and Teddy. He poured us some Nicolas Feuillatte Cuvée G rose champagne, which seemed to fit the ambiance perfectly. JFK also suggested we order a club sandwich to share, which immediately made me think of Tiger Woods saying "no turkey unless it's a club sandwich," so there was no doubt that I had to order it. The portion was perfect for an after-activity snack (I get it, Tiger).
The most unique aspect of Millesime is that there are three main areas to the restaurant. Downstairs you have the main salon with the live music and small tables surrounding the periphery, and then there is a separated area that is right by the bar with a TV screen in case you want to watch the Knicks beat the Heat, like they did February 27th. (What up!) Up the staircase in the middle of the lounge to find the more brightly lit and extremely classy main dining room.
The short bar trip made me very curious about the menu at this seafood brasserie. I'll be sure to report back on that one.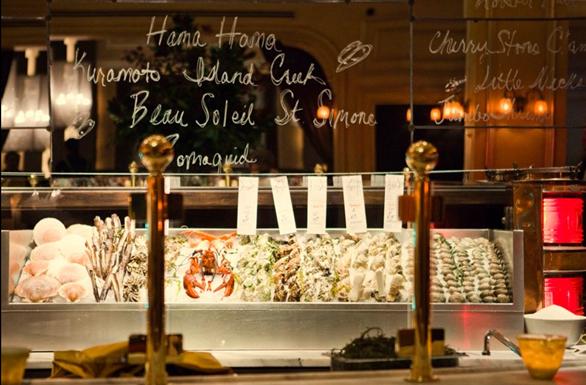 Millesime is located at 92 Madison Avenue, New York, NY, (212) 889-7100.