Caviar is often viewed as an out-on-the-town delicacy. I usually venture out in Louboutins and a cocktail dress in preparation to eat my favorite, fishy luxury.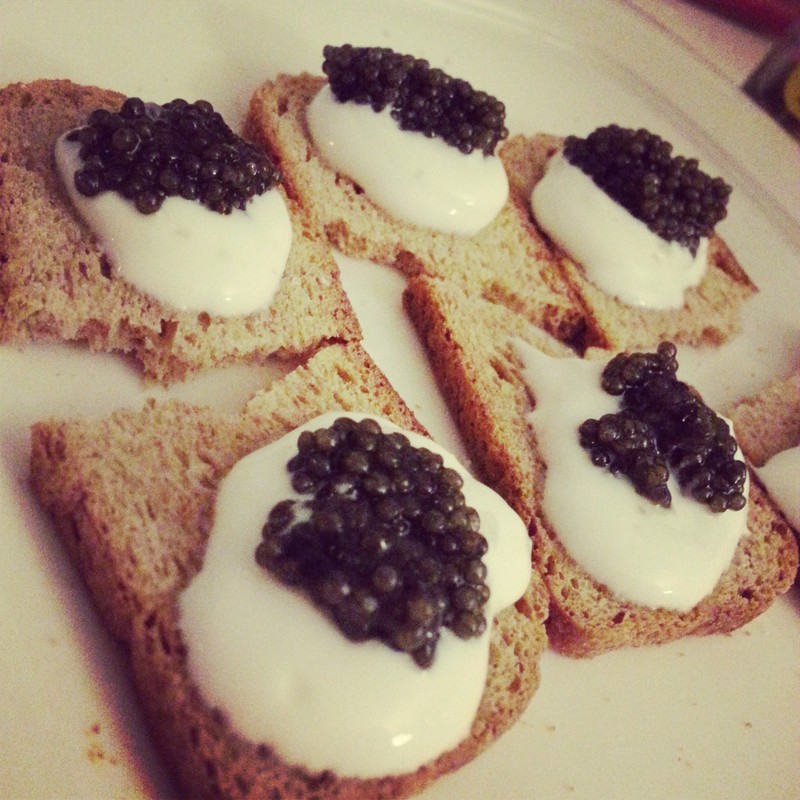 Well, enter my husband, Eric. He's a food and travel TV producer who has cooked with Mario Batali and Jean-Georges Vongerichten, but somehow I always end up cooking... except for one day every year. The bittersweet, half-dreaded, half-anticipated day of my birth.
He made me an amazing birthday dinner, it was full of flavor and innovation, but I loved the caviar dish he made for me the most.
"Duh, it's caviar," you are thinking. But you are only half correct.
The dish itself was healthy! Shocking, I know, and perhaps a bit of a sullying of the plate, but hey, I was wearing pajamas so I was happy.
He used a whole wheat toast, and made creme fraiche with Greek yogurt! If that doesn't say innovation at home, i don't know what does.
So without further ado, here is how you keep your wife well fed and still svelt.
Eric's Caviar Toasts with Greek Yogurt Creme Fraiche

- melba toast, or your favorite whole wheat cracker
- 2 tbsp greek yogurt
- 3 tsp half-and-half or heavy cream
- 50g of your favorite caviar
Whip together the yogurt and half-and-half until frothy. Use some elbow grease.
If you need it to be more solid, add some more yogurt until it holds itself.
Put a spoonful of the yogurt creme fraiche atop a toast, and then spoon some caviar on top.
Serve and watch your wife ooh-and-aah.