Everyone's morning cup of joe tends to mean something different. Whether it's a wake up aid, something to heat up your stomach, or a reason to check out the cute barista at your local coffee shop, coffee has become part of many Americans' morning routines. I don't even think twice about ordering a medium drip, adding a splash of skim and heading into work. But on a recent trip to Brazil, I was shocked to find, coffee is much more than a dollar fifty of my hard-earned (or not so hard-earned) cash.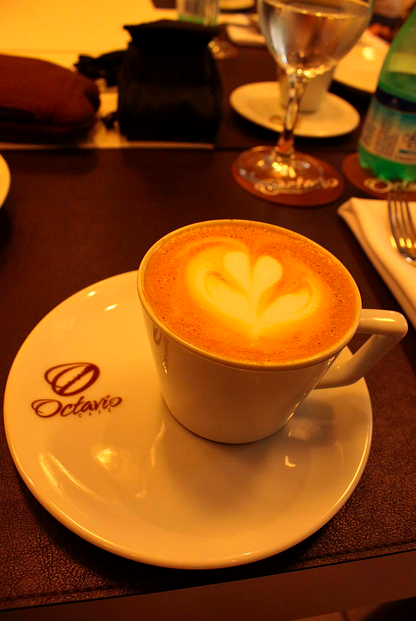 The trip started, as many of my trips abroad do, with a couple cocktails and some amazing local cuisine with my friend Luiz. He is a native of Sao Paulo, but luckily speaks impeccable English, so my great lacking of Portuguese language skills was not a problem. Luiz is your classic Brazilian: handsome, fun-loving and excited to eat and drink heartily. We started with wine, beer, and moqueca, which is a Brazilian seafood stew often made with shrimp, white fish, scallops and chunky vegetables in a tomato broth. The dish gives you that warm, comforting feeling while also exciting your palate with some serious flavor combinations. It's served over rice, and let's face it, anything over rice is just that much better. After a mini-stroll down Oscar Friere, the 5th Avenue of Sao Paulo, we decided it was time to tap the Brazilian beers. Luiz chose a local hole-in-the-wall which turned out to be the perfect spot, with paint chipping and kitschy decor, it looked like a little house and was packed with locals.
Given these wonderfully city-centric activities, and being a New Yorker, I was slightly sad to head to the airport at the end of the day. The hour flight took me to Ribeirao Preto, known as the California of Brazil, an hour outside of which the Octavio coffee farm was situated. Exhausted, I fell asleep in the calm of Pedregulho, where the farm for Queens-based Dallis Bros. Coffee exists.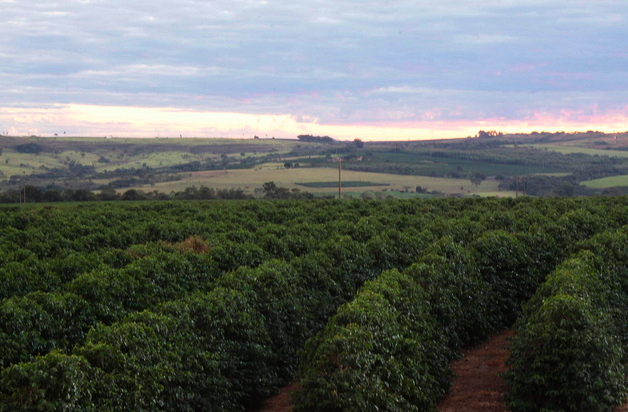 The next morning, after a delightfully Brazilian breakfast of local meats, cheese and papaya which was sweet, juicy and riddled with citrus notes, I got a tour of the farm, and learned, first hand, how to harvest coffee. Walking amongst the coffee plants, it was a similar sight to a vineyard, but fuller plants sprinkled with tiny red coffee berries, called cherries. You can pop them into your mouth and taste the small bite of sweet, followed by bitter fruit. The "pit" on the inside is the coffee bean.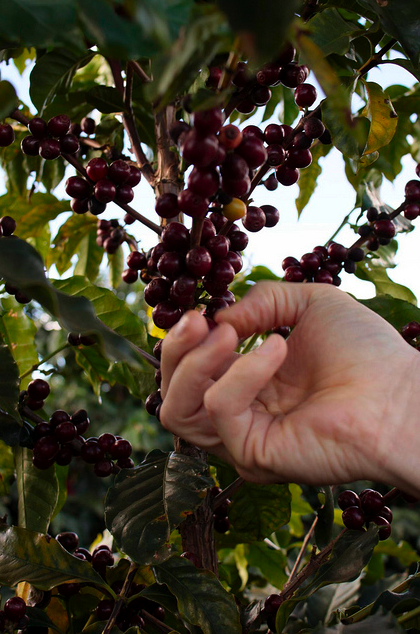 I received a lesson from a professional coffee picker on how to pull the cherries off the stems, let them fall into a large flat round basket, then toss the berries up into the air, and the wind blows the leaves off, leaving only the berries in the basket. It was a delectably rudimentary but effective way to find the berries that would now be ready for the next step.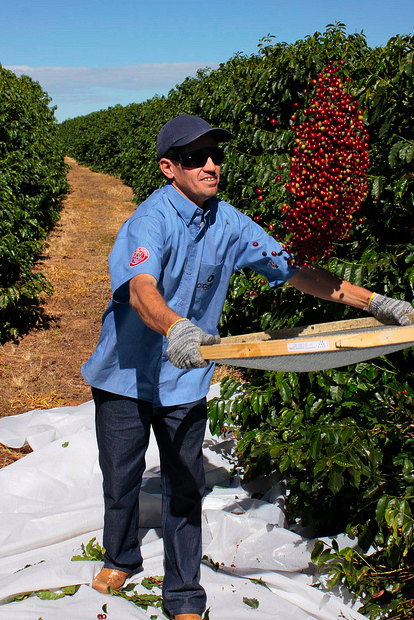 Coffee pickers usually work 8-10 hours a day. I spent just about an hour in the sun, picking the berries, and I was spent. Over the course of the next few days, I saw the next steps. The Octavio farm produces a natural coffee and a semi-washed coffee. In the natural process the coffee beans are dried in the sun, raked so that they do not grow any mold or mildew, then the outer skin and pulp are removed from the bean. The second, semi-washed, means the berries are rinsed off, and the twigs and leaves and bugs are removed from the batch of cherries. Then the pulp-y portion of the cherry is removed, but there is still some of the fruit left on the bean. That then gets dried and separated.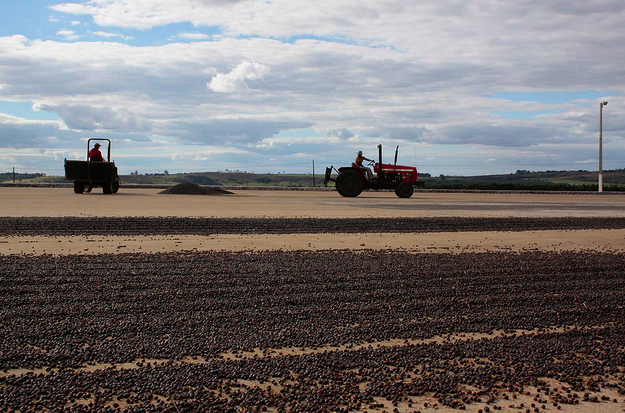 The bottom line? There are many different ways the flavor of your cup can vary, even before the bean gets roasted. This discovery had me working out permutations in my head of how I could pick, wash, not wash, dry, ferment coffee beans. CEO of Dallis Bros, Marcelo Crescente just shook his head at me.
Marcelo was instrumental in explaining many aspects of the trip to me; the Sao Paulo native is now a Queens transplant, but coffee is the bridge that connects his two homes. He taught me many things over my 4 days on the farm. I learned how to make a traditional Brazilian roast pig or Leitão à Pururuca (which I will give you the perfect recipe for in another post) and how to go looking for a "capivara" which he swears is a combination of a rat and a deer. Personally, I find that combination frightening but we were unable to find one so I cannot say just how scary it is. But aside from those very important lessons, he also took me through a coffee cupping with around 12 different coffees, complete with the bad ones that tasted vegetal, medicinal and pretty much gross, for lack of a better word.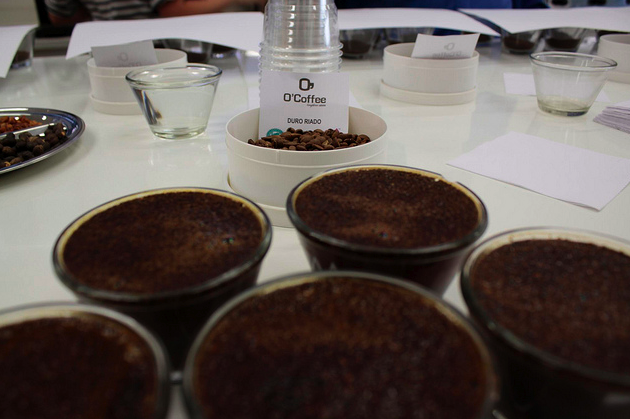 I've always loved coffee, but the world that Marcelo guided me through was of a different level. I found cherry notes and dark chocolate notes; some were more caramel-y, and some even had notes of citrus. His coffee roasting plant in Ozone Park is open for tours, so roll on through.
The final part of my trip included a return to Sao Paulo, and a stop at the Octavio coffee shop where award-winning baristas made us some extraordinary coffee drinks that highlight the unique flavor notes in the coffee. From beginning to end, the process is fascinating, but frankly, the end is my favorite. So, without further ado, Cafe Gelado, the ingenious combination of citrus and espresso and the perfect fall coffee drink (or cocktail if you add some vodka).

Cafe Gelado courtesy of Octavio Cafe
(1 drink)
Ingredients
5 ounces orange juice
1/3 ounce lemon juice
1 ounce espresso
1 tablespoon sugar
4 ice cubes
Add all of the ingredients together in a blender and mix until smooth. Serve in a tall glass.
Photographs by Nicholas Christian