If my cheating in 'following in the footsteps of intrepid Brit traveler Patrick Leigh Fermor' was major-league big-time from Stavronikita to Megisti Lavra, I've turned it into an extreme sport for the onward journey.
Leigh Fermor got a fishing boat to take him to the west coast where he resumed his hoofing, but there's no boat now. I had every intention of walking to a little pier at a place called Kafsokalivia, whence there is a boat sailing up the west coast.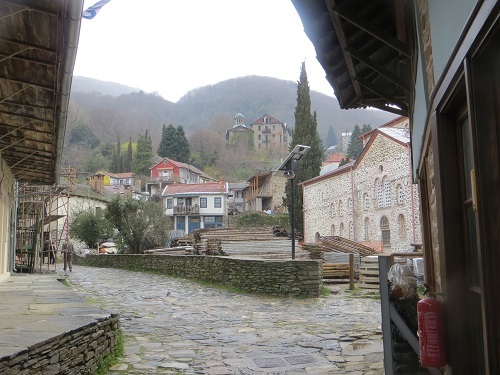 Karyes, Athos's 'capital'
I did, honest. But, the walk takes two to three hours, involves a lot of upping and downing, and the boat leaves at 9.30 A.M. It doesn't take long for my mental computer to crank itself into overdrive. With a moderately heavy backpack, who knows how long it'll take me? And what of my predilection for getting lost? And my predilection for falling down?
And if I miss the boat it's at least a 1,500-foot climb back up to the trail and then a 5 ½- hour walk on to Agiou Dionysiou, my stop for the night.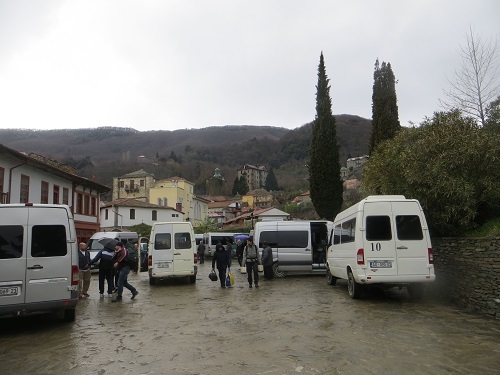 Karyes's 'bus station' during rain squall on first day
So here I am comfortably at Megisti Lavra, ensconced on the 6.45 A.M. minivan in cool but perfect weather on my way back to Karyes, whence I will take a bus to west-coast Dafni, and thence a boat to aforesaid Dionysiou.
The deep orange sun is rising blindingly from Homer's wine dark sea (as the sea is dark blue is Homer telling as that in his day wine was dark blue?).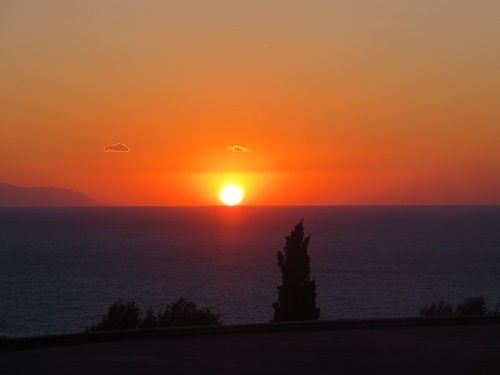 Sunrise with Thasos in the distance
The many humps of Thasos Island are humping it out of the Aegean, the snow-capped peaks of the Rhodope Mountains are glistening on the mainland beyond, and back on the peninsula the cloudless white summit of Mt. Athos is turning to burnished gold in the sun's up-slanting rays.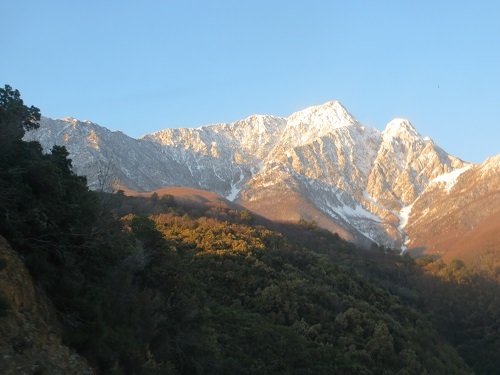 Golden Mt. Athos
The clack-clack-clack of clicking worry beads from the back of the minivan gives pause to think that my fellow passengers are a group of aspiring flamenco dancers mistaking their beads for castanets.
In Karyes' main square adding a touch of local colour, a very ancient monk has just hobbled on from stage left with a long, wildly flowing grey beard and a peg leg - Athos's Long John Silver.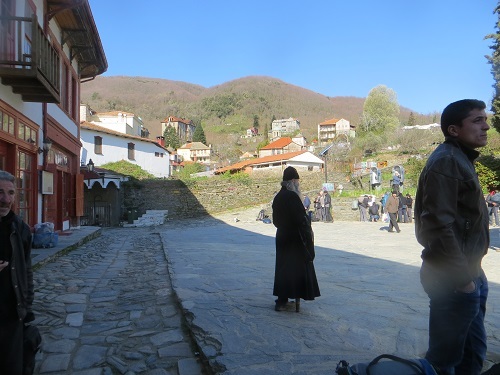 Waiting for the minivan in Karyes's main square
Both weather and scenery are superb as the Agia Anna plies down the west coast from Dafni. The sea, though, is billowing with large translucent white jelly fish ballooning this way and that.
The Agia Anna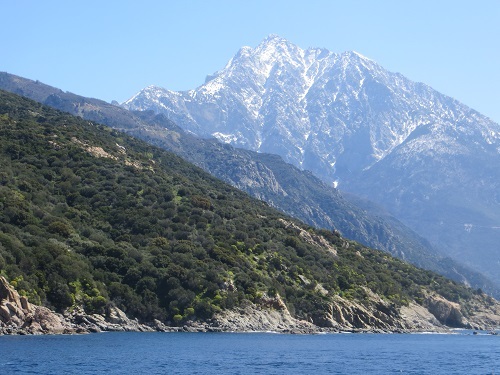 Mt. Athos on the journey south
The first monastery we drop in at is Simonopetra. Leigh Fermor is absolutely right when he compares it to the Potala in Lhasa, Tibet. Perched some 820 feet up on a crag in a steep hollow ravine, its wooden balconied upper floors jut out above an almost windowless vertical stone wall several stories high.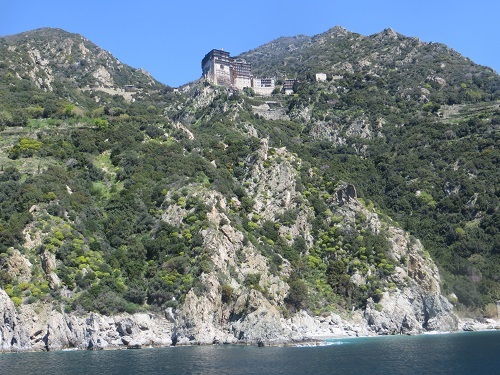 Simonopetra
It's much smaller than the actual Potala, but it certainly looks as if it's straight out of Bhutan or Tibet. I tried to reserve but they're doing some repairs.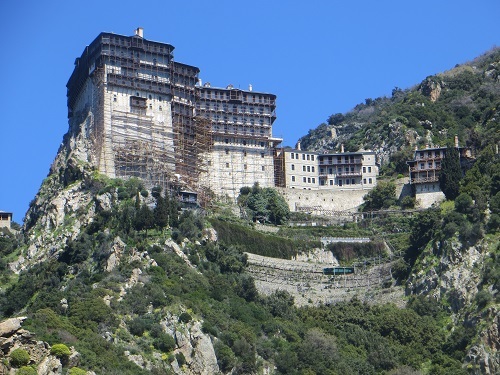 Close up
I must say Leigh Fermor was treated right royally 80 years ago - a single room at each stop, plenty of meals at proper times, not just a single daily chow-down of pottage at 3 P.M. I'm wine-dark with envy.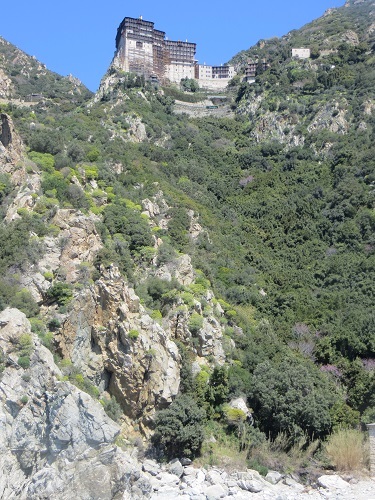 Another view
The next monastery, Gregoriou, is a little sea-level fortress with the inverted-V peak and massive snowy flanks of Mt. Athos blazing away as backdrop.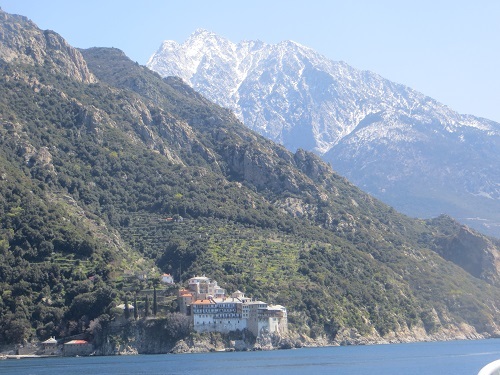 Gregoriou
Now we come to another little fortress, this one on a precipitous crag a hundred or more feet above the sea - Dionysiou, with a very steep path leading up.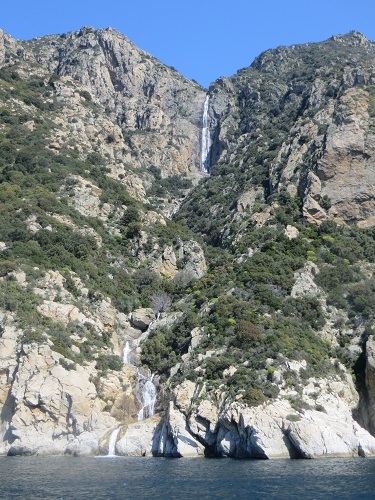 Waterfall near Gregoriou
When Leigh Fermor arrived here in 1935, he wrote: 'It is built fortress-like on an overhanging crag, and its huge windowless walls, jutting battlements and machicolated tower smack of the Dark Ages.' But he found the iron-coated doors locked.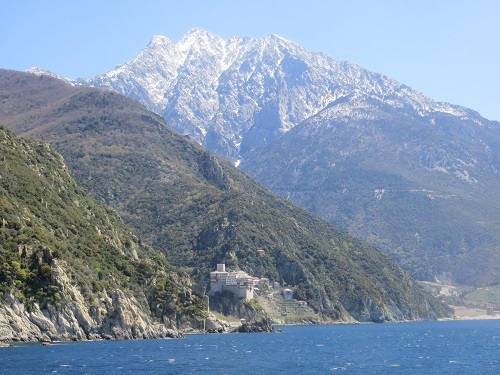 Dionysiou from afar
After he banged on them forever, there was 'unbelievable clanking and shooting of bolts' and he was eventually allowed in as he was a foreigner, although he'd committed the sin of arriving after sunset.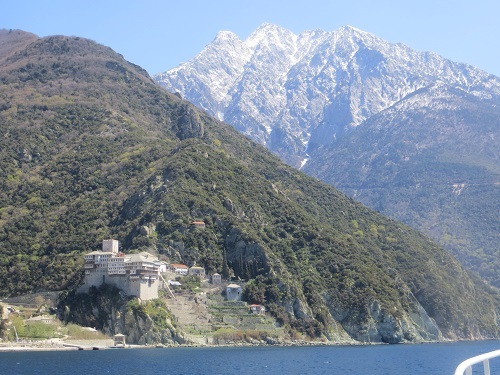 Getting closer
Today the walls, battlements and tower are the same, but the gates are wide open, since it's only 1.30 P.M.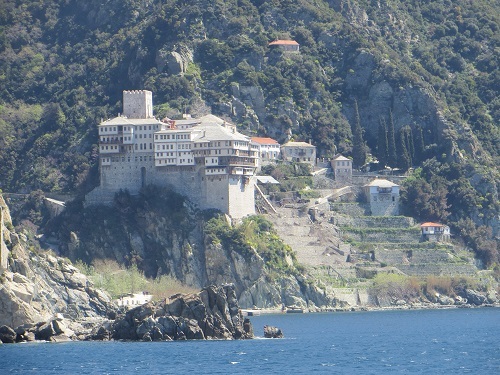 Even closer
This time I get a room with just one other person, a pleasant Greek pilgrim. But the sole meal is still the 3 P.M. pottage of greyish liquid with an odd carrot - quite tasty, though - also some olives and bread as hard as teak.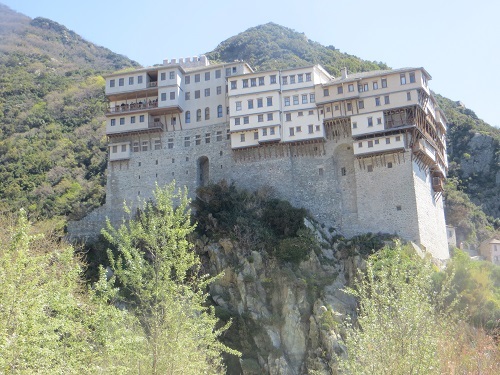 From underneath the walls
Another pilgrim, a bearded ancient Greek (ancient in years, not a Plato contemporary) is puffing assiduously at a cigarette, his grey moustache jaundiced from decades of smoking. He says with great pride in broken English that he swam from Piraeus to Newcastle in 40 days.
Swam, quoths I, with great amazement. Yes, quoths he, by boat. In his English swim means travel on water. Athos's ancient mariner.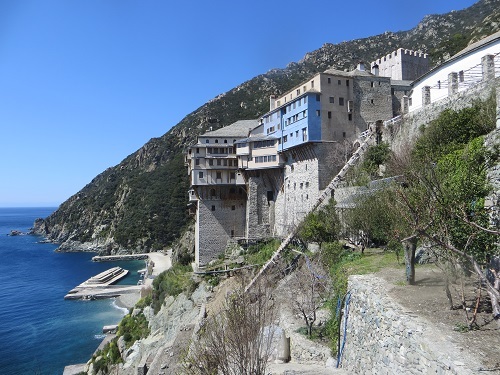 Another view
To cap it all off, I've just been told I can't visit the library or look at the 16th century frescoes, a flapping monk has told me off for taking a photo of an outdoor courtyard as cameras are verboten here within the walls, not just within the buildings, and another has just told me sternly the 4 P.M. service is starting 'Now! I said NOW!'
Well, I'm not going, so there, Your Grace.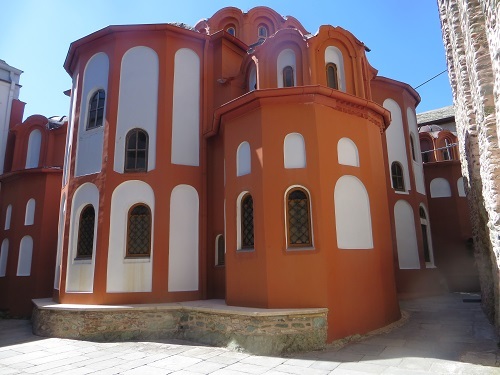 The 'verboten' katholikon within
I do go and have a decko at 6, though. The church is incredibly ornate, dripping in heavy gold and silver chandeliers. A huge silver chaplet hangs over the center and the walls and ceilings are bursting with brightly coloured gold-haloed icons.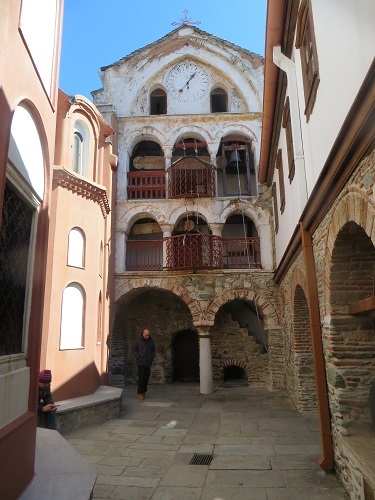 Another verboten photo
The abbot is standing under the chaplet and they're all lining up to kiss a row of richly embossed silver relics in front of him. To everybody's great surprise I also skip the midnight to 5 A.M. service.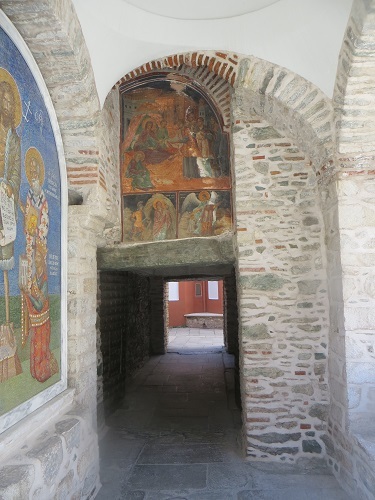 Icons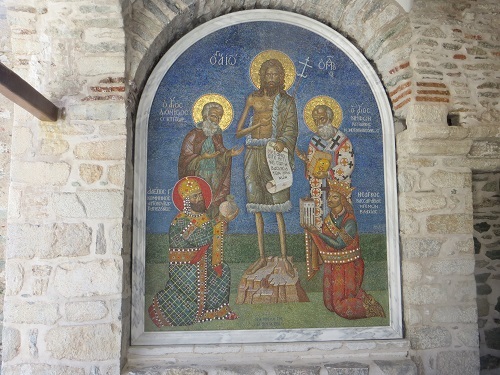 More icons
Sunset from Dionysiou
Instead of taking the Agia Anna straight back to Dafni I pick it up on its southward descent to see some of the other monasteries.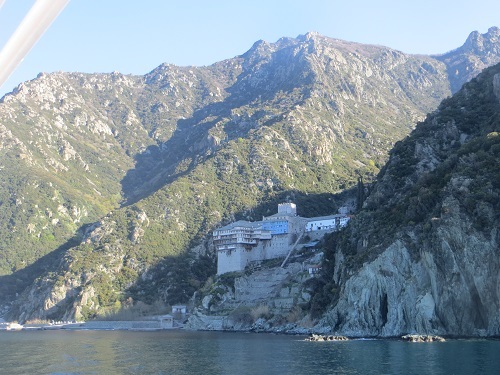 Moving south from Dionysiou
Mt. Athos is blazing away in brilliant but chilly sunshine. The terrain is even wilder at the peninsula's southern end, an impenetrable, impassable, tortured land of massive crumpled crags. You can, of course, penetrate and pass, doubtless with much torture and crumpling, on the track round to Megisti Lavra.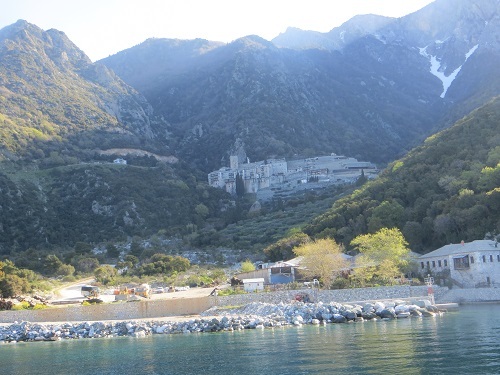 Agiou Pavlou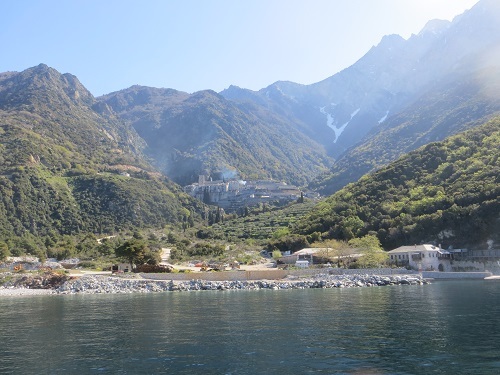 Another view
Hermitages and shelters for solitary monks perch atop impossible pinnacles with precipitous drops to the frothing sea hundreds of feet below. Some are said to haul themselves up with pulleys and ropes. Olive groves and vegetable gardens dot the gentler slopes.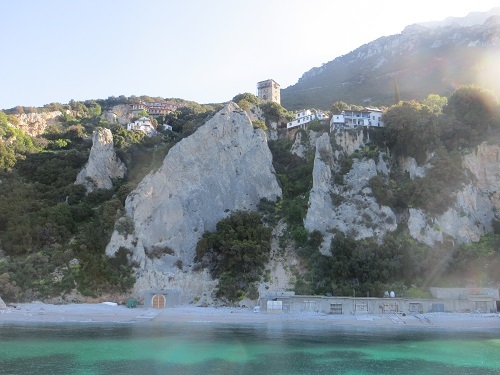 The rugged south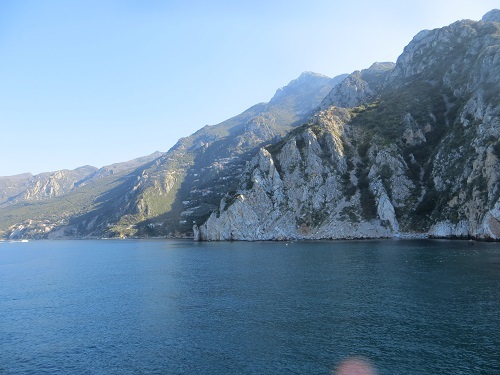 Another view
Back in Dafni you have to go through customs before boarding the boat for Ouranoupolis - they're checking that no icons or other art are being smuggled out.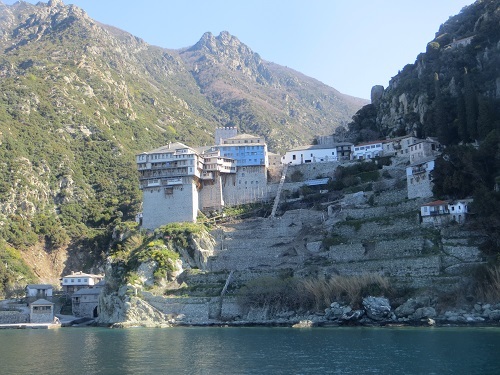 Back past Dionysiou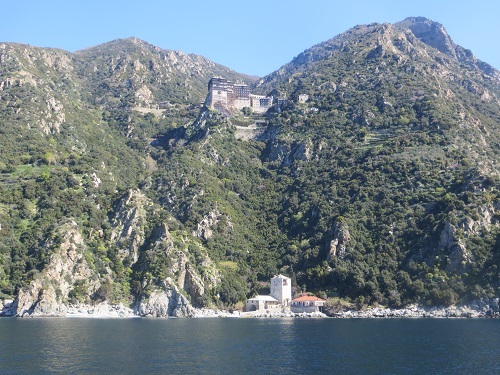 Back past Simonopetra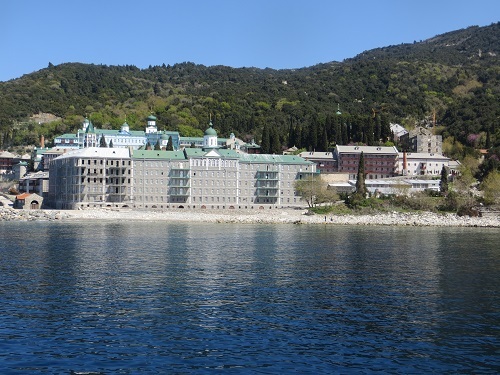 Back past Panteleimon
All in all, a fascinating time in magnificent scenery amid spectacular architecture, even if the faith thing doesn't really work for me. Not for me the ethos of Athos.
Farewell, Athos
______________
By the same author: Bussing The Amazon: On The Road With The Accidental Journalist, available with free excerpts on Kindle and in print version on Amazon.
Swimming With Fidel: The Toils Of An Accidental Journalist, available on Kindle, with free excerpts here, and in print version on Amazon in the U.S here.