The luxuriantly wooded hills, the gently flowering dales, the silvery streams, the emerald gardens and orchards, the deep green roof and shutters set off by bright white wooden walls... it may be a cliché to say the site of the evergreen Anne of Green Gables, Canadian author Lucy Maud Montgomery's best-selling book, is truly idyllic.
But then that's just what it truly is, nestling near the northern coast of Prince Edward Island (PEI).
It is on this wooden house near her childhood home that Montgomery based the farmstead where little orphan Anne was sent by mistake to an elderly brother and sister who had asked the orphanage for a boy to help with the work.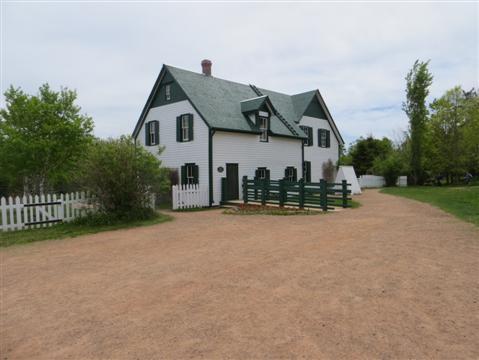 Green Gables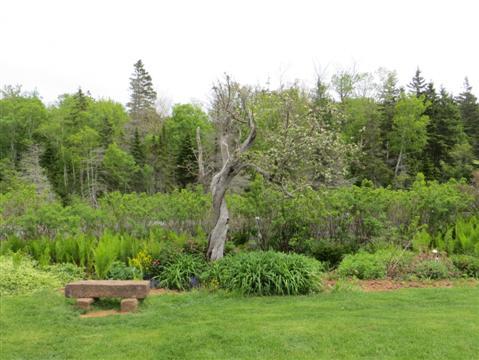 Green Gables garden
PEI, Canada's smallest province at just 2,190 square miles and with only about 145,000 denizens, is indeed a delightful place -- gentle, bucolic with a rolling landscape of woods, farmsteads, red earth, lakes and sea inlets.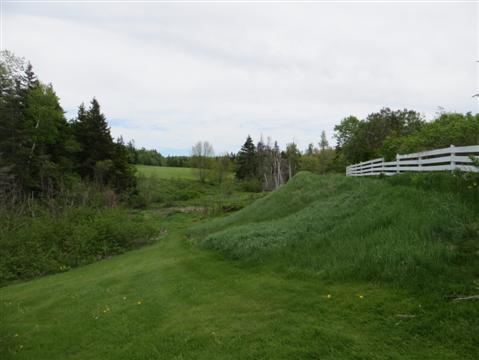 PEI landscape
It may not be an exaggeration to claim that Anne of Green Gables is the original 'Little Orphan Annie.' The United States' Little Orphan Annie may have preceded her by 20 years, but that's only because some idiot type-caster miscast American writer James Whitcomb Riley's original name for the 1887 edition of his poem Little Orphan Allie. The type-caster was either blind or drunk, or probably both -- blind drunk -- and cast two n's for the two l's.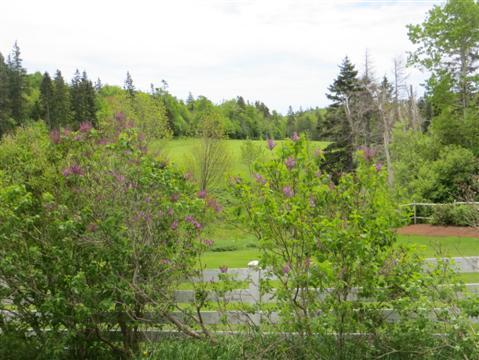 View from Green Gables garden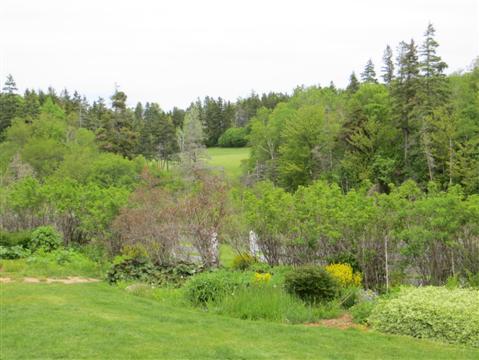 Another view
But Montgomery's Anne of Green Gables, the first in a series, became a world best-seller almost as soon as it was published in 1908, while Little Orphan Annie had to wait to become a newspaper cartoon in 1924, several films starting in the 1930s, and a Broadway hit as a musical in 1977.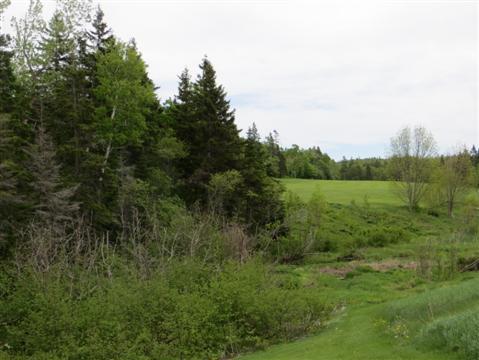 Another PEI view
Despite being of the feminine persuasion Anne wows the couple with her winning ways. She's kept on, of course, because there wouldn't be any story if she wasn't, would there, and Green Gables wouldn't bring in tourists by the tens of thousands to what is arguably PEI's best claim to international fame, would it.
Nor would tourists now be getting themselves photographed or taking selfies ad nauseam outside Green Gables, by the sign at the start of Lovers Lane, a green, winding tunnel of trees that Anne so named barely a month after her arrival because of its romantic aura, or in the Haunted Wood, the copses now crossed by the golf course, between her house and her friend Diana's that Anne pretended was spooked.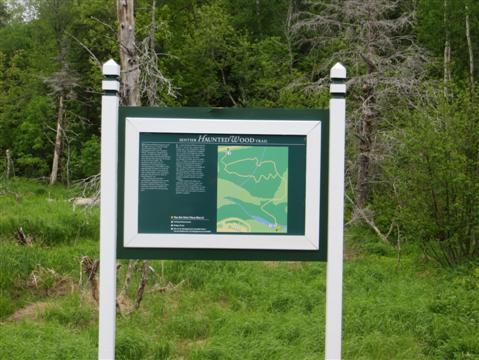 Entrance to Haunted Wood
And the Charlottetown Festival in PEI's capital would not be presenting Anne of Green Gables -The Musical for the 50th consecutive year this summer, nor Anne And Gilbert - The Musical for the ninth year. The latter follows up on Montgomery's later books when Anne finally realises she's in love with Gilbert and proposes to him after years of not forgiving him for calling her carrots because of her red hair when they were at school.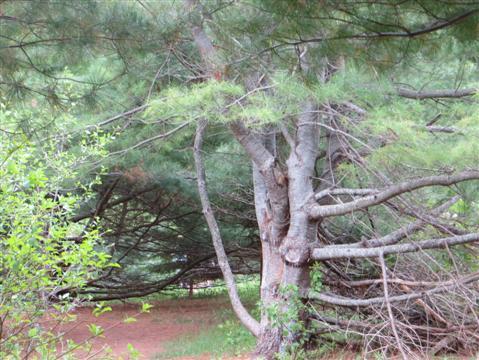 Inside the Haunted Wood
Pursuing the "overland-by-public-transport" effort, Yours Truly has succeeded in reaching Charlottetown by Maritime minibus from Moncton, which I very nearly miss while stuffing my face because the frigging clock in the deli is wrong. I make it by the skin of my crumbs.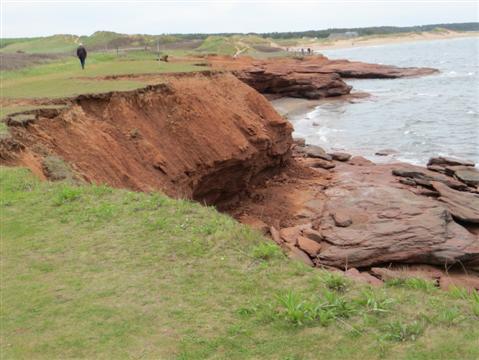 PEI coastline
But from there it's on a Gray Line tour. A dirty great cruise ship, Holland-America's Veendam, is in from New York.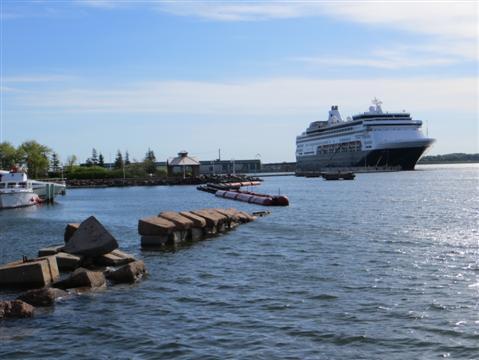 Beware! Cruise ship approaching
Our first stop is New Glasgow, a tiny village in a lovely green hollow, where a little jam factory produces oodles of varieties from local berries, from Strawberry with Grand Marnier to Cloudberry. Tiny free samples are now being served.
Once at Green Gables, everybody's taking selfies or getting themselves photographed every time I try to snap a people-less shot of the house. Inside, the rooms are decorated in late 19th century style with period washstands and furniture.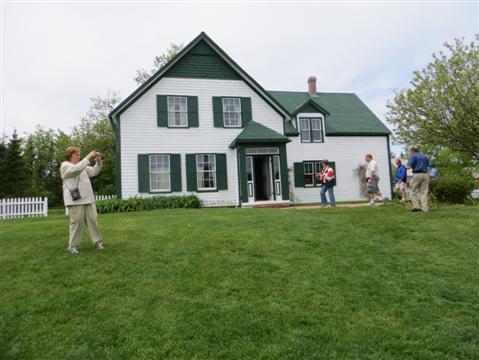 Tourists at Green Gables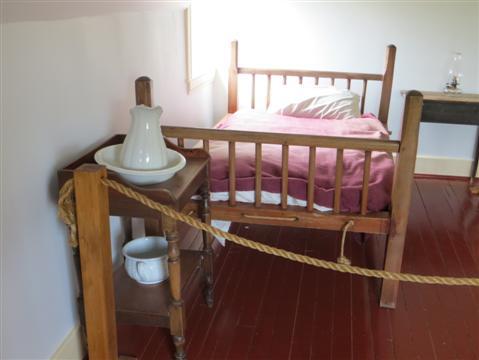 Inside Green Gables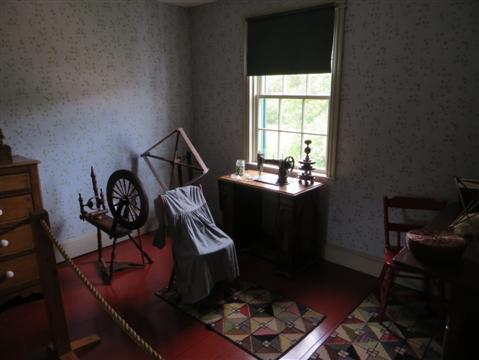 Another view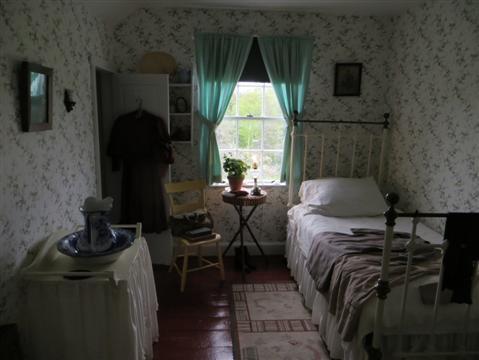 And another
While the others are doing selfies in front of the Lovers Lane sign, Yours Truly ventures within. Of course, several hundred yards to Balsam Hollow are closed. They're rehabilitating the pathway after the ravages of the severe winter.
Lovers Lane
Didn't it say closed, quoths a worker as I prance through, almost reaching Balsam Hollow. Yes, quoths I. Oh, alright then, says he, and I continue to the end. But not unscathed; this is Mecca Central for the tens of millions of mosquito pilgrims and other flitting critters now descending on me in ravenous hordes of the faithful.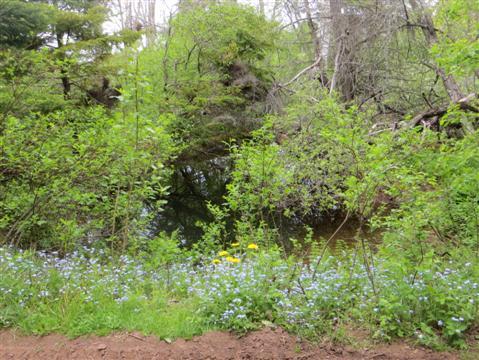 Another Lovers Lane view
A few miles further north of Green Gables, jagged red cliffs spread out along the sea shore, little villages cling to their coves, and old fishermen sell tourists net bags when they're not out in their boats.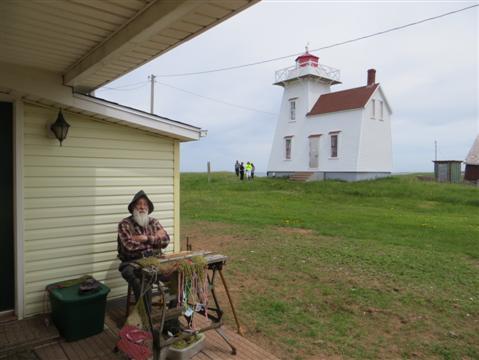 PEI fisherman
PEI's other claim to fame is as mother womb of Canadian confederation and, oh boy, they won't let you forget it. Charlottetown is where Canada as we know it all began. It was here that the leaders of the British colonies of Nova Scotia, New Brunswick, Prince Edward Island, and the then United Province of Canada, comprising present-day Ontario and Quebec, met in September 1864 to set in motion the train to confederation.
As with most trains, it arrived late, only pulling into the station three years later with the 1867 passage by Parliament in London of the British North America Act. And a bloody good job it did, because there's no knowing what those greedy, arrogant Yanks down south might have done with their covetous claws, salami-slicing away at their neighbours. I mean, look what they done to Mexico - and that was a damn sight more than salami-slicing.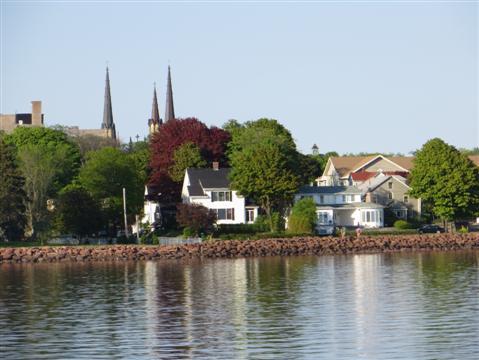 Charlottetown from harbour front
Anyway this was very much the thinking of those gentlemen at the time seeking strength in unity to guard against Uncle Sam's gnashing teeth as they proudly sung in the Confederation's national anthem:
O Canada, we stand on guard for thee.
God keep our land glorious and free!
Now the maths wizards among you will have already noticed that 1864 ends in a 4 and 2014 also ends in a 4, making this year the 150th anniversary of the start of the confederate train's journey. Well, they certainly have here in Charlottetown, and everybody's all agog with oodles of celebrations planned.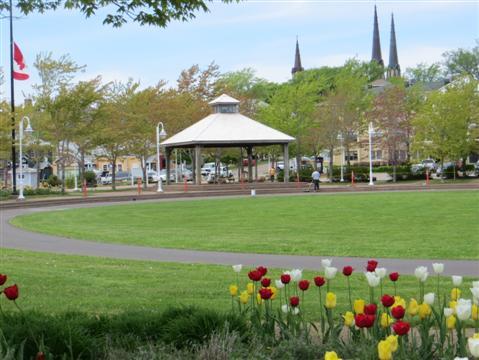 Waterfront park
The irony, of course, is that with all this preening by the city fathers today about the town being the 'Birthplace of Confederation,' the 'Cradle of Confederation,' PEI didn't even jump on board the confederation train when it finally arrived in 1867, remaining an aloof British colony.
Only after it had driven itself into bankruptcy with all the unnecessary uneconomical railways it built did it join six years later -- just so that Canada could bail it out. A bit like bankrupt Scotland's union with England in 1707, which the Scots might now undo in their September 18 referendum. Bankruptcy must run in the family; 70 percent of the people here are of Scottish descent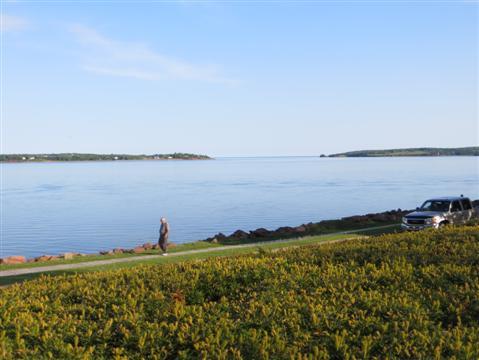 View out to sea from river boardwalk
Despite that, there's no way they'll let you forget that this is the place where it all started. For starters, to get here by land, you have to cross over the Confederation Bridge. With a length of eight miles it cannot claim to be the world's longest bridge, so it prides itself as the world's longest bridge over ice-covered waters. Climate change may soon take that feather out of its cap as well.
Once you arrive in Charlottetown there are buildings and historic markers to forever remind you of the city's major role in world history, should you ever be so rash and impudent as to let it slip for a moment from your mind, not to mention Founders' Hall, 'Canada's Birthplace Pavilion,' a former railway maintenance building turned into a mulit-media Confederation museum, where the 1864 conferees most certainly did not meet, and Province House, the PEI Legislative Assembly, where they did.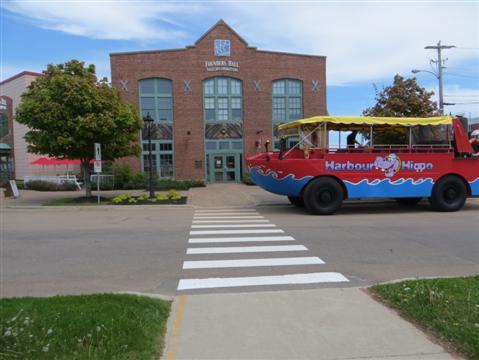 Founders' Hall, where they didn't meet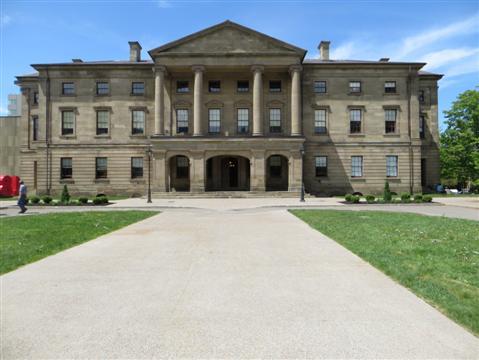 Province House, where they did
As I know you're all raring to learn, PEI is named after George III's third son, Edward, Queen Victoria's papa, who was commander of the red coats out here for a year or two, while Charlottetown honours Queen Charlotte, George III's little lady.
Unlike Saint John and Moncton in New Brunswick, the little town is a delightful place with tree-lined streets, lanes and gingerbread wooden houses on the banks of the Hillsborough Heritage and North Rivers where they meet the sea. It's dominated by the soaring twin steeples of St. Dunstan's Catholic Basilica, flowerbeds of red and yellow tulips line its pavements, and parks abound, as do pleasant but expensive (as everywhere in Canada) pubs and eateries.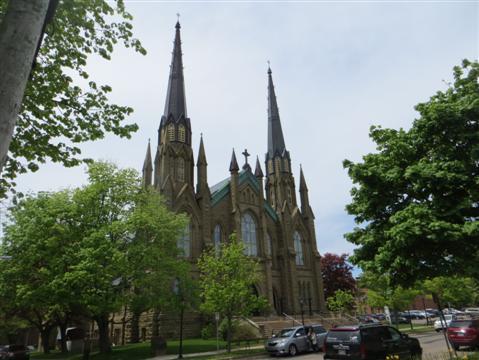 St Dunstan's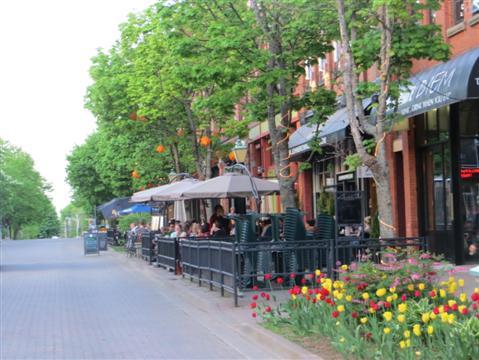 Victoria Row restaurants
It really gets popping on Tuesdays and Wednesdays. That's when the Veendam and its sister ship the Maasdam put into port. The two-horse carriage with room for 22 is all drawn up waiting for clients, and they're attaching leather doo-doo bags to the horses' rumps, equine nappies to keep the streets unfouled.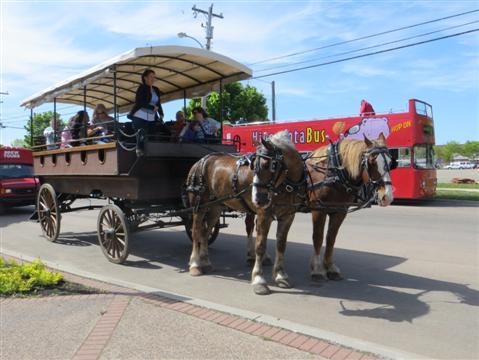 Horse transport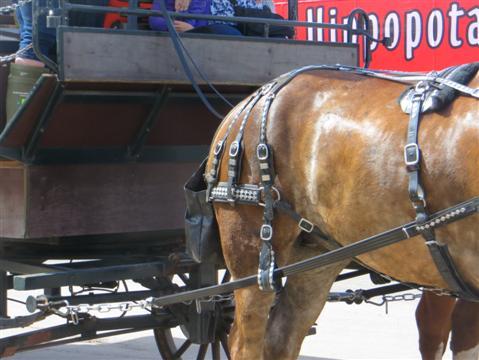 Rumps duly bagged so as not to foul streets
The Harbour Hippo is drawn up, too. It's a duck, an amphibious truck-boat ready to tour the streets and take a harbour plunge. The Big Blue Bus Tour is here; and the Big Pink Bus Tour; and the Big Red Bus Tour. The PEI Brewery tour is here with its red van, too, ready to get the already drunken sailor truly wasted. And all the guides are going on and on, and then on, about -- yes, you've guessed it -- Confederation.
Meanwhile, Yours Truly is ensconced in a delightful wooden B&B within a stone's throw of the "Island Pregnancy Centre." In this day and age you never know!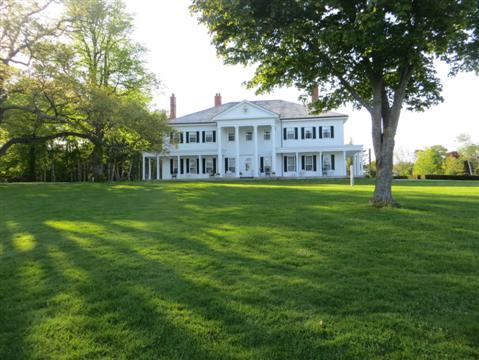 Not my B&B - Government House, the Lieutenant-Governor's pad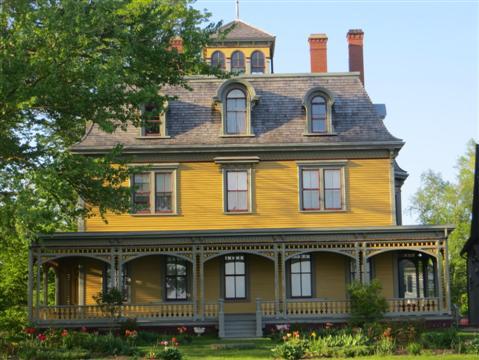 Gingerbread confectionery - Beaconsfield House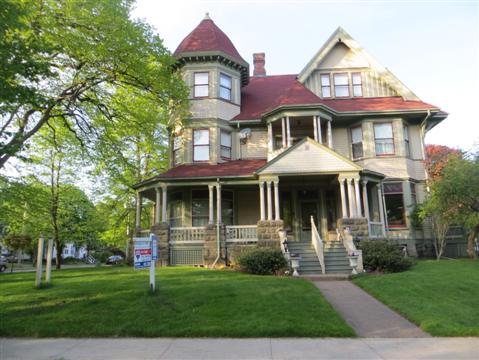 More gingerbread
______________
By the same author: Bussing The Amazon: On The Road With The Accidental Journalist, available on Kindle, with free excerpts at and in print version on Amazon.
And Swimming With Fidel: The Toils Of An Accidental Journalist, available on Kindle, with free excerpts here, and in print version on Amazon in the U.S here.