I'm actually on my way to Greenland in the depths of winter, wondering what the hell I'm up to, so for the time being here are some tales from warmer climes from a Caribbean journey I made some months back:
As usual, I'm doing things back to front. I'm off on a 10-day trip to the Netherlands Antilles ABC islands of Aruba, Bonaire and Curaçao, and I'm doing it backwards, turning it into CBA. Actually they're no longer even part of the Netherlands Antilles since that entity has been dissolved, and each island now has a different legal relationship while remaining part of the Dutch kingdom.

I haven't even started yet and already I'm having a tantrum at La Guardia airport. Having spent 20 minutes last night filling out all personal and passport details on the computer for the online check-in only to be told they can't do it and to go to the check-in counter at the airport, I'm now at the check-in counter at the airport being told to check in at a stupid machine.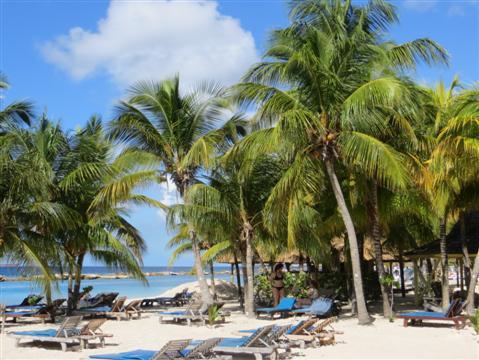 A Curaçao beach
I spend 20 minutes tapping in all last night's frigging details again. After an eternity, red letters flash onto the screen: 'You need assistance.' At which I genteelly scream: "I don't need a dumb machine to tell me that. I've been needing assistance for the past 78 years!"
An American Airlines lady dressed in red comes flying over, looking ever so slightly flustered by my histrionics. She eye-balls the machine and sticks in a card. At last the machine allows me to tap in more details on the number of cases, number of children under age 2 etc., each time trying to con me into signing up for an upgrade and specialty lounge at several hundred dollars more before finally puking out the boarding passes.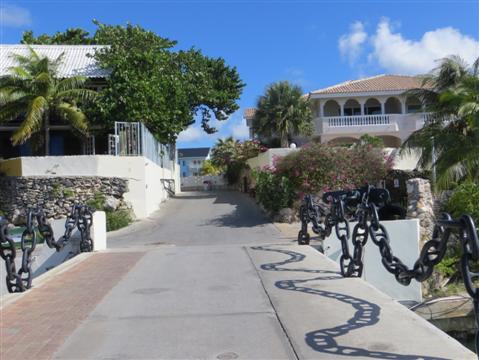 A Curaçao seaside mall
Once on board, the plane's intercom is crackling into action: will those with small cases in the overhead bins please take them down and put them under their bums to accommodate those coming on with larger wheelers, please, PLEASE...
Judging by the size of some of these wheelers it won't be long before they surpass those huge shipping chests that were once a familiar sight on steamers to India and Australia.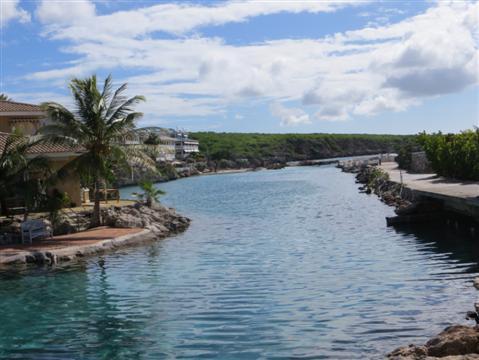 A Curaçao resort
At last we're airborne, arrive in Miami and I change planes for the leg to Curaçao. I'm just settling down for a nice little bit of introspection when...
"I want to have a baby very badly."
OK, I won't say that those are the first words Rachel, a restaurant owner from Baltimore, utters as she plonks herself down in the seat next to me, but they're pretty damn close. She must be in her mid-30s, all very tarted up with vivid purple eye shadow, huge mascara-ed eye lashes, blinding blue nail polish, and a tangled dirty-blonde bird's nest of wannabe curls.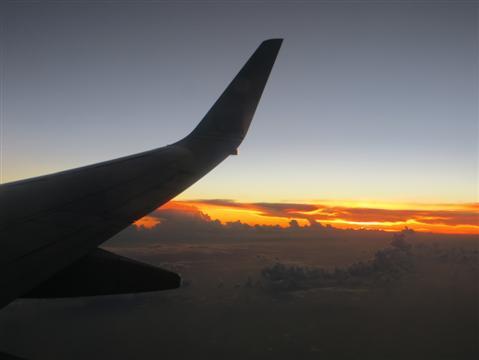 Sunset above the Caribbean
At this very moment she's pulling on some sparkling socks in shocking pink faux fur. Even the little lap dog across the aisle yelps in horror.
"I beg your pardon,"quoths I.
She's with a girl friend and wants to know if they can share my room, which is really crazy since her friend says they're already booked into the Marriott.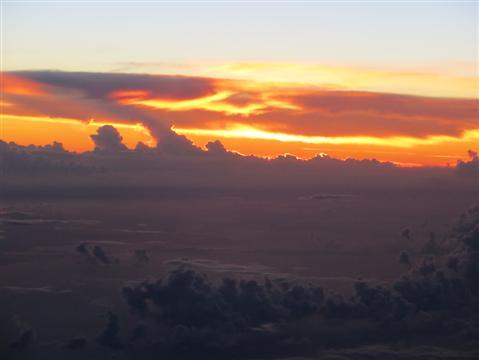 Another sunset view
"Mike, you're very handsome," quoths she, proving she's not only mad but blind, too. "You could have a lot of fun with us, just as friends."
I inform her that I loooove solitude. When I go to write down something on a piece of paper, she orders: "Write down that you're very mean. I won't let you touch my cheetos now."
Well, madam, I had absolutely no intention of touching your cheetos, whatever you're using them as a euphemism for. But she actually goes and pulls out a bag of cheetos and proceeds to stuff them into her pouting mouth. Meanwhile her girl friend is guffawing and hiding her face in her hands.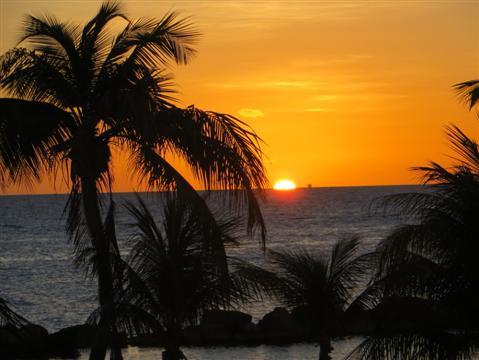 A Curaçao sunset
"Are you friends with Kate Middleton," Rachel asks. "Your accent's just like hers."
"No, I'm not friends with Kate Middleton."
"What a pity," quoths she. "I got up at 5 in the morning to see their wedding, and I was so excited at the birth of baby George." She just won't shut up.
"I don't want to be your girl friend, just your travel partner,"
"Noooooo!"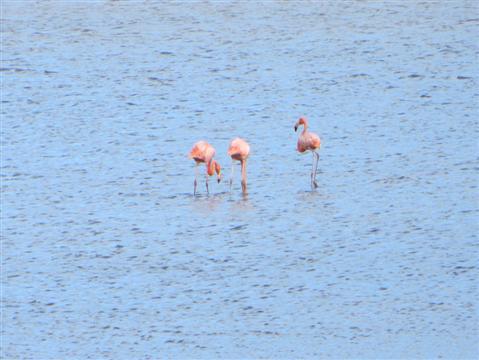 Flamingos
"I'll follow you," she pants undeterred.
"So you're a stalker now, are you?" quoths I.
"No, just a walker."
Gawd, she's put her head on my shoulder. Now she's patting the back of my head. By the grace of God she falls into a profound slumber at the third pat and doesn't stir for the rest of the flight.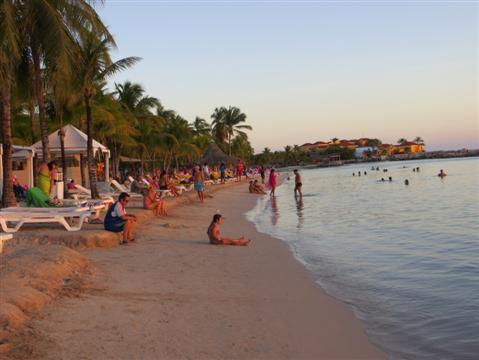 A Curaçao beach at sunset
Meanwhile I think I must be at a concert - everybody's coughing in a relay race from opposite sides of the aisle.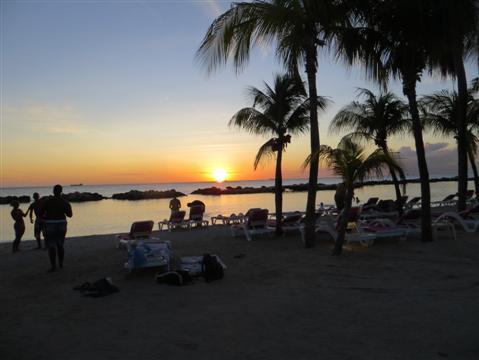 And another
I've barely arrived in Curaçao and I'm already having a second major tantrum. I need money and the ATM is not obliging. It spews back my card for the umpteenth time. I contact my bank in London from my hotel, having been assured the call is collect. After interminable electronic options, I'm asked by a finally emergent human being (well almost, he's Scottish and very difficult to understand) to spout a whole lot of personal details:
What is the longitude of your left and right molars? What is the latitude of the 76th thigh hair on your right leg and the 36th on your left? Well, not quite, but almost, what with sort codes, account numbers, pin numbers, 3rd and 7th letters of passwords, phone numbers, home addresses etc.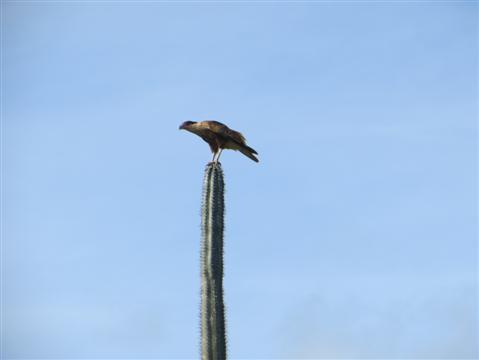 This is my place
After all that Robbie Burns now informs that I will be transferred to "a helpful agent who can help you."
"Well, why in hell did you ask me all those details in the first place?" quoths I with sweet curiosity.
I get no coherent reply but I'm serenaded with chamber music. Having gone through all Bach's repertoire, Mozart's and a goodly portion of Haydn, the 'helpful agent who can help you' emerges to ask me exactly the same long list of questions, followed by a "do you mind if I put you on hold for a moment while I check?"
Well, I do mind - very much. But it doesn't help, and I'm already half way through Schubert when the phone connection dies on me.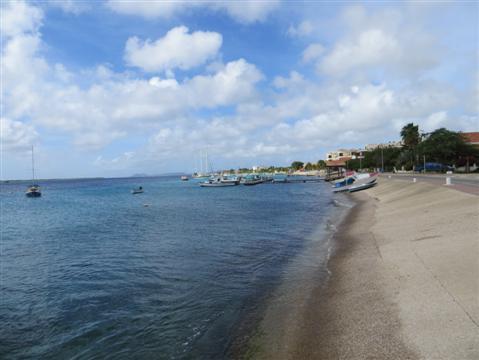 A Bonaire beach
To give a shaggy dog a haircut, I go through the whole rigmarole again - with testes replacing thigh hairs. OK, just joking, it's the 2nd and 3rd numbers of my pin replacing the 1st and 4th, and the 2nd and 5th of my password replacing the 3rd and 7th. But I do succeed in having the hold on the card, put on for Gawd alone knows what reason, at last lifted.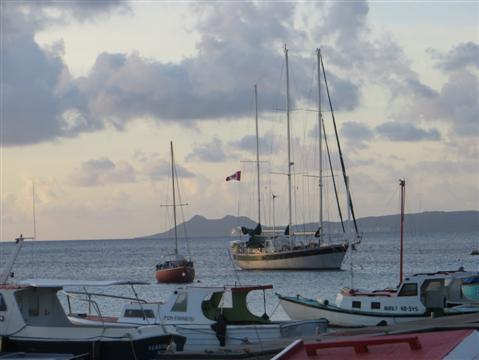 Another Bonaire view
Lifted, that is, only to be told by the hotel guy that the collect call didn't go through as collect and I owe him $17. Seventeen dollaaaaaaars! Well I suppose that's a lot for a hold removal but quite cheap for a full repertory of chamber music.
I feel like one of those performing seals down the road from the hostelry at the Sea Aquarium. They stand upright on their tails, get fish, and bark. I sit squat on my tail, get no fish, and Bach.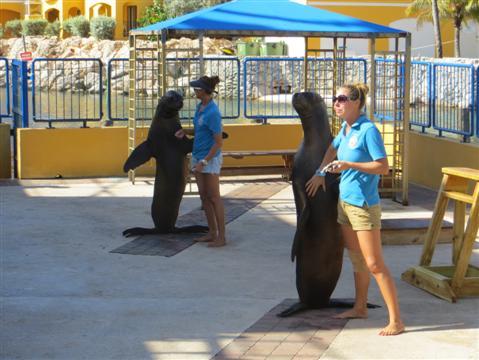 Curaçao's performing seals
Meanwhile my computer spam firewall seems to have crashed and my e-mail is filling up with penis growth free trial samples, men's supplements, and enlargement pill promos.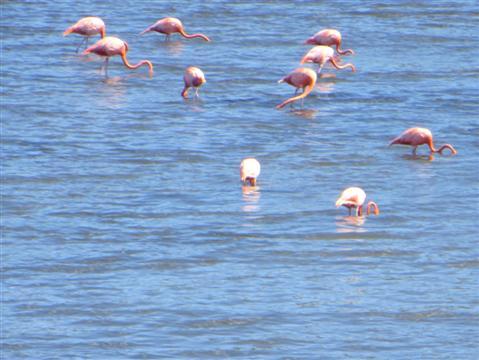 Bonaire's flamingos
Other than that, all's quiet on the western front. I'm off and running.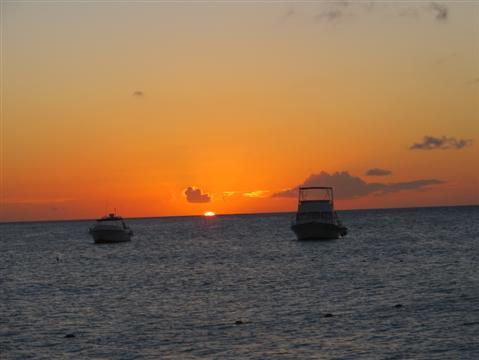 An Aruba sunset
______________
By the same author: Bussing The Amazon: On The Road With The Accidental Journalist, available with free excerpts on Kindle and in print version on Amazon.
Swimming With Fidel: The Toils Of An Accidental Journalist, available on Kindle, with free excerpts here, and in print version on Amazon in the U.S here.