Some say it started 10 million years ago, other 25 to 30 million, yet others 60 million years ago. Just for the heck of it, let's say 25,636,666 B.C., give or take a week. It was then that Mother Earth got a bad case of tectonic indigestion and burped up the floor of what was then an inland sea on Greece's Thessaly plain.
Further eructations caused nearby mountains to move in and compress the newly emerged sediment.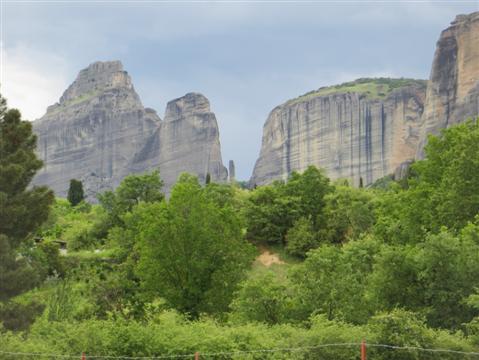 Meteora overview
Then aeons of erosion and battering by wind and water (sounds like a rock band) produced the most incredible fantasy landscape of soaring rock monoliths, spires, towers, crenelated walls, table-top mesas, ramparts and buttresses soaring a 1,000 feet above the plain that would do Tolkien's Middle Earth or some other phantasmagorical Game of Thrones landscape proud.
As if that was not enough, religion had to get into the act as well. Greek orthodox monks, who earlier lived hermits' lives in the myriad caves on the rock face, started building fortress-like red-roofed monasteries on the inaccessible pinnacles in the 14th and 15th centuries -- to get even closer to God on high and even further away from invading Ottoman infidels below.
Another overview
Over the ages they built 24 in all, six of which still function today. Thus was Meteora -- suspended in mid-air in Greek -- one of Greece's most visited tourist sites, born.
The vast striated grey crags soar up over the little towns of Kalambaka and Kastraki, looming over twisting lanes and red-roofed houses in every conceivable shape and form -- massive mastodons and other prehistoric creatures, ogres, demons, fiends, castles, humongous curtains, twisted towers -- and yes, Yours Truly sees a phallus or three.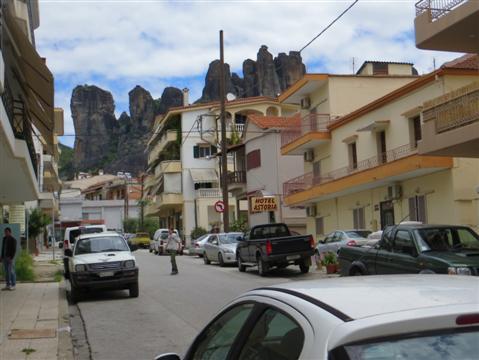 Kalambaka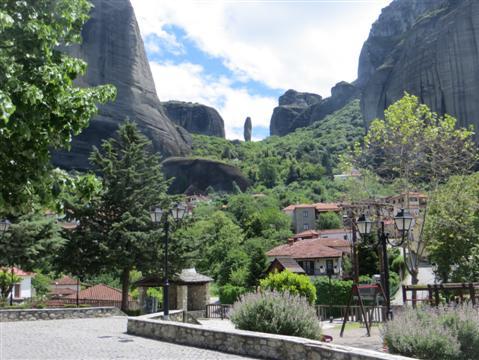 Kastraki
Once the only way to get to the monasteries at the top was by retractable wooden ladders or by being hauled up by rope, but about a hundred years ago steep steps were hacked into the rock face, and these steps are now accessible by an asphalt road that climbs round the back of the cliffs to the top.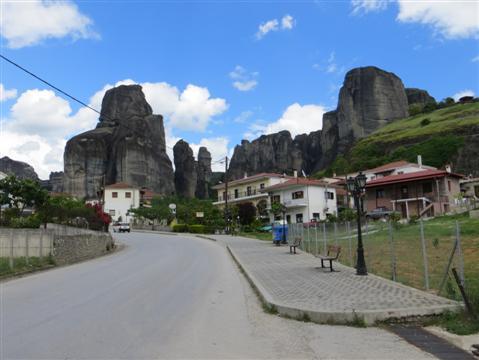 Another Kastraki view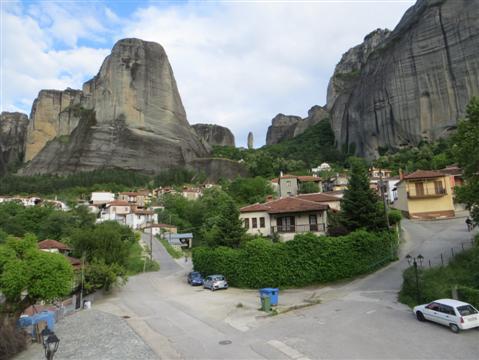 And another
The red-roofed complexes with their Byzantine churches in their lofty aeries are indeed pretty, but it's their incredible perches atop the pinnacles that make the place -- and not the hordes upon hordes of icons within, the hordes upon hordes of tourists taking selfies without, or the hordes upon hordes of faithful kissing the icons.
What a great way to spread MERS, SARS and a host of other delights. Come on now, anybody for a nice dose of herpes? Kiss that icon over there. A people conned by icons.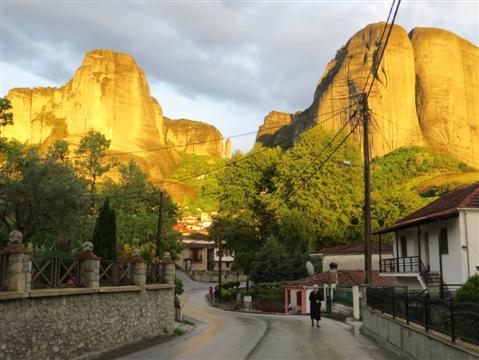 Kastraki at sunset
Despite, or rather because of its outstanding natural endowment, this place must be absolutely abominable at the height of the tourist season, with vast armies ascending and descending the miles of steep steps cut into the rock face. Even in mid-spring there's quite a flow but not enough to totally overwhelm you and spoil the experience.
Perhaps the best way to avoid getting ophthalmic indigestion is to visit the six functioning monasteries over three days, taking in two on each day. The rest of the time can be spent hiking to the less accessible ruins of those no longer in use.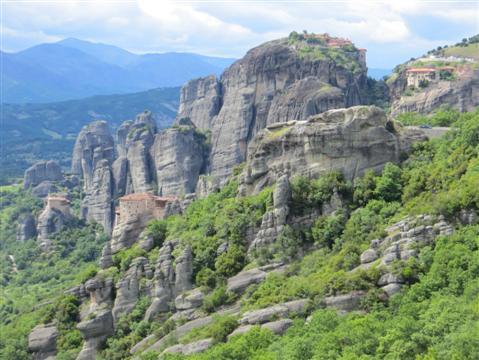 Great Meteoron and Varlaam on top, Roussanou and St. Nikolaos below
Starting from the west, the Holy Monastery of Great Meteoron, the largest, is a collection of red-roofed square bloc buildings with frescoes and icons of martyrised saints, dominated by a 12-sided central dome.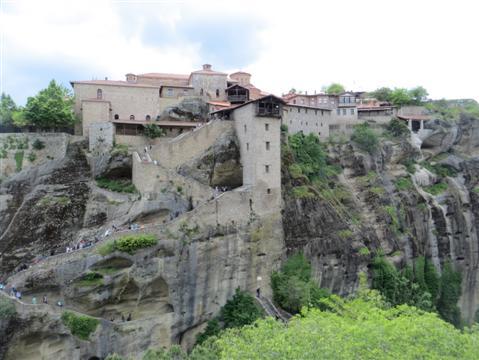 Great Meteoron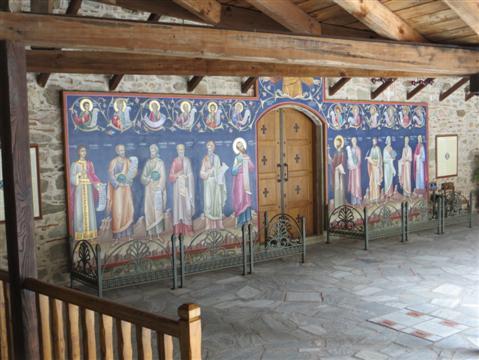 Great Meteoron within
A couple of hundred yards down the road from Great Meteoron, and slightly lower, comes Varlaam Monastery with superb views up to its larger neighbor from its summit where, according to legend, the monks had to drive away a monster living in a cave before they could establish residence.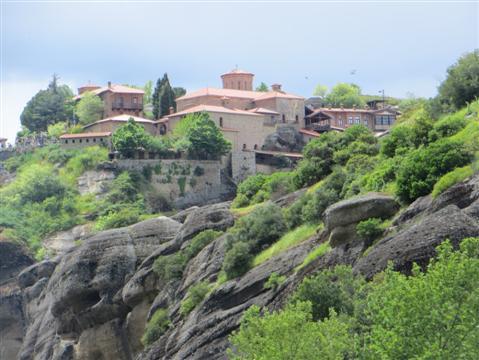 Varlaam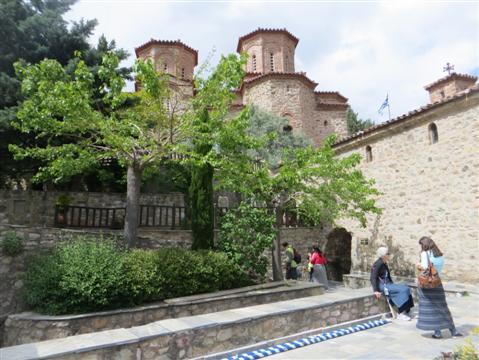 Inside Varlaam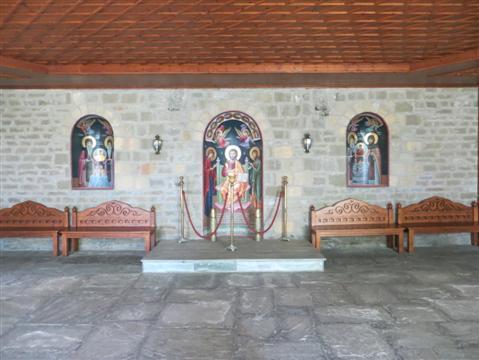 Varlaam saints
Further eastward one of the most spectacularly perched of the six floats in its isolated rock-top aerie. At the start of the valley leading back to Kastrika atop a craggy monolith surging out of the green forests, Roussanou Monastery isn't even a monastery by the standard use of the word. It's a nunnery (Get thee thither, Ophelia!).
Roussanou
Since 1988, it has been occupied by 13 nuns, whom Yours Truly has just now got in a tizzy as I never saw the 'photos verboten' sign. You naughty boy, stop flashing your camera and anything else among all those wall-to-wall, floor-to-ceiling people-conning icons.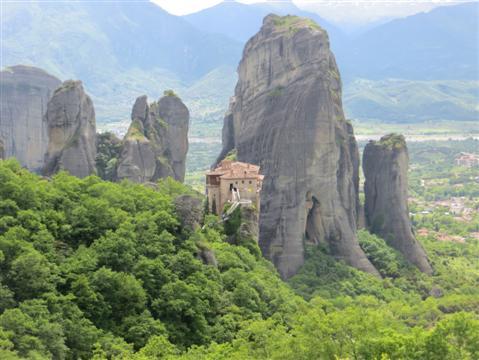 Another Roussanou view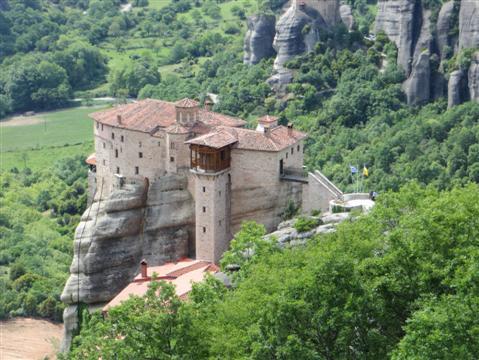 And another
If you continue down the road back towards Kastraki, you will come to the St. Nikolaos Monastery rising atop a steep pinnacle, even if at a lower altitude closer to the valley floor. It is full of yet more icons conning the people into kissing them, and decorated with frescoes of the Passion of Christ, Jonah and the Whale, and the Last Judgment.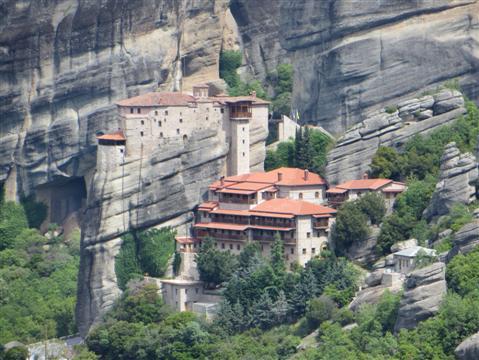 St. Nikolaos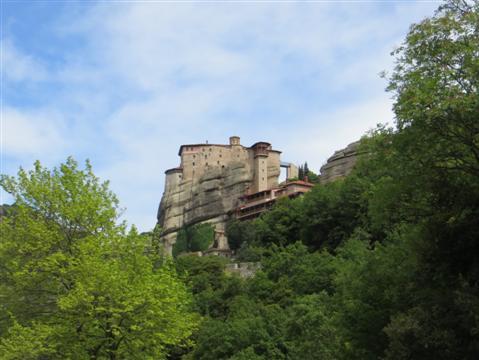 Another St. Nikolaos view
If you move to the most easterly of the monasteries along the upper road, you will come to another nunnery, the St. Stefanos Monastery. This one demands the least effort to climb to it from the car park. It was bombed during the Second World War, desecrated in the Greek civil war immediately afterwards and only resumed full service in 1961.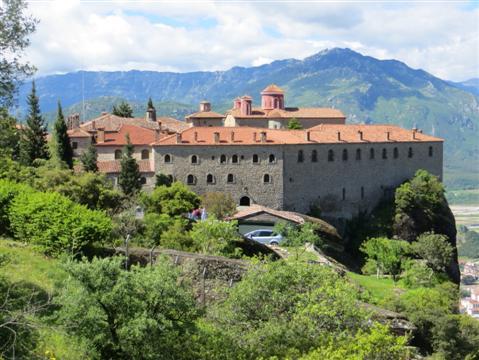 St. Stefanos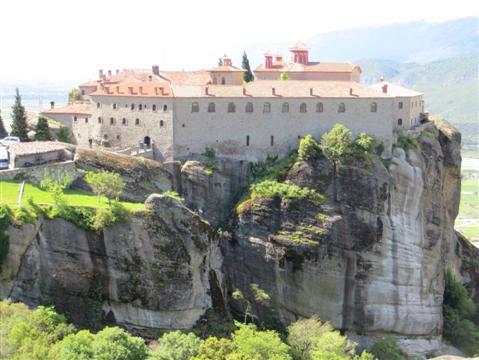 Another St. Stefanos view
The most stunning aerie of all, however, is a mile back to the west, above Roussanou, soaring on its solitary rock plinth over the valley below, separated from the road by a gorge which you have to descend before climbing back again to the jewel atop its summit - the Agia Triada, or Holy Trinity.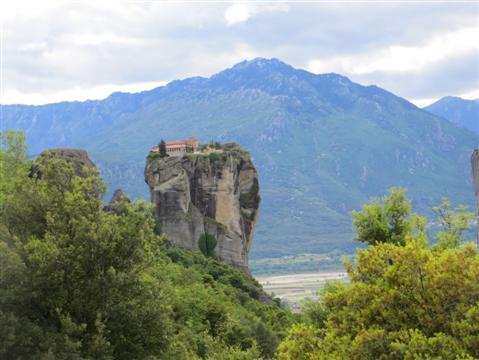 Holy Trinity
This spectacular perch was not lost on the makers of James Bond films, who used it as a setting in For Your Eyes Only. Yours Truly does not, however, follow in Roger Moore's crampon steps to scale the vertical rock face.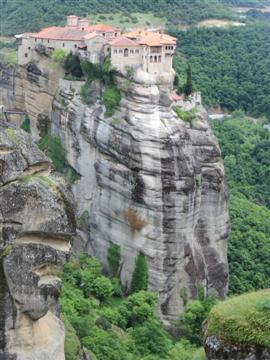 Another Holy Trinity view
I use the steep steps like everybody else.
Outside on the rocks, people are looking especially idiotic taking selfies. As in all the monasteries women wearing jeans have to put on wrap-arounds to make God, the Son, the Holy Ghost, the Holy Mother and a billion icons believe that they're really wearing skirts.
The icons, meanwhile, are still being slobbered over in an effort to pass on every communicable disease imaginable.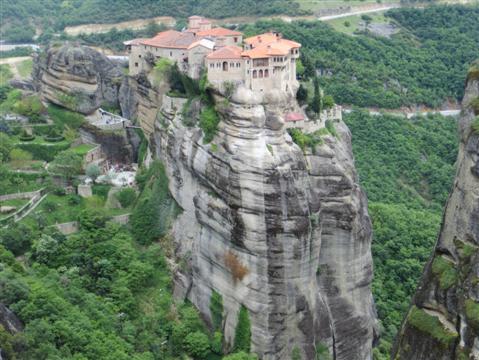 And another
A monopati, a stone footpath leads all the way back from behind Holy Trinity to Kalambaka. It's only about a mile or so, a glorious, sometimes steeply descending walk in the woods amid massive outcroppings and gargantuan boulders with dramatic views over the town far below and across to snow-streaked mountain peaks on the horizon. Yellow and purple flowers speckle the dense green.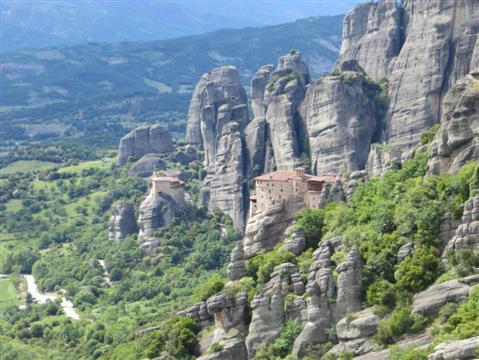 Roussanou and St. Nikolaos
It emerges at the top of Kalambaka only a couple of hundred yards from an ancient Byzantine church, whose age is variously given as sixth to seventh century, or ninth to 11th century, with frescoes dating from the 11th century -- or perhaps the 14th . Called the Church of the Dormition of the Mother of God, it's a quite small stone brick building with a separate tower, but it's evocative.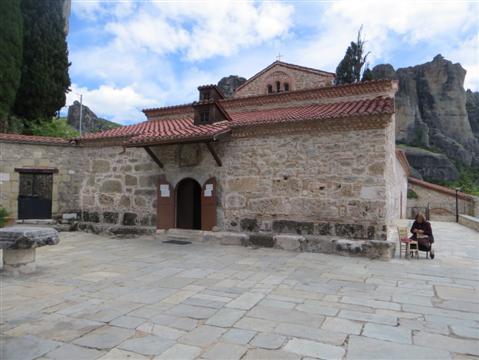 Byzantine church
Needless to say, inside it's wall-to-wall icons, just smothered with them. Once more an icon-conned people.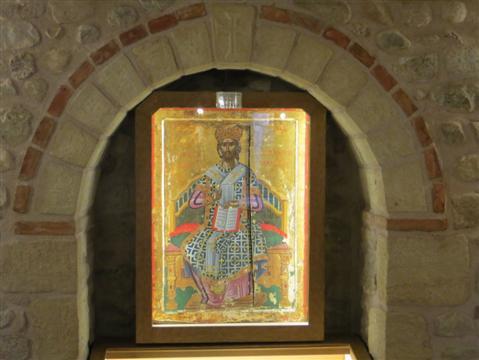 Roussanou icon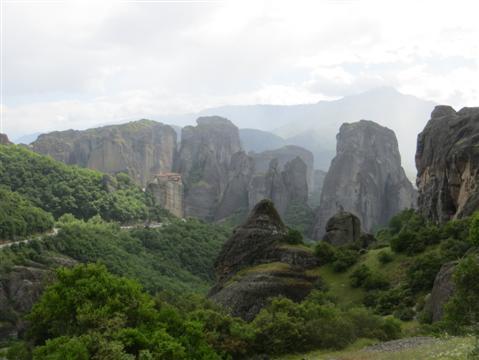 Turn left for Game of Thrones
By the same author: Bussing The Amazon: On The Road With The Accidental Journalist, available on Kindle, with free excerpts at http://www.amazon.com/dp/B00KNCGD9M and in print version on Amazon at http://www.amazon.com/dp/1499681984:
And Swimming With Fidel: The Toils Of An Accidental Journalist, available on Kindle, with free excerpts here, and in print version on Amazon in the U.S here.