This is where the gods of ancient Greece lived, loved and laboured mightily to complicate the lives of us poor mortals struggling far below; where, if you believe Homer and others, they quarrelled and brawled in their council; where Zeus continually pissed off his both wife and sister Hera by nipping off for affairs with goddesses, muses, and mere mortals; from where he took flight as a swan to bed Leda, wife of King Tyndareus of Sparta.
'This' is Mt. Olympus, Greece's highest mountain; luxury condo of its 12-strong pantheon; gated community for Zeus, Hera, Poseidon, Demeter, Athena, Apollo, Artemis, Ares, Aphrodite, Hephaestus, Hermes and Hestia, the goddess of hearth and home who got bored up here and turned her triplex over to Dionysus, god of booze; magnificent massif of 52 peaks, the highest soaring to 9,573 feet; and, since 1938, the country's first national park.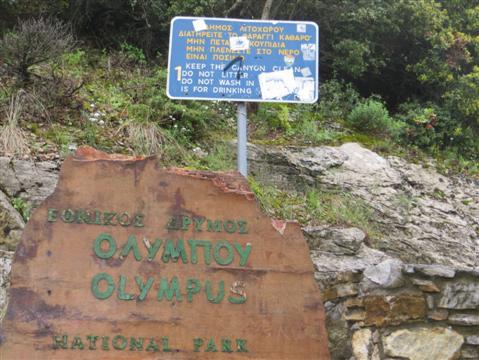 A not very divine entrance to Olympus
What an absolutely superb and splendid place it is. As the divine real estate agent must have said when he was showing Zeus & Co around: it's location, location, location, Your Divinity.
Situated in the south-eastern corner of Macedonia close to the shore, the massif rises abruptly from almost sea level, a rugged, ravine-furrowed hulk of ramparts, buttresses, perpendicular cliff faces, towers, spires, crags, monoliths and tortured pinnacles, reaching its highest point on Mytikas (Nose) peak, council chamber of our squabbling divinities.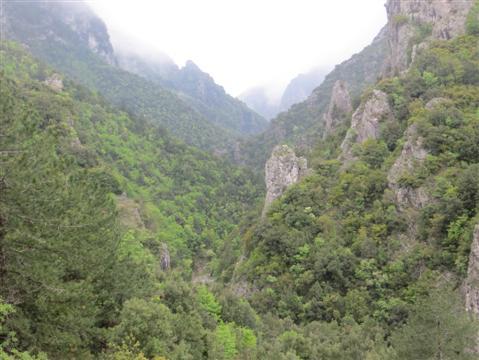 Olympus canyon view
From the basement of the gods in the quaint town of Litochoro, clambering up the slopes at about 1,000 feet above sea level, the views are spectacular. At the upper end of town, a trail climbs 2,425 feet up a magnificent ravine, the Enipea Canyon.
The trail is of medium difficulty, it takes about five hours, it's been raining, it's as slippery as hell, so there's no way Yours Truly's going to make an old fool of himself on this one.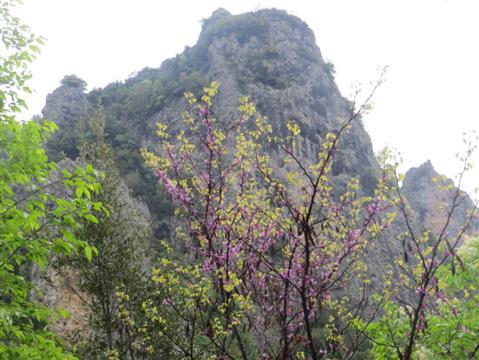 Crags and flowers in Enipea canyon
But there's a fine level stone walkway threading a mile or so along the rim with gorgeous views of forested precipices and enormous yellow-grey crags soaring through clouds and swirling mists right up to Zeus's neighbourhood.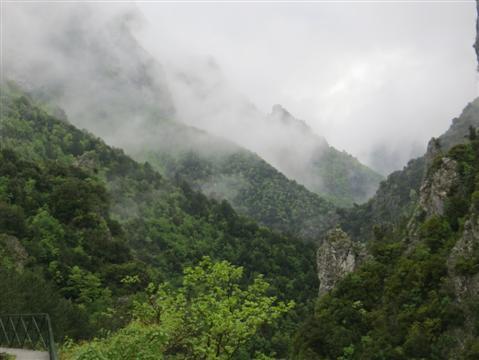 Another canyon view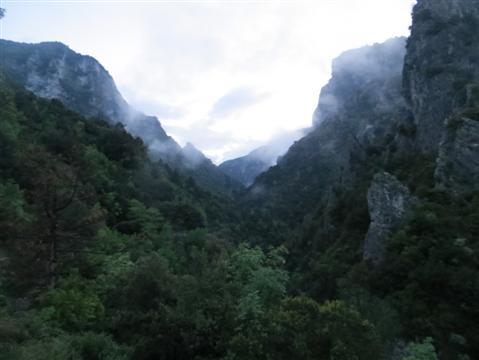 And another
At the end of the walkway loud screams, shouts and whistle blasts echo through the canyon. It's not the gods in session, but some nutters into extreme sports, all tarted up in helmets and Zeus alone knows what. They're poised to jump into a pounding torrent and plunging ravine. I can't see what they're trying to do other than kill themselves. There they go one after the other, divine lemmings. None of them seem to be coming back. Hmmm!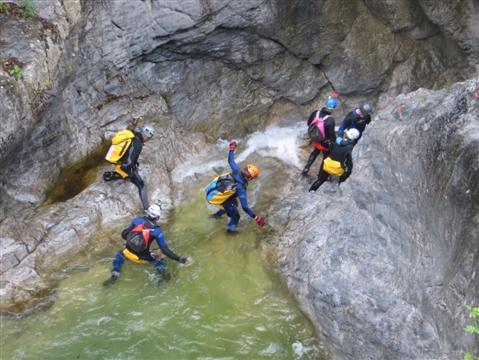 Extreme sport adepts trying to commit suicide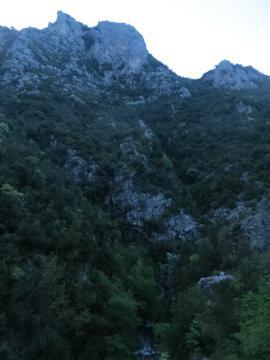 Enipea Canyon at dusk
On the mezzanine level of the gods, 3,600 feet up at Prionia, where the steeply climbing road and taxi ride from Litochoro end, the lushest of forests carpet the mountain precipices in a myriad brilliant shades of green, two crystalline waterfalls tumble down the rocks in a series of landings to form the Enipea River that over the aeons has gouged out the ravine to the sea - and the gods are nowhere to be seen.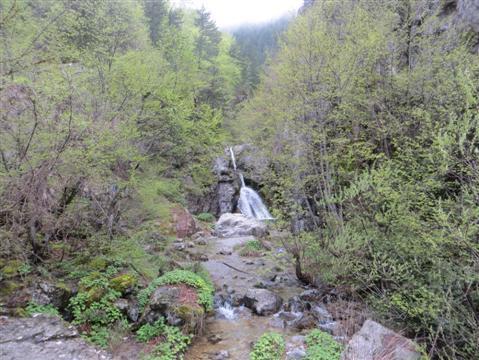 A Prionia waterfall
Now come on guys, there are 12 of you living up there in that heavenly abode on the summit. Mark you, sightings aren't helped by the weather. The clouds have descended, the mists are swirling - and what summit?
But there's a major rent in the cloud banks, and the snow-streaked crags soar high above the mists in all their godliness. But you can't see, or hear Mytikas, from here even if the gods are in tempestuous session. Other peaks are in the way, but I assume it must sound a bit like the British House of Commons at question time.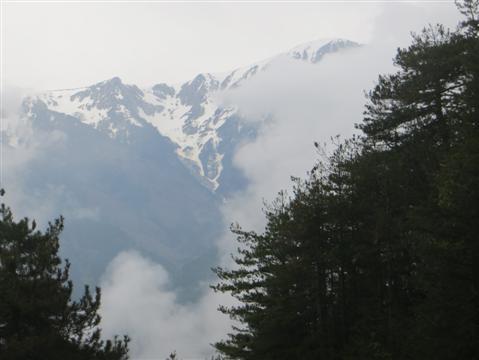 A rent in the clouds
I give Zeus a final yodel, just in case. He does not yodel back. On the other hand, he doesn't send a thunderbolt hurtling down after me, either.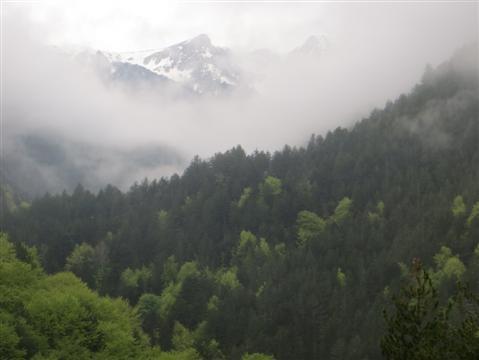 And another rent
It is possible to descend from here by trail, but it takes four to five hours and it has several ups as well as downs, crossing the Enipea River seven times, so that despite the descent it involves an overall climb of 1,300 feet. Thank you very much, but the taxi's just fine.
If the gods don't put in an appearance, perhaps one of the nine divine muses will. No need to bother about scaling Mytikas for them. All nine - Clio, Euterpe, Thalia, Melpomeni, Terpsichore, Erato, Polymnia, Ourania and Calliope - were born right here on these lower slopes, just about where I'm standing now, where naughty Zeus outdid himself, much to Hera's ire, and slept with their mother, lovely Mnemosyne, for nine consecutive nights.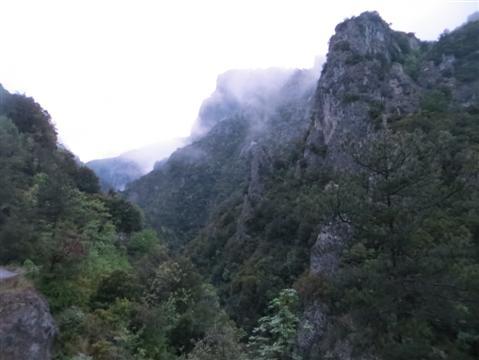 Where the muses dwell
But they don't show up, either. The nearest I get to god or godly muse is Dionysus - and then it's the wrong one, not the divinely rollicking, carousing, rampaging debauchee in charge of godly grapes and wine, but some charlie called St. Dionysius who founded a monastery up here in 1542 in a glorious mountain fold, and then spent his life praying to Christ. What a ball of fun he must have been.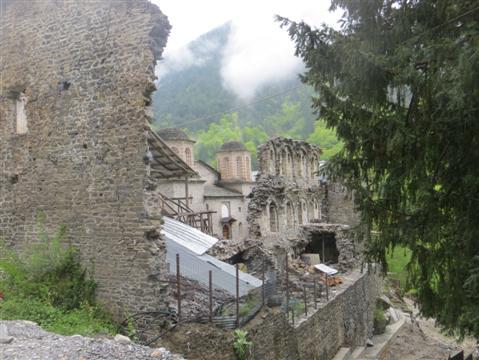 St. Dionysius monastery view
He didn't even get martyrised. He died in peace at a ripe old age after wreaking sundry miracles such as getting Christ, instead of Zeus here in his very own home, to strike the fields of monk-oppressing Turks with thunderbolts, hail and drought, sicken the cattle of other church-oppressors, and heal an impudent young village lass who was assaulted by the devil. He was buried here in his own monastery right under Zeus's nose. Get it? Mytikas means nose.
His monastery, however, did not fare so well. On April 29, 1943, the Thursday of Easter week, German soldiers blew it up. It's now being restored. The main church with its hexagonal domed brick spires, has already resumed its former pose beneath the forested peaks.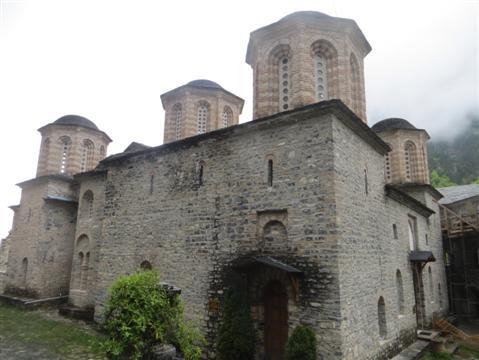 St. Dionysius monastery
By now it's pissing down. Thank Zeus I didn't do the hike down the up-and-down trail, which must be deliciously slippery. And the nearest I finally get to hanging out with ancient god or muse is Erato, but it's the name of a restaurant back in Litochoro, and although it has a magnificent view up the Enipea canyon, it somehow lacks that sensuality that the muse of lyric, especially erotic poetry is meant to embody.
Needless to say, when the day comes to leave, Zeus wipes the silly old scowl off his silly old face, there's not a cloud in the sky, and the snow-capped peaks and snow-streaked precipices are shining dazzlingly white above dense emerald forests under a brilliant sun. Of course, they are - I have only a few minutes left before moving on deeper into Macedonia. Why should it stay rainy and cloudy if Yours Truly is already leaving.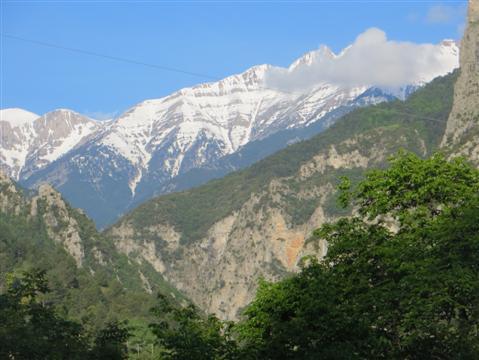 Let the sunshine in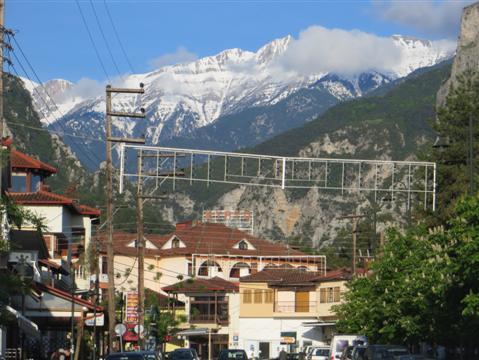 Litochoro and its Olympian backdrop
But I still have enough time to admire the mountain and its many peaks. From the road north you really get a sense of Mt. Olympus's huge mass as it unfolds in all its width with summit after summit. If the Greeks had to find a place to lodge their gods, they couldn't have found a more beautiful and impregnable place in such a prime location so close to heaven.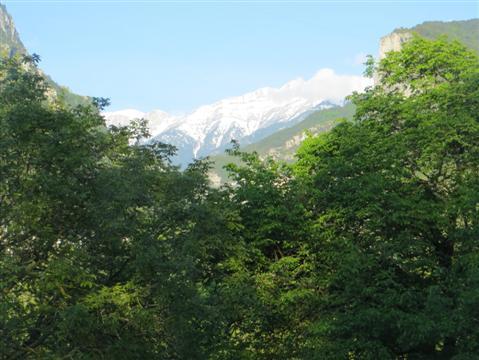 More sun
I'm brought right back to earth by an enormous burned out 18-wheeler lying on its side by the road spilling its charred goods all over the place. Three fire engines are parked round it spraying it with water.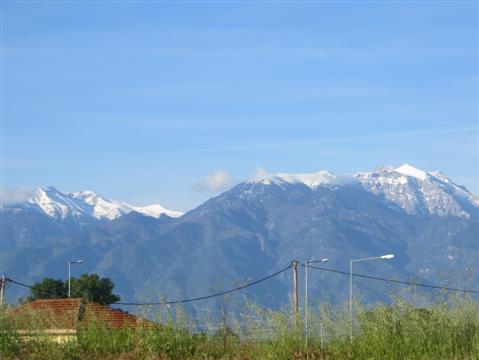 The Olympus massif from the road north
By the same author: Bussing The Amazon: On The Road With The Accidental Journalist, available on Kindle, with free excerpts at http://www.amazon.com/dp/B00KNCGD9M:
And Swimming With Fidel: The Toils Of An Accidental Journalist, available on Kindle, with free excerpts here, and in print version on Amazon in the U.S here.