Boy, they've got the religiosities real bad here in Quebec. Having arrived in Chicoutimi safe, if not sound, after midnight, Yours Truly is now on a bus and boat tour of Saguenay fjord, and I've just come upon a whole rustic alley of Holy Families with Baby Jesuses in cribs or Mama's arms, sculpted mainly out of wood in a long line in a copse in the village of Rivière-Éternité.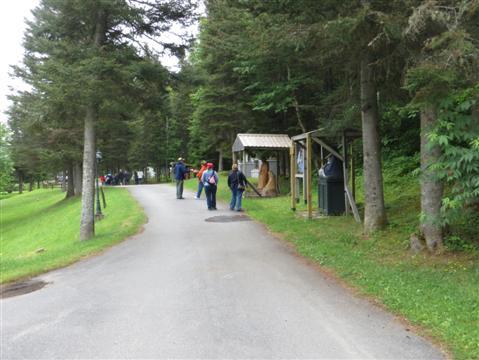 Alley of the Holy Families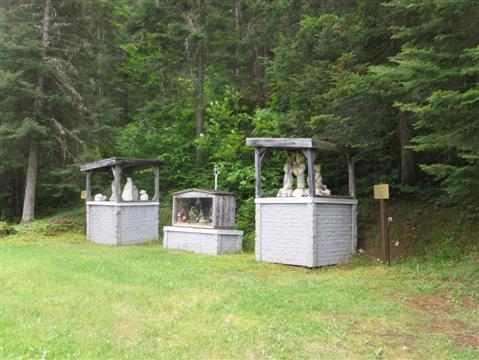 Another view
A great name, River Eternity, but I think some of the sculptors have got taken away by their religious enthusiasm. I mean, I wonder whether the Holy Family and Baby Jesus are going to take all that kindly to one metal representation where their faces are empty frying pans.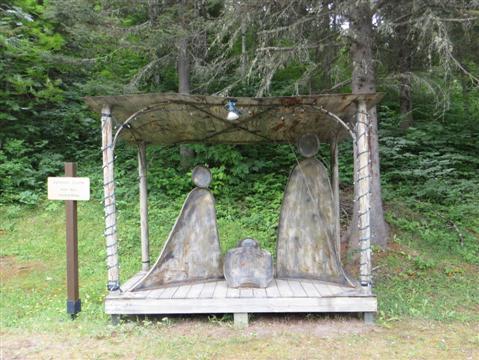 Holy frying pans
There's also an Inuit version with a polar bear nearby, a totem pole version, a peasant version and many others.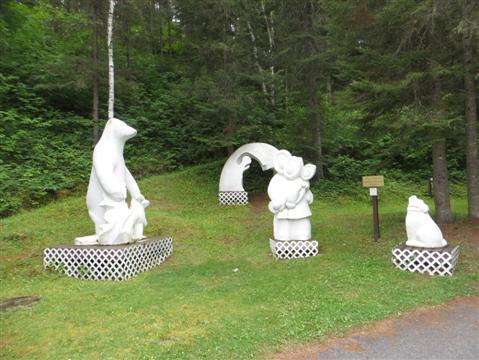 Inuit Holy Family
This is the start of a pilgrimage trail known as the local Compostela, after its famous Spanish counterpart, taking you to various cliff-top crosses, Virgins and Christs.
Chicoutimi and the Saguenay area is not the only region where religion waxes strong. Just short of Quebec City along the St. Lawrence, Sainte-Anne-de-Beaupré hosts a large modern twin-spired basilica - the latest version built in 1926 - containing a reputedly miracle-working statue of St. Anne. More than half a million pilgrims turn up here every year, especially around the saint's feast day on July 26.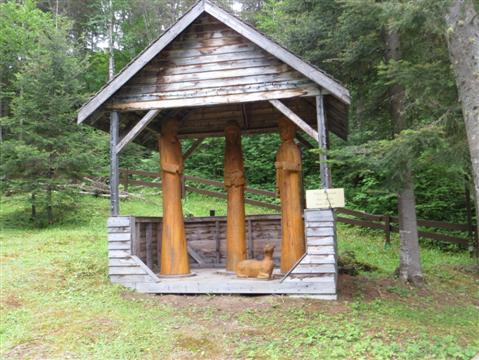 Totem pole family
In front of the basilica is a portly round building containing the Cyclorama of Jerusalem - a gigantic work of art, according to itself, 45 feet high and 360 feet in circumference, 'creating an illusion of life and relief that is so real that it gives visitors the feeling that they are themselves in Jerusalem reliving the crucifixion... Unique, breath taking and exceptional, this travel to biblical times in the heart of the Holy Land will fascinate you.'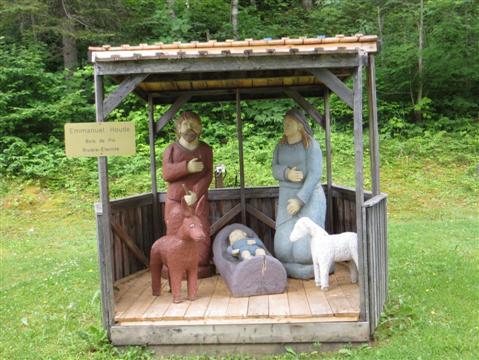 Peasant family
Price of entry: $9 for adults, $6 for children. Well at least it's not 30 pieces of silver. And I must say the nearby street, Rue Dick, may detract from the religiosity for English speakers.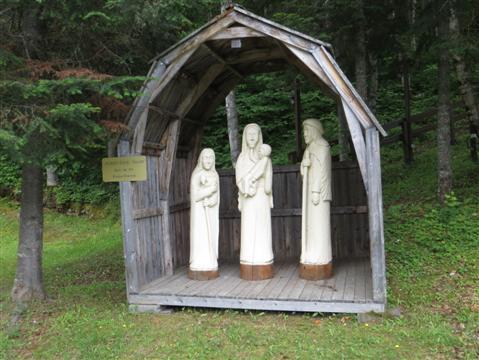 Traditional family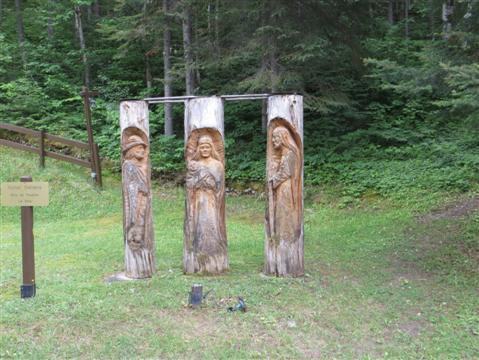 And another
But back to the Saguenay fjord. Here one of the major sights is the statue of Notre-Dame-du-Saguenay, a 30-foot-tall, halo-crowned white stone Holy Virgin perched high up on a 1,000-foot-high cliff by a travelling salesman in the late 19th century in gratitude for her saving him when he slipped through the ice one fine winter's day with his sleigh and horse into the freezing water but managed to grab hold of a chunk of ice.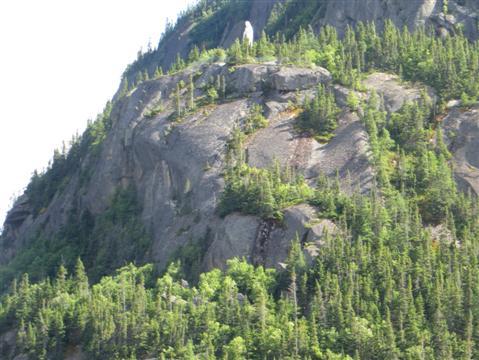 Virgin on the rocks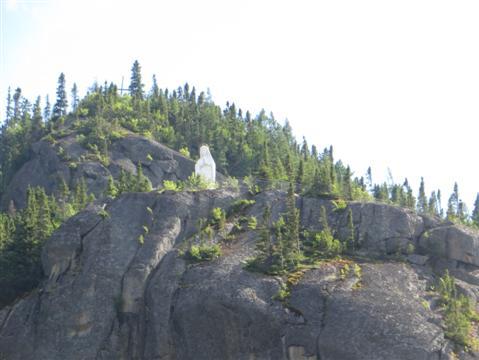 Closer up
Even the pretty hill town of Chicoutimi itself seems to have more spires and churches than people. OK, a slight exaggeration, but still.
Drop the 'L' and 'I' to leave religion aside, and the region truly is a work of natural art, Mother Nature at her best. Away from the fjord, the gently rolling countryside is a green carpet dotted with pretty villages and a myriad lakes. There are 36,000 lakes in the Saguenay region alone, out of 500,000 in the whole of Quebec.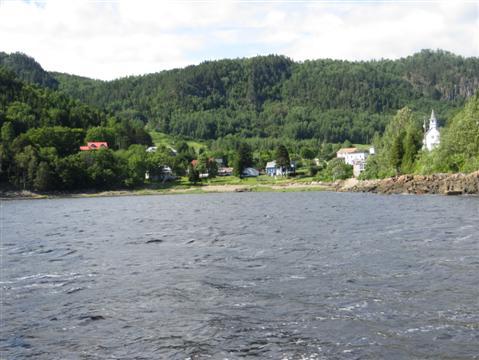 Riverside village
At the fjord's craggiest, the walls rise precipitously up to 1,500 feet. It's overcast as we begin the tour, giving the mighty crags an enchanted bluish aura. Waterfalls course down the rock face. Idyllic villages like L'Anse-Saint-Jean curve round cliff-girt bays.
Blue haze over the fjord
Another view
But at the only high view point accessible by road huge red and white power pylons mar part of the landscape, stringing their lines across the water. To be fair, they were erected before the national park became a national park, and any further development here is very much verboten.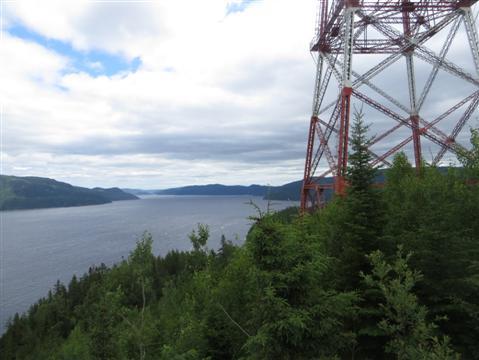 Pylon on look-out highpoint
More clifftop pylons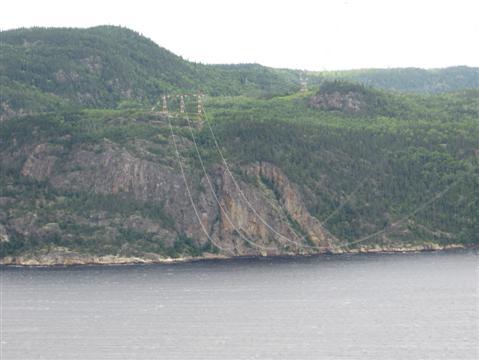 Wires across the waters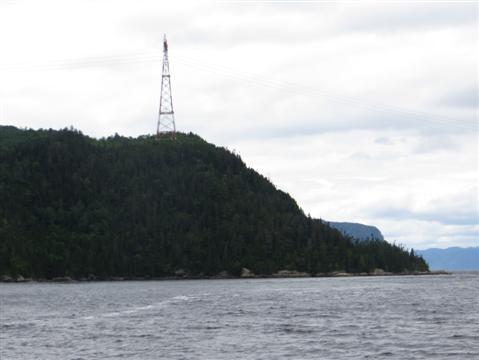 Another pylon view
Even with the pylons, the panoramas looking away from them are superb, the steep folds of the cliffs succeeding each other as they plunge to the water.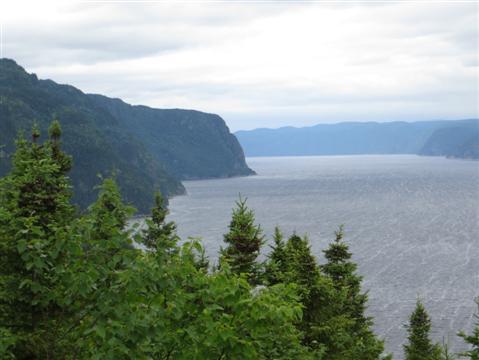 Fjord view from look-out point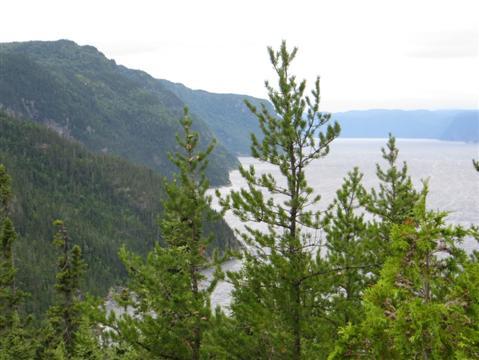 Another look
The sun comes out, affording the advantage of viewing the fjord both in bluish haze and bright green and grey. The return from L'Anse-Saint-Jean is a two and a half hour cruise by small boat back to La Baie where the minibus will pick us up for the 15-minute drive to Chicoutimi.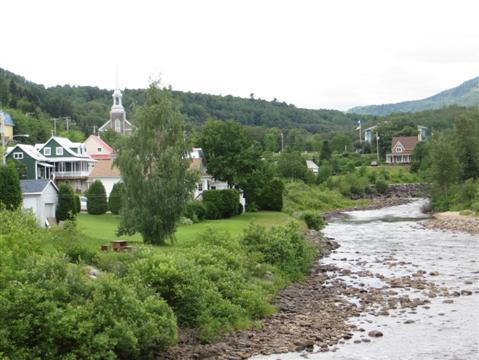 L'Anse-Saint-Jean
Its beach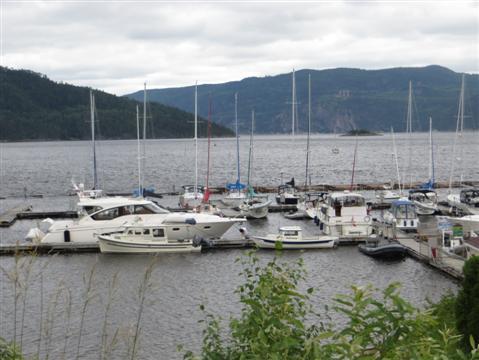 Its harbour
Another harbour view
The fjord is not as narrow as many in Norway, nor are its walls as towering and as precipitously rugged, but it's still a splendid sight as we sail gently up the river - or not so gently as the wake of a passing boat hits us and I almost spill my boiling tea all down my crotch.
Meanwhile I'm still having inordinate problems with our guide's Canadian version of French. I have to get him to repeat things four times - and don't you dare say it's because of my ancient ears. It's because of his French Canadian twang, see.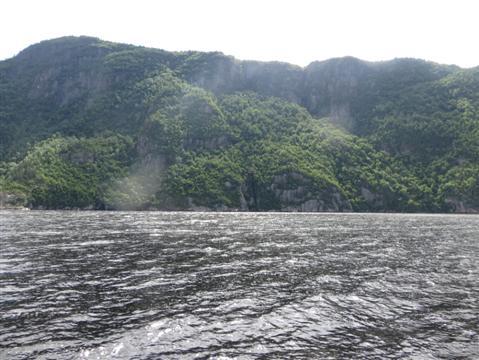 On the waters
From what I gather, he's just told us about a bear who raided a hiker's hamper and wolfed down everything (now there's mixing your species for you) except for the commercial hot dogs - dogs make the third species. I wonder how Bruin would have done with my ghastly meal in Quebec City yesterday. Would he have wolfed down the mousse? Now that makes four species.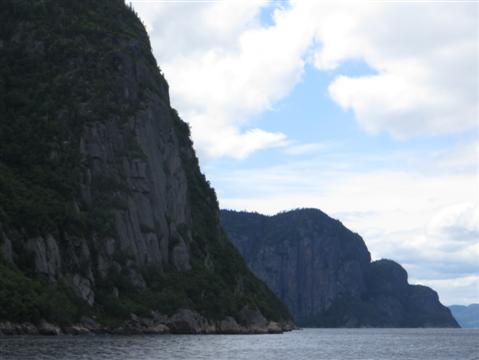 On the waters of the fjord
Oh Gawd! Back in Chicoutimi, it's karaoke night at the hotel. That's gonna be worse than the bear, the wolf, the hot dog and the moose all doing their thing at once.
With my six-week trip nearing its end, my bus Pilgrim's Progress takes me from Chicoutimi to Ottawa, where it's going to be a whole lot of 'Should Auld Acquaintance Be Forgot' as - trumpets blaring spectacularly, drums thundering maniacally, cellos and violins busting their strings dramatically, conductor committing suicide - I renew acquaintances with old friends from Cuba days 50 years ago.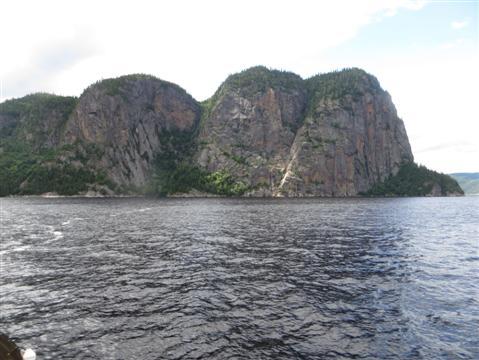 From the fjord's waters
But, oh boy, talk about more religiosities on the way thither. Pope Francis is going to have to create a whole new host of saints. We're on the bus from Quebec City to Montreal and nearly every place we pass is St. This or Ste. That. They're sure gonna run out pretty soon of the current heavenly roster.
We've just passed the Amiable Saint, Saint-Amable. A web check shows he's Saint Amabilis who thrived, flourished or whatever in the 7th century. Oops! He's a she, also known as St. Mable, daughter of an Anglo-Saxon king.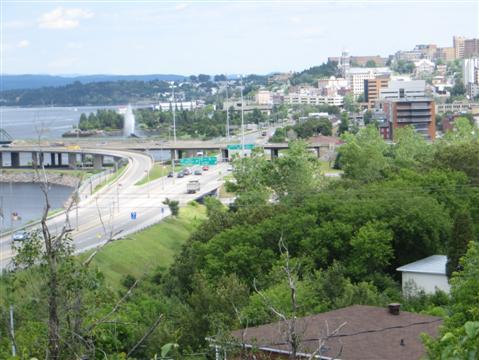 Chicoutimi view
Re-oops! No, it's not that one. He is indeed a he, was a cantor in the church of Saint Mary at Clermont, France, and he acquired a reputation for holiness in his lifetime. It says he's invoked against fire; snake bites; demonic possession; mental illness; poison; wild beasts. Well, Yours Truly qualifies under the third, fourth and sixth criteria.
Now we're at the Hilarious Saint - St. Hilaire. OK, that clearly isn't Marcus St Hilaire, an English rugby league player born in 1977, nor Canadian politician Caroline St-Hilaire, born 1969. Aha, this one's the preeminent Latin writer of the 4th century, known as the Hammer of the Arians, who pottered round Poitiers in the swinging 360s.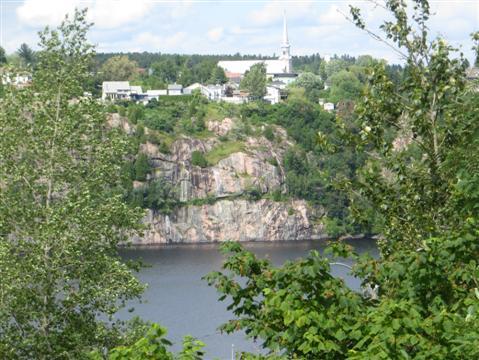 Chicoutimi cliff side
While I'm trying to get close and personal with my saints, the bus driver is dying. He's coughing and spluttering all over himself, the steering wheel and the window screen. I sincerely hope he doesn't croak of TB en route. He's coughing even more now. He must be on his last legs - or should that be wheels.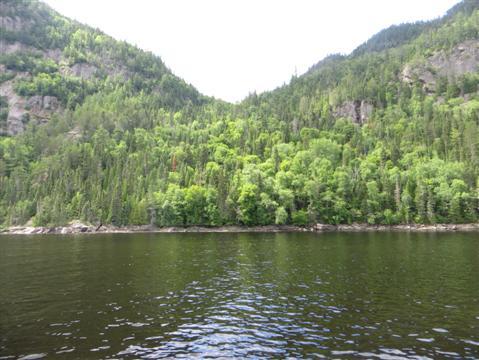 Waterside view
Oh Gawd, now he's barking. Now he's changing species. He's blowing his nose and sounds just like an elephant in heat. Now how do I know what an elephant in heat sounds like? Well, that'll have to wait for some other time. We're all gonna come down with QURS, my newly invented Quebec Respiratory Syndrome, the 100 percent fatal version of Asian SARS and Middle Eastern MERS.
Saguenay fjord
Now he's taken to tapping out a tune on the steering wheel and thumping with his foot. It must be morse code. I try to decipher - SOS, MAYDAY!
Some superannuated easy riders, their arms high on the handlebars, block the fast lane as they get themselves in a right mess and try to draw back to the right. One of them is an ancient hag in a tank top, her arm flab shaking like jelly. I think she's celebrating her 236th birthday.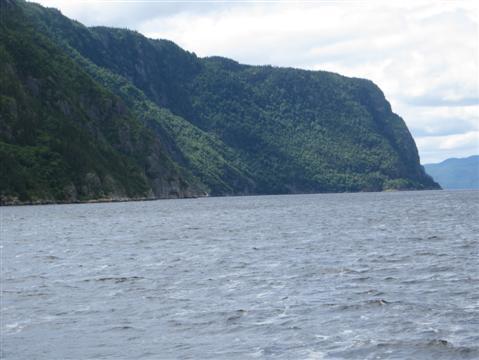 Another fjord view
Dying driver, bi-centenarian bikers and spreading flab notwithstanding, Yours Truly finally arrives in Montreal for the ongoing segment to Ottawa.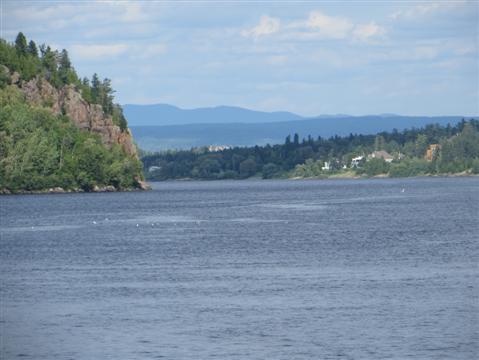 Looking south down the Saguenay from Chicoutimi
______________
By the same author: Bussing The Amazon: On The Road With The Accidental Journalist, available on Kindle and in print version with free excerpts on Amazon.
And Swimming With Fidel: The Toils Of An Accidental Journalist, available on Kindle, with free excerpts here, and in print version on Amazon in the U.S here.