It's 0600, the taxi's waiting outside to take us to Goose Bay airport for another try to get to Makkovik in Labrador's Nunatsiavut autonomous Inuit region, and Rivka can't find her trousers. She pulls something else on and we're on our way, but not before she orders me not to forget the club sodas and the 'food.'
Yes, at dinner last night she ordered a huge portion of potato-crusted pan fried cod which of course she couldn't finish, and it looks as if my great luck in avoiding the albatross of the ruddy smoked salmon is going to be thwarted by the arrival of the new albatross of the ruddy potato-crusted pan fried cod.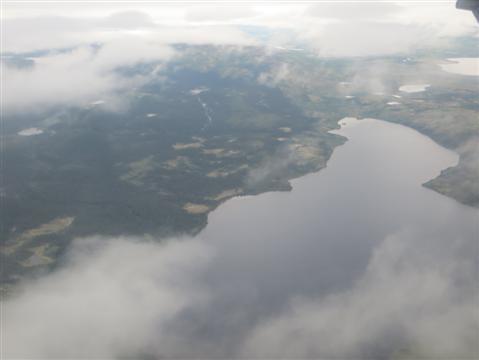 In-flight view
We're waiting in line for departure at about 0830 after two weather holds already, with Madam decreeing that I not forget the ruddy potato-crusted pan fried cod, when a third weather hold blows in to my rescue. Back in the café the weather holds have so whetted Rivka's appetite that she finishes off the ruddy potato-crusted pan fried cod.
At last we're airborne. One passenger is so humongous that he needs a long seat-belt extension to buckle up. Forests of low, dark green pines and yellow-green lichen covering grey and red rocks thrust through the occasional break in the clouds and fog.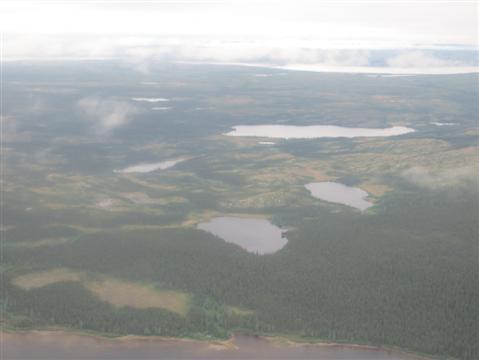 Another in-flight view
We land at Rigolet and, contrary to yesterday, take off again for Makovvik, where we swoop down over bays and inlets still showing traces, on July 1, of the past winter's pack ice. We touch down on a gravel runway right in the heart of Nunatsiavut, and Rivka's wondering what in hell we're doing here.
And to be fair to Madam, there isn't much in hell that you can do here. Makkovik, about 135 miles northeast of Goose Bay, has under 400 residents of European, Inuit and mixed stock, spread up bluffs in coloured but nondescript wooden bungalows overlooking a large bay with white ice floes bobbing in the distance at its mouth.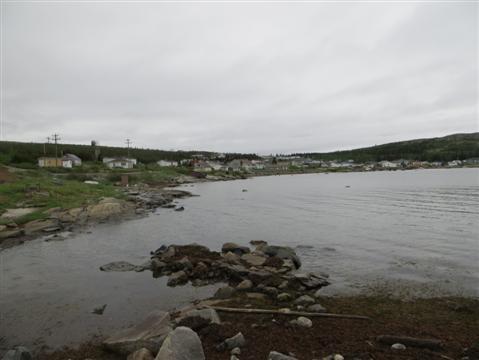 Makkovik
It's cold, the dark grey clouds are lowering ever lower, the water is even darker, the summer thunder of far northern climes is rumbling out a tattoo of titanic belches, we're way, way beyond the remotest back of beyond, and I'm saying wow, isn't this wild.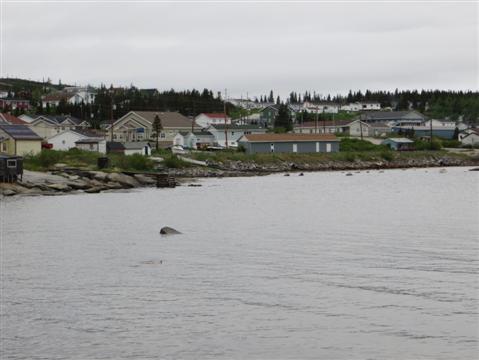 Another Makkovik view
And Madam's saying 'so what's wrong with New York,' none too pleased to be out in my wild, adding how lucky we are that yesterday's weather hold condemns us to only one day in this god-forsaken hell-hole.
There's an atmospheric rustic little inn with stratospheric Ritz-style prices, and Madam's none too pleased here either, even though it's en suite, clean, with TV and Wifi, and even though it's Yours Truly who's hauling her three tons of luggage upstairs.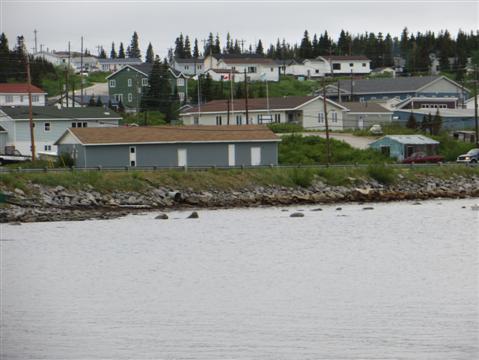 Makkovik
There have long been Inuit settlements in the area but Makkovik itself was founded in 1859 by benighted Norwegian Torsten Kverna Andersen and his wife Mary Ann Thomas as a trading post, later gaining in population when the Protestant Moravian Church set up a mission and school here as it did all along the coast.
The town appears to subsist on a bit of fishing and a bit of lumbering. There's a little fish processing plant and several wooden boats in 'dry dock' on the gravel quayside. Quite a few people work for the Nunatsiavut government, and the federal government is investing in a cultural tourism centre.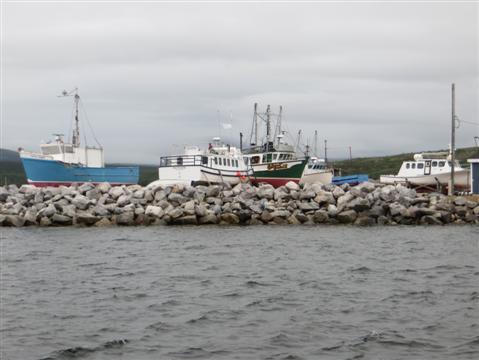 Makkovik harbour
As they say here in Inuktitut, according to the town brochure: Pulâgiagitsi! (Come Visiting!)
And Rivka's saying: 'why?'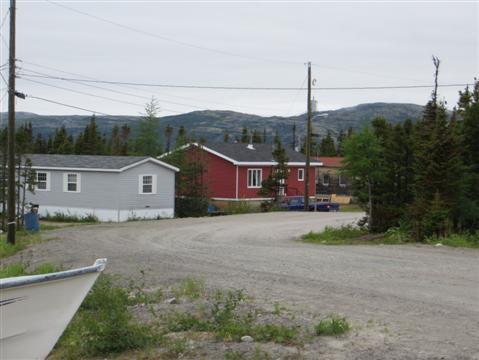 Makkovik street
Today is Canada Day, celebrating the July 1, 1867 confederation of the Dominion of Canada. Maple leaf flags are flying on some homes, and there's a Canada Day carnival in the school gym where the faces of many different ethnic origins, some decorated with maple leaf flag transfers, are beaming as their owners partake in such sideshows as trying to hurl wooden batons into the holes on a seal-decorated board.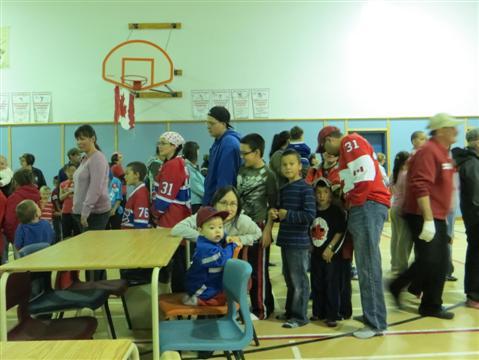 Canada Day fête in school
Another fête view
And another
On the town's outskirts a boardwalk across spongey wooded marshland leads down to the rocky shore of an ice-dotted inlet - and black bears if you listen to the cook at the inn, who advises against a walk alone. But the celebrants at the school say it's perfectly safe during daytime.
Rivka passes on this one. 'Why,' quoths she, 'I can see your wonderful scenery on the TV back in good old New York, and while I'm at it, why do we have to spend Canada Day at the ends of the Earth?'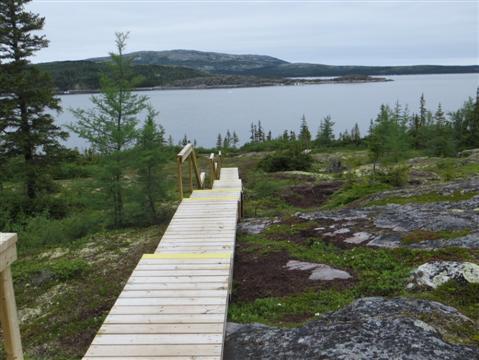 Makkovik boardwalk
The views are indeed superb. Low pines and yellow-green lichen clamber up the craggy hills. The remnants of winter's ice packs lie caught on the rocky shores of the wide inlets, the rain has stopped, the clouds have lifted, and the wild and starkly beautiful landscape is a spectacle of enchantment.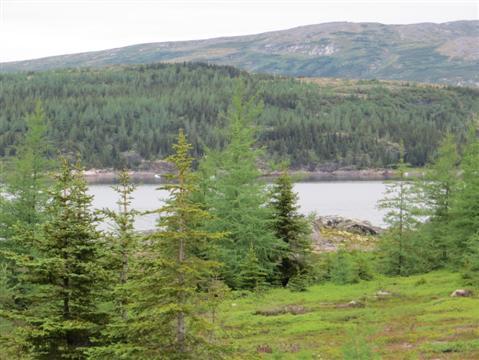 View from boardwalk
Another view
Back at the inn I'm showing Rivka the snapshots and saying how wildly beautiful and beautifully wild it all is, and she's saying: 'If we're coming just for that, I can see it in comfort on NatGeo TV in New York.'
The following morning the weather is much brighter for our 0855 flight to Nain and we're all in fine spirits even though I almost break my neck hauling Rivka's three tons of luggage down the steep wooden staircase, along with a new albatross around my neck.
Dinner in this neck of the woods is at 1700 and, fearing sudden onsets of famine during the long evening hours, Madam ordered a huge box of mozzarella sticks and home fries which she took upstairs. Despite early and often nibbling there still remains a fair amount which she insists we cart along with us.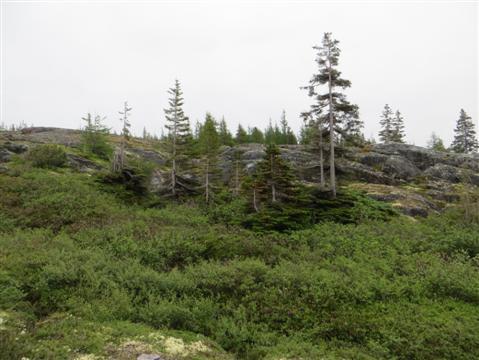 Makkovik environs
Now, this is where our fine spirits take a nosedive. There's a weather hold again. It may be fine here but Labrador weather is local to a fault, and Nain is fog-bound. By mid-morning there's still a weather hold and I'm saying oh bugger and Rivka's saying: 'I want to go back to New York.'
Lori, the hotel owner, tells us about polar bear attacks in Torngat Mountains National Park, far to the north, and Bernice, the inn cook, says she once opened the back door and hit a prowling black bear right in the arse - but she was not nearly as scared by it as by a mouse.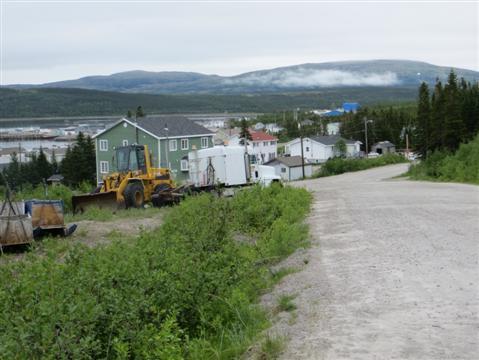 Makkovik street
It's already gone noon and the weather hold is still on. Lori is saying polar bears have even turned up in Makkovik though they're more frequent in Nain, and Bernice is saying black bears are better than a damn mouse, and I'm saying wow, and Madam's saying: 'bear, schmear, mouse, schmouse, I wanna go back to New York.'
It's 1430, we're still on weather hold and Rivka's saying: 'One could easily go mad here. See what you've done to me.' She's looking at a cooking show on NBC. 'I didn't have to come here to do that,' snorts she. 'I could do this in New York and in much more comfort I might add.'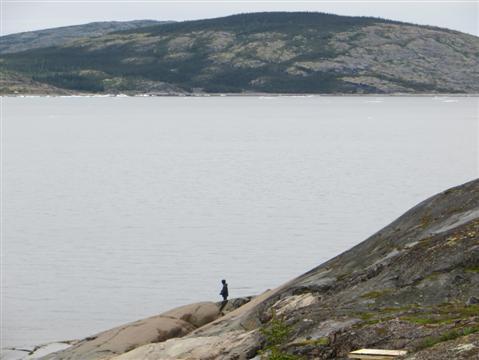 Fisherman in inlet shore with ice remnants packing opposite shore
By 1630 the flight has been cancelled, and I'm saying 'Rivka come for a walk down Poet's Path' and Madam's saying: 'I'm staying right here drinking coffee.'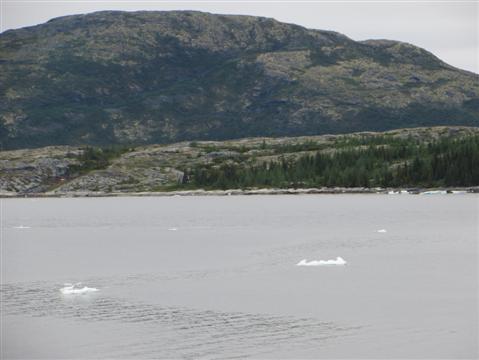 Makkovik inlet with ice
Poet's Path, in the centre of Makkovik's Moravian Woods, is a nature trail that 'inspires poetry,' according to the local brochure. Well nature is not inspiring Yours Truly today and I get lost in the local cemetery.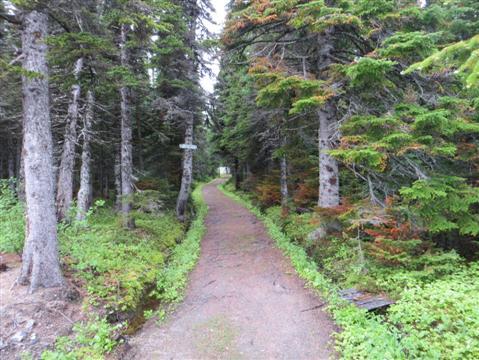 Poet's Path
When I finally extricate myself from the graves I find a narrow trail between dark green pines, ferns and moss, and grey crags carpeted in bright yellow-green lichen, where scores of local poets have affixed their odes to little panels nailed to trees.
"Ah Loneliness How Would I Know Who I am Without you?' says one.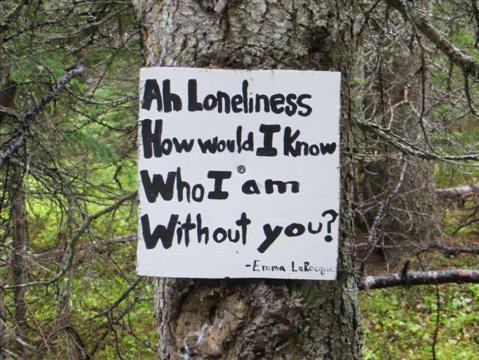 Poet's Path ode
And I'm saying wow this is certainly an enchanted place in the mists beneath the dark green pines, and Rivka's saying as I show her the snaps back at the inn, with a long shot of ice at the mouth of the bay: 'I could look at the Hudson River in New York in winter for that.'
And I'm saying it's a shame the inn here isn't like the inn in Goose Bay which has DVDs to play on the room videos, and Rivka's saying 'For that I came here? I could have stayed in Manhattan to play DVDs.'
Another ode
Wow! Just as well I didn't spend a fortune on getting us to Torngat National Park by über-expensive chartering of planes or boats and the services of equally über-expensive tour companies, though I did amuse myself with the idea for a fraction of a nano-second.
The apparently spectacular treeless wilderness of stark mountains, glaciers, polar bears, peregrine falcons, and caribou deer, where the Inuit hunt, fish and travel as they have for thousands of years, oscillates between $4,000 and $10,000 per person per trip depending on the number of days spent - from 3 to 7.
I'd be saying wow aren't these polar bears fantastic, and Madam'd be saying: 'I could see them in much more comfort at the Bronx Zoo' and I'd be saying: 'At that price, you're right.'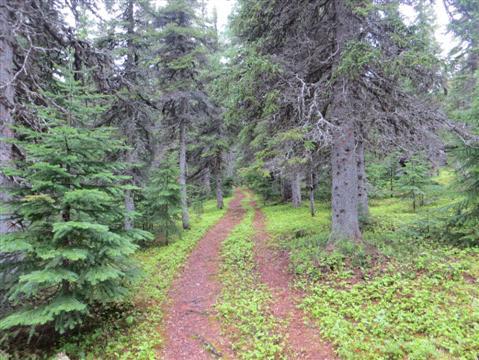 Poet's Path
Stuck here for another night Madam tucks into a huge meal, packing most of it in another styrofoam box to join the other two on our odyssey - my albatross triplets.
She's asked so many times where one can buy wine or beer and forced me to do likewise - and there is in fact nowhere - that Lori has taken pity on us and just had somebody knock at our door with a bottle of Shiraz wine. And I'm saying oh shit she's gonna get drunk and Rivka's saying: 'Ooh, goodie.'
Near Poet's Path
We awake at 0545 to the mother of all fogs. We can't see anything out of the window. Of course all flights are on weather hold. But Air Labrador says the sun is expected to burn it away (the fog that is, not the airline) during the morning - and Rivka finds further hope in the bottle of Shiraz.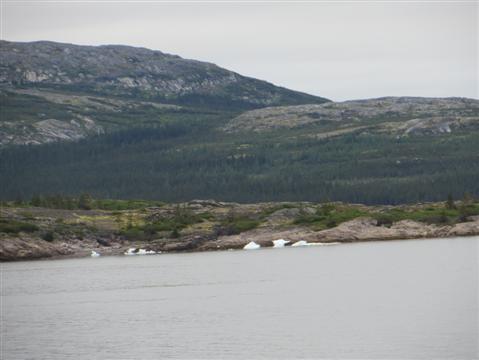 Makkovik inlet with ice remnants
Just after 1015 the room phone rings. It's Lori. The sun has worked its magic and the flight's coming in at 1130. Rivka's cock-a-hoop, packing the wine into her bag. And I'm saying don't forget your ruddy frigging food containers and Madam's saying: 'Are you crazy? It's old and stale.'
Well, that's new. Hallelujah! Go figure. There is a god on both plane and food fronts today.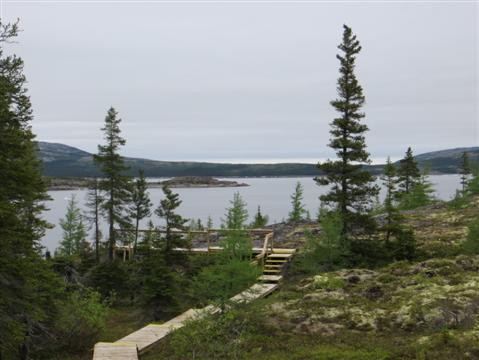 Makkovik boardwalk
______________
By the same author: Bussing The Amazon: On The Road With The Accidental Journalist, available with free excerpts on Kindle and in print version on Amazon.
And Swimming With Fidel: The Toils Of An Accidental Journalist, available on Kindle, with free excerpts here, and in print version on Amazon in the U.S here.