If there's any town in Canada's three Maritime Provinces that prides itself on its maritime history, it is Halifax, capital of Nova Scotia.
From a parade of gaudy ships figureheads and a statue of famous son and shipping line magnate Samuel Cunard, to its grim role as final resting place for the victims of the Titanic and site of the worst ever man-made explosion until the dawn of the nuclear age, to its more welcoming stint as gateway for over 1 million immigrants, everything in this attractive town screams "sea."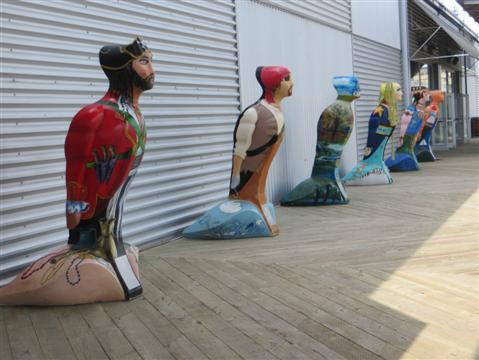 Ship figureheads
Continuing the overland-by-public-transport odyssey, Yours Truly has managed to reach Halifax from Charlottetown by local minivan shuttle on a route also covered by Maritime Bus -- and it's allowed me to notch up along the way another first in markers I've seen.
I've been told several times already "you are now standing on the Equator" and "you are now crossing the Arctic Circle," but this is the first time I've been warned "you are halfway between the Equator and the North Pole."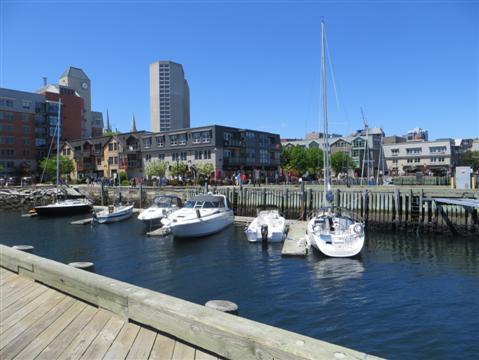 Halifax waterfront boardwalk
But back to Halifax. On November 21, 1787, a little bundle of joy was born here to Abraham and Margaret Cunard, loyalists to the British crown who had fled from Philadelphia, where those upstart Yanks rebelled and wrote that constitution whose second amendment guarantees the right of any schoolchild to be shot dead, regardless of race, color, sex, religion, ethnicity or sexual orientation.
By 1840 little Sammy was no longer so little, and I'm not so sure he was still such a bundle of joy, either, but Cunard Steamships Limited's first liner, the Britannia, was sailing from Liverpool, England, to Halifax, and on to Boston in the U.S. of A., the first of a long line of famous vessels that was to include the Queen Mary and Queen Elizabeth.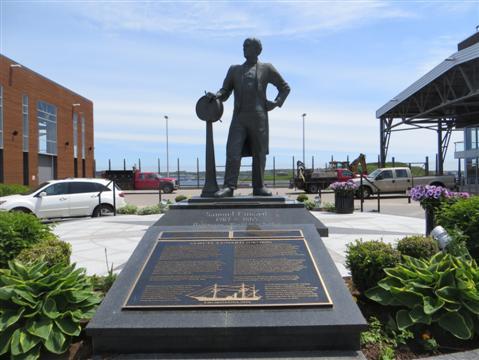 Statue of Samuel Cunard
On this particular day, almost 227 years after his birth, one of his most famous descendants is in town, the Queen Mary 2, Cunard's flagship and "the most magnificent ocean liner ever built," to quote the company brochure.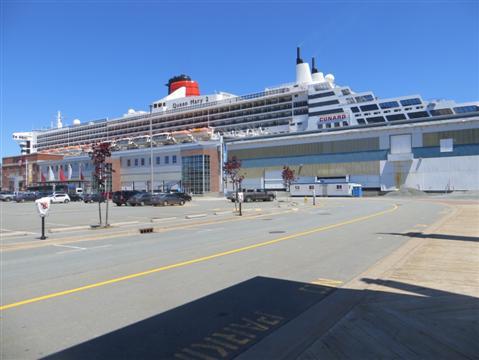 Queen Mary 2 looms over harbour
The delightful if kitschy Halifax waterfront boardwalk is now overrun with ancient tourists hobbling along past overpriced restaurants and souvenir outlets after crossing the Atlantic aboard aforesaid magnificence from Hamburg and Southampton on their way to New York.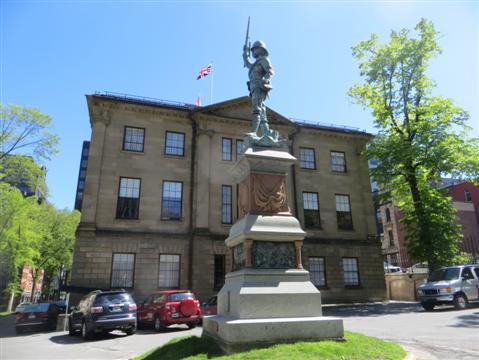 Boer War memorial by provincial parliament
They dutifully pose in front of Cunard's statue. But poor old Sammy must be listing in his grave to starboard, or would that be port. For the house that Cunard built is no longer as he built it. It was acquired in 1998 by Carnival Corporation, a multinational cruise outfit run by those very same Damn Yankees his sainted parents fled from in 1783.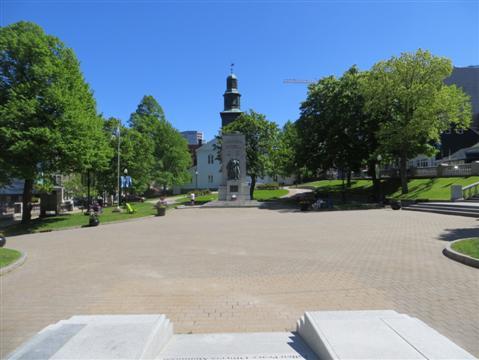 220-year-old St. Paul's Church on Grand Parade
At the start of the boardwalk at Pier 23, a cargo shed has been converted into Halifax's newest event venue, the Cunard Centre -- 53,000 square feet that can accommodate formal banquets for up to 2,200 guests and concerts for 4,000.
Just in case you're feeling lonely, six ship figureheads rear up outside -- one a pirate, another looking like Auntie Brunhilde with long blond tresses, brass boob plates, and a black eye.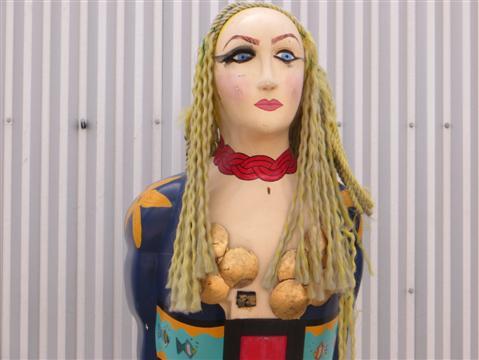 Brunhilde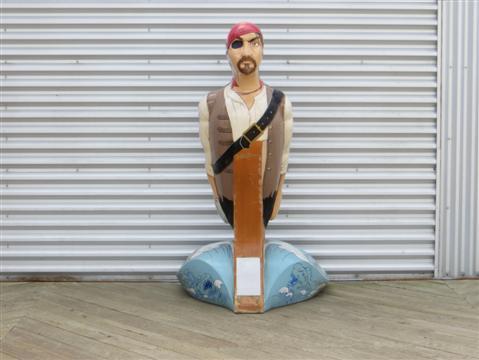 Pirate
Further on, at Pier 21, Canada's equivalent of New York's Ellis Island celebrates the immigrants who have contributed to the country's growth. Over 1 million people were processed here between 1928 and 1971, with a major surge in the aftermath of World War II.
Outside, a statue portrays a hatted gent stepping off a boat followed by his wife with a babe in arms and another child. Within, photographs, old newspapers, mock-ups and audios tell the individual stories of the newcomers.
Immigrant statue
At Ellis Island 12 million immigrants are estimated to have been processed into the U.S. of A. between 1892 and 1954. With a population of 34 million, compared to the U.S.'s 317 million, Canada is not all that far behind on a per capita basis.
Anyway, the joke going round Pier 21 is that the immigrants wrote home that Canada is a land flowing with milk and honey, but you have to find your own damned cows and your own damned bees.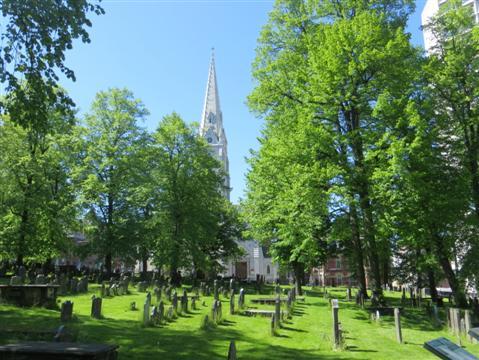 St. Paul's cemetery
Halifax is the first real city I've come across in Canada's three Maritime Provinces. It has two suspension bridges over a sea inlet, three enormous red and white ringed phalluses of a power plant, some 200-year-old churches, and a clock tower built in 1803 above which, in the remains of a hilltop fort, kilted soldiers in bearskins perform the changing of the guard.
Fort entry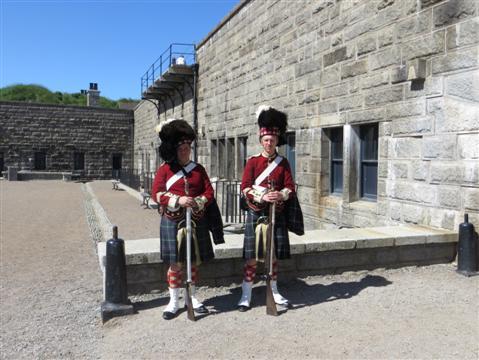 Guards within
At this moment in time, it's blowing a gale, the soldiers' bearskins are flying all over the place, and I only hope the same doesn't happen with their kilts to show if, true to urban legend, they are bare there too. In the courtyard a guard is bellowing like a wounded bull as he drills another poor sod for duty.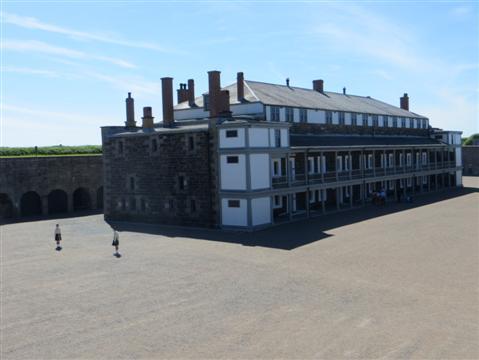 Fort barracks and guard drilling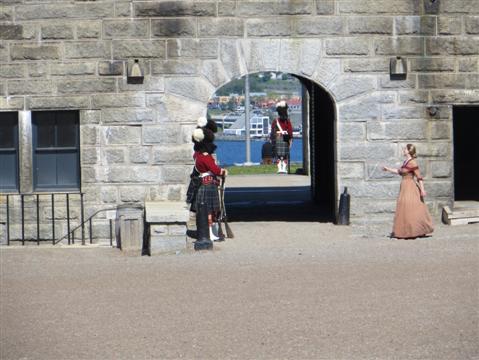 Fort: lady in period dress
Further out, wooden gingerbread houses line spacious and delightfully leafy streets, and several parks blossom, including Point Pleasant, a wildly forested area with paths and trails abutting a deep blue sea full of white-sailed yachts.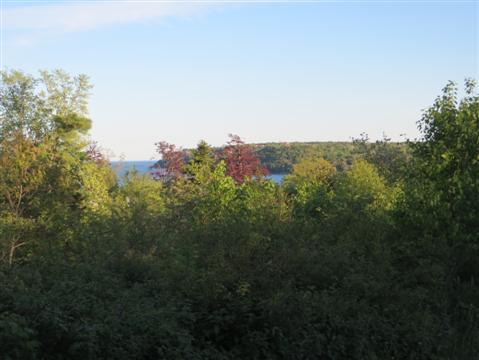 Wild Point Pleasant Park
Back on the waterfront, the Maritime Museum of the Atlantic awaits with all things sea, especially Halifax's role in the Titanic disaster -- two films, a model of the ship, and several written commentaries.
When the Titanic, ironically flagship of Cunard Company's main rival, the White Star Line, struck an iceberg and sank within hours on the early morning of April 15, 1912, Halifax was the nearest major port and played a significant role in mustering what was at first hoped to be a rescue operation but turned out to be mainly a body recovery exercise.
In a nice little ghoulish touch, right in the centre of a lake in the downtown block-long public garden is a little model of the Titanic, four yellow funnels and all. What's more, it looks as if it's already started listing.
Titanic in the lake
Also memorialized at the museum is the Great Explosion that occurred five years later in December 1917, when the French freighter Mont Blanc, overflowing with wartime munitions, collided with the Norwegian ship Imo, caught fire and blew up in the harbor, killing 2,000 people in the city and injuring 9,000 more.
The city of Boston sent immediate help and to this day the Nova Scotia government sends Boston a Christmas tree each year in thanks.
In the case of the Titanic, of the bodies recovered by Halifax boats, 121 are buried in a special section of the city's Fairview Cemetery in three curving rows of generally low grey tombstones, a third of them unidentified.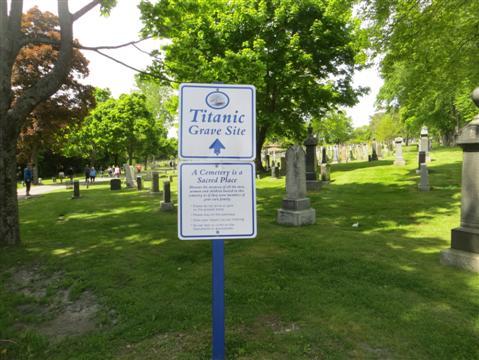 Titanic graves at Fairview Cemetery
One gut-wrenching little headstone, with a puppet and a few other toys, recalls an unnamed 2-year-old boy whose body nobody claimed, his parents having perished as well. Then, 96 years on, technology came to the rescue and gave the little boy a name. DNA showed that he was Sidney Leslie Goodwin born on September 9, 1910, in Wiltshire England.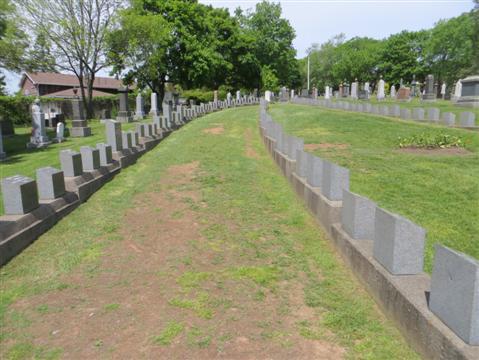 Three rows of Titanic graves
The tombstone to the victim known for decades as the Unknown Child has been left intact but another stone has been added at the bottom:
Sidney Leslie Goodwin
Sept 9 1910
Apr 15 1912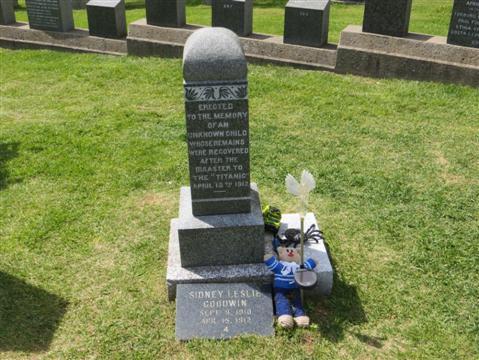 Grave of the now known Unknown Child
Meanwhile Yours Truly is getting very crotchety. The site at this point in time is being overrun by a vast horde of vile bodies from the Veendam cruise ship whom I wish less than well. If only I had an AK-47 I could add many more named names to the toll.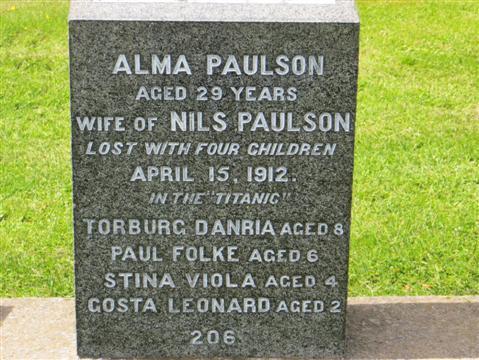 A Titanic grave
OK enough of my choler. Now for my own tenuous link to the Titanic.
No, I may be old but I'm not old enough to have been on the doomed ship, so don't you dare suggest it. But my Uncle Gus was.
Now Gershon 'Gus' Cohen was not a biological uncle, but one of my Dad's best friends from their days growing up in Whitechapel, London. At 18 he was an out-of-work printer and decided to seek a new life in the New World.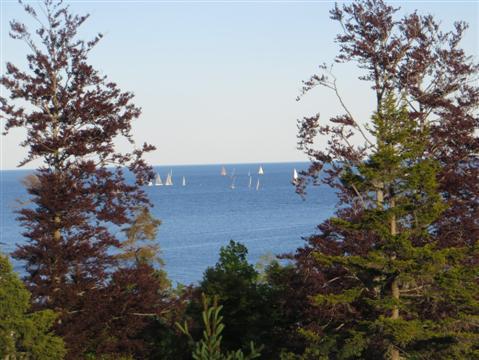 View from point of Point Pleasant Park
He borrowed eight pounds one shilling and booked a passage on the good ship Adriatic. But a coal strike forced its cancellation and he was rebooked on guess what. Unburdened by any premonitions he boarded the massive vessel full of high hopes for a future of wealth on U.S. streets made of gold, even if he was now only travelling steerage.
In the early hours of April 15, 2012, he lived to see another day. He was saved on lifeboat 12, one of only 710 survivors out of 2,224 passengers and crew on a ship that only had enough lifeboats for 1,178.
Certainly not! How dare you suggest Uncle Gus might have pushed an old lady overboard to get a place!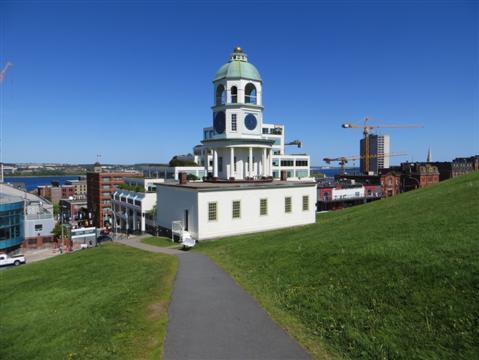 Halifax clock tower
Uncle Gus recounted that the last tune the orchestra played as the ship was going down was not 'Nearer My God to Thee,' as is so often claimed. Though what he said it was I have no idea.
You see, I got most of these details from the Encyclopaedia-Titanica's individual passengers page, not from my memory bank. I was only about four or five at the time of our visits, wouldn't have had the first idea of what in hell to ask him, and all I can now remember is that his wife had a bit of smut on her eyelid, from which I could not tear my eyes away.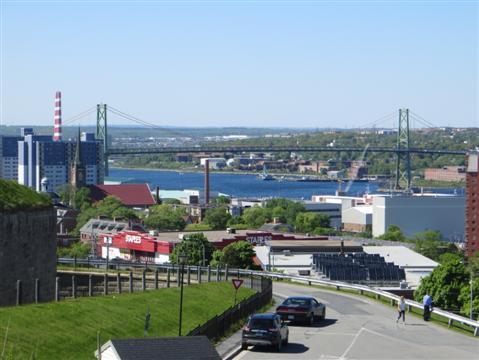 View from fort across to suspension bridge and power station towers
______________
By the same author: Bussing The Amazon: On The Road With The Accidental Journalist, available with free excerpts on Kindle and in print version on Amazon.
And Swimming With Fidel: The Toils Of An Accidental Journalist, available on Kindle, with free excerpts here, and in print version on Amazon in the U.S here.