From time immemorial Canada's Yukon Territory had been a way-beyond-beyond backwater, home to some 5,000 indigenous peoples subjected to the rigors of Arctic weather.
Then on August 16, 1896, American prospector George Carmack, his indigenous Tagish brother-in-law Shookum Jim Keish and his nephew Kaa Goox, better known as Dawson Charlie, found gold in Rabbit Creek, a tributary of the Klondike River. It was quickly rechristened Bonanza Creek.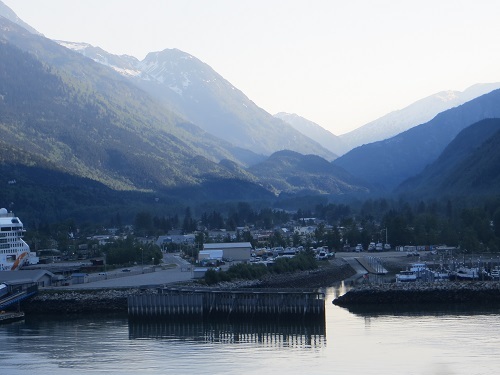 Skagway, sea gateway for Klondike gold rush
On July 15, 1897, a ship with prospectors and their bonanza tied up in San Francisco. Two days later a second vessel did likewise in Seattle. Almost literally within minutes, newspapers were slavering up banner headlines blaring 'Gold! Gold! Gold!'
They put the combined worth at $1.14 million, more than $1 billion in today's dollars. Thus was spawned one of the largest peacetime migrations ever, the Klondike gold rush, launching over 100,000 hopefuls on the long journey north.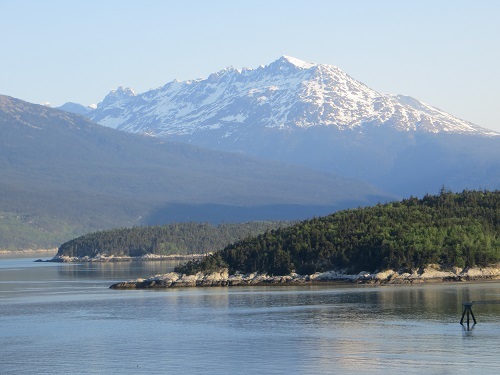 What the hopeful saw at end of sea journey
Some 30,000 to 40,000 completed the 500 mountainous overland miles from Skagway, the gateway from the sea at the top of a fjord in Alaska's panhandle.
Fjord view from Skagway
The entrepreneurial spirit ruling supreme, within two years a railway was driven and blasted up the 113 miles over the 2,865-foot White Pass to Whitehorse, now Yukon's capital, from where prospectors could more easily reach the gold fields further north at Dawson City by boat on lake, river - and rapids.
But by then, too, the Klondike gold rush was lagging, despite the greater ease afforded by the White Pass and Yukon Route Railroad (WP&YR), whose main contractor, Michael Heney, famously said: 'Give me enough dynamite and snoose (apparently finely powdered tobacco), and I'll build a railroad to hell.'
Railway start in Skagway
WP&YR had already been preempted by the latest screaming newspaper headlines of a new bonanza, this time in Nome, far to the west on Alaska's coast.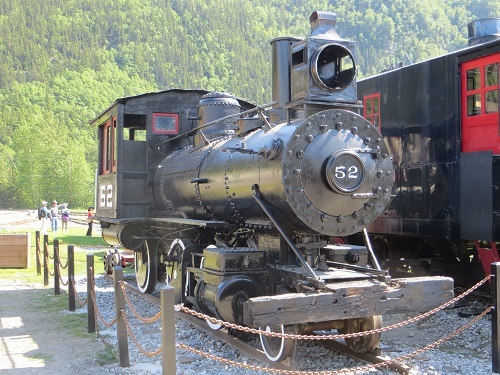 An early engine
Today Skagway, an indigenous word meaning 'home of the north wind,' nestles in its fjord bower surrounded by glacier-capped crags, drawing a tourist bonanza from its glorious past as huge cruise ships deposit hundreds of thousands of visitors each year to the Klondike Gold Rush National Historical Park. They're more than willing to fork out gold for dross, dollars for kitschy souvenirs.
Cruise ships tie up in Skagway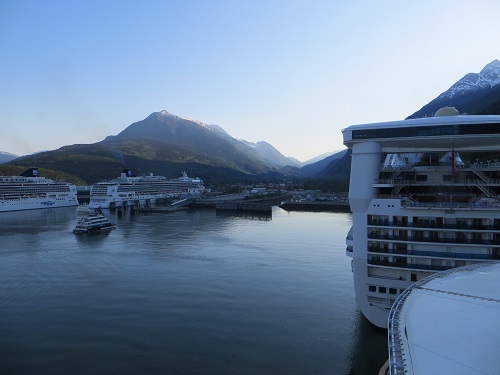 Close-up
If anything truly merits the visitors' attention, though, it is the WP&YR, which now runs several trips a day in season in restored vintage carriages the 20 miles or so over White Pass to Fraser in British Columbia, Canada, and then on a further 45 miles or so to Bennett Lake or Carcross, whence a bus will continue to Whitehorse.
WP&YR on its ride to White Pass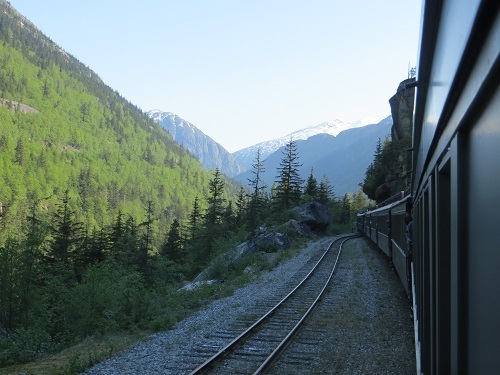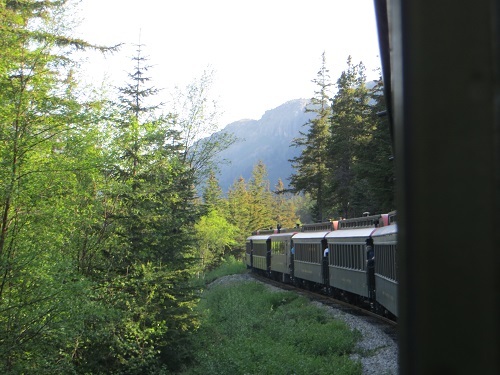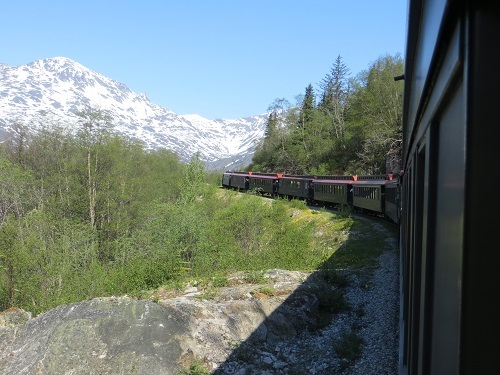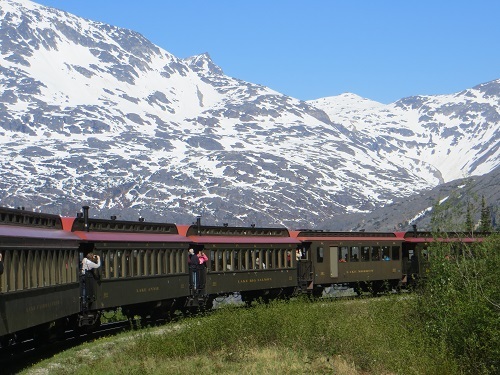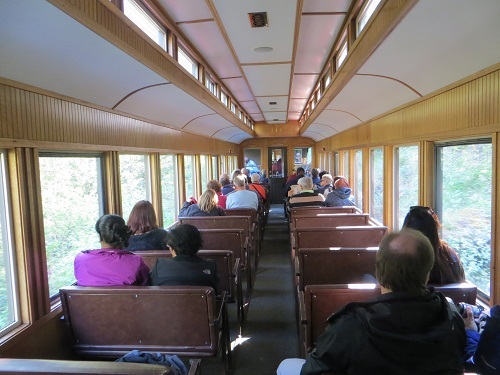 The scenery is truly spectacular as the narrow-gauge choo-choo (actually it's diesel) climbs up the twisting ravine of the Skagway River beneath jagged snowy peaks Matterhorn-ing skywards in brilliant sunshine, our fourth straight cruise day of magnificent mid-May weather that is so uncharacteristic for the Alaska panhandle.
More views from the train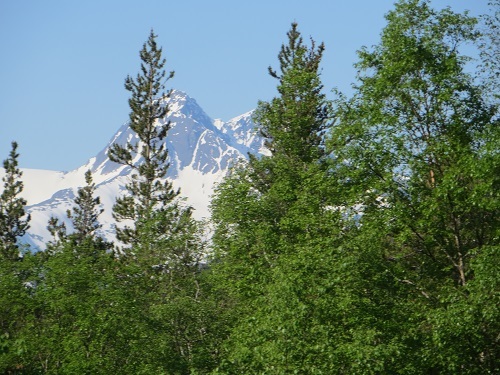 Waterfalls, large and small, tumble down the cliffs every few yards - and, alas, a zillion selfies click every few nano-inches on the observation platforms with a gazillion inane and insane grimaces, grins and grunts. I must be in a proud minority of one in my aversion to the selfie craze.
Yet more views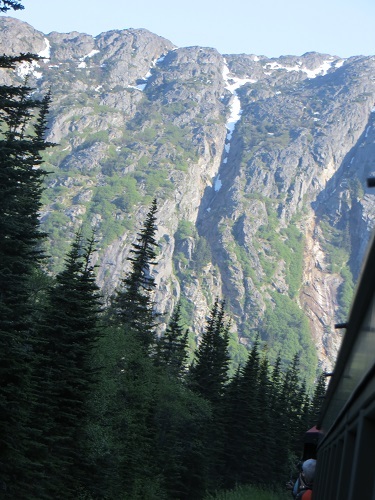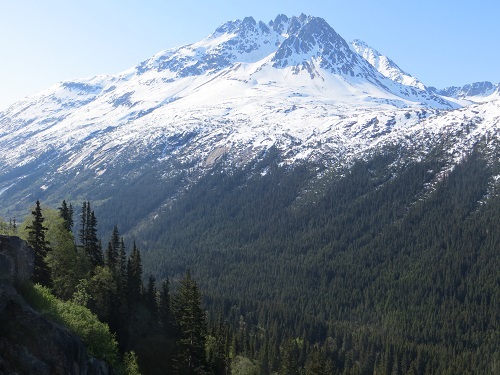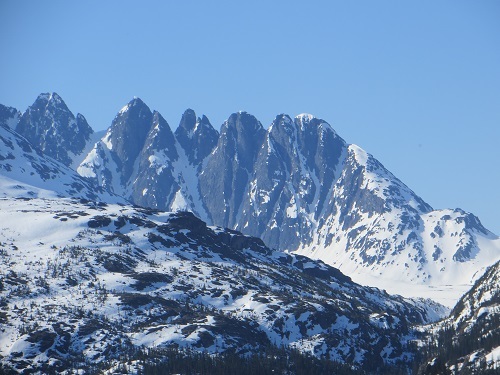 Below the snow and glaciers, the landscape of temperate rainforest is incredibly lush with wall-to-wall carpets of deep green spruce covering the steep slopes and plunging river valleys. As we climb higher towards the flag bedecked rock marking the U.S.-Canadian border, the landscape changes. It's now much more rugged, the sparse vegetation and dwarf trees few and far between.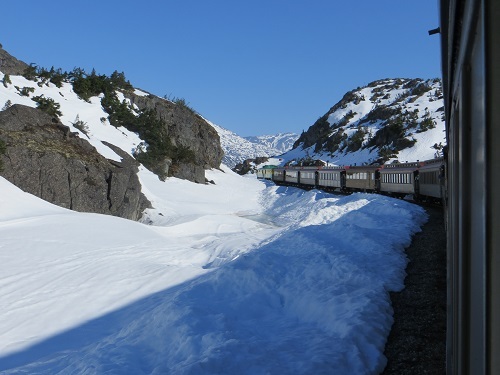 Approaching the Canadian border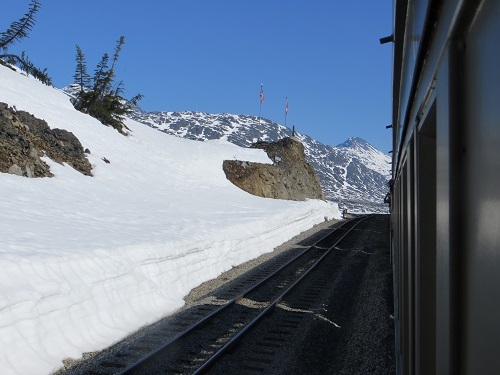 The border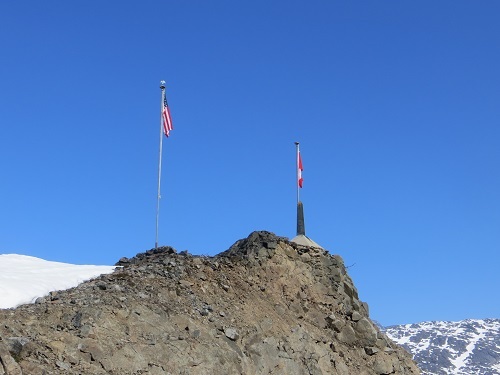 Close-up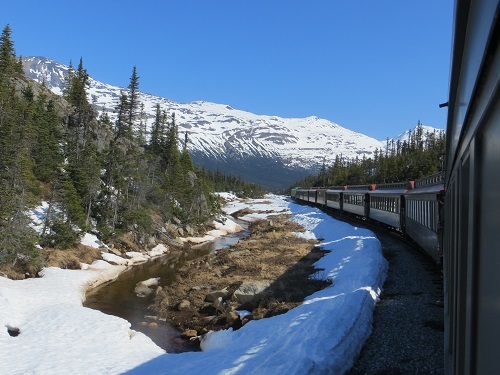 Descending from the border
But once we descend slightly we enter the boreal forest, not as lush or lofty as on the other side of the mountains, but equally beautiful in its own way.
The Canadian side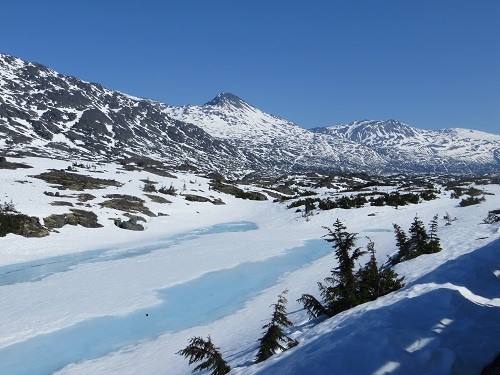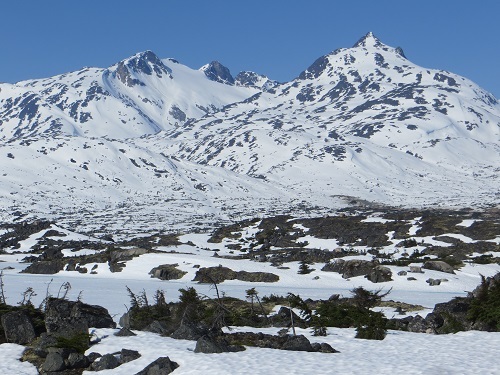 Intermediate halt
Lake Tutshi (pronounced too shy) reflects the glaciers, snow-streaked crags and towering peaks in its mirror surface of totally stilled water. And a zillion more selfies explode, totally unstilled, at the Yukon sign board.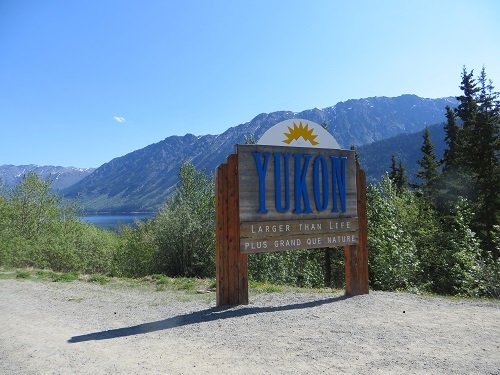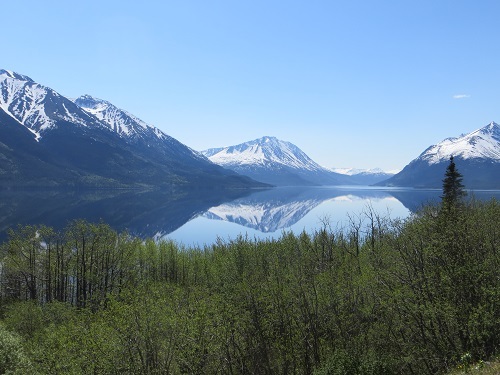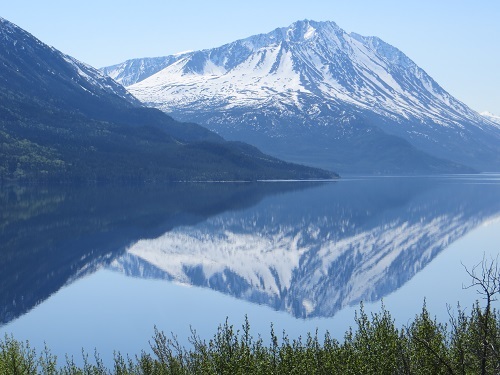 A pedestrian suspension bridge built in 2005 crosses the deep gorge of the Tutshi River as it thunders past in swirling eddies that garner it category 4 and 5 white water rafting ratings. A whole bowl of craggy mountain peaks surrounds a green plateau, snow descending half way down their sides to a carpet of boreal forest and sub-alpine tundra.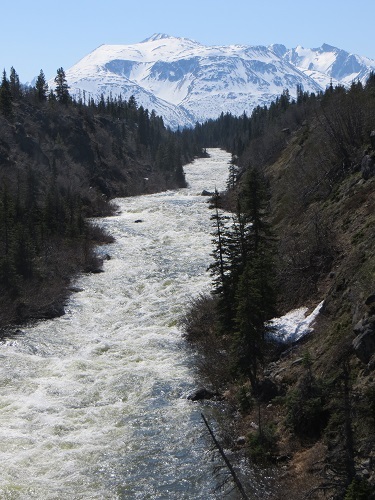 Tutshi River gorge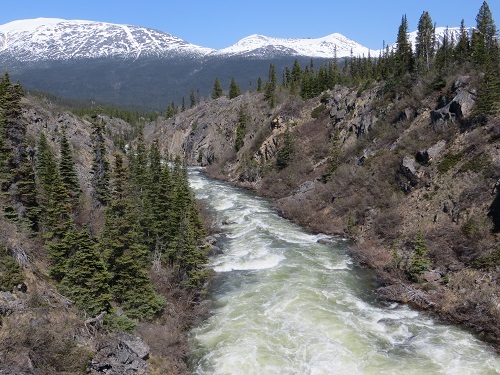 Downstream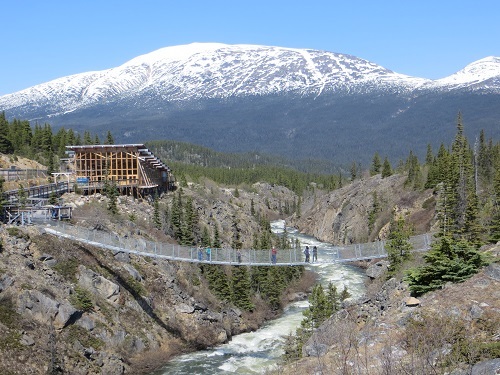 Suspension bridge
Swaying over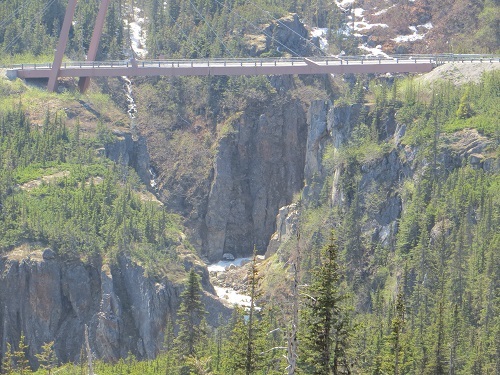 Road over canyon
Back in Skagway, for all the crassness - and the four huge cruise-cities in port today - the neat little town of 800 certainly has its charms with restored wooden houses and boardwalks as it waits to fleece its prey.
Skagway town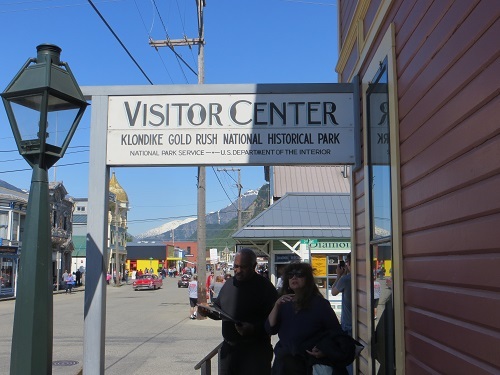 There's the Skagway Bazaar art colony, the Red Onion Saloon, once one of the town's finest brothels built in 1897, the golden-domed Golden North Hotel and the Skagway Gold Rush with baubles of gold.
Golden North Hotel
Then there's the Eagles Hall with theatrical representations of the Naughty Nineties, and a floozie with black boa and frilly white top at half-mast mincing away outside to lure in yet more prey.
Eagles Hall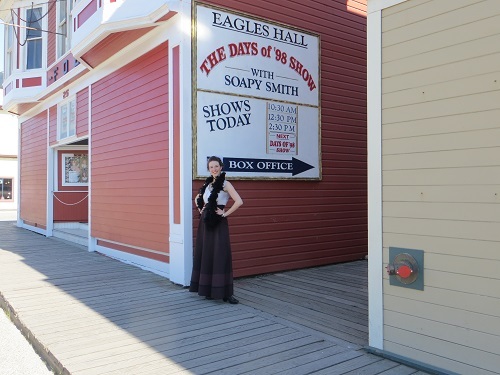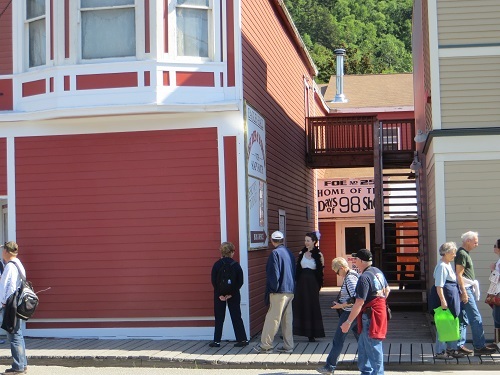 The hall consists of two gold rush-era hotels that were moved to the site and fit together. The Mondamin Hotel, where arch-conman Jefferson "Soapy" Smith used to live, was moved in 1916. In 1920 the Pacific Hotel was added onto the rear.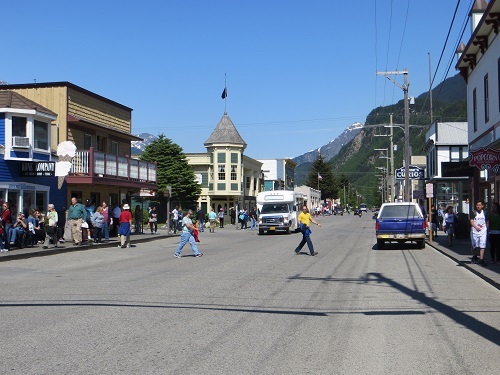 Skagway main drag
Soapy got his name from a caper way back in Denver where he conned people, with the aid of shills, to buy wrapped bars of soap on the pretense that there were dollar bills inside, including $100 bills.
Anyway he met his comeuppance at 9.15 p.m. on July 8, 1898, here in Skagway in the Shootout on Juneau Wharf after some three-card monte caper went awry. His final words 'My God, don't shoot!' apparently came too late, but you can visit his grave.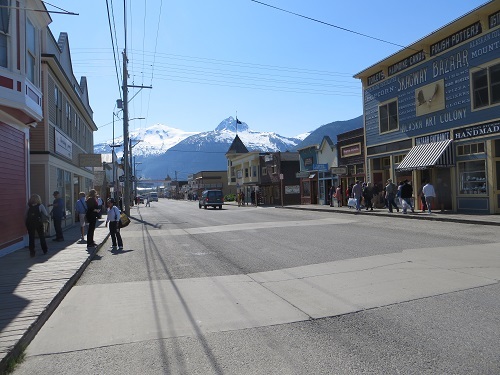 Skagway view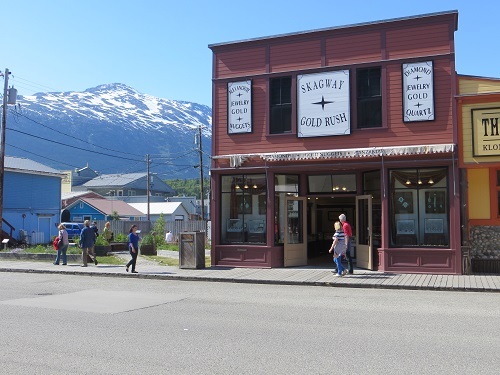 Any gold?
So, as you can see, there's a good time to be had in Skagway by all, whatever your predilections, except of course for Soapy and his last con.
[Upcoming blog on Sunday: The magnificent Hubbard glacier]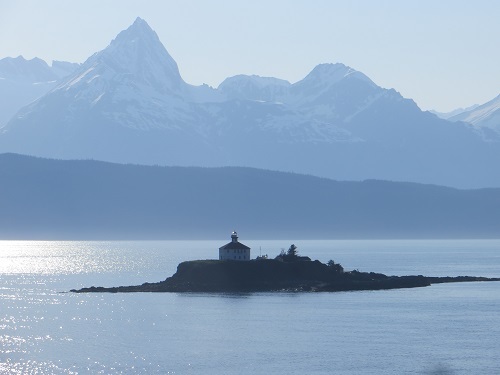 On the way out of the fjord
______________
By the same author: Bussing The Amazon: On The Road With The Accidental Journalist, available with free excerpts on Kindle and in print version on Amazon.
Swimming With Fidel: The Toils Of An Accidental Journalist, available on Kindle, with free excerpts here, and in print version on Amazon in the U.S here.