It prides itself on being the world's most northerly city, albeit with only about 2,000 residents; it's way beyond the Arctic Circle, just 813 miles from the North Pole, yet thanks to the Atlantic current it is much warmer than parts of Greenland and Canada lying a good bit further south; it is enveloped in total night for much of the winter; yet with daily three-hour 40-minute flights from Oslo it is surprisingly accessible all year round for one of a shrinking world's last wild frontiers.
'It' is Longyearbyen, and by extension the whole Svalbard archipelago of which it is the main settlement, better known to some as Spitsbergen (sharp mountains), the name bestowed on it by 16th century Dutch explorer Willem Barents who was impressed by, well, its interminable row of sharp mountains. Svalbard is the old Norse for cold coast.


Svalbard from the air
With only 13 percent vegetation, 27 percent stony ground and 60 percent glaciers, the 24,000-square-mile archipelago, bordering the Arctic Ocean and Greenland and Norwegian Seas, is a magnificent white wilderness where polar bears, at an estimated 3,500, outnumber the humans who venture this far north for the rich lode of coal.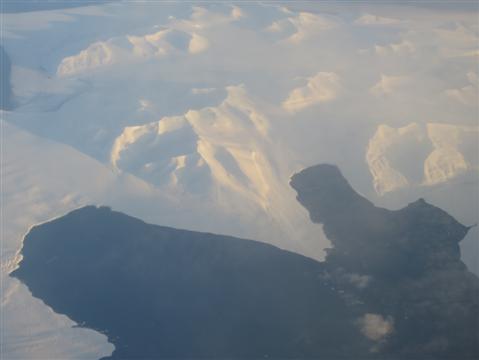 Sea inlet from the air
That is without counting the steady flow of tourists who come here annually for dog sledding, snowmobiling and the sheer experience of remote wildernesses hiking and camping.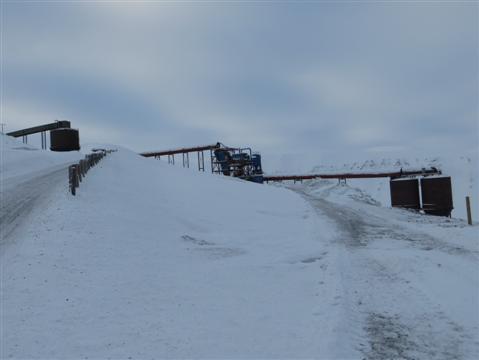 Coal mine still in operation
Lonyearbyen owes its name to John Munroe Longyear, head of the U.S.-based Arctic Coal Company who in 1916 sold out to a Norwegian firm, a few years before Norway was granted sovereignty by international treaty that still allows non-Norwegians, mainly Russians, access to Svalbard's resources.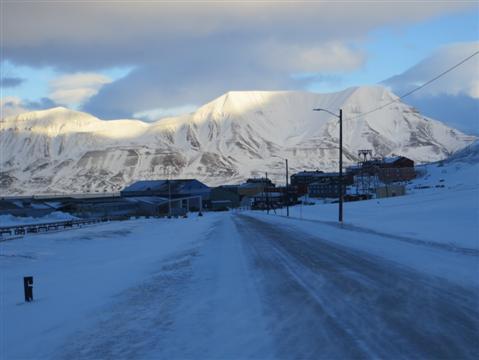 Downtown Longyearbyen
The town itself is nothing to write home about, a collection of mainly wooden structures, including very expensive hostels and even more expensive 'hotels,' strung at among the slurry pipes and other accoutrements of the immediate area's coal mines, all but one of which are now closed. But the setting on steep mountain-bordered valleys opening onto an inlet of the Greenland Sea is spectacular.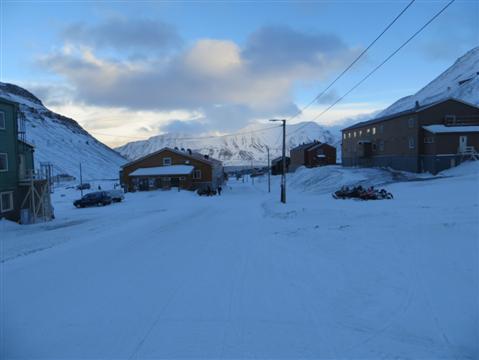 Upper Longyearbyen
That this is clearly not the natural environment for humankind is brought home by the town map with its 'pink zone,' the very narrow pink-tinted area closest to the settlement outside which you are warned to always carry a gun as the world's largest land carnivore, which can weigh up to 800 kilos, attacks without warning.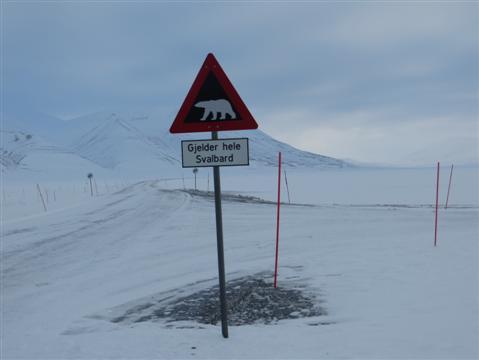 Traffic sign, Svalbard style
This warning is not just for show like the massive stuffed polar bear presiding over the conveyor belt at the airport, and all snowmobiling and dog-sled tours go armed. In 2011, a 17-year-old English schoolboy was killed and four others hurt, two of them seriously, when they were mauled by a starving female while on a summer camping expedition only 25 miles from Longyearbyen. Their gun failed to fire four times. The poor female was later tracked and shot dead.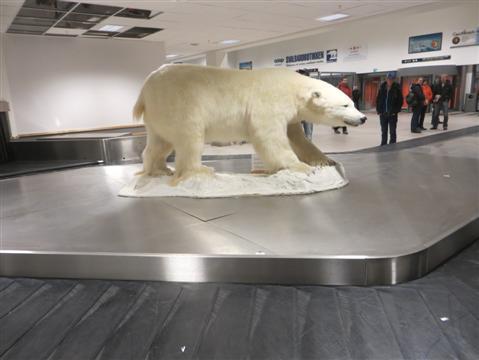 Stuffed bear at airport
On a $300-snowmobiling expedition Yours Truly is all prepared for polar bears, and bi-polar ones for that matter, though the latter seem limited to fellow snowmobilers. The lady guide is a mobile SWAT team, with a nice gun in a case hanging from her handle bars and a revolver slapped on her shapely hips. We're all kitted up in balaclavas, huge helmets, huge snowsuits, huge boots and huge gloves.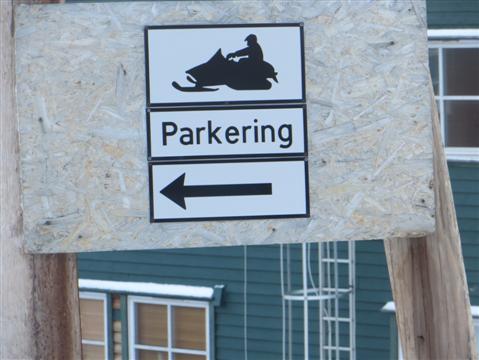 Local parking, Longyearbyen style
So far, so good. We're on the flat. I haven't crashed into the people in front, nor pranged the snowmobile's skis. I haven't even overturned in a single-vehicle event. But it's getting a bit dicey as the snow starts falling and we climb a ridge into a white-out. Up hills and down dales we go totally blind until we reach our destination in Elveneset Valley with views of the iced-over fjord and the mountains on the other side.
Except we can't even see the mountains on this side through the snow let alone those yonder. But we do espy a reindeer searching for something to eat. There are 10,000 reindeer on Svalbard and they have no natural predators - they're too fast for the polar bears.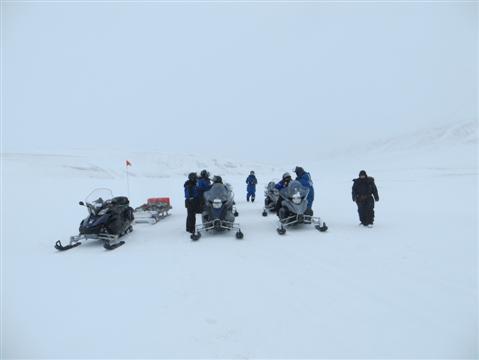 Snowmobiling, close to white-out
After about two hours we start the return journey. Tee hee! The couple in front has just gone into a deep snow hole and overturned on their side. Wow, there are people even klutzier than me. After some frantic hand waving the guide turns round and with others rights the downed behemoth - they weigh about three quarters of a ton.


Reindeer
Now guess what! Yours Truly has just landed himself in exactly the same snowbank-hole. I'm not spread-eagled on the snow, but I'm not sure what bird spread I am. Spread-vultured? Spread-bird-of-paradised? To be precise, the snowmobile is listing to the right at an angle of 60 degrees, my right leg is knee-deep in snow, and my left leg is wedged across the fuel tank on the other side. The guide helps me disengage. I bite the snow.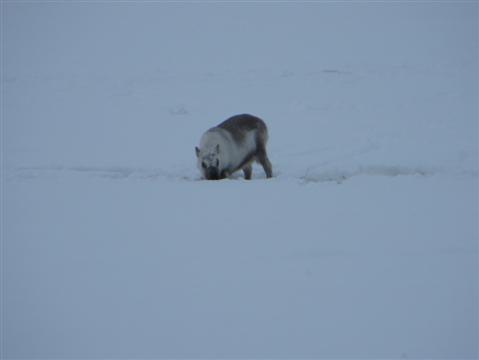 Reindeer, antlers shed, seeks plants under snow
And not a shot fired in anger. No polar bear in sight. Four hours later, back at snowmobile HQ, we meet another group who saw a polar bear from about 200 yards. But they went to the colder eastern coast where there are ice flows the bears need to search for seals. That's a 10-hour jaunt and costs over $500.
An ice cave up in the hills is only accessible by dog sled. This is more sedate - and without the nagging screech of the snowmobiles. I'm being drawn by 12 magnificent proudly bounding, wildly baying, abundantly crapping-and-peeing-on-the-go hounds.


Baloo waiting to be harnessed to sled
To be more exact, the guide and a fellow tourist are standing at the sled's controls at the back and I'm posted on the chassis, regally surveying the falling snow and white-out mountains at the head of a column of three other two-person sleds.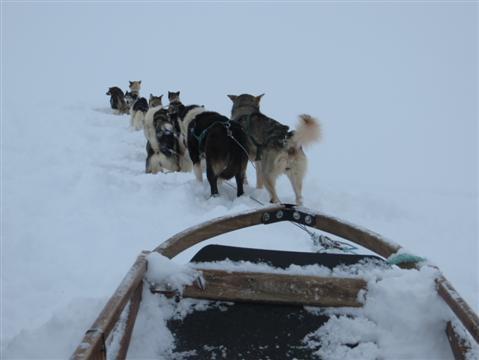 And we're off
Most comfortingly, I'm leaning on the gun case for any nosey-parker polar bear. I take over the controls for a thrill-packed stampede at 4.75 mph over several hundred yards. The Iditarod it ain't. Actually it's quite simple: you stand with your feet on the runners except when you press hard on the brake bar in between so that its teeth bite the snow while you shout 'whoa' to stop the charging hounds and embed a heavy red anchor .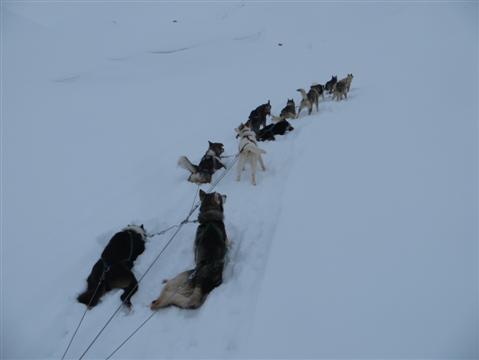 On our way
The ice cave stretches for nearly two miles into the entrails of a glacier, the centuries-old result of an underground river bed from summer snow melt. The opening is a small hole in a snow bank, barely much larger than a normal human body. We don plastic helmets and head lamps, slide down through the hole, and grab a rope to stop careening even further as we descend 60 more feet to a narrow cavern that twists between giant ice walls, their surfaces glistening with several feet of transparent depth.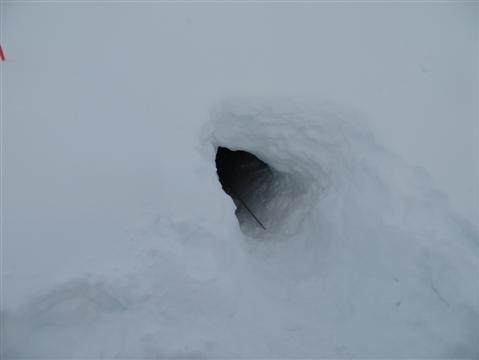 Entrance to the ice cave
Ice ribs give different musical sounds as you tap or rub your fingers across them like the keys of a piano. Above, tier after tier of ice soar to a roof adorned with swirling veils and chandelier-like formations, sparkling white and sometimes blue and orange as our headlamps pick them out.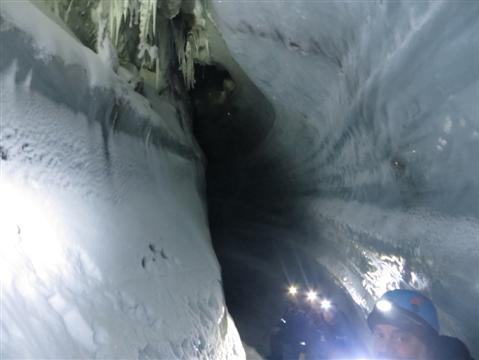 Inside the ice cave
The floor is of pure slick ice, a wonderful natural skating rink that we navigate with care and ease, all that is, except - yes, you've guessed it. Morosely I pick myself up from my supine position and hunt about for the helmet and lamp that have careened against a wall.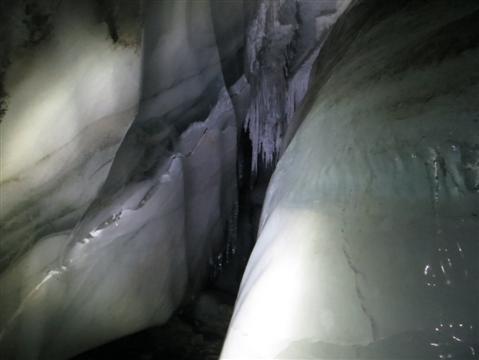 Deeper inside the ice cave
As for the cold. Well it wasn't. Thanks to global warming this year's winter temperatures were fully 20 degrees above the usual - in mid-March it was around 32 Fahrenheit (0 Celsius), except for the last day of a six-day visit when it got down to a decent 12 F, or -11 C. That was nothing to what I felt three years ago in April below the Arctic Circle in Iqaluit on Baffin Island, Nunavut, Canada. Then it was a cozy -13 F, or -25 C. With the wind chill factor it felt like -41.8 F, or -41 C.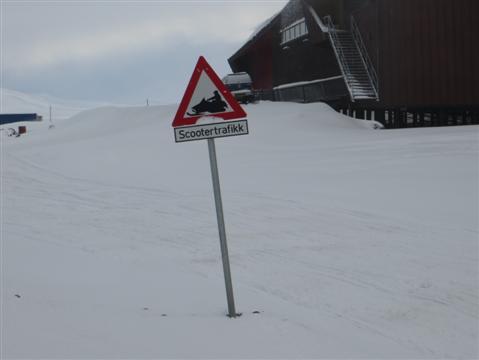 Who has right of way?
Apart from hunting the Northern Lights when the sun doesn't rise at all, the main winter event in Longyearbyen is the week long Solfestuka celebration to welcome the return of sunlight in early March, culminating with Solas Tilbakekomst, the day when the sun itself makes its first appearance of the year, poking for a few moments round the mountain ridge.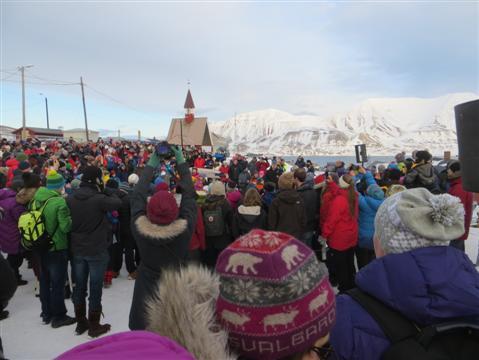 Townsfolk gather for sun's first appearance of the year
This year this included concerts by such musical luminaries as Norway's Dumdum Boys and Taliban Airways - with 12.46 P.M. on March 8 the witching hour, or rather moment. Virtually the whole town gathered on the little hill in front of the small church, a school choir sang, the countdown came: ti, ni, atta, sju, seks, fem, fire, tre, to, en...
And nothing! Clouds interposed themselves round yon snowy mountain crag, and all we could discern was a somewhat impotent aura.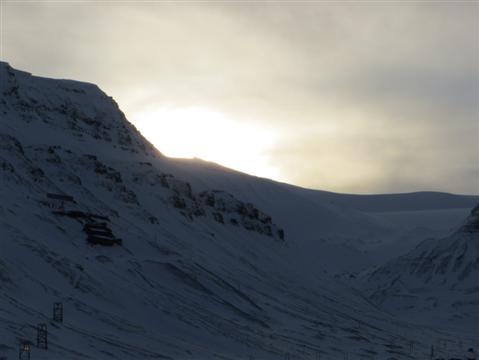 Who let the clouds out?
For a look into the future, though, a short way out of town, some 400 feet above the airport in a sandstone mountain, stands the Global Seed Vault, a man-made cave also known as the Doomsday Vault or Vegetarian Noah's Ark. There the world hopes to preserve global bio-diversity for posterity. Even if seeds in the wild die out, they will be able to be reproduced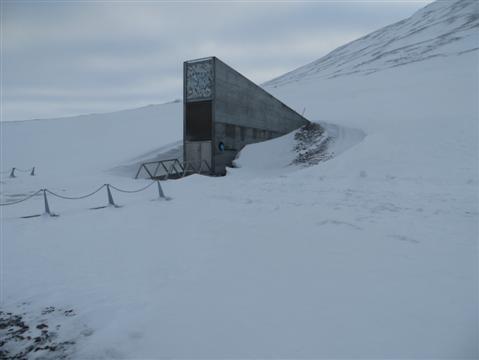 The Doomsday Vault
If the Greenland icecap melts the vault will be above the resulting flood, the permafrost keeps it nicely cool at a stable -0.4 F or -18 C with ample time to bring in artificial cooling if global warming nixes that, and there are no tectonic shifts so you don't have to worry about earthquakes.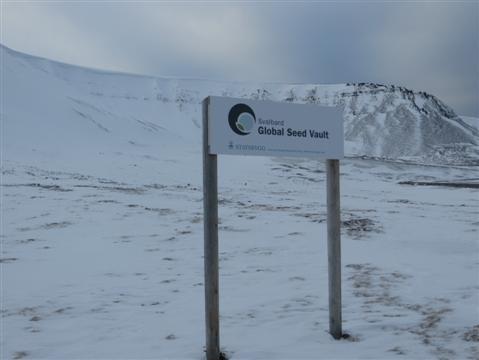 Speaks for itself
The vault has a capacity for 4.5 million different seed samples, with 500 in each, giving a grand total of 2.25 billion seeds. At present there are over 550,000 samples, 275 million seeds. At the top of a sloping grey concrete tunnel entrance driven sharply into the rock, little green lights sparkle on and off in some sort of logo design morse code, and its side proclaims Global Seed Vault.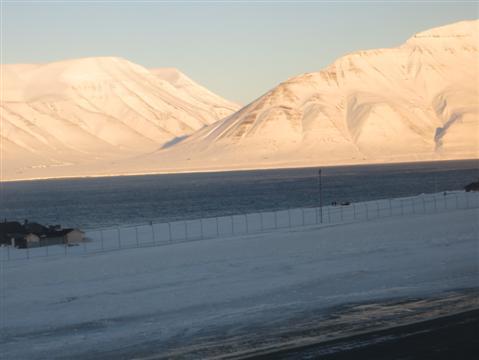 Afternoon sunlight across the fjord
Finally, never let it be said that life is dull in Longyearbyen. There's a nightclub at weekends in a community building, cinema three times a week in the cultural centre, and several pubs. There's also a 360-student university centre in a long angular modernist construction of steel and copper for advanced Arctic studies.


Sunset over Longyearbyen
There's even a section of town called Beverly Hills, but don't expect all the accoutrements of 90210. It consists of a few two-storey box-like wooden houses on a ridge a few score feet above the rest of town. But the view is great across the dark grey waters to the spiked mountains on the far side, and you can hear Arctic fox, snow white and not much bigger than a large cat, calling in the distance.


Night falls at Longyearbyen
Then nobody comes to Svalbard for the social life.