Enough of 'equivalents' already. Lonely Planet deems Monemvasia, on a little island off the Peloponnese's third dangling tentacle, 'the equivalent of France's Mont St-Michel.' But this Greek fortress town is vastly different from the picture postcard fairy-tale abbey and village off the Normandy coast.
For starters, from the land side it presents a gigantic grey and orange rock face soaring starkly 330 feet into the sky, more like Gibraltar even if the latter soars even more starkly to nearly 1,400 feet. Anyway, 'equivalents' and comparisons often diminish rather than complement a site's own attractions.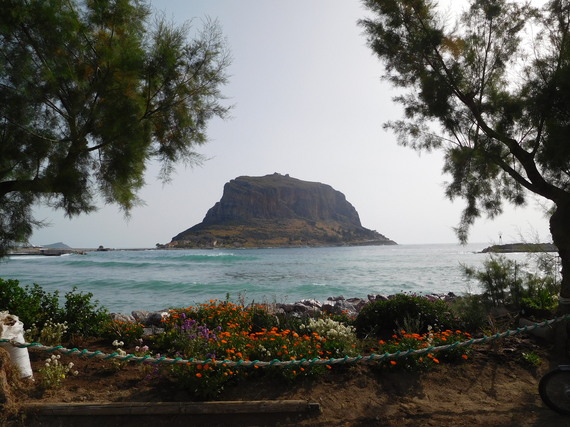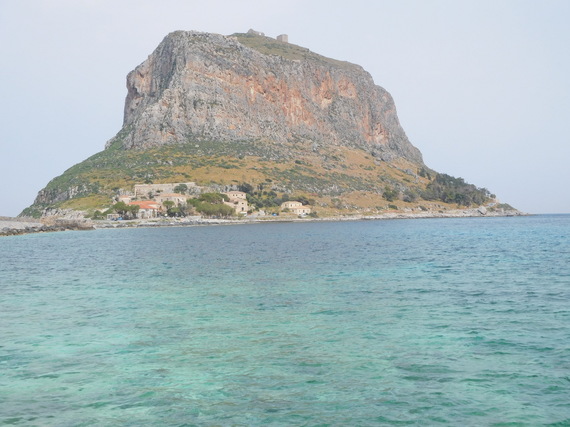 To get here from Areopolis in the Mani I have the pleasure of passing through Gythio, the port of ancient Sparta and love couch of Helen of Troy, the face that launched a thousand ships. According to some, the little islet of Marathonisi in the small harbor, is Homer's Cranae where Paris consummated his lust for Helen, wife of Sparta's King Menelaus.
And what a to-do that unleashed. Never mind the Trojan War, Achilles, Hector and all that jazz. For Yours Truly it meant two years reading all of Homer in the original at university.
I'm having no more luck today. Forget the face that launched a thousand ships. The old crone smirking at me from a quayside café looks more likely to launch a thousand shits.
OK, back to Monemvasia. All you can see from land are a couple of restored buildings on the summit and a few modern buildings at its foot, the walled town being on the side nearest the sea.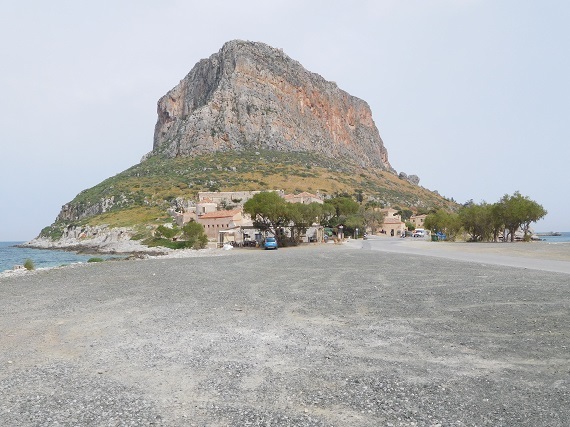 It didn't begin life as an island, either. It was just a cliff promontory until an earthquake severed it over 1,600 years ago, and it's now joined by a little causeway.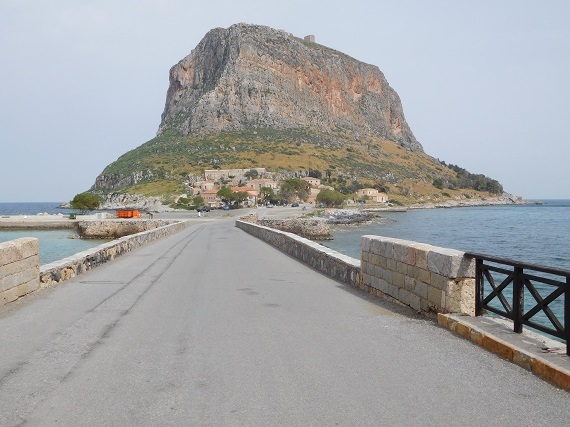 You can approach the walled entry by road, or if you're in the utter nutter vein as I am today, you can scramble up and down a brambly trail on the hillside, trying not to break your neck.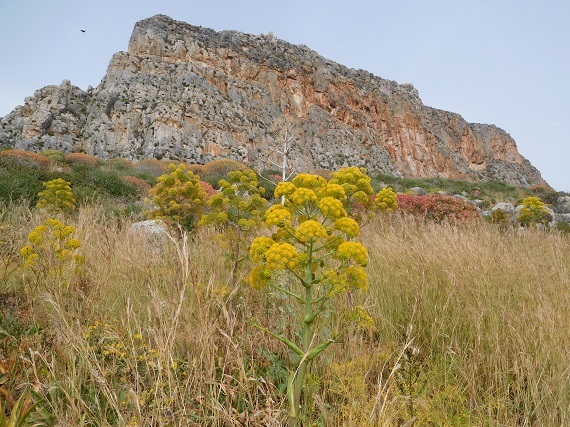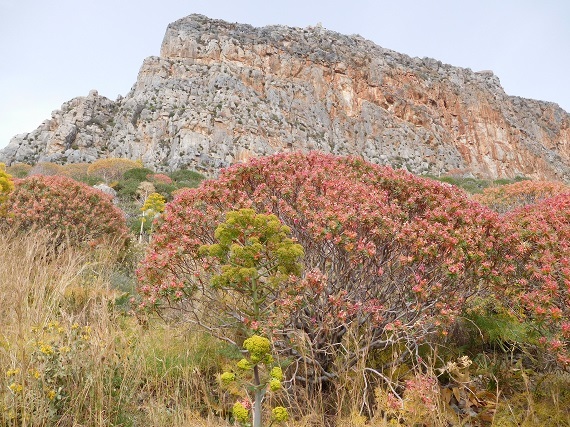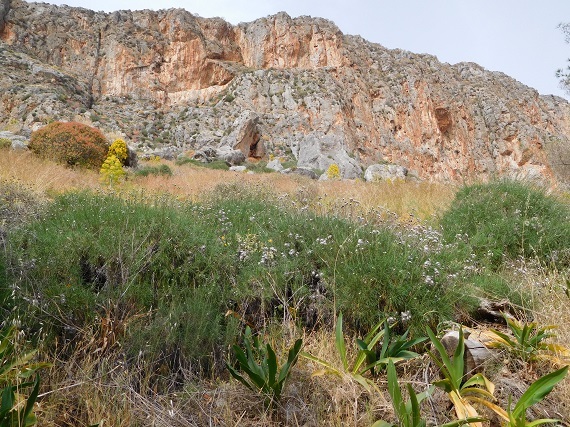 A large cave high in the rock face, with two slits above it, looks like a petrified version of Munch's Scream minus the hands - which is what I'm mimicking as I stumble, with supreme elegance mind you, over a rock into the golden gorse.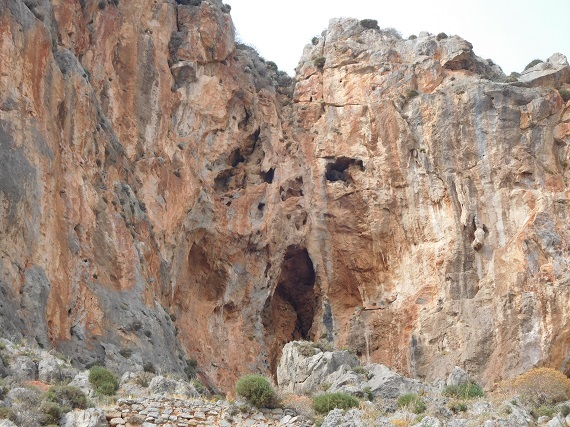 Once inside the walls, the narrow cobblestoned alleys and steep stairs of the lower town lead to a collection of sturdy stone houses and domed churches clambering up the slopes, their beauty enhanced by a full variety of bright spring flowers.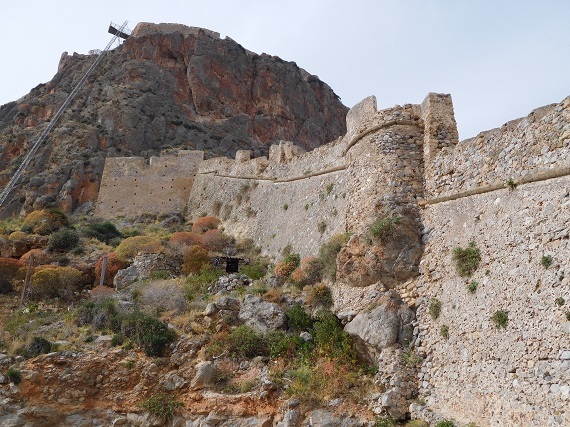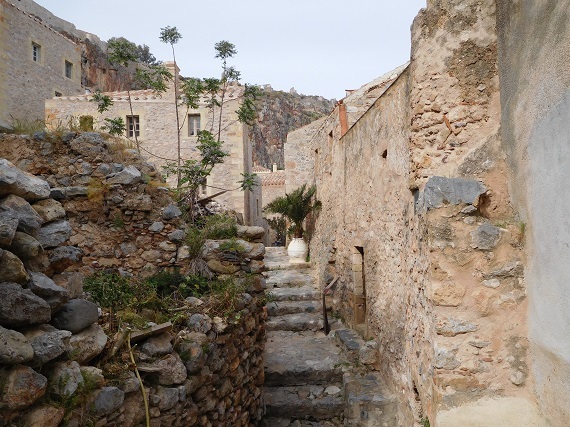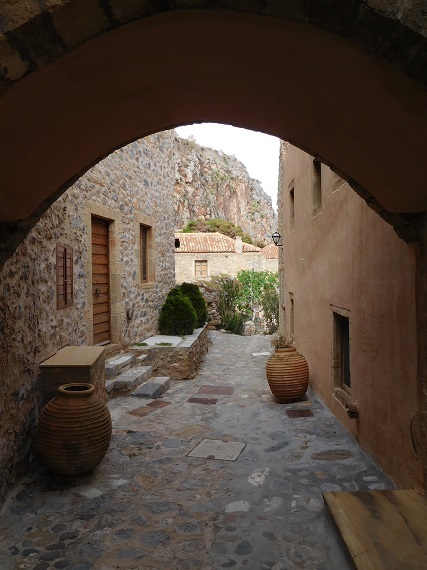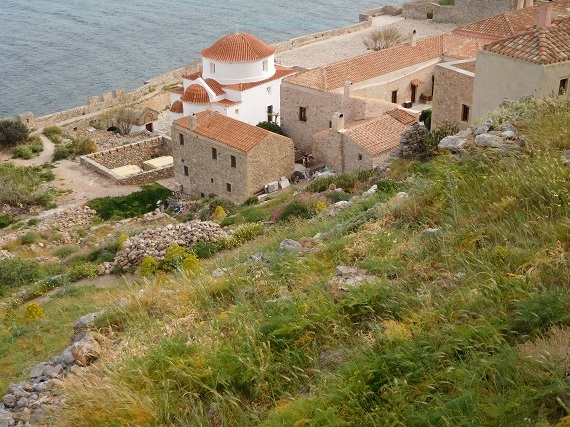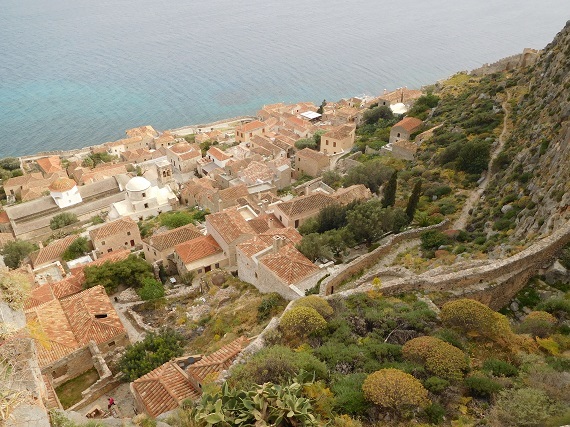 The town was founded in 583 by Greeks fleeing invading Slavs and others. It reached its heyday in the 10th century as a trading centre, withstanding Norman and Arab attacks until a French gent called William II of Villehardouin, prince of the Latin principality of Achaea, besieged it for three years.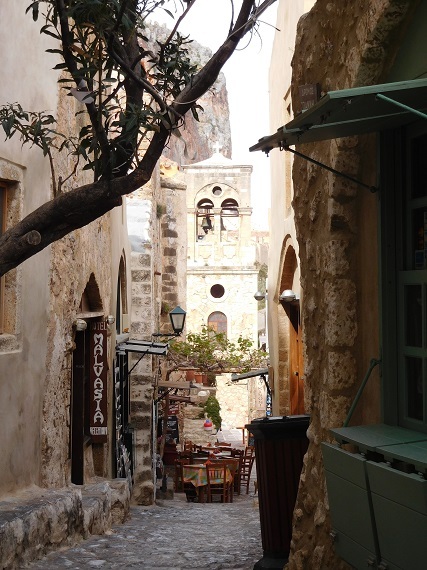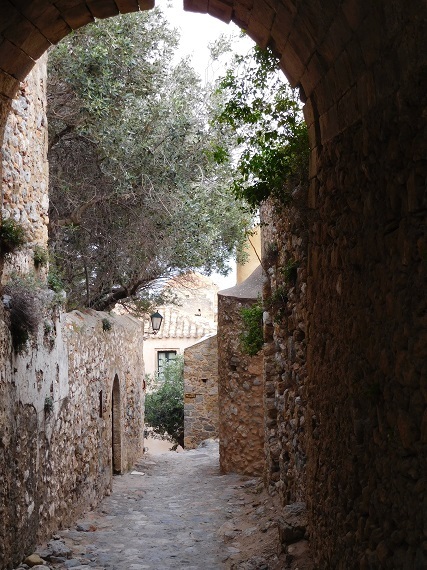 He captured it in 1248 before being captured himself by the Greeks 11 years later, when Byzantium retrieved it as part of his ransom. The Ottomans then came along to make their contribution.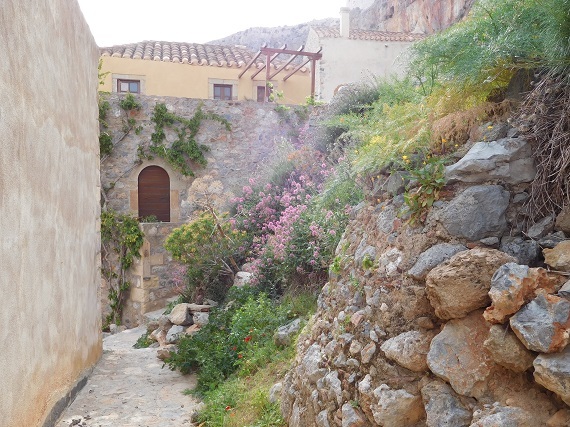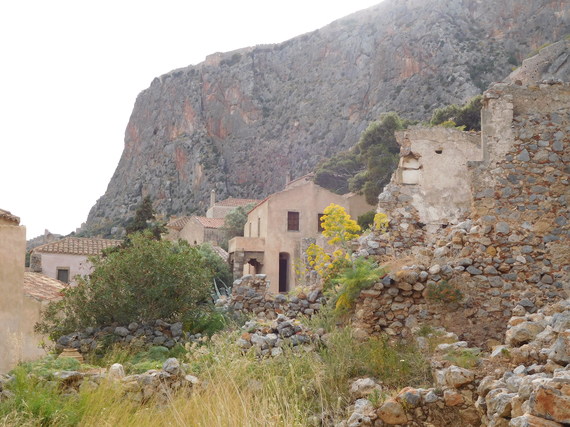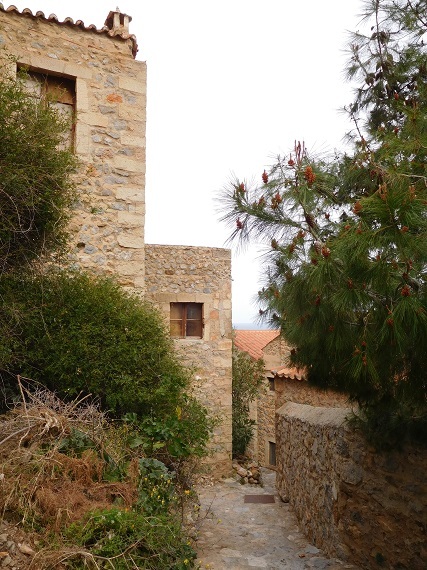 The numerous small churches, many with red-tiled domes, initially date from as far back as the 6th century, though the majority were founded in the 10th-12th centuries, with continual additions and restoration work thereafter.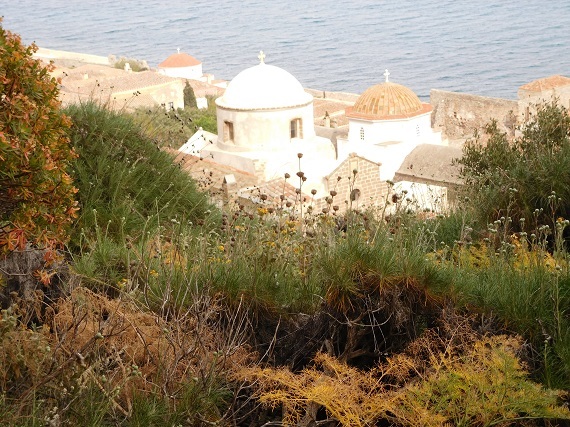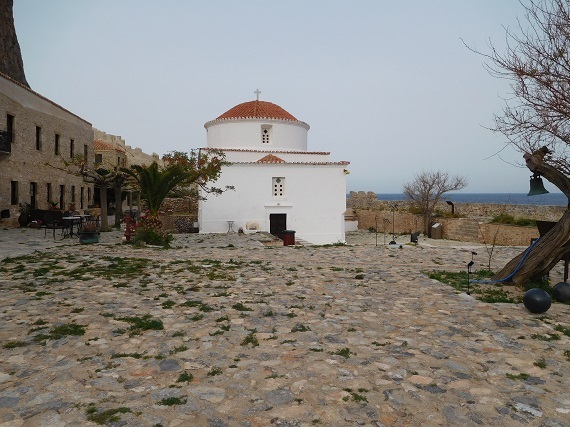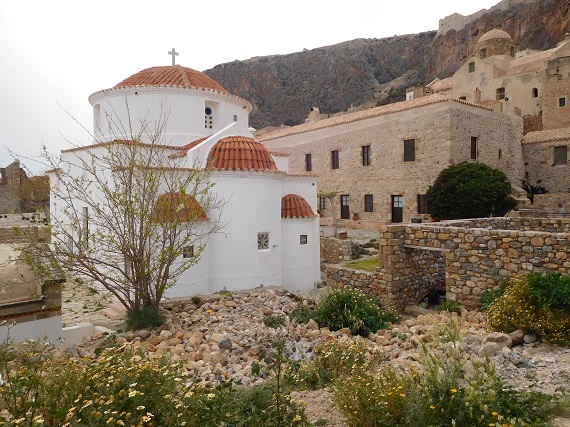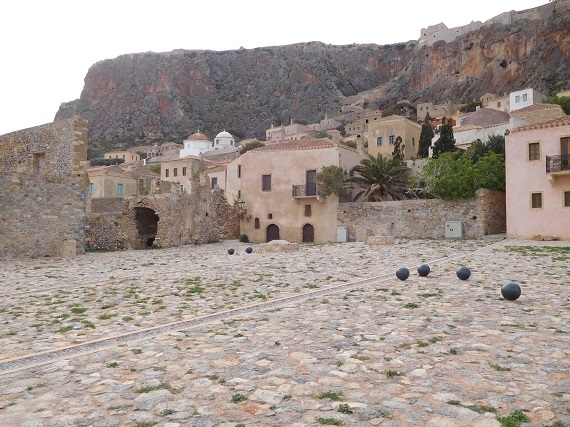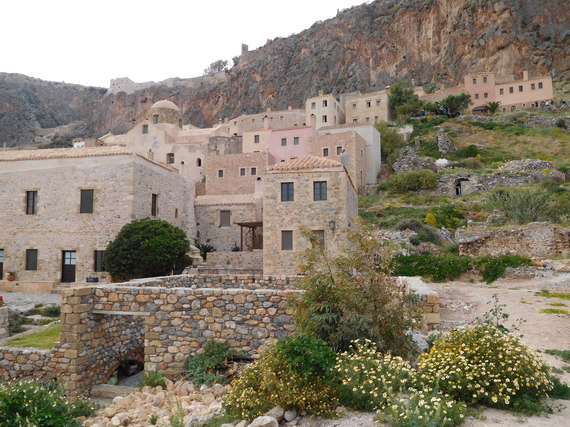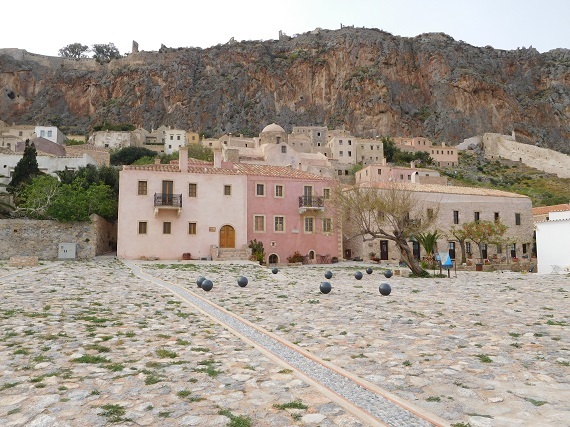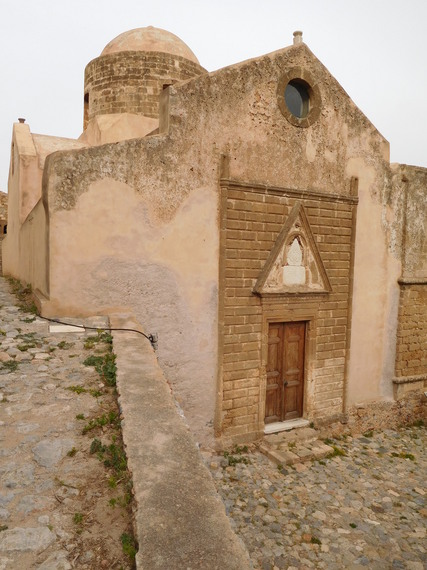 Restoration is still in full swing, especially at St. Sophia in the upper town way up on the summit. You can't visit it at the moment.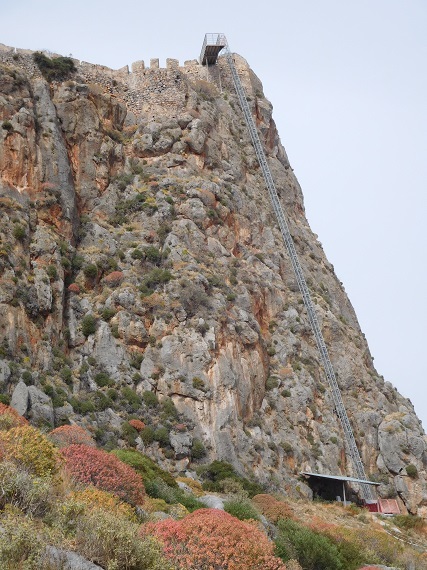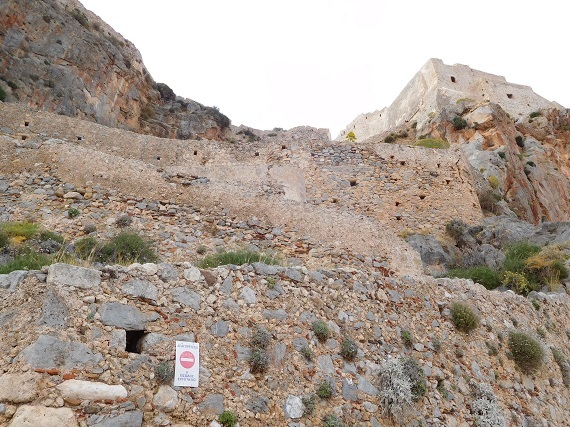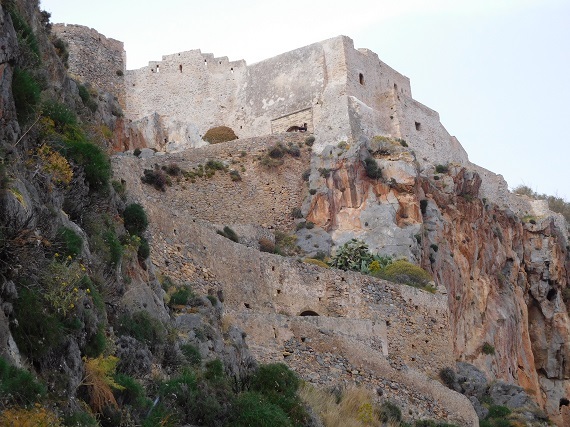 But you can climb up the steep, twisting, slippery-smooth steps to the gate, with a splendid panorama of red-tiled roofs, azure sea and brilliant spring flowers spreading out beneath you - and a good chance of breaking your neck on the slippery-smooth steps on your way down.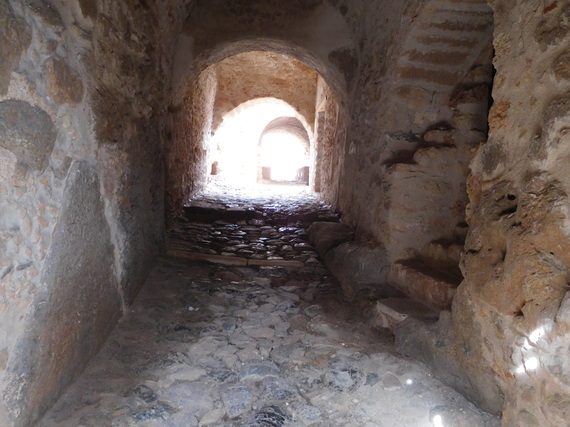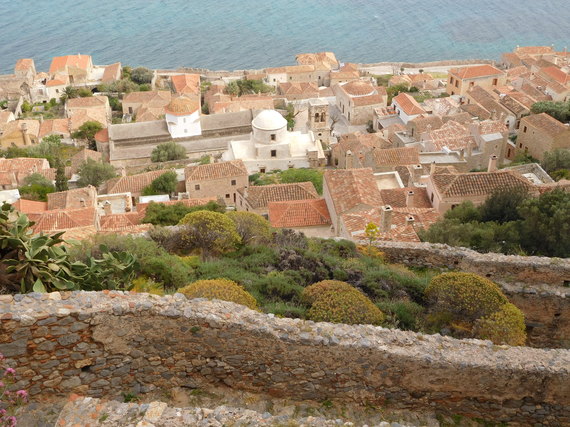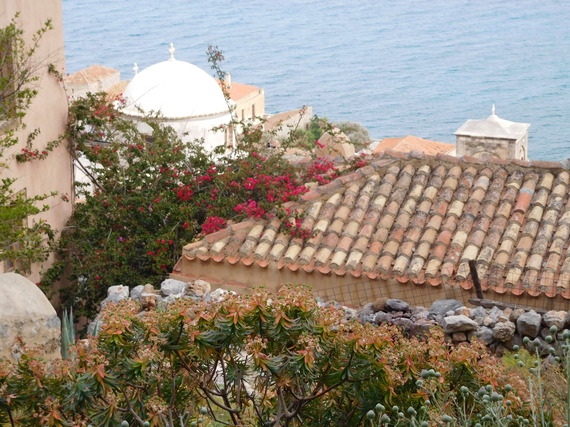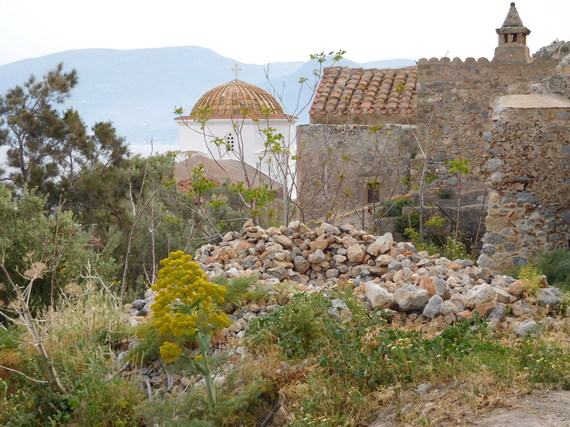 Back in the lower town, tourist commercialism has taken over. There seem to be more wall signs with arrows directing you through narrow lanes and up and down steps to wine tastings, hotels, boutique lodgings and restaurants established in restored houses than to actual churches.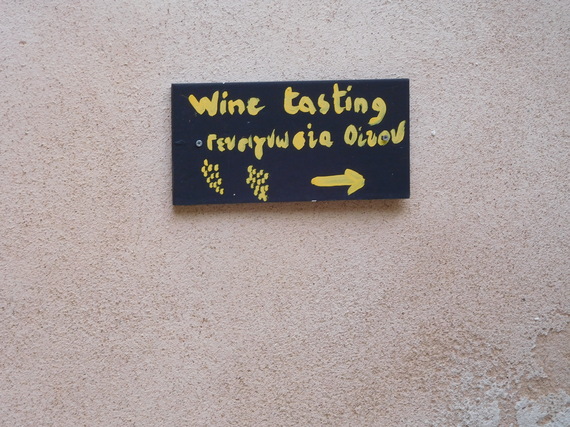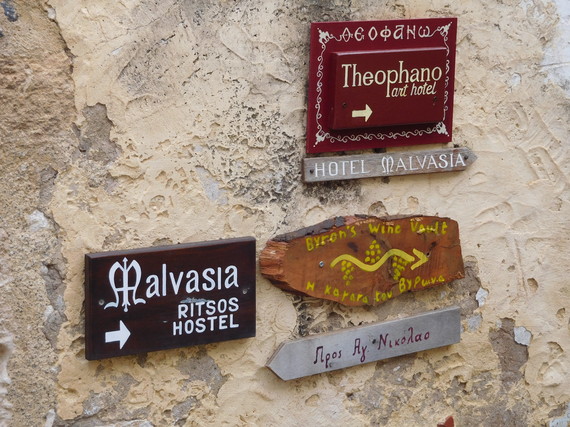 The most famous is Christ Elkomenos Church, Christ in Pain, whose bell tower dominates the small town square. Built in 1697 on the site of a 6th or 7th century church and frequently restored after invasions and pirate raids, it contains Byzantine and post-Byzantine icons.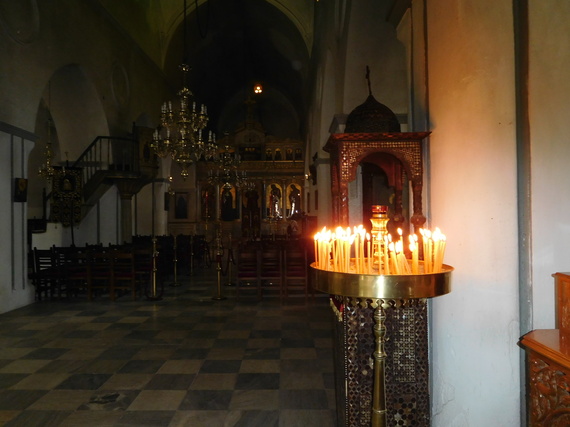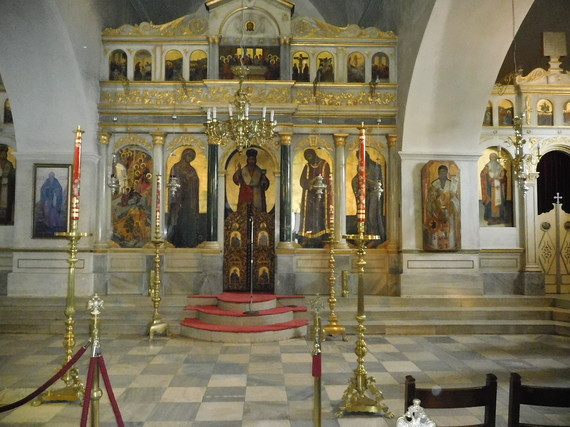 Though it's early-spring off-season, columns of pleasant but rowdy Greek school children are milling around, gobbling up their heritage.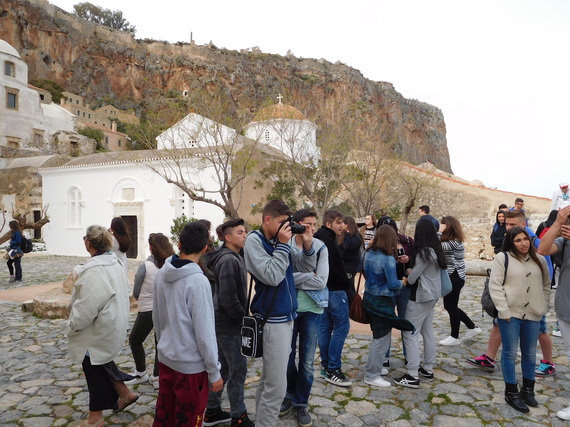 This is absolutely ridiculous, but Muggins does it yet again, embellishing my impeccable record of bargaining up instead of down. I'm sure the driver said 70 euros for a trip down the tentacle - but with a few judicious words in Greek, a couple of grimaces, a few more words in English, and three hand gestures, I've managed to push it up to 80.
But we're off - in a chapel on wheels. A bright ruby cross is waving in front of my eyes from the rear-view mirror; a silver one, too; a transparent glass one; a couple of strings of worry beads; and a slew of other reliquaries. There's an icon of a black-garbed Orthodox priest with his stove-top headgear, there's even an icon of a priest on the car key - but I'm still not converting.
The driver crosses himself at least three times every time we pass a church - which is early and often. Now he's crossing himself four or even five times when we're hairpinning upwards. I can't tell why.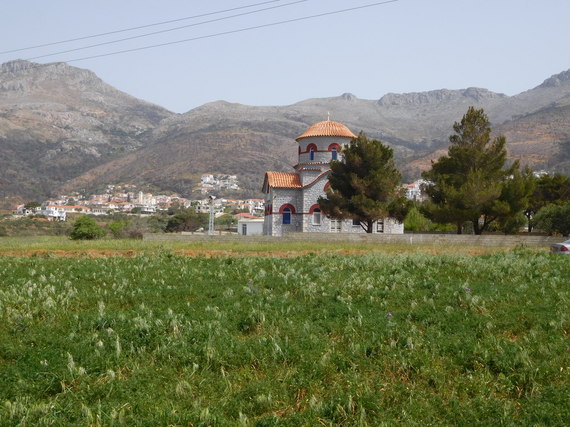 At first I think it's for the myriad roadside toy mini-church memorials to the less circumspect among our fellow drivers.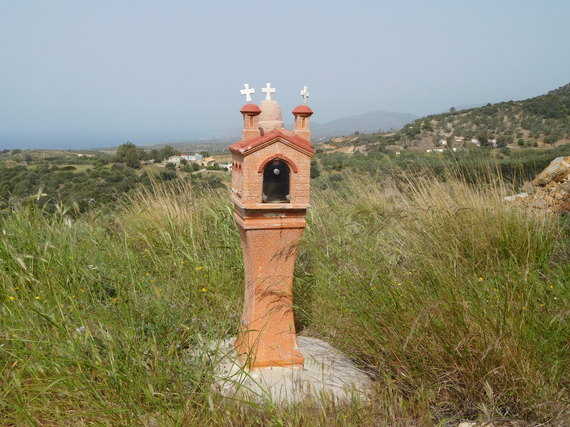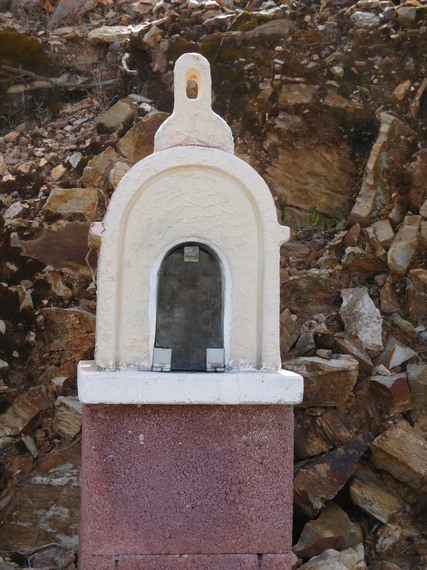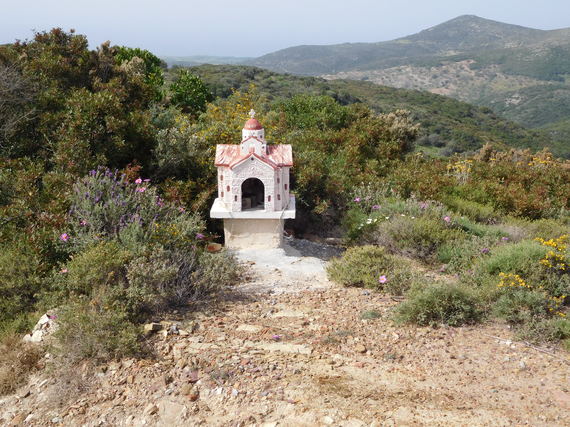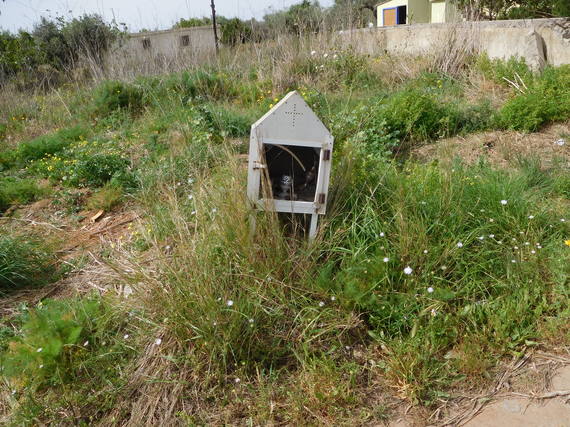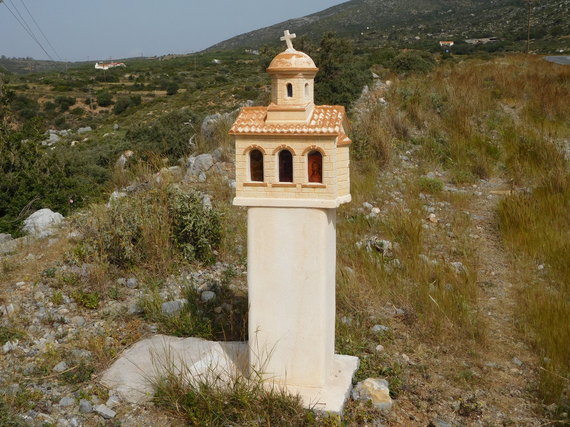 But no, he's doing it where there aren't even mini-church memorials. Ah, perhaps he's sending coded messages to partisans in the mountains. But there are no partisans in the mountains - they went out with the end of the war 70 years ago.
Perhaps it's just a nod to Jesus because he's negotiated yet another hairpin without needing to have a mini-church built for us.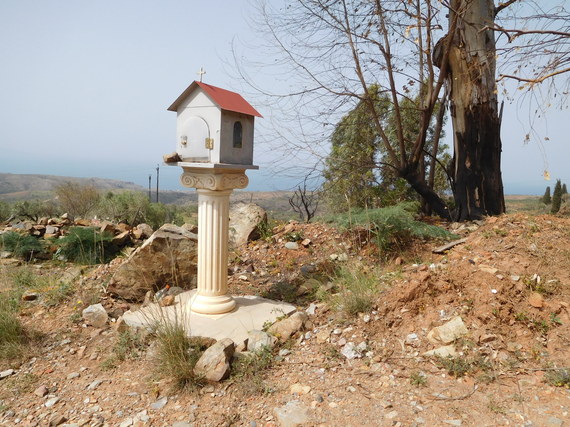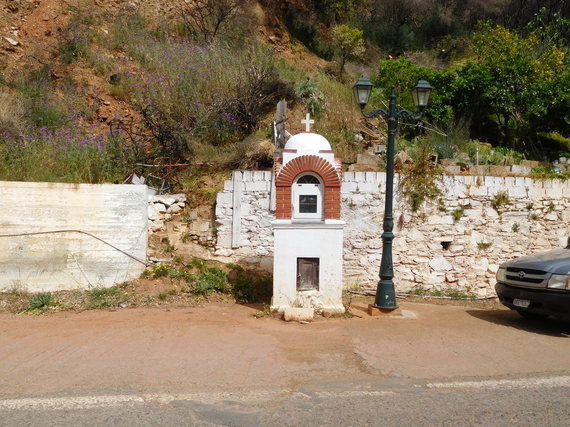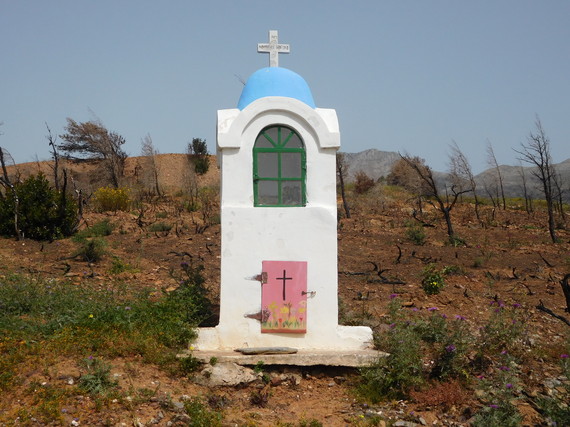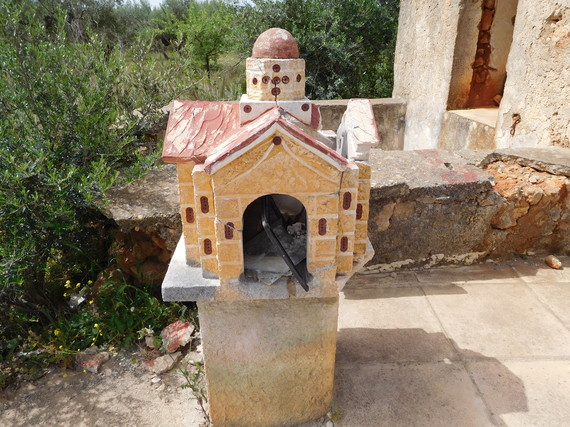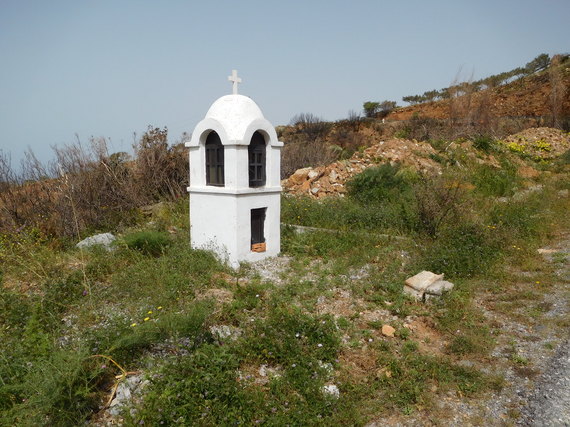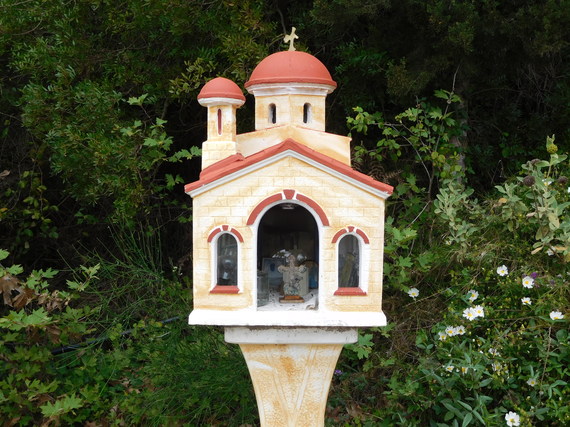 Inside the mini-churches are small icons, chalices and other religious artefacts - and bottles, some containing a liquid looking like honey.
Those in one look like beer bottles. Were they the cause of the crash? Are they gifts to accompany the dearly departed on their journey across the River Styx into the underworld? Later enquiries reveal it's nothing so picaresque. It's for oil to keep the memorial lights a-glowing.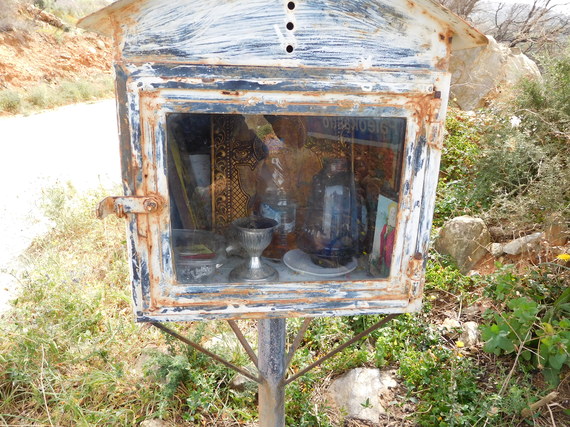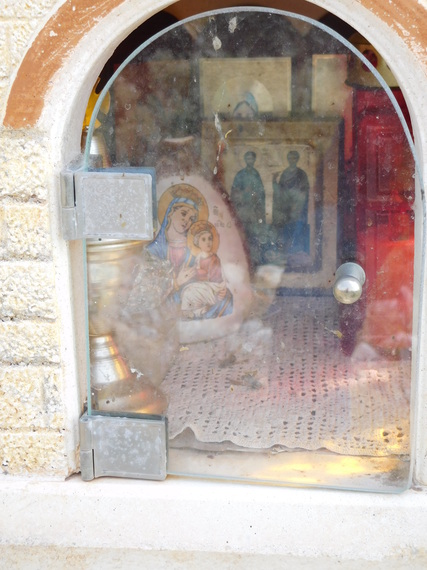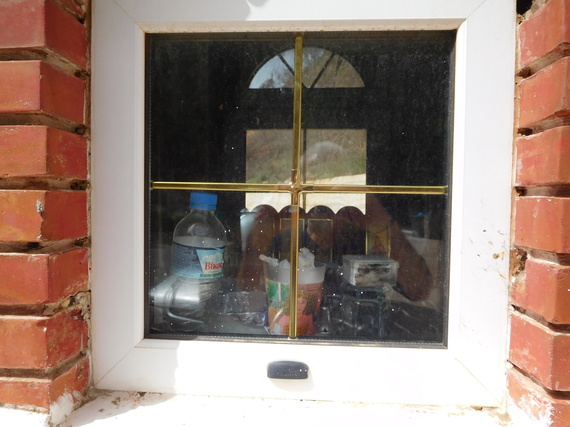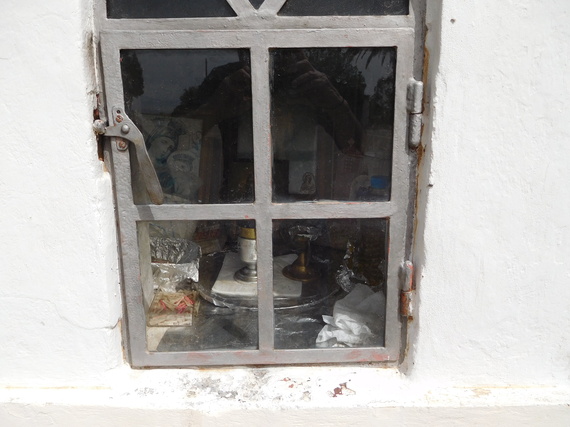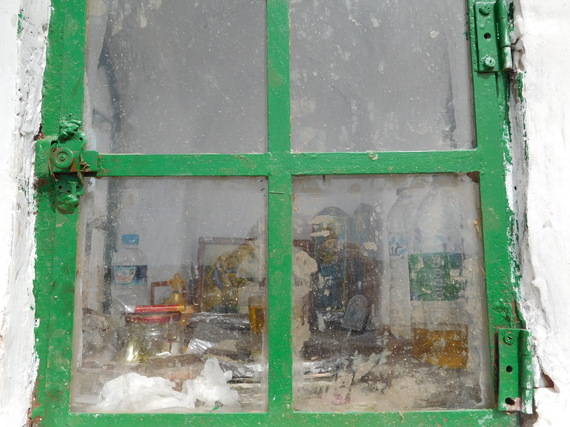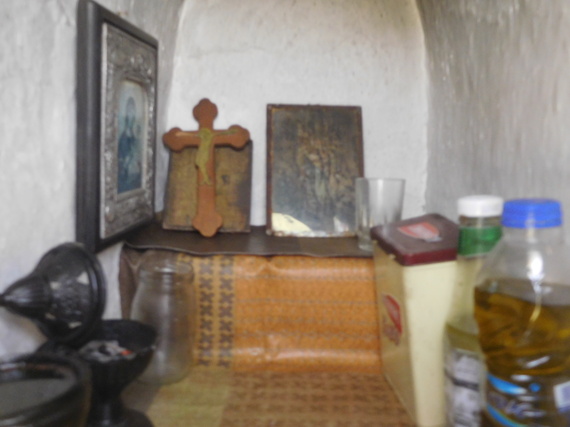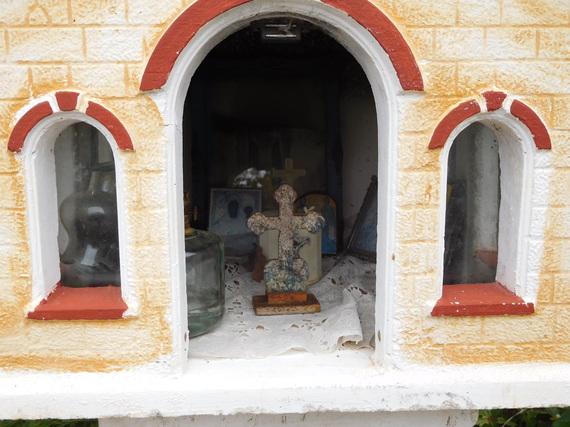 The landscape is craggy, rugged, wild, but there's sufficient vegetation to make it pretty green - and of course there are all those spring flowers in impossible shades of yellow, purple, violet, pink, carmine. Red-roofed villages with red-tile domed churches cling to the steep hillsides.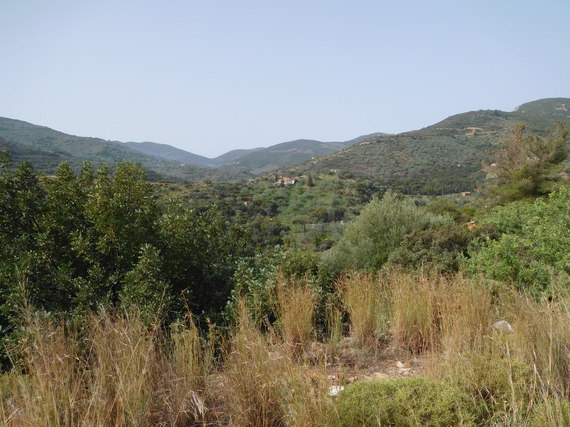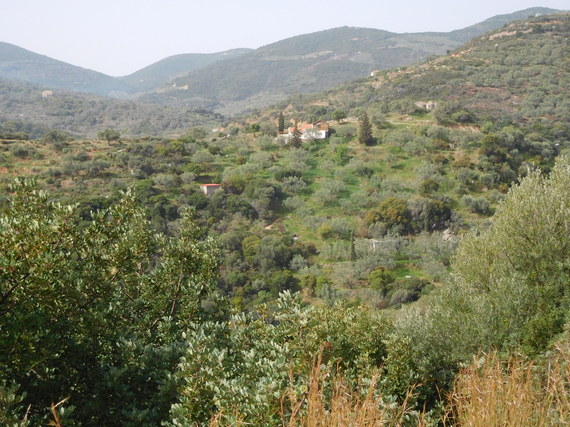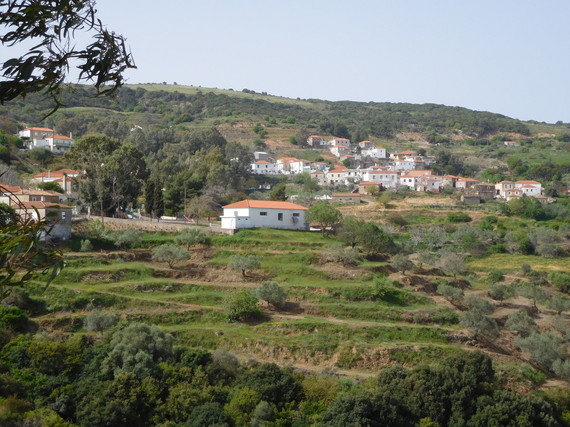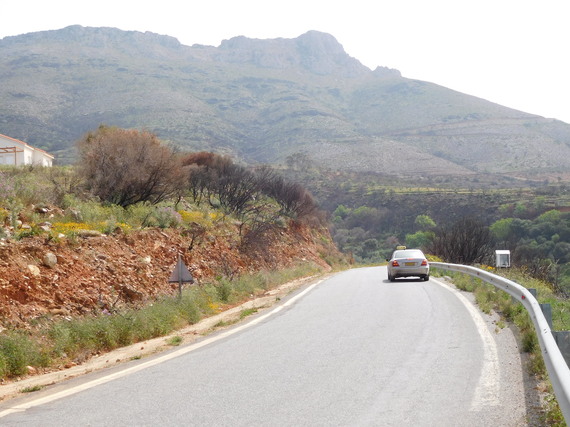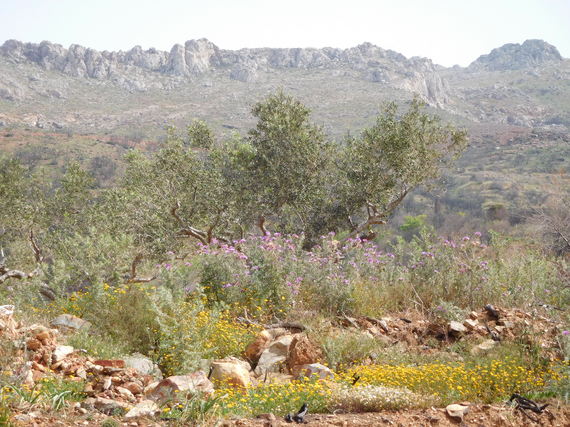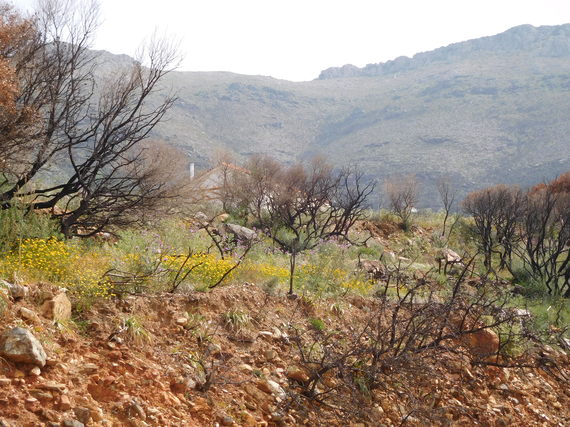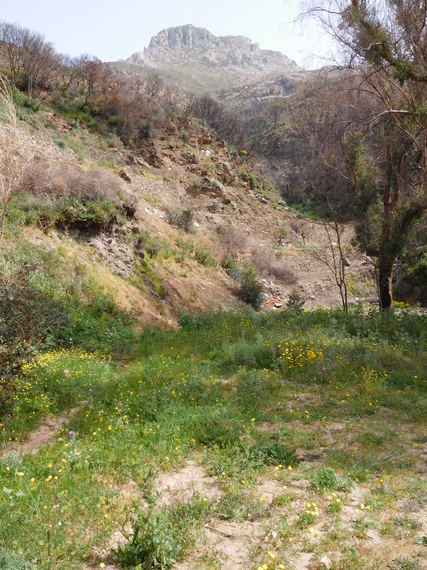 Calcinated trees bear witness to a forest fire on the west side.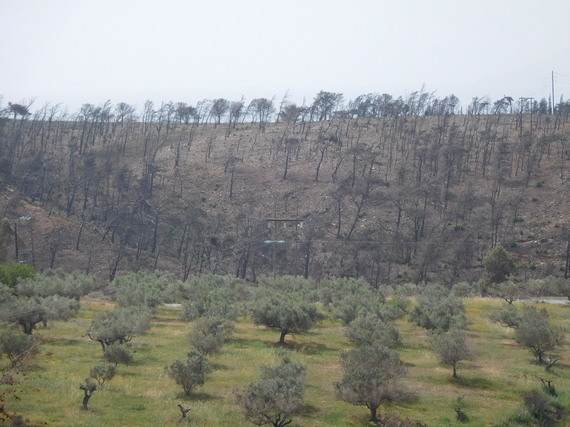 The clouds come down and we spiral up into the mists - magical.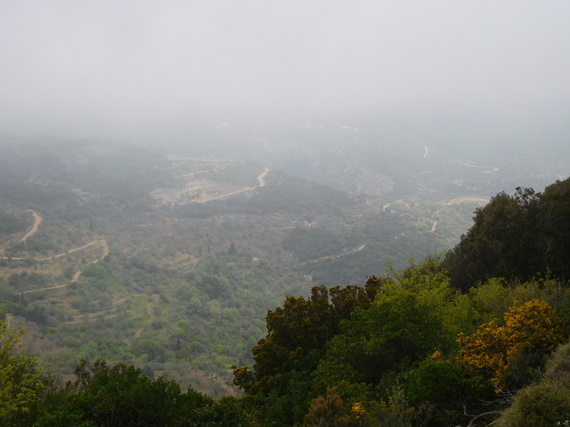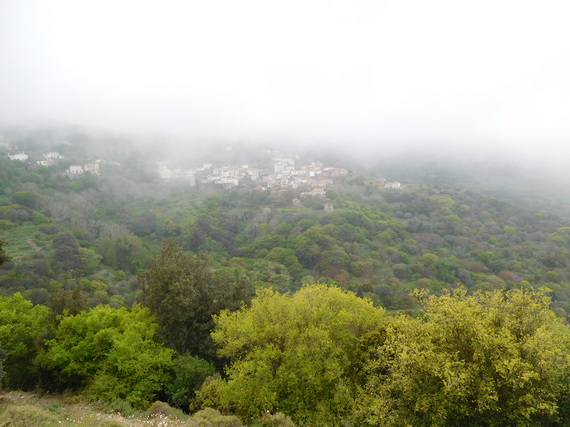 Back on the east side the sun disperses the veil, the valleys glow green, the seas glints blue, and we return to Monemvasia.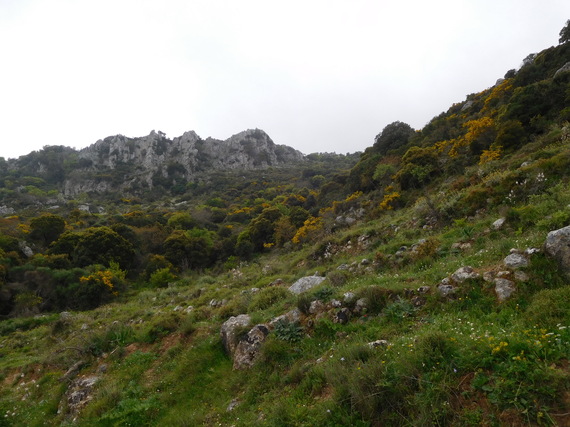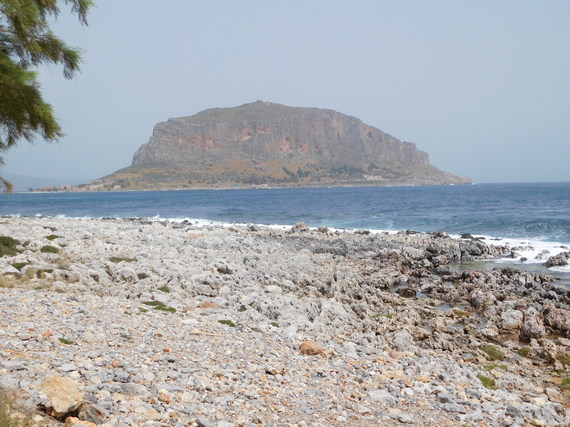 Just outside, there's a splendid view of the rock and the fortified walls on the far side.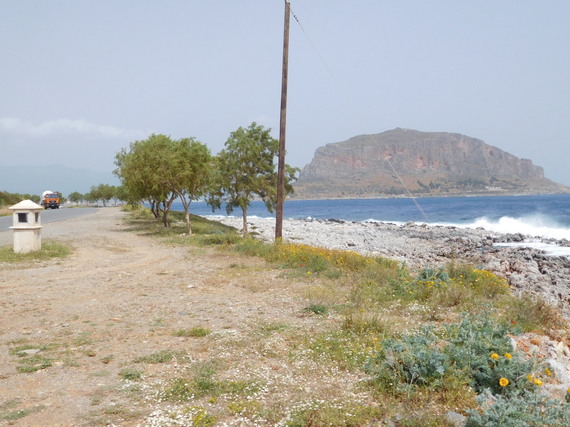 On the shore yet another mini-church memorialises yet another driver, this one admiring the rock instead of the road.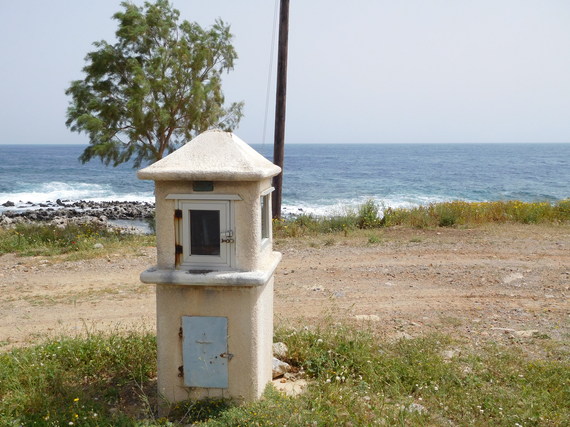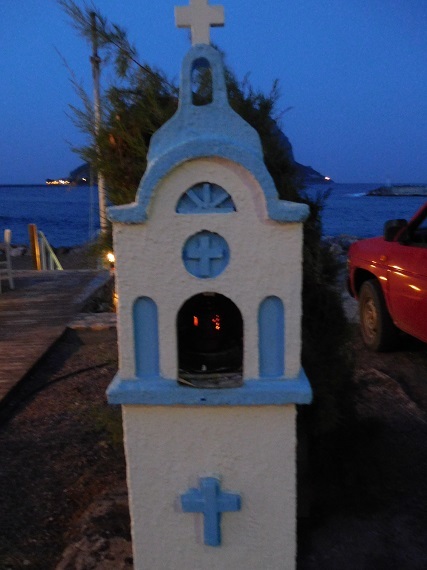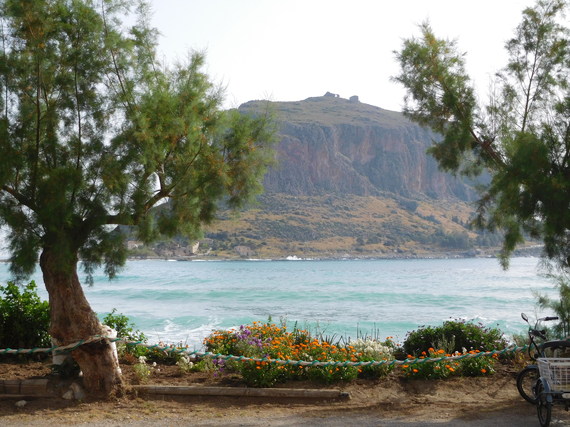 [Upcoming blog next Sunday: The World's So-Called Best Beaches]
______________
By the same author: Bussing The Amazon: On The Road With The Accidental Journalist, available with free excerpts on Kindle and in print version on Amazon.
Swimming With Fidel: The Toils Of An Accidental Journalist, available on Kindle, with free excerpts here, and in print version on Amazon in the U.S here.