Some of the best advice my dad ever gave me was, "Be kind to your children, because some day they will be bigger than you."
I laughed, thinking he was being funny, making a joke about being able to beat up the old man. But my dad stopped me and explained that, no, they would be bigger; that they would do things I had never done and things that I could never imagine for them.
I'm beginning to understand. The youngest of our two daughters graduated from Palo Alto High School last week. Amid the speeches from students about their place in the cosmos and what they'd been through and what they had ahead, my father's words came back to me time and again.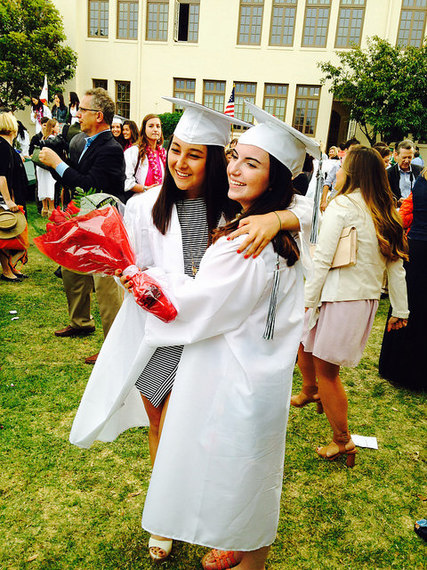 Yes, I had graduated from high school -- and yes, I had always assumed Riley would graduate from high school, too. But Riley's high school is not the high school I went to. When I went to high school, you kept your nose relatively clean, showed up regularly, paid some attention in class and did your best. You didn't study for hours on end, day after day. You didn't attack the college selection process like some sort of presidential campaign. And picking a college didn't involve a potential investment of a quarter of a million dollars. You didn't stress about making sure you were serving the broader community in meaningful ways. You didn't apply to a dozen and a half universities (which Riley did not, but it was not unheard of among her classmates).
And now Riley is finished with high school, a place and a time in her life where she found her passion and brilliantly powered through the things that were not her passion, but were nonetheless necessary to learn. She made good friends, while keeping good friends. She worked hard, but found plenty of time to embrace the joy in life and she always looked after other people. She became the kind of friend that I would certainly like to have, but more importantly, to my dad's point, she became the kind of friend I'd like to be.
Her passion? That would be theater. When she was a freshman, she auditioned for "Much Ado about Nothing." She was not selected for a part. She was disappointed and I was disappointed for her, but I figured the letdown would fade. What did I know? Riley didn't let it fade. Instead, she went to the theater teacher and the play's director and told her that she'd like to audition again; that she didn't think she'd done her best; that she knew she could do better.
Appealing to the director wasn't my idea. In fact, it's probably not even my nature. It wasn't my wife, Alice's idea. It was Riley's idea and the director apparently liked it, because she gave Riley another shot. And Riley landed a role, a small one, but a role. She was in a play.
She's been in plenty since. She's progressed steadily. She's brought me to tears while performing. Sure, because I'm her father; but also because of her talent, her persistence and her courage.
She sings. We don't sing. The best I can do is sound like a bag full of cats trying to free themselves and I would never sing in public. Not even church. But Riley sings and she sings beautifully and her smile radiates the whole time, as if standing on stage singing is where she belonged all along.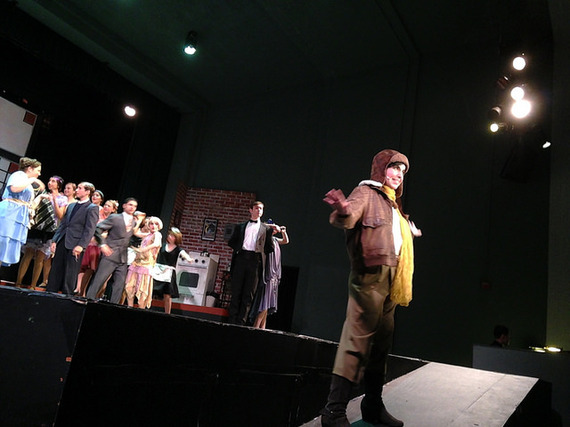 I don't know where this theater thing came from. We were never theater people. Our boxes were more likely to be at the ballpark than at the Orpheum. I doubt I was very encouraging early on as Riley explored her interest. I don't think I was discouraging, but I saw acting as a hobby, an extracurricular that kept Riley busy, maybe even too busy at times.
I caught on. Theater was what Riley did. It was tremendously important to her. It was something she'd like to do for a living, even though she realizes the long odds involved there. Riley knew that she was going to act and she'd be damned if anybody was going to stop her.
The morning that Riley graduated from high school, her sister, Bailey, flew in from Chicago, where she goes to school, to surprise her sister. The surprise worked and the reunion was joyous and exhilarating. Flying in for the graduation was Bailey's idea. It was on her dime. It was a thoughtful, selfless, beautiful gesture. The kind of thing I'd like to do.
Bailey has blossomed brilliantly at college. Knocking it out of the park academically, holding down a job, helping run a dance troupe with which she performs and embracing the independence and added responsibility that college and being on her own bring.
I was a mess when Bailey left for college three years ago, a puddle of sadness and longing. I wrote a column about it for the San Jose Mercury News for which I talked to a family therapist, who said essentially that I was having trouble shaking the image of Bailey as a little girl who needed a lot of help. Moving on is good for kids. It's what they do. It's what we all did.
I did recover relatively quickly, helped in large part by Bailey's early and impressive success. Now, I'm starting down that messy path again, realizing that Riley will be leaving for Muhlenberg College in Allentown, Pennsylvania, at the end of August.
She has a lot ahead of her. Her life will evolve and her passions might change, but she has the basics down pat. I will miss her like crazy, but I know that eastern Pennsylvania is getting a real keeper.
I'm pleased for the role I was privileged to play in helping her find the tools that she'll need to be all right. And I understand and appreciate how big a role that man who gave me the parental advice had in putting me in a place where I was able to help Riley along.
Photo of graduates Riley Cassidy and Sydney Franz and of Riley Cassidy on stage by Mike Cassidy.
Mike Cassidy is the storyteller at BloomReach and the father of two.