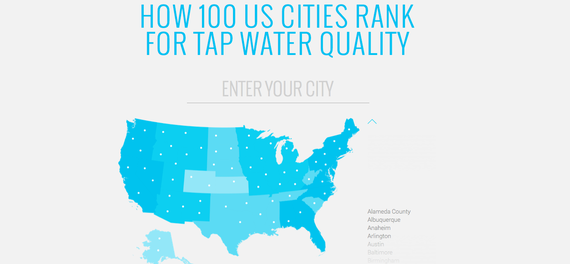 We all know the value of hydration. Drinking water lubricates our muscles and skin, and gives our brainpower a boost. We know we should hydrate throughout the day, and especially before and after exercise, and post-caffeine. Next time you take a sip, stop and think: What's in my water?
Did you know that the majority of U.S. cities are home to contaminated water sources?
We created this infographic that ranks the drinking water quality in 100 U.S. cities. Compiled with research from the Environmental Working Group, the ranking methodology is based on 3 factors:
1. Total number of chemicals detected
2. Percentage of chemicals
3. Highest average level of pollutants
Our list is comprised of 100 U.S. cities with a population greater than 250,000. Topping off the list with the best quality drinking water is: 1). Arlington, TX 2). Providence, RI and 3). Fort Worth, TX. The worst three cities for water quality are: 100). Pensacola, FL 99). Riverside, CA and 98). Last Vegas, NV.
Learn more and check out the full, interactive infographic here.