Alicia Keys, Kim Kardashian and Lady Gaga are alive!
The celebrity trio, along with Usher, Justin Timberlake and other celebrities, were resuscitated by a $500,000 donation from billionaire Stewart Rahr, a pharmaceutical distributor worth a reported $1.9 billion.
When Keys, Kardashian and Gaga fainted from the social media sphere, using publicized "digital deaths" in a concerted effort to draw attention to Keys' charity "Keep A Child Alive," it also gave me pause to wonder why branded individuals and institutions don't monetize their social media platforms more often.
Judgment Error
In this case, however, there seemed to be an error in judgment regarding the value of such celebrities disappearing from the social networking domain.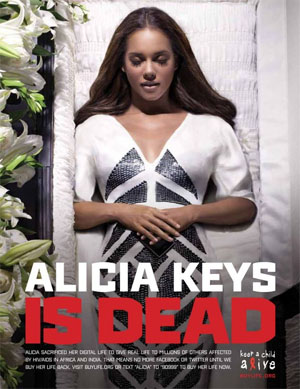 Alicia Keys feigns death in a poster publicizing her departure from digital social media until her charity, "Keep A Child Alive" raised $1 million in donations. The stunt began on Nov. 30, 2010 and reached its goal on Dec. 6.
At first glance, it appeared the publicity stunt of "killing" off a handful of top entertainment celebrities from social networking spheres would easily garner $1 million in a day or two. The stars are A-list. The publicity was broad. The execution was flawless. Lady Gaga alone has multiple millions of devoted followers. Add in multiple celebrities with legions of loyal fans and this was seemingly a recipe of quick and easy success.
But, after the first 24 hours, the flow of dollars -- driven by $10 donations submitted by mobile phone users -- began to slow. And that became a catalyst for fodder.
What happened?
Thanks to a generous contribution from Mr. Rahr, the social network fundraising experiment ended a week after it started -- but it only reached the halfway mark of its million-dollar goal. All those household name celebrities managed to convince only 50,000 people to give $10 to a worthy charity. Yet they reached tens of millions across America.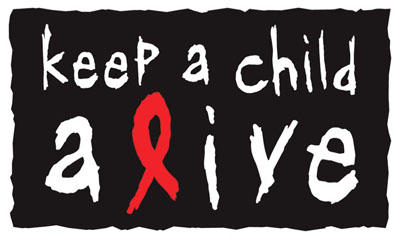 Does that mean the vast majority of fans of celebrities are willing to pay for performances, but unwilling to pay for the voyeuristic entertainment garnered from staring at their Twitter feeds?
Does it mean that fans of celebrities are selfish and unwilling to spare ten bucks to assist the efforts being made to save the lives of children in desperate need?
Does it mean some celebrities over-value the fan perception of their involvement in social media?
Celebrity 'Fun'-raising
The apparent mistake made in this stunt was the assumption that the celebrities' presence and arbitrary engagements on such social platforms are so valuable that fans will pay to ensure their favorite celebrity rises up from the social networking grave to feed the flock of hungry voyeurs their daily rations.
The assumption was not actually wrong. Just over-priced... for this particular stunt.
Do you believe there are better opportunities for branded individuals to capitalize upon social media and social networking spaces? I think there are.
Monetizing Social Media
Here are a couple of ideas I think would have fared better and raised more money in quicker fashion than the social sphere death stunt:
Hide & Seek
It's a child's game. But, if Lady Gaga opened her home (digitally reproduced) for fans to search through it to locate hiding celebrities, my guess is at least half of her seven million Twitter followers may have ventured onto the website where this fun-filled game was hosted.
Using Twitter clues posted by each celebrity, fans could quickly locate them. They could also enjoy touring Lady Gaga's home, which is quite a bonus.
How does this stunt make money? Well, for starters, the notion of touring celebrity homes is a tried and true business model dating back generations in Hollywood. I'm guessing a number of major advertisers would pay to furnish each digital room and ensure they had a presence in the décor.
Additionally, visitors would be allowed to freely enter the front door and foyer, but not venture beyond without typing in a code received via text message.
Fans who want to engage in the game of Hide & Seek agree to donate $1 for every celebrity they locate. Once a player plugs in the code they received via text message, their game points are connected to their code... which they received on their phone.
Using clues and animations, this game could keep players hunting around and finding celebrities until they beat the game ... which is the entire point. At the end, they receive some video message from all the celebrities and perhaps even a song. If the song becomes a hit (the next "We Are The World"), that's even more revenue for the charity.
Celebrity Interviews
Here's a twist on the celebrity interview. Instead of watching your favorite celebrity being interviewed, the celebrity interviews you!
Here's how it works:
A website is built with a talk show setting for multiple personalities, like The View. Celebrities agree to be part of a rotating carousel of hosts during a 48-hour marathon of interviewing audience guests and each other.
Using available audience engagement platforms, like Vokle, celebrities can sit in the comfort of their own homes and log into the show at pre-determined scheduled times and assume the duties of the host. They may have a few minutes of banter with the previous host and then take over the interviews of audience members for one full hour. Each host transfers duties to the next host, and so on until the 48 hours are complete.
How does this generate revenue?
Using the exact same business model as television, this web-based idea taps into the desire of fans to not only see their favorite celebrity on a talk show, but also have the opportunity to personally engage with that celebrity in front of millions of viewers!
Celebrities tap into their social spheres the day of their appearance, up to the minute they are scheduled to appear on the show, driving as many of their fans to the platform as possible.
The access point, in order to become part of the viewing audience will cost $1.
Audience members will be able to participate in a streaming Twitter feed for the show and a live chat room. Audience members will also be able to gain position in line as a potential guest and participate via their own webcams. They will see a split screen with the celebrities interviewing other audience members as they wait in line. Meanwhile, they will multitask in the Twitter feeds and live chat rooms.
There's one other revenue-generating option with this idea. The $1 donation at the door is for one hour. Every hour the viewer is in the audience, another dollar is donated. So, the celebrity's job is to be as entertaining as possible and move through the audience as fast as possible to keep people watching and engaged.
That's my two cents. What are your celebrity fundraising ideas using social networking spheres?