"I had the pleasure of working with her. A truly beautiful human being."
-- Malcolm McDowell
I always wondered why Julie Harris never had a major film career after The Member of the Wedding, The Haunting and especially East of Eden, where her empathetic understanding of James Dean's heart and soul vulnerability solidified Dean's most emotionally powerful performance.
She was, of course, one of the theater's legendary actresses, many times awarded, and I suspect that having learned of an act of magnificent kindness and generosity she gave to a fellow acting peer, her love for the stage transcended any other concerns.
* * *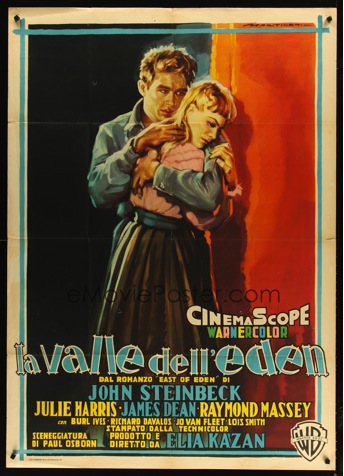 For 20 years, I dreamt of producing a film that starred Lillian Gish in a major role, one that would show modern audiences her ageless artistry. In David Berry's play, The Whales of August, there was a character Lillian was meant to embody, an optimistic romantic who watched over her blind, formidable sister at their Maine summer cottage.
That sister was combative and lived with a rueful fatalism. Perfect for Bette Davis. But despite not having appeared in a quality film since her two Robert Aldrich classics -- Whatever Happened to Baby Jane? and Hush... Hush Sweet Charlotte -- and with Gish, John Gielgud and director Lindsay Anderson attached, Davis turned it down. Since then, she had gone through major surgery and her last sighting in a TV whodunit with Helen Hayes was painful to watch. Her fire was missing.
We had to find another major actress to play "Libby," one like Gish and Davis, who had a body of work that would resonate with audiences.
Suddenly, Shirley Booth came to mind. Although she had made only four films, she was unforgettable in her Oscar-winning Come Back, Little Sheba, had an illustrious stage career for five decades and had become a beloved television star as the sassy maid, Hazel.
I called Lillian. "What do you think about Shirley Booth as "Libby?"
Her instant response, "She can do anything."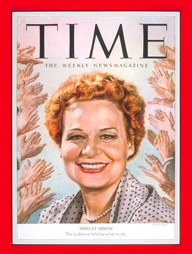 Somehow I tracked down a phone number in Chatham, Mass., where she had retired 15 years before. She had vision problems and rarely went out
Shirley Booth's high-pitched voice was unmistakable. I explained the uniqueness of the project and that her legal blindness wouldn't be an issue as her character was sightless. She was impressed with the participants and we chatted easily for some time. She wasn't encouraging but agreed to consider the script.
And then she told me...
"Julie Harris lives nearby and she's arriving shortly. I can't go to the theater anymore so she comes over and performs the best new plays for me. She's the most wonderful friend."
"Of course," I mumbled, speechless at this image of one genius actor performing for another.
A few weeks later, we spoke again. She was complimentary about Whales but declined, thanking me for thinking of her.
"And besides, 'Libby' is a tough cookie. My mother told me to 'always leave them laughing'."
I wished her well and hoped we might meet in the future. And then asked how often Julie Harris performed for her.
"At least once a month when she's not working. She keeps me up to date. It's a joy."
One could hear the gratitude and happiness in her voice.
Julie Harris won five Tony Awards, her first for playing "Sally Bowles" in I Am a Camera, the stage adaptation of Christopher Isherwood's Berlin Stories, which she repeated on screen and which would later become Cabaret. She remained close friends with Isherwood throughout his life, sending him a homemade fruitcake every Christmas, which she continued with his life partner, the painter Don Bachardy.
That sensitivity and concern for others was fundamental to the characters she created on stage in The Belle of Amherst, The Lark, The Last of Mrs. Lincoln, The Time of the Cuckoo, and in her last important film role, in John Huston's Reflections in a Goldeneye.
In 1952, she was nominated as Best Actress for The Member of the Wedding. She lost to Shirley Booth in Come Back Little Sheba. Like Harris and I Am a Camera/Cabaret, Booth starred in the film version of Thorton Wilder's play, The Matchmaker, which was transformed into another smash musical, Hello Dolly.
It seemed destined that Julie Harris and Shirley Booth would become neighbors.
There are several extraordinary situations in which I would have loved to have been a fly on the wall. Watching "Sally Bowles" perform for "Dolly Levi" is at the top of the list.
* * *
Postscript one: Peer communications have always fascinated me. Like Julie Harris, Shirley Booth displayed a similar sense of generosity and kindness.
Maureen O'Hara once opened an unexpected letter from a colleague, which said that the upstairs scene with her son in The Red Pony was one of the very best she had ever seen on film. O'Hara considers it one of her finest compliments. The letter came from Shirley Booth.
* * *
Postscript tw0: Bette Davis returned to The Tonight Show several years after her operations, wearing a "new" hat with safety pins. She was again in full form, filled with energy, expertly parrying with Johnny Carson.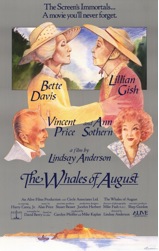 She then reconsidered Whales, delighted it was "a theatrical film" and not one for television. And that Ann Sothern would be playing the neighbor. ("She's a good actress; she could steal the picture.")
John Gielgud was now unavailable, committed to the sequel to the hit miniseries, The Winds of War. Luckily, Vincent Price wanted to demonstrate his acting chops in a non-horror role and signed on as the Russian emerge, "Mr. Maranov."
The Whales of August premiered at the 1987 Cannes Film Festival before the Prince and Princess of Wales.
* * *
Note: Malcolm McDowell appeared with Julie Harris in the 1976 film,
The Voyage of the Damned
.
(Image credit: East of Eden -- artist: Martinati, Italy; Time cover -- artist: Boris Chaliapin; I am a Camera -- artist: Bernie Stilling, Denmark; The Whales of August, artist -- Philip Castle, U.S.)