The Honey Brothers - "Green And Gold"
Check out my new HuffPost video exclusive for "Green And Gold," the lead track from Time Flies Like A Peach by The Honey Brothers. The album will hit all fine digital establishments on April 17, 2012, and here's a reminder of who The Honey Brothers actually are...
Andrew Vladeck (Dory Honey) -- banjo, guitar, ukulele, vocals
DS Posner (Dr. J Carl Honey) -- vocals, guitar
Ari Gold (Hoyt Honey) -- ukulele, keyboards, vocals
Adrian Grenier (Honey DuContra) -- drums, vocals, guitar
Daniel Green (Sonny Honey) -- bass
The video was edited and directed by Creationist Cat with assistance from Vadim Newquist. And yes, Honey DuContra is Entourage's Adrian Grenier. Check out The Honey Brothers interview down the column.
A Conversation With The Honey Brothers
Mike Ragogna: Guys, this is your second album, right?
Ari Gold, Adrian Grenier: Yes, that's correct, a long time coming.
Mike: A long time coming, like years. What took so long?
Adrian: Family obligations. We had to take our sister to the prom because her boyfriend bailed on her.
Mike: See, that sucks and that always gets in the way of doing a new album. How did the writing go into it? Everybody comes in with their own songs, for the most part?
Ari: Yeah, most of our songs were stuff we wrote in Adrian's basement or some of them we wrote on the road. Most of them were finished or 95% finished, and then once we got into the recording process, we tweaked some and made some changes just based on the vibe in there. But, we weren't writing from square one in the studio.
Adrian: Ari was remixing all the way to the very end.
Mike: Really? Ari, what are your responsibilities beyond being a Honey Brother?
Ari: Well, Adrian is exaggerating a little bit. There was one song that I wanted to remix and I remixed it 45 minutes before the upload deadline into the system so that the album could be released, and I got it in right under. It was one of those Indiana Jones moments... But it was just that one song. There was one other song that we recorded, actually. The producer was out getting lunch. We snuck on his computer and recorded the song called "Time Space," which that was one we all kind of made ourselves. But the rest was done in a more proper way. We knew how to hit "record" on the system, and we hit record and made the most anarchic song on the record, in a good way.
Mike: You sport lots of different styles on this record, like "Green And Gold" is sort of dance, right?

Ari: It is pro-dance...
Mike: And what is all this business of Paul Simon smoking a joint with Elvis Costello?
Ari: Uh, Adrian?
Adrian: Well, you tell us, what would that look like?
Mike: I know what that would look like, I've seen it. No, I haven't. Oh, and then you had to go and throw in the Belle and Sebastian rehearsal space.
Adrian: We're trying to show how fun and playful we are while including some of our influences. But at the end of the day, it's just so hard to define. We're going to really leave that up to you. But at the core of what we do, we're looking to be defined on the dance floor.
Ari: I fully agree.
Mike: After your first album, I bet there was some demand to get another album out, though like you said, the prom got in the way. What is the creative process? And who's the one makes the calls saying, "Okay, come on, let's get our asses in gear"?
Ari: That's depending on which day of the week it is. We have 5 members, and we have a manager and a producer. So that's seven days a week, and on any given day. One of us carries the whip. But it depends on the mood.
Adrian: Also, writing songs isn't the issue. We love playing, we play together, obviously, but it's really just a matter of finding the discipline to say, "Okay, we have enough songs to work with, let's sit down and discipline ourselves to actually put them down in a more formal setting," which is why, I think, we have our manager to thank for this album, because she insisted that we retreat to the woods where we wouldn't be distracted. I think that was very helpful.
Mike: Well, one of the methods probably was that your producer had you guys get in a circle and work up vibe of the material you had.
Ari: Yeah we actually were in a circle and we were in the basement of our producer's old Victorian house in Kingston, New York. It was Winter, so it was like a shamanic ritual, like we were stuck in the sweat lodge of our own imagination. We couldn't leave, it was snowing outside, and we're sitting in a circle singing our song until we find the right groove.
Mike: Let's catch everybody up on what the Honey Brothers are. You all have your "Honey" aliases.
Ari: Well, I think on some level, all of us are looking for the sense of family, and we're looking for the sense of family when we formed the band. The idea of having a band of brothers was appealing even though genetically, maybe we weren't brothers. But initially, it came up out of our love of old-time American music from the 1920s and 1930s which, if you have a microscope, you might be able to detect a little bit of that influence in our music, but not too much. There were a lot of brothers bands back then, and we liked the idea of being a modern and sweet and edible version of that.
Mike: (laughs) Adrian, you're no strange to brothers considering Entourage. Do you miss your other brothers from not filming anymore?
Adrian: Of course, but I'm just looking for the next reunion up on the big screen.
Mike: Is that going to happen?
Adrian: If I have anything to do about it, yeah.
Mike: Cool, I think that was the intention with The Sopranos and everything, but I just never know where any of those series go as far as movies.
Adrian: Yeah, a lot of things have to happen in the meantime before we actually see it in theaters. Scripts have to be written, deals have to be made... but in the meantime, you have to create Honey Brothers albums to buy you time.
Mike: Now, you're a drummer. Just curious, did you have a drum set on the set to play between shots?
Adrian: Well it's funny, actually. Kevin Dillon and Jeremy Piven both play the drums as well, so there's a lot of camaraderie there.
Mike: As well as a drum circle.
Adrian: Not quite.
Mike: (laughs) Just playing. This is a question I ask everybody. What is your advice for new artists?
Ari: You better love what you're doing because that's the ultimate payback, loving what you're doing. All the other stuff that you think you're doing it for, cannot be said enough. You can't count on anything other than loving what you're doing, so you better love what you're doing, because you can count on that. The fact is that for me, every time I get on stage with these guys, I have a blast. I love it. I absolutely love it every time, I've never not loved it or had a show that I didn't enjoy. I always enjoy it. That's because the music makes me feel good and it hopefully makes people listening to it feel good, and I know it makes my brothers feel good. That's really crucial. I see it, I know a lot of people in the film business and the music business, and they're miserable all the time, and it's like, "Are you enjoying what you're doing? If not, why are you doing it?" It's so hard to do, you really have to love it.
Mike: Adrian, how do you feel about it?
Adrian: Well, I'd say you guys are in the Wild, Wild West of music, to break down the music industry. It's basically up for grabs and you have all the power to go out there and earn fans, take back control. I think more and more, young bands are able to make it a decent living, albeit it's not like the fantasy rock star experience. But a lot of that was just smoke and mirrors anyway, because the studios were walking away with the cash in the end, and a lot of these artists, as much as you'd think that they were big and famous and rich, ended up with very little. You're in the driver's seat, guys and gals. Make the most of it.
Mike: Nice, good answers. As far as the immediate future for The Honey Brothers, there's going to be some touring, right?
Ari: yeah, we're doing a few dates, and they're calling it a tour, a very small tour. We hope to put more dates down in the future, but it's challenging.
Mike: When you guys are on the road together, you're creating, right? It's not just about playing the venue, you guys are getting a little creative too?
Ari: Yeah, we've done some hotel room writing before and backstreet writing, and I think Adrian's thighs get sore as he plays drums on his thighs in the back. (laughs)
Adrian: We actually have been making a lot of music videos as well, that's been our creative outlet as of late, which has been exciting because Ari's made films, I've made films...we enjoy that creative process also. Bringing in other film makers to help, like Vadim who created our "Green And Gold" video.
Mike: It was really clever.
Ari: Adrian actually spearheaded that video, he's got a friend who's really creative and was like, "Hey I'll do a video" and Adrian had to bulldoze the band and the manager to say, "You know what, let's all just send him some footage of our previous videos, shoot some footage on web cam, just send it to him in Florida and let him be a crazy chef, go disappear and come out with a concoction." He did amazing work. That was Adrian's push.
Mike: You can't just be making records now, you have to be looking at the bigger picture including social media and all of that. How much are you guys employing Facebook and Twitter, for instance?
Ari: We do it, but I think we all have to be reminded every now and then to do it more. We love engaging with our fans but remembering to post something every day sometimes is challenging.
Adrian: What I did--and this is a new project--is I started http://wreckroom.tv/, and basically, that's where we rehearse, that's where we play, and that's where our songwriting happens. But not only that, there are a lot of other bands that come down, write and record in that space. So I said, "Why not just create a venue, a stage, to display all these cool bands." So I'd encourage you guys to check it out, because The Honey Brothers are going to be making an appearance there as well pretty soon. Sign up, check it out, there's a lot of new stuff coming out. Again, it's all this new media, social networking opportunities that we all have to take advantage of. We can't always just hoard and hide our work waiting for that big break. I think it's just a matter of being a little more fluid and letting the creativity just be an expression in the moment and that's what we've been doing with the rec room as well--The Honey Brothers just going down, recording stuff, and putting it out.
Ari: When we're just playing a show for Oceana, which is an environmental charity down in Florida, and we're rehearsing for the show, and Adrian got out his phone and said, "OK we're doing another video right now." Just having that feeling that you can just take out your phone and make a video, that's totally acceptable in five minutes. The sense of not hoarding your work is really key, like you said. The old music business, the idea of having stuff sitting on the shelves, long lead PR campaigns of six months before the record comes out, you're pounding the pavement. All that can be useful, big bands are still doing that, but one of the advantages of being smaller is that you can be nimble and you can be actually creative on a daily basis, which is more fun.
Mike: Yeah, it's more of a guerilla approach, right?
Ari: Yes. We're in the jungle, we're looking out at the world, and we're firing Honey-tipped arrows.
Mike: (laughs) Couldn't have put it better. Any words of wisdom before we wrap it up here?
Ari: Wisdom? Have a good time, all the time. That doesn't sound very wise. Love thy enemy.
Adrian: Words of Wisdom? Support your solar-powered radio stations.
Ari: Yeah!
Mike: (laughs) Nice, thank you very much, sirs. Time Flies Like A Peach. We didn't talk about this. Time Flies Like A Peach?
Ari: Well time flies like a peach, doesn't it? Life moves by faster than a blink, so we picture a joyful way of dealing with that image by imagining a peach flying through the air. I think it's a joyful way of looking at the fact that we both live and die quickly and we're all going to be gone, so it's a celebration of life.
Adrian: Life passes with a peachy quickness.
Mike: Nice, good one!
Ari: The Allman Brothers had a strong peach theme, so keeping with the brothers' tradition, I think there's a peach thing going on.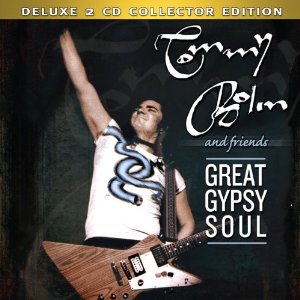 A Conversation With Steve Lukather
Mike Ragogna: Steve, let's chat about Great Gypsy Soul, the Tommy Bolin tribute album that uses his original tracks and includes coolios like you, Peter Frampton, Warren Haynes, Nels Cline and John Scofield.
Steve Lukather: Well, I'm not as cool as those other guys, but thanks for having me.
MR: But you are so coolio.
SL: Well, they are actually all friends, except for Nels, who I'm a fan of. I'd like to meet him someday. I was very honored to be asked by Greg Hampton and Warren, actually, asked me to come along for this little ride. Tommy was such a brilliant guitar player, taken a little before his time. But we still have the music, so I wish him the best in heaven, because I'm sure that's where he is.
MR: Okay, let's talk about his album, Teaser. How does that album rank with you all these years later?
SL: Well, not only was it brilliant at the time, I have a closer connection to all this than maybe meets the eye, which is maybe why they asked me to be on the record. But my dear friend and brother, Jeff Porcaro, who's also not with us anymore, played on that record. He was my original drummer in tow with the million sessions that we did together for other artists. And, you know, for me, I was turned on to Tommy backwards, through the Spectrum album--Billy Cobham's Spectrum album--which I think a lot of guitar players were just jaw-dropped when that album came out. That was a game-changer. I mean, here's this rock 'n' roll guy playing with the fusions guys. At that time, fusion was not a bad word, but I never understood that anyway. Great music is great music, and great musicians are great musicians, but this album was cut live in the studio with my brothers Lee Sklar played bass, Billy Cobham. You know, this was done live. This all went down in one take and here's this young kid, at the time, Tommy Bolin, absolutely blistering throughout this album. We were all just thinking who is this guy and immediately jumped on the Tommy Bolin fan club train. It's amazing how ahead of the time he was, just beautiful phrasing, great tone, great bravado, and heart and soul for days.
MR: What he contributed to the Billy Cobham Spectrum album, people sometimes take for granted. They think of it from a holistic perspective becuase it's a great album.
SL: Well, understand it was cut live, too. I mean, that was one take! As a matter of fact, one of the tunes...he broke a string and continued to play. They kept it. I'm friends with Billy and some of the guys, so I heard some of the inside stories there.
MR: Can you tell us one more inside story?
SL: I mean, what a great cat Tommy was, and how much fun he had doing the sessions. Oddly enough, the song that I worked on in this new tribute record, Jeff Porcaro played drums. So here I am playing with my brother Jeff and also someone who I consider one of the greats, Tommy Bolin, neither of whom are with us anymore. It was a rather surreal experience for me, to hear Jeff count off--his voice. There was something that brought him back to life to me, it's very moving, actually. Jeff's been gone for twenty years, so there were a lot of emotions there. I had a moment when we were cutting the track when I was very touched, made me miss Jeff a lot, and wish I had a chance to actually be in the room and play with Tommy. It may never have happened. I had a chance to play with a lot of my heroes. Certainly the music lives on. What can I say. I tried to play the best I could, it was a really bizarre situation, to play with people who are no longer in this world, but I think you'll probably hear that from a few of the people who worked on this record.
MR: Can you tell us the physics of it?
SL: They actually brought the tapes over to my studio--the ProTools session, a transfer of the tapes. There it was and they played me the track and I could hear Jeff talking and stuff like that before the tape, counting off the certain way he would click his sticks. It just brought me back. With Tommy, I felt like, "God, will he approve of me doing this?" He didn't know me, I felt like I was stepping in sacred ground here, so I needed to be really cool how I play this. Here I am jamming with a brilliant guitar player and my dead drummer, and I didn't know Tommy, and here I am trying to play off of someone who's no longer here. I can't see his face, feel his emotions. He was already there and I was trying to play around this, so I tried to be gentle and tasteful. But obviously, it was in no way a sort of cutting sessions. It was like, "How do I pay respect to someone I look up to?" But then again, here I am jamming with a bro that I haven't been with for twenty years. It was pretty surreal.
MR: What's also pretty surreal is that twenty years ago, when I was living in California and Jeff passed, it was almost as if a national figure had died. The amount of people at that funeral, what people were saying...it was an amazing thing, just an awesome farewell.
SL: Well, yeah, and he should be remembered more than he is, actually. It pisses me off with these modern drummers who are the "best drummers of all time." All the people that he helped teach were in there, but he wasn't. That's just me being emotional. I mean that's what I hate about lists of any sort. The best whatever. Who's the best looking woman? Well it depends on who you ask. The guy who's married to the chick obviously thinks she is. The one with the biggest t*ts...so what the hell! What are we looking at here? These lists of who's the best this or that are feudal and should be outlawed. Whatever touches you and whatever moves you, it's your right to make that decision. People like Tommy? I wish he had achieved the fame that he was destined for, he would have been one of the greatest ever. But the legend lives on and those of us that knew and know do know this. This record might bring some more interest to who he was and the gift that he left behind.
MR: Yes, hopefully.
SL: I was really honored when I saw the list of who's on it, I felt humbled and very honored.
MR: Yeah, but then again, you're a five-time Grammy winner and play on many classic recordings yourself.
SL: That's very nice and all. I'm not poo-pooing it, but I'm also a very fortunate man.
MR: Well, people have acknowledged you as an excellent guitar player over the years and you have to know that. You've been nominated for Grammys a number of times, and you've won five, including one for the duet you did with Larry Carlton.
SL: Yeah, he's a brilliant musician as well.
MR: Okay, so Tommy Bolin is gone but in 2012, all these years later--because of a classic project like Teaser--actually many people do still admire and remember him.
SL: You have recorded music, and in some cases, film. You're able to revisit these things and it's a snapshot in time, and if it's good, it holds up. Recording techniques, tricks and effects come and go. I think the '80s are pretty brutal with all the drum machines and the squishy-squashy effects that everyone jumped on and then realized it's like eating too much frosting on the cake.
MR: Yeah, but Steve, what about now? Many current production techniques are using '80s goofy sounds, though I'm not complaining. I love a lot of that stuff as well.
SL: Tommy was an organic player. There was an amp, guitar, and him. That was what was creating the sound that came out--what came out of his heart, soul, and fingers. There are no bells and whistles. It's kinda like Hendrix, the same thing. Even if there was a word or two, that doesn't matter because that's all real. Now everything's so buffed out to a clear shine that if somebody makes even the slightest string noise, people wince. Even though my band was accused of that many years ago, we were completely dirty compared to today's recording standards. Like I said, there's a reality to being able to hear what once was, and I think Tommy's playing holds up brilliantly. I mean, realize that they unearthed some of the jams that may or may not have been up to his standards, but I think that Greg Hampton and Warren did a great job of putting it all together and making something out of this. I wish the very best to Tommy's family, and I really never got a chance to say thanks for having me, so I'll do that right now. Thank you very much for letting me be a small part of something, somebody's who's playing meant a lot to me.
MR: We have to throw this out there. The other day, somebody at the radio station played "Africa," and everyone was all over that. "Africa," "Rosanna"...these are records that are still so loved all these years later.
SL: That's funny, they weren't loved when they were hits. I mean, people liked us. But the media was rather cruel, but we've withstood the test of time, 35 years next year. Our brother Mike Porcaro has ALS, so we're trying to help him, but that's not going real well. The music lives on. It cracks me up...when people sample our stuff, some young generations hear it in a different way. This stuff's out there. Who knew when I was 19 years old that "Hold The Line" would be playing when I'm 54? It's bizarre to think about, but I'm actually really honored to be a small part of pop culture. They still play this stuff on the radio all the time, and we play it and people come out and see us. Like I said, it's a great job.
MR: Steve, I also want to ask you what advice might you have for new artists?
SL: Take it seriously. People have this tendency to want instant gratification without putting in the time and dues to really learn their instrument. I spent two hours this morning practicing. I still really care, and I've been doing this since I was 7, 8 years old. Learning your craft is really important. Anybody can have a pretty face and plug into a computer and sound decent and have a hit record...it's all marketing, image. But if you really want to be a real musician, learn your craft. I'm not saying you have to learn how to read music--it doesn't hurt, just like learning a foreign language doesn't hurt. But just learn. Play. Try to get good at it. It takes a long time, it takes decades and decades to be a good musician, but moments to be a rock star. What would you rather be?
MR: Beautiful, wonderfully said. Steve, what is your favorite Tommy Bolin moment?
SL: Correct me if I'm wrong, was it "Quadrant 4" on the Billy Cobham Spectrum album...the opening cut, the first time he ripped and that was like, "Who the hell is that?"
MR: Yup, "Quadrant 4" opens up Spectrum.
SL: I believe that was absolutely jaw-dropping. As young guitarists, we're studying and playing, trying to live the dream. And anybody great who came along, we thought who that guy was. We had to absorb it and learn it and find out who it was. Tommy was one of those guys.
MR: What about your favorite Toto moment?
SL: Honestly, you ask me about something that has taken a lot of my time in my life. I would say, you live this dream as a kid, and the first time you hear this record on the radio and you're in a band and you have a hit record, it's a pretty great moment. I've had a lot of great moments in my life, I have to say. I'm very blessed that way. But the first time you hear yourself on the radio is an eye-opener. When you're a kid, you hear all your favorite music on the radio, and when your sound comes on the radio, it's a feeling I can't really describe.
MR: And is there a better background vocalist than Timothy B. Schmit?
SL: (laughs) Well, he's a great singer period. I don't say "background singer." He's certainly one of the best that I've worked with. Nice guy, too.
MR: Yeah, an amazing voice and a nice guy. So? any words of wisdom?
SL: Keep the faith. (laughs) That's non-religious, that's just in life in general.
MR: As in, "Keep the faith, baby."
SL: Keep the faith, baby.
MR: By the way, solar-power. You had a little thing you threw out before we started recording.
SL: Hey, well, you know I've been on this planet a while and I've seen the world. We need to be a lot more gentle with our Mother Earth, even though we're teeny little specs on it. We've really pissed on it, in a negative way. I mean our garbage, our filth in the sky and the water. Where does 6 billion people's sh*t go every day? Where does it go? Where does the garbage go? It has to go somewhere, and that's the earth. If we screw this up, what about my children and my children's' children? This is really not right. I'm not trying to be a tree-hugging, über-liberal guy, but I think just "common sense," "peace" and "love," these are just simple things and terms thrown out to the world, and people think, "Oh, whatever, hippie blah." But I gotta tell you something, these are very simple human facts. Be kind, be respectful of the earth, respectful of other people. Maybe it might be a better place. I'm just saying.
MR: Very nice. And solar power?
SL: I think the fact that we don't use this is insane. It's a free gift. All we gotta do is invest a little bit now. I have to think there must be some greed and corruption. Is it mandatory that we use fossil fuel? Why do we use it? We could save so much (energy) and create more jobs. But for some reason, to hang on to this old [paradigm]--wires and gasoline--it seems ancient. Why are we still doing this in 2012 when we even know it's bad? There are no residual negative effects. It's free, it's clean, we should do this.
MR: And it doesn't cost $4.79 at the pump.
SL: Well, that's another story. This bullsh*t gas storage...I mean, I remember in '78, we'd run out of gas. Really? Come on! Then I hear there's a wealth of oil in one of our American states that dwarfs OPEC, but we're not allowed to drill it. Why's that? It's all bullsh*t. We all know it. I'm old enough that I don't care what people think of me at this point when it comes to stuff like this. This is just ignorant, greed, graft, corruption, by people that don't give a shit about anybody but themselves. It's brutal to think about it, all this big greed, supply and demand thing to line their pockets.
MR: Well, not only that, but there's a presidential election that certain corporate entities aligned with certain political parties need to affect.
SL: Well, that to me... Once you put a computer in charge of all this stuff... You've seen a 12-year-old hacker be able to change his grades. What makes you think that the high-level people in the government can't change a few votes so it goes the way they want it to? Come on, man. Dead people were voting for George Bush back in the day in the Al Gore election. I don't want to get off on a rant, but there's a lot of un-accountability. People just brush stuff off, like, "Anyway, how about the sports? How about Kim Kardashian's ass?" Let's talk about that for an hour or two." I'm just pulling that one out of there, but they deflect the truth by filling us with bullshit, that's the mentality the world lives in--two-second attention spans, chemicals in all our food, kids addicted to computers, 8-year old kids that are beasts. What the hell is that? They have virtual friends...what's a virtual friend? When I had a virtual friend, it was a Playboy magazine.
MR: Now you have the virtual friends on social networks...Facebook, Twitter...
SL: ...I experimented with that, and for a minute it worked okay, and then it got dark. People were showing up, people writing me weird stuff. It became unfriendly. The lack now is that our privacy has been taken away. We're living in a very Orwellian society. Pandora's out of the box, and we can't put her back in. But people are addicted to their machines, their boxes, their computer, their iPhones. You can't go anywhere without being filmed. It's really horrible to go out on stage and play to a sea of iPhones. I mean, a) being radiated; b)the spontaneity is gone because you're so cautious since every word will be scrutinized, "At 1:38, he played this sloppy note. You suck. You're great." Fake-named people. I mean, I've been followed into the bathroom before, it's unbelievable. People think that if they have a phone, it's their right to film every moment of your life even if you tell them not to?
MR: How do you reverse something like that now?
SL: You can't, that's the thing. I have to get used to the fact that everyone has one, so how many YouTubes can there be? I have a disdain for Youtube. I mean, I love it in the sense of it's great to revisit old things. You see somebody you love, you see some footage, you go, "Wow, that was really cool." But the thing is that everybody has this right to film you and scrutinize you. It wouldn't be so bad if they could just get rid of the comments, you know? Do you really need to know what some kid thinks? Maybe he hates it? My shrink told me that he's seeing a patient who goes and purposely hates on people on the Internet, even if he doesn't know who they are, just to take his own anger with his own life out on other people. The society we're living in right now, where people are pissed off with their lives... So, rather deal with their own lives, they get mad at somebody who has a life that maybe they want or they just deflect their own hatred on other people because it makes them feel better for a moment about themselves, which is a sick, demented thing to think anyway. But we live in dark times. It's about time for Jesus or the aliens to come down or something.
MR: Well, God did invent the "off" button, right?
SL: Well, also the "do-not-buy" button. But unfortunately, all of our businesses go through these little boxes and we have to be there one way or another. I've backed off a little bit. I do the Twitter thing a little bit. I was into Facebook for a while and it was fun, and most people are nice. But it only takes a few bad people to put you off it, you know?
MR: Let's get back to the album. What are your other favorite musical moments from Great Gypsy Soul?
SL: Anything that Warren (Haynes) and Derek Trucks play on is pretty good for me. I love Peter (Frampton) too. Peter's a good friend.
MR: I really appreciate your time and your candor. What's in your future, oh by the way...anything fun?
SL: Well, I'm leaving to do G3 in a couple of days with Australia with Joe Satriani and Steve Vai, and I'm coming back to rehearse for Ringo in the summer in the United States, and I'm finishing a new solo album, and I'm starting a book.
MR: I'm not going to ask you about the book because you're going to say you're not talking about it anyway. (laughs)
SL: I'm not very far, so there's not much to say anyway.
MR: Thanks for you very much for your time, Steve.
SL: I'll talk to you later, bro, have a good one and all that peace and love stuff!
Tracks:
Disc One
1. The Grind
2. Teaser
3. Dreamer
4. Savannah Woman
5. Smooth Fandango
6. People People
7. Wild Dogs
8. Homeward Strut
9. Sugar Shack
10. Crazed Fandango
11. Lotus
Disc Two
1. Flying Fingers
2. Marching Bag (Movement 1)
3. Marching Bag (Movement 2)
4. Marching Bag (Movement 3)
5. Marching Bag (Movement 4)
Amazon Daily Deal for Sunday 3/25 @ $3.99
Link to Amazon:
http://www.amazon.com/Great-Gypsy-Soul-digital-booklet/dp/B007K4V10M/ref=ntt_mus_ep_dpi_2
Transcribed by Narayana Windenberger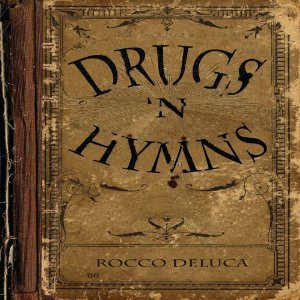 A Conversation With Rocco DeLuca
Mike Ragogna: Rocco, how autobiographical is your song "Lucky" from your new album Drugs 'n' Hymns?
Rocco DeLuca: "Lucky" is down to the details, autobiographical. I believe a person lives long enough to realize that reality is more comical, absurd, tragic, and mystical than anything I could conjure with pure imagination.
MR: What was you childhood like, and when did you get into music?
RD: I was kidnapped by my grandmother so I could have half a chance. I was left to my own devices most of the time and I learned to listen. The music that moved me was not a slave to fashion or fad, it had social, sexual and healing powers.
MR: Who influenced and inspired you musically?
RD: I was inspired by the voice of Nina Simone, the guitar playing of Mississippi John Hurt, the words of Hesse, Camus, Twain...
MR: The album's production took a simple approach like on "Drugs 'n' Hymns," and experimental, such as on tracks like "Sibylla." Was it your intention to break new ground and/or to just get the moods of the songs across?
RD: I was in a very little room that I rent here in Silverlake with no budget, so I was limited from the start--a four track ½-inch machine and a few mics I've collected over the course of traveling throughout the years. When I perform for people, I sometimes will lead into a song with an interlude, so I did that with "Drugs 'n Hymns" by using these Japanese tape machines. Other than that, I just wanted to stay out of the way of the center, the story.
MR: Did you take your production cues from any favorite recordings and what are they?
RD: Production cues were learned by listening to the Sibylle Baier record until the needle wore out, and hanging out with Daniel Lanois who is a great teacher of how to get out of the way.
MR: There are a couple of clues in the songs titles and the overall vibe of the album, but in your words, why did you name the album Drugs 'n' Hymns?
RD: I named the record Drugs 'N Hymns because it represented the total-- everyone's invited to the table--and its autobiographical, as I bore witness to a drug transaction during service when i was young. The contradiction of particular moments in my life teaches a great deal if I'm listening.
MR: Which songs are the most revealing about you on this album and why?
RD: The most revealing songs about me are "Lucky" and "Windows." They represent how I think things through, in the middle of fear, finding something to hold on to--a person, and ideal, a detail--anything that gives me some kind of hope.
MR: To me, "Windows" is the most optimistic song on the project. What's the story behind that one?
RD: "Windows" was born in Austin. I was hanging out with my friends at Justine's and fell back in love with everything, playing "The Hooker" at three am, swimming in water holes, and looking up at that confrontational Texas sky, looking through the eyes of a friend who shows you around and makes a place special.
MR: What advice do you have for new artists?
RD: For new artists... Please do not get a manager, agent, record deal, press person, producer, promoter, or anything else until you know who you are, and what you would like to contribute. Until then, just woodshed until you know.
Tracks:
1. Lucky
2. My My
3. Sibylle
4. Amen
5. Pray On
6. Windows
7. They Stride Like Gods
8. Snake Oil Salesman
9. Gorky
10. Drugs 'n' Hymns