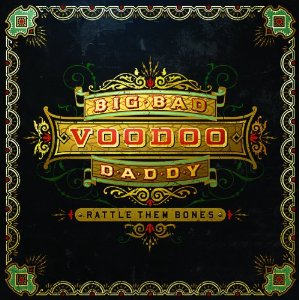 This text will be replaced by the flash music player.
A Conversation With Big Bad Voodoo Daddy's Scotty Morris
Mike Ragogna: Scotty, to me, Big Bad Voodoo Daddy's Rattle Them Bones feels like a Cab Calloway, depression-era sort of swing meets Don Draper's Mad Men. Am I even close?
Scotty Morris: Well, like any other album with us, when I start writing music it sort of takes on a life of its own. That's what we do and to be honest, to me, it sort of sheds a light on everything we've done in the past. Big Bad Voodoo Daddy is nineteen years old and we're all the same guys, so it's like you go through this journey and it seems like we've just gotten better at telling the stories. When we're making a record, we just kind of let the song manifest and then when we start getting closer to finishing it, I try to think of how to tell the whole story through the record. I'm still one of those guys who likes to buy records and listen from song one to song twelve to song fifteen, however long the album's going to be. I like to listen to what the artist was doing and I like to make records the same way.
MR: You must be listening to some old records, because "Diga Diga Doo" is the Dorothy Fields and Jimmy McHugh classic, isn't it?
SM: There are a millions versions, and one of the things that I wanted to do with "Diga Diga Doo" was that song, in the early thirties, was a prohibition song. That was one of the most popular songs. That was like the poppiest, happy-go-lucky songs from a Broadway musical and I wanted to take that song and give people a comparison of what we are and what our spin of the kind of music would have been. To me, we put such a force behind the music and we put such an intensity to the music that I wanted to give something very, very familiar so you have something to reference it on. It's a pretty interesting piece and I thought we did a great job with it.
MR: Yeah, and I love how the song has that New Orleans funeral, but a bit more upbeat, approach.
SM: Yeah, just again, getting better at what we do, not being afraid to stick it all out there. There have been hints of New Orleans on every record we've ever put out. My biggest influence, no question, among anything else, is the music of New Orleans. That's my number one influence. New Orleans is first, everything is else second. In 2003, we released a record called Save My Soul and that whole record was made of our take on New Orleans-style music. With that as a kind of launching point, we really took off and kind of went with it.
MR: Nice. This is your twentieth anniversary. How'd you do it?
SM: Man, it doesn't seem like it. We put our head down and we worked really hard. I've got the best guys in the world to work with. You hear that said in other businesses -- not in the music business -- but really, we've got the best guys. And every night, after every show, we play as much as we can, we go out and we sign. Every single night, we say thank you, we say hello to the people who come out and see us. Every guy in the band will go out and shake hands and they're grateful for every moment they have. My crew guys are the most friendly; they're the best guys. They've been with us forever and those guys work their butts off. The whole package -- our management, everybody -- it's just a good situation. We try to set the bar really high.
MR: And I believe when swing music started popping back into the culture, you guys were at the forefront and had songs featured in Swingers. Swingers was, musically and genre-wise, one of the most influential movies that I can remember.
SM: Yeah, it was a big one, man. It was this thing that was happening on the underground, and it was this lounge, swingin' lounge, and retro jazz thing that was happening. I think a lot people in the punk rock scene were looking for something else because the punk rock scene got really violent in Los Angeles and it wasn't fun anymore. In the beginning, it was really fun and creative and jazz and swing and the lounge thing kind of went hand-in-hand with the punk scene. A lot of my friends from the early punk scene in the early eighties were in the swing scene, and then it sort of blew up and Swingers just exposed it to the whole world. That whole rebirth was pretty phenomenal.
MR: Right, the movement came first and then Swingers tapped into that. What a fun window of time that was.
SM: At the top, we were playing four-hundred seat venues across the country and then Swingers came and we were playing two-thousand seat venues everywhere. It changed that fast.
MR: Might the punk alignment been the result of the music being a kind of dirty boogie at its heart?
SM: It's such a mix of things because even before that, I think Royal Crown Revue was doing stuff like that. I kind of felt like they were the ones in Los Angeles who really kick-started the whole thing -- before Brian Setzer, before everything. There's just a whole bunch of things to tie it all in, and the San Francisco scene was a great scene too; a lot of great music out of there.
MR: Yeah, and Brian took his Long Island, fifties rock meets rockabilly like three steps further. It was almost like a natural segue into swing for him.
SM: In the swing scene, because there were those bands that really survived the whole thing, people kept asking me, "Is there any animosity between you and Brian Setzer?" But to think that you are being compared with or even in the same category as Brian Setzer... For me, I picked up the guitar because of Brian Setzer and Stevie Ray Vaughan when I was a kid. So to even be in the same breath as Brian Setzer? I was blown away. But to have an ambassador of badassness like Brian Setzer being attached to swing only validated the whole thing. Way better for me.
MR: Yeah, although The Knife Feels Like Justice will always be my favorite album by him.
SM: (laughs) Yeah, are you kidding me? I've got that on vinyl, man!
MR: Hey, on Rattle Them Bones, I noticed there are a few interesting covers. I am one of the world's largest Randy Newman fans and you covered "It's Lonely At The Top." So what were the thoughts behind some of these covers? You went into "Diga Diga Doo" already, but what about some of these others like "The Jitters" and "Let it Roll Again"?
SM: Usually, when I'm putting together a record, I'll put in a certain type of genre on Pandora and I'll just be working. I'll be working, I'll be writing music, and there'll be music in the background; I'll be with my kids, I'll be barbecue-ing, I'll be driving in my car and I have music playing all the time. Pandora has that random selection thing, so I have a piece of paper that's always with me and I write down the songs that I really like and then I go back and I find out who they were and what the deal was with them and whatnot. I had written down probably five or six times this song called "Let It Roll Again." Something about that song just kept calling me back to that piece of paper. So I started to scout more of this guy. He's called Lucky Millinder and I just love his stuff. I love that pre-fifties R&B. It's honking, R&B horn stuff that was just greasy and cool and I just dug it, man. I knew it was something that I wanted to play. I thought it would be fun to play live. We started to play it live with no intention to record it for the record but it started to go over really well live, so we kind of punched through. But the Randy Newman came from me. I'd had that song in my back pocket forever. I love that song. I'm like you, man, I'm the biggest Randy Newman fan. I think contemporary American songwriters are just as important as any other of the current ones or the past ones. With Randy Newman, I just wanted to do something interesting, because the whole time I heard his version, I always wanted to do our thing to it. So I took a stab and we did an arrangement of it and I like it a lot. I think it came out great and I hope that Randy hates it as much as I think he will.
MR: (laughs) He'll probably love it, come on. I wanted to talk about another cover, which is the Jon Hendricks original. Another group that I've loved over the years is Lambert, Hendricks & Ross. You do "Give Me That Wine," and I love how the lyrics lists all those fifties and sixties sirens. How did you come across that one?
SM: I'm a huge fan of fifties jazz music. I really love that era, and Jon Hendricks is just phenomenal. Last year, we were on tour pretty much the entire summer, and one of the guys in the band had found this never-released-in-America DVD of Maynard Ferguson in London in 1969, a TV show that aired one time. It was called The Wild World of Maynard Ferguson or something. It was the most out thing we'd ever seen. We used to watch it on the bus after every show and it would just kill you. We were laughing, it was really psychedelic and clearly everybody involved was on drugs. It was really pretty funny, and in the middle of this train wreck, Jon Hendricks comes out and he does "Give Me That Wine" with Maynard Ferguson's Big Band and he just kills it. He absolutely kills it. The rest of that entire summer tour, the guys in the band were all singing that song. We were making jokes. I was like, "Man, we should do a version of that song for like a B-side or for some fun, just so we'd have some extra material when we're recording our new record." It's not a tough tune to tackle musically, because it's basically a rhythm section and then a repeating horn line. It's all about just going in there and trying to tell that story. I knew there was no way I could deliver it like him. He was the best ever at that stuff -- he IS the best ever at that stuff -- but I just thought it would be fun. So we recorded it and everybody around us was like, "You've got to put that on the record. That's a good one, man, people are going to like that." It was really just one of those songs that stuck with the whole band. We all loved it, we recorded it just for fun, and it ended up needing to stay on the record.
MR: What do you think of the contribution that Lambert, Hendricks & Ross has made to jazz?
SM: I like it. It was incredible. I like the way they did it better than anybody else. I like their version of that style of music better than anybody else's. Some of the bands that came afterwards, whatever, but Jon Hendricks was my favorite.
MR: And there's The Manhattan Transfer. I think Vocalese introduced Jon Hendricks to a whole new generation.
SM: I agree with you completely. I know those guys in Manhattan Transfer. We've played with them a bunch of times over the years and if you go back and look at the early, early, early Manhattan Transfer stuff, especially the live performance stuff that's out there, they were edgy, man. They were cool. They were doing something extremely hip. But their audience turned into what it was in, so they had to feed the animal.
MR: Yeah, I think you're right on. The very first version of the group had members Pat Rosalia and Marty Nelson.
SM: Killing.
MR: Yeah. That first album -- Jukin' -- had the band's first swing at "Java Jive" and stuff like "You'se A Viper."
SM: Yeah, it's killing. It's really "it," man. It's really a theatrical, hip, dark thing. They're survivors, man. They just keep going. They just keep putting out great shows, and they have a legion of fans and I've seen it. I've seen it first hand and I've played with them enough to see what that band is all about. They've grown into themselves. They are who they are.
MR: Let's get back into Rattle Them Bones. Your song "It Only Took A Kiss," your duet with Meaghan Smith. What's the story behind that song, like how you created it and how it became a duet?
SM: Again, just trying to always challenge yourself. You're in a relationship, you're in a business, you're in a workforce, whatever you're doing, if you live life long enough the mundane institutionalism of life itself is going to get boring. Things are going to be the same, so for me, I had to challenge myself and try something different. Our manager heard one of the original songs on the record called, "She's Always Right And I'm Never Wrong" as a duet. So I demoed it as a duet for him and I absolutely hated it and he absolutely loved it and the label really loved it too. I said, "You know what? Give me a weekend and let me write something and let me see if that will be better." And so I wrote "It Only Took a Kiss," I demoed it, I had a friend come down and sing it with me, and they loved that even more. So I was able to get rid of, "She's Always Right And I'm Never Wrong" as a duet, keep it as it was and have a duet. Once they green-lighted it, once everybody was making noise about this song, "It Only Took A Kiss," then I knew I wanted Meaghan Smith because the second I wrote that song, I wanted Meaghan Smith to sing it. I'm a huge fan of hers; I think she sounds beautiful. She's got such a pure, honest, beautiful gift of a voice. I heard nobody else. She did it and it was beautiful. I love every second of it and for me, I think that's my favorite song I've ever written just due to the fact that it's very small. There are no tricks; it's basically a timeless melody that's simple and sweet.
MR: It's your twentieth anniversary. Looking back at those years and looking at where you've come to, what do you think are some of the biggest changes, where's the biggest evolution?
SM: Just not being afraid to be honest. In your job, in your field, you've had success -- and we've had a big success with a very particular thing -- but the one thing that I would stress with anybody if you want to continue to evolve in your own life, whatever that is, is that you aren't the same person that you were then. For me, I just never wanted to be defined by one particular moment of my career, and even though that one moment was a grand moment and a shining moment, I wanted to equal out in all parts. For us, it's going to be judge us on the span, and not the moment that people became involved in the band. Basically, "What has been done? What does the band do? What does the band stand for?" and that's kind of what Big Bad Voodoo Daddy's all about. We always laugh, we always say, "We play good music for good people." That's the bottom line.
MR: Scotty, especially after your twentieth anniversary, what is your advice for new artists?
SM: Stick to your guns. The one thing that you can pretty much always count on is that heat rises. That's a given in life thing. You always know when a song is going to work because when you bring it out, it works right away. I've written too many songs and brought them onto the bandstand and had them not work to know that you bring one up for whatever reason and everybody responds to it, that's when you know you've got something. Heat rises. Get out there and walk it and talk it and don't be afraid to be who you are and go out there and do it. Don't do anything because you think it will sell. Go out there because it makes you feel good.
MR: Heat rises.
SM: Indeed it do.
MR: Indeed it "Diga Diga Doo." Scotty, thank you for all of your time. All the best, and I imagine there will be a tour, right?
SM: Yeah, yeah, we go back out right at the end of September and we'll probably do the obligatory TV stuff, whatever we can get, and spread the word and keep it going.
MR: All the best and thanks again.
SM: My pleasure man, thanks for having me.
Tracks:
1. The Adventures Of....
2. Diga Diga Do
3. The Jitters
4. Let It Roll Again
5. It Only Took A Kiss
6. She s Always Right (I m Never Wrong)
7. Why Me?
8. Devil s Dance
9. It s Lonely At The Top
10. Still In The Mood
11. Gimme That Wine
12. 5-10-15 Times
Transcribed by Galen Hawthorne