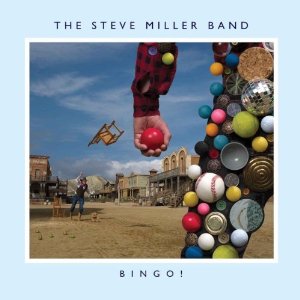 "Hey, everyone, I think I'll take this time to have some fun...I know we've just begun, I think I'll go ahead and play my guitar some... yeah..."
Decades have passed since its initial release, but very few albums since have been as infectious and essential as The Steve Miller Band's Greatest Hits 1974 - 1978. Go ahead, check your record, tape, or CD collection...guaranteed, it's in there. This is The Steve Miller Band--with hits like "Fly Like An Eagle," "Rock 'N Me," "Swingtown," "The Joker," and "Jet Airliner"--that we've missed. And a slightly older generation misses that earlier San Fran matrix whose "Space Cowboy," "Living In The U.S.A.," "Gangster Of Love," and "Quicksilver Girl" fed some of their highest highs in every sense of the word.
The wait for some sort of progeny of those eras has arrived, and it's a real cause for celebration. Bingo! will satisfy Steve Miller fans from most eras as it dismisses his '80s period of bloated synths and pseudo-spirituals like Bobby Ewing just appeared in the shower. Bingo! re-establishes Miller as that Chicago blues-y guy, tackling ten standards that might as well be his own. Granted, this isn't exactly the blues of "Come On In My Kitchen," but George Thorogood certainly should be looking over his shoulder.
Vocalist Sonny Charles adds a great texture to these tracks, especially on Miller's update of "Tramp" that transmutes Otis Redding and Carla Thomas' sexy, scolding flirt into a dirty barroom jam. A visit to B.B. King's "Rock Me Baby" nicely rocks it up a few notches beyond the original Lil' Son Jackson version ("Rockin' And Rollin'), and "All Your Love (I Miss Loving)" is a brand of soul that Steve Miller should have been dabbling with waaaaay before now. And the late Norton Buffalo's final harmonica contributions throughout Bingo! serve as a kind of seal of approval, that authenticity that lets us know Miller is really on the right track here.

Sure, Tom Petty and the Heartbreakers just released Mojo, an album gushing with bluesy originals that, like a BP oil well, just won't stop (what...too soon?). And maybe Bingo!'s sequence could have been tweaked a little with "Come On Baby (Let The Good Times Roll)" secured as the second spot and "Ooh Poo Pah Doo" arriving anywhere but the last position. One more complaint might be that it only clocks in at a little over a half-hour, but come on, who listens to epics anymore. However, this is a very welcome album in any sequence or length. And hey, it's only like, what, 17 years since Miller's last studio album. If you like his earlier recordings, then you'll agree that this is one of Steve Miller's finest trips though the blues (albeit Steve Miller Band style), and it's one that should have taken a big ol' jet airliner to get here a helluva lot sooner.
Start Here: "Hey Yeah," "Tramp," "Come On (Let The Good Times Roll," "All Your Love (I Miss Loving)," and "Rock Me Baby"
Tracks:
1. Hey Yeah
2. Who's Been Talkin'
3. Don't Cha Know
4. Rock Me Baby
5. Tramp
6. Sweet Soul Vibe
7. Come On (Let The Good Times Roll)
8. All Your Love (I Miss Loving)
9. You Got Me Dizzy
10. Ooh Poo Pah Doo
Special Edition Bonus Tracks:
Ain't That Lovin' You Baby
Further On Up the Road
Look On Yonder Wall
Drivin' Wheel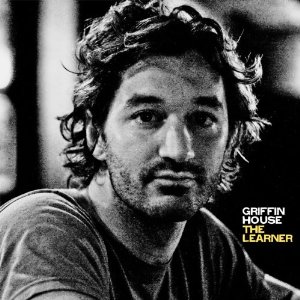 A Conversation With Griffin House
Mike Ragogna: Let's talk about your new album, The Learner. First of all, I believe this is the first CD with a pull-out poster of you.
Griffin House: (laughs) That's true. Yeah, that's right.
MR: I'm not doing a musical comparison, but you do have this sort of Springsteen-ish vibe going on with your photo. And what's on your guitar there? You have something taped on it?
GH: It's the words to an old Woody Guthrie song that Wilco and Billy Bragg did on the second volume of Mermaid Avenue. It's called, "Remember the Mountain Bed," and I put it on there because it's always been one of my favorite songs. I was going to try to play it one night in Seattle, but there are just so many words, there was no way to remember the whole thing. So I put a little cheat sheet on my guitar. I think Springsteen did it one time, so that's why I did it.
MR: So it's not just a passing coincidence that there's a little Springsteen thing going on here?
GH: Yeah, he's kind of seeped into every dude with a guitar trying to write songs that's an American.
MR: And a white T-shirt.
GH: Yeah, the Levi's and the white T-shirt. I don't know, it's an easy way to go when you don't have much money.
MR: Now, wait a minute, how can you not have much money when I hear your songs every other day on The CW? That's how I became familiar with your material, I heard you on One Tree Hill and I had to get the record. For me, that happens very rarely, and actually, I'm admitting to watching One Tree Hill and I shouldn't do that.
GH: That's okay, I watch Friday Night Lights, It's alright.
MR: My favorite song on The Learner is the one you co-wrote with Semisonic's Dan Wilson.
GH: Oh, that's great because I think it's going to be our single at Triple A. That's the song we're going to service. I originally wanted to have "She Likes Girls" be the single, which I think we're still going to give to another radio format. But I'm glad you like it because we're going to try to make it work with that song.
MR: My favorite line in that is, "If I'm ever Tom Petty enough, then I'll write you a song."
GH: Yeah.
MR: Sir, you are certainly Tom Petty enough.
GH: Well I made a record--actually my last record--with a couple of guys from The Heartbreakers. I got them to play on my record. I was really, really into Tom Petty at the time, so I started to realize that I was almost getting a little TOO into him, and I think that's where that line came from.
MR: I love the vibe, and I love that it's an encouraging song about setting your sights high and going for it. You don't beat them up with it, and you don't beat people up musically with this chorus. That's a nice way to get a message out there. And you also have some humor in there, that's nice.
GH: Yeah, the verse is actually almost more of a chorus, in some ways, than the chorus because I wrote that with Dan, and he had the chorus idea and then I came in and wrote all the verses. The verses were almost like another chorus instead of a verse, so it kind of worked.
MR: And yet, even though you've got two anthemic things going on there, there's a subtlety to it, so that was a nice trick.
GH: It was really fun to record. We recorded it up in Minneapolis, at his house. It was really fun, it was like a blizzard up there when we first wrote that song. I think the heat for his house cost more than my entire mortgage.
MR: You had an interesting guest star on your album, on "River City Lights." Alison Krauss. How did that come about?
GH: Basically, my buddy, who I'm really close with and have made music with ever since I moved to Nashville, we just kind started together, early twenties. And the guys that produced the record...I guess they just knew her through a friend, and they called her up and said, "Hey, come on over and sing on this record."
It was a really funny story because she was so excited she was coming over, and this guy, Pete Finch, an editor at Golf Digest had called me the day before and said, "Hey, I'm coming to Nashville and I'd really like to play golf with you. Can you play?" It was at nine, and then I found out that Allison was coming in that day at, like eight-thirty. So, I actually had to go in there, meet her, shake hands and then bolt which felt like the worst thing in the world because I just wanted to hang out with her. But, it was great to have her on the record, it was like a total gift, it was awesome.
MR: Did you ever hear the album she did with Robert Plant?
GH: Oh yeah, I love it.
MR: What an incredible record. And, it was really great to hear Robert Plant in that musical realm. Everybody knew that he had the talent, and he has dabbled in that realm a little bit in the past. But this was just a full-blown effort, and it was great that Allison was his cohort. I think it was that particular combo that made it work.
GH: It really worked. I loved that record.
MR: So let's move on to "She Likes Girls." Let's see..."I've got a girlfriend, she does too. It's fair to say we're both a little confused." Um...
GH: I was just having a little bit of fun. I really wanted to write a rock 'n' roll song, and I wanted to write something with a sense of humor, and there was also a little bit of true life story twisted in there too. And it became this thing where my friends either thought it was the best song ever written, or they hated it. It was getting such a strong reaction, either positively or negatively among my group of people that I thought, "Maybe that's the song we should put out." Just me having some fun, and it's so far away from where my heart and soul are now as a writer that I feel like I wrote that song in the middle of the party before the lights went out. Now I'm writing songs that are all about the morning after, with an achy, shaky body and all that.
MR: Well, you know, the cool thing about that is that you are having a great time at the concept's expense. I think it's a fine thing for a couple of reasons, because it's fun, and I like where you're coming from since we've been so beaten up with this concept being controversial for so long. It's like, what happens after the controversy? Well, you can have some fun with it, right? What's nice is that you treat it with the humor and the love that makes this an uncontroversial subject.
GH: And I think some people still want to make it controversial or make it offensive. I hesitate to talk about it too much, but I was just trying to say, "I like a girl, found out she doesn't like me." When I asked her why, she said, "Because I like girls." And I said, "That's okay, I do too."
MR: Let me talk to you about this incredible Esquire piece that came out in April. You're in the company of Charlie Mars, Dierks Bentley, Rob Schneider, Ben Kweller... This was a pretty nice piece basically talking about the songwriters of songwriters. They say that you're a little bit Ryan Adams, a little bit Neil Young, and "This altercation-packed ballad is like Griffin House 101. A carefully clever collection of wit and sentiment."
GH: Yeah, I actually called the writer up and thanked him for taking the time to actually have an idea of what he was talking about. I was really happy with what they said there because it's so easy to be misunderstood, and I felt that, at least he gets what he's doing, and the people he's referencing are artists that I love and that have influenced me. I just felt really thankful that he wrote what he did. That was cool.
MR: Now, there was this alleged songwriting challenge involved. What the heck was that?
GH: I became a part of this songwriting group after the photo shoot and after I met Bob. He has a group of songwriters, probably thirty or forty people. Maybe it's not that many, they fluctuate all the time. But the challenge is to write a song every week based on a new theme, and everyone writes the song, records it, and e-mails it to one another. So, it's a little competition, kind of between everybody, but more just to keep yourself writing and see if you can keep up every week. That idea, that he's been doing for years, kind of got going for this group of people (in the photo shoot), so everybody wrote a song and we played it, recorded it, and video taped it down there on location. It was interesting to see what everybody came up with. It was fun.
MR: So, who won the "Two-day fashion shoot challenge with world famous photographer, Danny Clinch"?
GH: I don't know. I guess that's yet to be determined. It was fun, it was great, just fun to even be photographed by that guy, you know? Pretty cool photographer.
MR: What's going to be happening for Griffin House over the next year?
GH: Well, I'm taking some chances. I'm putting this record out on my own and hired my own team of people to do it. And I guess either nothing will happen, or something cool will happen where the record will get some traction. If not, we'll just stick to the plan of touring and making records. So, I guess nothing will change. We'll keep playing shows and put the record out there. I'm doing a tour in the fall.
MR: Who are you with?
GH: It'll just be my band and I headlining, and I don't know who's going to open yet, we haven't determined that, but it will probably start in September. Until then, I'll just be writing songs and hanging out this summer, getting ready to go on the road.
MR: Are there any acts that you've traditionally taken with you on the road, that you're nurturing or mentoring?
GH: I don't know if nurturing or mentoring is the right thing, but Charlie Mars actually came with me last year and opened the tour for me in the winter. That's how we met and became friends, and that's kind of how the Esquire things happened. I helped him out and got some shows that he could play on as he was getting his record out there, then he said, "Hey, I've got something good for you too. It's Esquire magazine." It's nice when you can help each other like that, you know?
MR: Absolutely. What's your advice for up-and-coming acts?
GH: I think the advice I would have is that your luck is always going to equal the work that you put in. So, the harder you work, the more breaks that come your way. Other than that, keep recording and getting it out there and playing shows, it's about all you can do.
Tracks:
1. If You Want To
2. River City Lights
3. Standing At The Station
4. Just Another Guy
5. She Likes Girls
6. Never Hide
7. Rule The World
8. Gotta Get Out
9. Feels So Right
10. Let My People Go
11. Native
12. Coming Down The Road
(Transcribed by Ryan Gaffney)
Yo! Please listen to Mike Ragogna's 2.0 broadcasting and streaming on Wednesdays at 1pm CT on KRUU-FM, the Midwest's only solar-powered radio station: http://www.kruufm.com/
THIS WEEK'S GUESTS: GRIFFIN HOUSE and STREET DRUM CORPS' BOBBY ALT