First, oh discriminating HuffPost readers, please bring half an open mind to this review, okay? Second, did you know Billy Ray Cyrus has a musically talented son, Trace, and he's one of the two front men for the power-pop group Metro Station? It's all true. These hyper-pop-rockers played the Staples Center Tuesday night and pretty much set the tone for the act that followed... Miley somebody. Now, granted, they played in front of the largest, youngest audience probably ever, but those thousands of little eyeballs were hypnotized by tattoo-boy Trace Cyrus and his best friend and main guitarist, the headbanded and be-sunglassed Mason Musso, as they really did rock for a full 41 and change minutes.
During that time--normally reserved for rudeness to the opening act--Trace and Mason had full control of their screaming pre-pubescent minions, and they, along with synthist Blake Healy and drummist Anthony Improgo, supplied many faux-U2 and Clash hooks to the surprisingly receptive youngsters. Watching Cyrus and Musso cheerlead the sold out arena was impressive since they didn't have the following act's technologies with which to mesmerize, but there was a lot of onstage (and offstage) jumping, electric guitar flingings, nymph-y choreography (uh, dudes, these are little girls, come on), and a not so spontaneous shirt striptease (hey, remember the South Park episode on Disney and The Jonas Brothers?).
Musically, they chugged out infectious, punky anthems such as "California," "Tell Me What To Do," and "Kelsey" so expertly, it seemed to have all the challenge of texting; and the best compliment would be that, playing live, the boys are as good as or, occasionally, better than their studio recordings. On the other hand, "Seventeen Forever" seemed to miss the cool dynamics and textures of the recording; but on the other, other hand, the band's performance against a back-screened video of the track was a nice moment. Their new song "Japanese Girl" was sufficiently seventies and Cure-like (on speed), and their wacky "Shake It" was a cute aerobic closer. However, whatever song has the "Take It Off, Let's Just Touch" suggestion, well, I dare them to sing it to my six-year-old daughter. But this creepy faux pas probably occurred because Metro Station should be enjoying a slightly older, more rock-appreciative audience, not just little kids.
Now. About Ruby & The Rockits. David Cassidy, his brother Patrick, and their brother Shaun...what? Oh, right, Miley Cyrus. Mostly famous for being the sister of Trace Cyrus of Metro Station, Miley Cyrus always was bound to someday make something of herself with some hard work, a little luck, and about two hundred million Disney dollars. From the technological perspective, this was an amazing show to witness, sophisticated enough for parents as well as their rambunctious preteens. And there were moments of brilliance, like when Miley's song "Fly On The Wall"--complete with an audience flyover by the young lady--concluded with a mini-Thriller tribute that included Vincent Price's macabre laugh track. The sets and Broadway-style choreography were the absolute best that money could buy, with themes ranging from futuristic to apocalyptic, and effects covering colorful pyrotechnics and indoor fireworks. Nothing sucked here.
What did stink? Well, Disney was involved...can you guess what happened about three-fifths into the show? Out rolled a trailer for Miley's upcoming coming-of-age flick The Last Song. Then there was the song from The Last Song. Yay! But to be fair, Miley herself gets a pass for emotionally singing the environmentally-themed "Wake Up America" with scenes of turmoil associated with global warming projected on screens behind her during her vocals. The weird thing here is you've got Wal-Mart sponsoring Miley's tour and the more progressive Disney goliath endorsing this allegedly liberal message. Kind of makes you wonder if Wal-Mart is lightening up a little. Perhaps Disney should have the teen test the waters further with a song on healthcare reform.
As far as Miley's vocal chops, you couldn't hear any pitch-correcting gizmos if they were being used, so...they were...in tune! Actually, she is a good singer. Her repertoire included the hits "G.N.O." (that sounded like The Go-Go's), "Party In The U.S.A.," and "See You Again," a song on which "Sunglasses At Night"'s Corey Hart should be credited as co-writer. She did a fine job with Joan Jett's "I Love Rock 'n' Roll" (atop a flying red motorcycle), and her last song, "The Climb," ended the concert with a monster ballad gut-wrench that we all expect, nay, demand of our pop singers' finales. Her dancing and timing were impeccable, and she handled the stage gymnastics and minimal acrobatics like The Flying Graysons (shameful Batman reference for Jacques Lambert). If fame doesn't whack her out (translation: careful with those Annie Leibovitz photo sessions and pole dances, okay grownup handlers who should know better?), she eventually will attract that older demo and is going to mess up her competition in a major way. Why, she may even become more popular than Ruby & The Rockits. (Nah, never happen.)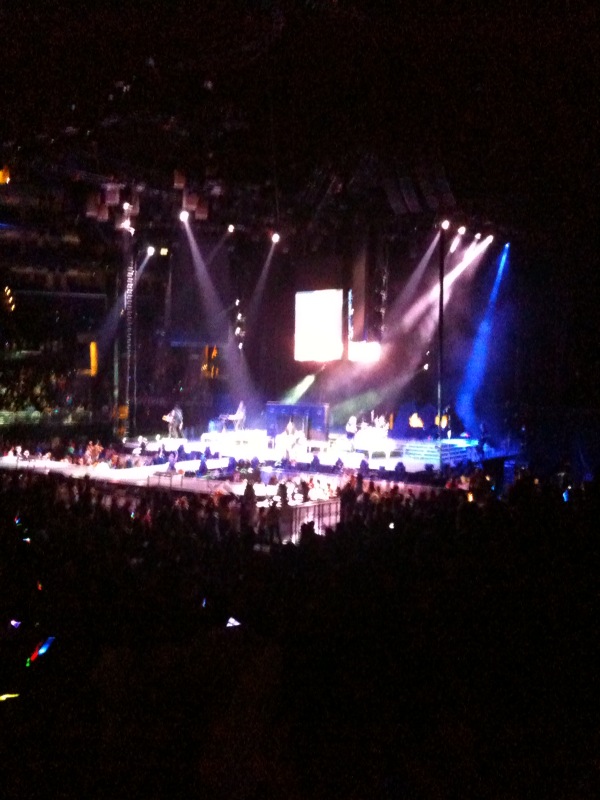 Dicey iPhone Photo of Metro Station @ Staples Center (anyone know how to work the zoom?)