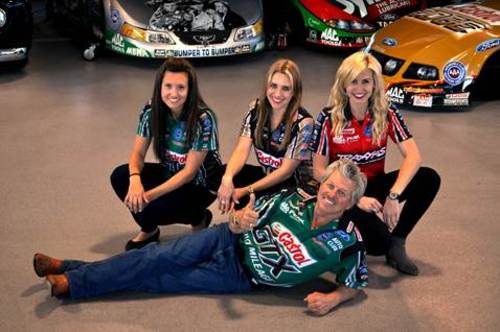 photo courtesy of Rogers & Cowan
A Conversation with NHRA's John Force
Mike Ragogna: Your reputation in drag car racing is legendary, and you just experienced your 139th win. Are you going to be antsy until that 140th win?
John Force: I want to win every race. I just lost the final to my son-in-law Robert Hight in Charlotte and I am happy for him but I am sick. I want to win. I want to get to 140 and then win after that. I have 16 championships but I am not going to stop there. There are more championships to win.
MR: Seriously, what is it about John Force that makes him such a champion?
JF: I surround myself with the best people. I think it comes from my days of being the quarterback on the high school football team. That is where I learned how to lead. You find the right people and you let then do their jobs. I am real lucky too.
MR: Are you aware of the influence you've had and impression you've made with generations of kids?
JF: I hope so because my job from day one was to be a role model. I was never perfect but I keep trying. Kids watch our sport and if I have accomplished being a positive influence then to me that is bigger than winning.
MR: Can you remember that moment when you absolutely had to permanently get behind the wheel as a lifestyle/living?
JF: The first time I raced my AA Fuel Altered. I had driven in some of the smaller categories but the first time I hit that throttle combined with the sound of the motor and the cheer of the crowd for a total nobody was the most exciting thing for me. It was a moment of greatness. I had that same feeling when the coach brought me up from the B Team to the Varsity in football in high school. It was in the Red/White game and we beat the varsity team. I was on the scrub team and I threw a 50 or 60 yard touchdown pass to my best friend Bruce Thorson and we scored the only touchdown of the game. The rest is history because I lost every game and we stunk. The cheer of the crowd in that moment in my race car was just unbelievable.
MR: Who were some of your inspirational heroes?
JF: A guy that motivated me the most was Elvis Presley. It was his music and his energy on stage to never get tired. He made me dream. In sports I watched all the Babe Ruth stories and I lived them. Everything that he did even to his downfall. You know where you can end up. He went into wrestling and a lot of stuff people don't know about. In NASCAR my heroes are (Dale) Earnhardt (Sr.) and (Richard) Petty "The King". In Indy Car Bobby Rahal was one of my heroes. I was in my truck headed to a race listening to him win the Indy 500 plus I really the Mario Andretti family. I looked at people accomplish things that I never thought I would get to see things like the Indy 500. We did a show there a couple years again and it was amazing. In NHRA racing it will always be (Big Daddy Don) Garlits, (Don "The Snake") Prudhomme, (Kenny) Bernstein, (Tom "Mongoose") McEwen. Those are the drivers and champions I have chased my whole career.
MR: What's your current favorite race car, what were some of your favorite cars when you were starting out and which ones were the most fun to race?
JF: My Superman Funny Car was my favorite. The Superman Funny Car had the magic. It couldn't be stopped. When I drove that car with Austin Coil tuning it we beat the Top Fuel dragsters when everyone said the Funny Cars vs. Top Fuel dragsters was a joke race. It was a pedal-fest and I got the win and won $250,000 that day in Bristol.
MR: What were a couple of your favorite races?
JF: When I hit the wall three times versus Cruz Pedregon in Dallas in 1992 when he drove the hamburger stand from hell car. Also winning my tenth straight championship I didn't allow myself to think about that because I knew it would screw me up. My proudest moment was when I raced Ashley in Atlanta in 2008. I tried to give her a shot to see if a woman could win in Funny Car and if she could beat the best. On that day in Atlanta she beat me. When I got out of the car at the top end I hadn't won but my family had won. This girl had proved to the world that a woman could drive a fuel Funny Car.
MR: What is the secret behind the need for or love of speed? How much does the car itself play into that passion?
JF: The adrenaline rush. The fear of losing and not having the cheer of the crowd. I fear having to go back to that trailer house where I grew up poor. The rush of the acceleration of racing side by side with 10,000 horsepower in front of you. We are going 330 mph and you know the monster is out there. It got me and broke my arms and legs. It put me in Baylor Hospital in Dallas for six weeks in 2007. When I broke my arms and legs that was when safety came in and we grew The Eric Medlen Project. When we lost Eric earlier in 2007 we corrected the roll cages to protect your head and neck but we never fixed the chassis. Now we have fixed that since my crash and we have better cars. We will continue to keep working with the NHRA to make safer cars.
MR: Your three daughters followed in your footsteps with Ashley being a two-time Indy champion. You introduced them into the world of racing, right? Do you have any memories of how you got them into it?
JF: Only when we were at the race track and you look out the window and you see three little girls out there. Adria my oldest daughter was there too. She is married to Robert Hight now. You could see they wanted to be a part of it and wanted to be in the winner's circle. They are trained to be in winner's circles. Brittany has said, 'I have to get there dad. You took me and now I have to get there on my own.' During the Bud Shootout I won a suitcase with $50,000 in it I had Brittany and Courtney on both shoulders and mom, Laurie, was next to me carrying Ashley. They know what it takes to get to the winner's circle because winning is what the John Force Racing tradition is. It is not just racing it is winning.
MR: What does it mean to the family to be a "Force Empire" or "The First Family of NHRA drag racing?
JF: I don't feel pressure I feel responsibility to take my family to the next level so that my children will get a chance and so will my grandchildren if they chose. I want other families to follow us into the sport. There are so many Jr. Dragster families and I am talking about 30 or 40 that have approached me and said our daughter is driving because of your daughters Ashley, Brittany and Courtney. That is a big deal and something I am proud of. I want to help build the sport.
MR: What advice do you have for young racers wanting to get onto the track for a living?
JF: Get an education because you can't count on mom and dad to pay the bill. You are going to need sponsors and you are going to need to know how to tune a car to make the money so you can race or you are going to have to know how to drive a car. If you are not educated in the boardroom corporate America is what it is all about. I don't have a lot of education and I learned a lot the hard way. You have to give them a full day's work. Don't do it for the money. Don't do it for the fame. Do it because you love it because it is too much work if you don't love it.
MR: What positive suggestions would you give to grow the sport?
JF: I got beat up on the internet because I always believed Vince Lombardi was right when he said winning was everything but when we lost Eric none of us could even look at the trophies. We were all sick and I made the statement that maybe Vince Lombardi never lost a man on the playing field. At the end of the day safety has to go hand in hand with winning. The day that I don't have enough money that I can win but I can't build safety John Force will be out of this sport and so will his kids.
MR: Of course you know The Beatles' song "When I'm 64." When are you going to take a cue from this song finally act your age and I say this as a joke, of course?
JF: Nope. Nope. I am not going to do that. You are only as old as you feel. This race car does the running for me. A hot cup of coffee in the morning and a cup of Mello Yello after that will get me to the cheer of the crowd and I am good to go. When I put on my fire suit I feel like I am 24 not 64. You feel like James Dean, Elvis Presley and Superman rolled into one. That is what it is all about. A guy asked me if I retired what would I do? I told him if I didn't have any money or I went blind I would drag out one of my Super Comp dragsters and go racing. That is what the Force family does.
THUNDEREGG'S "SUMMER KIDS"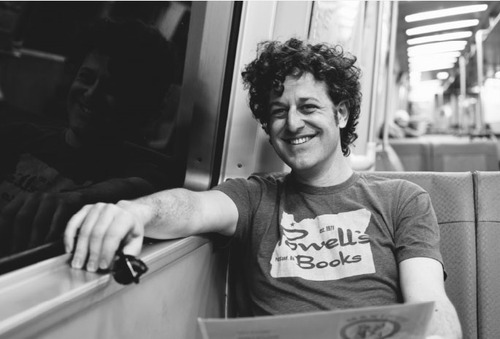 photo credit: Emily Sevin
"Recently in the SF Weekly there was an article, and then a town-hall-style meeting, about the effect of incredibly high rents on the future of music in San Francisco," explains Thunderegg mastermind and recent San Francisco-transplant/ex-NYC'er Will Georgantas. "The argument went that if musicians can't afford to quit their day jobs, they can't get to the next level as musicians, and music in San Francisco is dying as a result." This idea of musicians having to compartmentalize their lives isn't a new concept, but Georgantas decided to explore that even further with the song "Summer Kids." The breezy pop song from the upcoming self-released album C'Mon Thunder, which comes out May 17, 2014, sounds like a slice of indie pop that hearkens the eels, Imperial Teen and even Deathcab For Cutie, and like those other artists, it's music with lyrical flair and the video is no different.
"What I wanted to get across in this video was that not only do we all have day jobs, but we're proud of it," Will adds. "It's crazy to think that being able to play three chords should exempt me from having to work as hard as anybody else, and anyway working makes me all the more grateful for the chances I get to write and play music for people. I also wonder if working, paradoxically, might actually give you more control as an artist. I'm not knocking people who are working musicians, but in the current climate, if you're relying on music for food and shelter, you may have to make some concessions--selling your song to the free-credit-score people would be a major victory. I'd rather make my money somewhere else and then be able to let the music stand, for better or for worse, on its own merits."